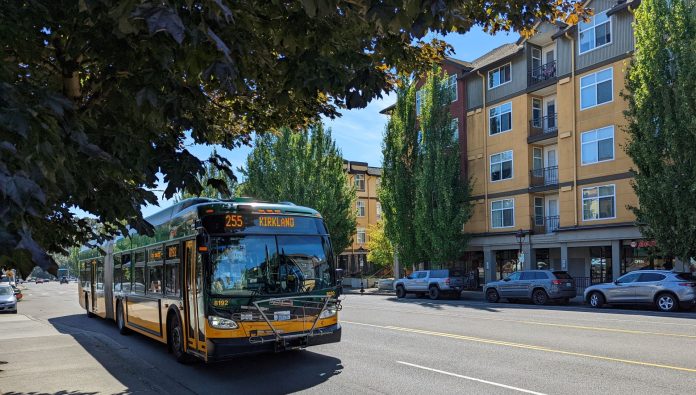 Often overshadowed by Bellevue and Redmond, not to mention Seattle, Kirkland doesn't get the credit it deserves for the crafting of its lively downtown and growing Totem Lake neighborhood. Kirkland has also ended single-family zoning, though some land use quirks limit that change from full realization. These urban successes are setting Kirkland apart from other cities in the Eastside. However, as its neighbors — especially to the north — are catching up with urban accolades, Kirkland should take steps to further increase growth that makes the city better to live in. Fortunately, there are two possibilities that stand out as clear strides that Kirkland can take to better utilize existing infrastructure and reduce its climate impact.
First, encouraging transit-oriented development on the King County Metro Route 255 corridor would take advantage of the powerhouse bus route and dissolution of the Houghton Community Council, which had long opposed zoning for denser housing in the area. Second, enacting a parking ratio maximum, which puts a cap on how many parking spaces developers can include in new projects, would take a step toward making amends with Kirkland's current high parking requirements for new developments while also demonstrating leadership desperately needed by neighboring cities like Bellevue, where commercial and office parking requirements are high, and Redmond, where residential areas also have steep parking minimums.
A new Route 255 urban corridor
Route 255 is a workhorse bus route that is only rivaled by the RapidRide routes in the King County Metro system. Its frequency during peak commute times has coaches running every 6-8 minutes, which drops down to every 15 minutes for the bulk of its service hours. In Kirkland, the route runs between the South Kirkland Transit Center and Totem Lake neighborhood. In between, Route 255 serves the moderately dense Downtown Kirkland and Juanita neighborhood. Currently the densest neighborhood it serves is its western terminus in Seattle's rapidly growing U District.
This level of transit service should — and can — support at least a moderately dense corridor like some of the region's most robust RapidRide and Bus Rapid Transit lite routes do. While Route 255 does serve some small urban nodes in Kirkland, much of the route runs through low-density residential zones. While Kirkland has technically eliminated single-family zones with the legalization of "sixplexes" or triplexes with accessory dwelling units, existing barriers in the land use code like floor area ratio limits are restricting the viability of their construction. Fixes may be made soon, but this should only increase the urgency to zone for more density on the Route 255 corridor.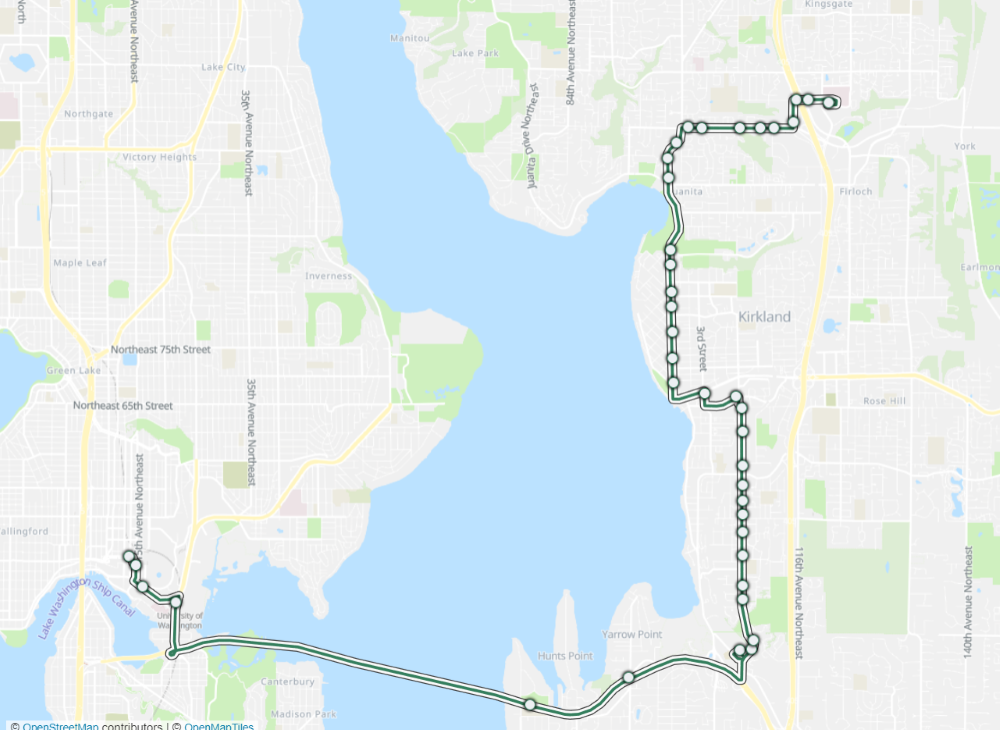 Before any more new low-density construction can be locked in around Route 255, the City of Kirkland should zone for a higher density in the jurisdiction of the bygone Houghton Community Council, around Market Street between Juanita Bay Park and Downtown Kirkland, and around NE 124th Street between the Juanita and Totem Lake neighborhoods. Townhouse construction near the Roosevelt light rail station in Seattle provides a cautionary tale about what can happen if cities are not proactive about planning in advance around frequent transit, and Kirkland should be careful not to fall into the same trap because of slow movement in zoning changes. Notice how much beige (low-density residential zoning) borders Route 255, which is indicated by the thick black line in the zoning maps below.
Zoning in South Kirkland/Houghton. Light beige indicates most of low-density zoning here. (Courtesy of the City of Kirkland)

How far a pedestrian can walk in ten-minutes in the Houghton neighborhood. (Courtesy of TravelTime)

The zoning between Juanita and Downtown Kirkland. Light beige indicates most of low-density zoning here. (Courtesy of the City of Kirkland)

How far a pedestrian can walk in ten-minutes in between the Juanita neighborhood and Downtown Kirkland. (Courtesy of TravelTime)

The zoning between the Juanita and Totem Lake neighborhoods. Light beige indicates most of low-density zoning here. (Courtesy of the City of Kirkland)

How far a pedestrian can walk in ten minutes between Totem Lake and Juanita neighborhoods. (Courtesy of TravelTime)
Mid-rise zoning akin to what is found around Downtown Kirkland and Juanita should be widely implemented in at least areas within a ten minute walk of Route 255 stops, as illustrated by the gallery of maps above. Setting up this kind of transit-oriented development would be a sensible way to allocate growth on an already established and frequent transportation service. It can also no longer be opposed by the Houghton Community Council, which had veto powers in its jurisdiction that encompassed the low-density area in South Kirkland. Bridging Kirkland's various urban nodes with strips of mid-rise zoning would create an urban corridor that lives up to the 255's potential as a high capacity transit route.
Simultaneously, it'll be worthwhile to upgrade the 255 with dedicated bus lanes, signaling priority, and pedestrian infrastructure improvements. Theoretically, some of these improvements could come with RapidRide K, whose 2019 preferred alignment shared the stretch on 108th Avenue NE with Route 255. However, given budget troubles and other pandemic impacts, RapidRide K has moved farther away from its initial 2025 projected opening. Additionally, where the two routes don't overlap on Market St/98th Avenue NE and NE 124th Street, Route 255 improvements should still be made to increase its reliability and speed.
Flip that parking ratio minimum to a maximum
In July, I wrote about how Bellevue's parking ratios were allowing for the design of over 43,300 new parking stalls in just its downtown. This policy was tantamount to climate arson with embodied carbon, congestion, fine particulates, and car dependence all resulting from the parking it would create. Unfortunately, Kirkland's current parking policies may in fact be worse than Bellevue's, as Bellevue has a parking maximum in its denser zones.
Kirkland not only doesn't have a parking maximum, its minimum parking requirements (parking minimums) are high. For multifamily buildings, parking minimums are pegged to bedrooms. Studios require at least 1.2 parking spaces. This minimum parking ratio increases to 1.3 parking spaces for one-bedroom units, 1.6 for two-bedroom units, and 1.8 for three or more-bedroom units. In addition to these minimums another 10%, rounded up, must be added to the total number of parking spaces required for a multifamily building to provide guest parking.
There is a parking ratio reduction for developments within a quarter mile of transit. Ratios are also eliminated for senior housing near transit that runs four times an hour — for 12 hours a day. Market-rate multifamily developments have their ratios reduced to one parking space per one bedroom unit and 0.75 per studio when they are within transit that runs four times an hour, but ratios for units with more bedrooms are not impacted. Affordable multifamily developments gain this reduction when they're nearby transit that runs two times an hour.
Commercial parking ratios vary on zoning and use. Retail generally has a parking ratio of 1 per 300 square feet of gross floor area. Office space in medium density zones have the same ratio. Office space in high density zones have their parking requirement established by the city's planning department, case by case. Restaurants and taverns in middle density zones are required to have one parking stall per 100 square feet.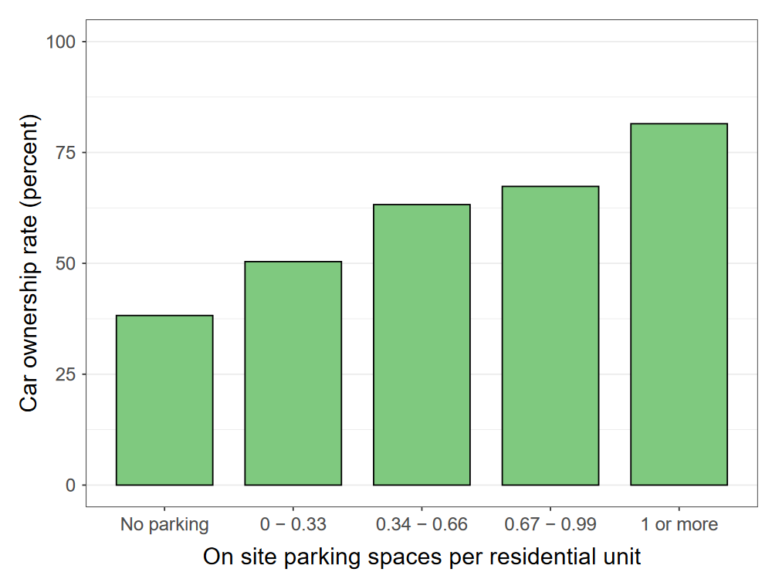 Graphics from the study visualizing the relationship between parking ratios, car ownership, and transportation utilization. (Courtesy of Adam Millard, Jeremy West, Nazanin Rezaei, and Garima Desai)
According to a 2021 study, these high parking ratios cause higher rates of car ownership and are negatively correlated with biking, walking, and transit use. The scale used by the study ran from zero to one-plus parking space per residential unit. Kirkland's minimum ratio predominately runs on the high extreme of the study's purview, and developers appear to be able to build as much parking as they'd like. This is not only harmful to the environment, but it also significantly increases the cost of development and worsens housing affordability with the steep construction costs for parking. The simplest thing Kirkland could do to improve its parking policy would be to have their parking minimum flipped to a maximum, which would still allow for a lot of parking. With this change, developers at least would have the choice to not build a harmful and expensive amount of parking stalls.
Getting the most opportune changes done
Given the processes that Kirkland would need to undertake to to get these changes implemented, it might take a lot of effort to enact them despite the fact they are relatively simple fixes from a policy perspective. Nevertheless, these deceptively minor changes could provide major relief to our local dilemmas related to housing affordability and the climate crisis, and thus they should be advocated for. Route 255 already exists and it offers incredibly robust transit service. Kirkland's parking policies are also already there: flipping a parking minimum to maximum shouldn't be too much of an ask when the parking ratios are already so high. All the infrastructure is already in place for these changes to become reality. Kirkland just needs to be activated to further elevate its livable growth.
Shaun Kuo is a junior editor at The Urbanist and a recent graduate from the UW Tacoma Master of Arts in Community Planning. He is a urban planner at the Puget Sound Regional Council and a Seattle native that has lived in Wallingford, Northgate, and Lake Forest Park. He enjoys exploring the city by bus and foot.