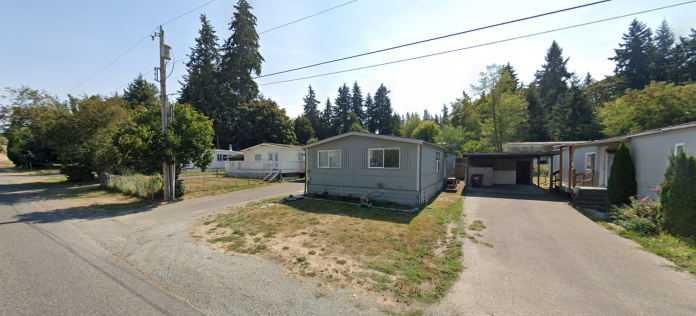 Facing a mobile home park closure in Puyallup, housing advocates have rallied to protect residents and address the larger housing crisis.
On August 23rd, the Home in Tacoma For All Coalition hosted a rally in support of the residents of Meridian Mobile Estates. More than 60 community members gathered with the residents and filled the Puyallup Council Chambers to call for the end of an saga of unfair treatment with the eviction of the residents by a company that has purchased the property.
Meridian Mobile Estates is a 42-plot property home to primarily immigrant and working class families, some of which have lived there for decades. Many have invested heavily into their homes, repairing roofs, fixing plumbing, and building ramps for family members with disabilities, among many other home investments. They are living their own version of the American Dream.
Timberlane Holdings, based out of Seattle and with properties in multiple other states, purchased the mobile home park in December and are evicting its residents to replace the park with a high-end 235-unit apartment complex dubbed "Bradley Heights." This is hardly the first time developers have targeted mobile home parks, and Meridian makes an enticing option as the neighborhood around it has redeveloped. The site is just off SR-512 and sandwiched between Puyallup's medical district and the South Hill Mall. Timberlane bought the 7.7-acre property for $6.5 million from previous owner Bradley Heights, LLC.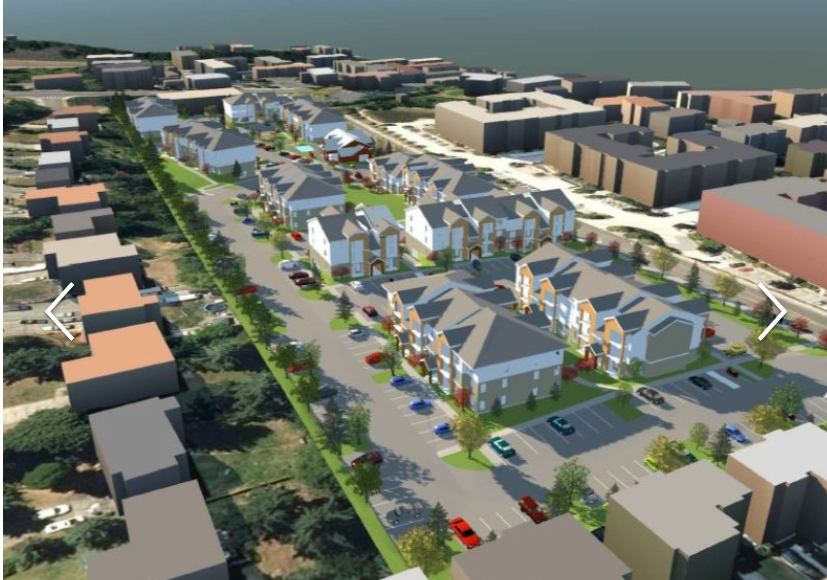 Some families have already left Meridian, but for the more than 30 remaining families, they are holding onto hope that they can keep their homes, or at least gain fair compensation for their investments into their homes. The Home in Tacoma for All Coalition has jumped in to support this community, organizing events and rallies to get fair treatment for the residents.
Another dimension of the housing crisis
How mobile home parks typically work is that residents own their mobile homes while leasing the land their home sits on from the property owner. Mobile homes could then be considered a form of affordable housing, as the largest units may cost upwards of $25,000 with around $700 per month for the land lease, drops in the bucket compared to a brick and mortar home mortgage.
Given the land lease paired with ownership of the home itself, mobile home residents straddle the line between renter and homeowner. They aren't quite either one, and they get few of the protections offered to tenants or full-blown homeowners, respectively.
The owners of these parks have typically been private individuals or families, but an increasing number of parks are owned by corporate management companies with multiple properties across the country. The trend of more and more housing consolidated in fewer and fewer hands is mirrored in the rental housing market.
In 2000, the Washington State Legislature passed legislation giving Mobile Home Tenants the first right to refusal when notified by the property owner the intent to sell. They would be given 30 days to purchase the property at a fair market rate before the owner could freely sell to whoever they wished. The protection was later revoked in 2008, eliminating probably the only tool mobile home residents could use to hold onto their homes when their parks are redeveloped — at least without forced relocation.
In short, the working class people who own mobile homes are at the whims of the company or investment vehicle that owns the land underneath them.
The City of Puyallup says that residents were notified of eviction in Fall of 2021 as the property was purchased by Timberlane, but being notified does not mean the families have the resources to move. Meridian residents are primarily Spanish-speaking immigrant and working class families. Many of these residents work in service, construction or grocery stores, essential jobs that often do not pay enough to make ends meet, Home in Tacoma organizer Zev Cook said.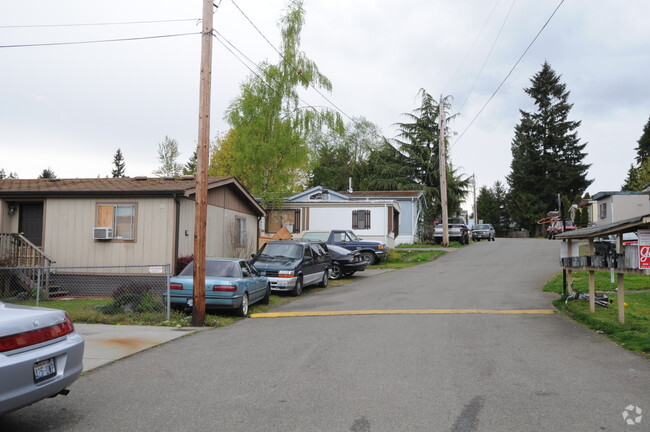 Coupled with rent, family expenses, and the current economic environment of high inflation, these families have had little chance to save and build their resources up. This may all soon be erased and these families may find themselves on the street before the end of the year.
While the City of Puyallup has not sought to stop the land purchase, they have recognized the displacement risk and have offered some meager support. The City has partnered with multiple government entities to provide $5,000 cash assistance to the families. Further, Timberlane has volunteered to offer families an additional $5,000 of cash assistance and a rent rebate if they leave before October 1st, 2022.
The assistance options potentially available to the residents are as follows:
Per state law, Washington State provides relocation assistance of $17,000 for a doublewide mobile home and $11,000 for a single-wide mobile home for eligible owners. This is aimed at helping owners bear the moving cost associated with getting a mobile home to a new plot.
The State of Washington's Office of Manufactured/Mobile Home Relocation Assistance also recently determined that residents can sell their homes and still receive State relocation assistance.
In addition, Timberlane will voluntarily offer each household an additional $5,000 to help with their move, which was matched by the City of Puyallup. This totals an additional $10,000 for each household.
Should residents choose to move prior to the move-out deadline of Oct. 1, 2022, the company created a voluntary 'rent rebate' that provides a payment equal to their monthly rent for each month they move early. So far, roughly one-third of the 42 total residents have taken advantage of the rebate.
If a mobile home is deemed non-movable due to age or condition, the State of Washington provides demolition funding, available at no cost to homeowners.
While the residents are assured $10,000 compensation, the additional $11,000 or $17,000 in assistance from the state appears contingent on the mobile home being movable. Unfortunately, many mobile home are unmovable due to settling into the ground, removal would damage the home beyond repair.
But $10,000 may well be insufficient to cover the cost of finding new housing and it does little to compensate for the assets lost if the mobile home isn't moveable and must be demolished. According to The News Tribune, $1,801 is the median rent for a 2-bedroom apartment in Puyallup. $10,000 would cover about 5 months' rent, not including moving expenses, a security deposit, application fees, utilities and all the other home expenses. Additionally, due to their pets, elderly, and special needs family members, many are finding difficulty finding new housing that meet their needs, which is why the Home in Tacoma For All coalition is demanding more.
"All of these are essential workers and now the city won't do anything to protect these people," Cook said.
Armando Aragon, who was featured in the Tacoma News Tribune story, sunk $65,000 into his family's home to provide improvements such as accessible ramps for his disabled son. Replacing those ramps to ensure an accessible home will not be cheap when the Aragon family moves.
Growing trend of mobile home park closures
This isn't the first time mobile home residents have been treated unfairly and it probably won't be the last. Over the last decade, mobile home parks have been closing nationally. Mobile home are more prevalent than one may think and are a major source of affordable housing across the nation: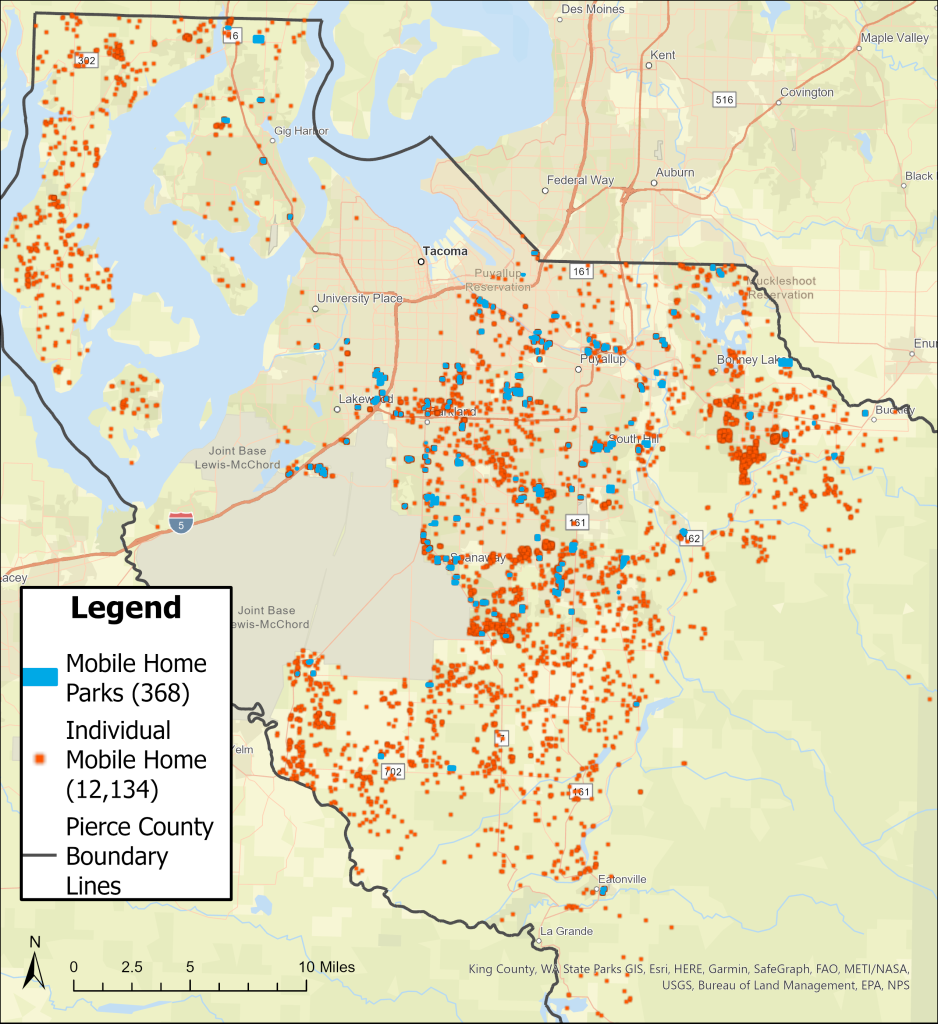 There are over 12,000 mobile homes in Pierce County, with about two-thirds in mobile home parks, according to County data. The remaining third can be assumed to be on land that the homeowners own as well. With this map, it becomes clear that this is a very common type of housing within reach for a lot of people. There are many affordable options across the county, allowing people more freedom and selecting housing. They could even buy an empty plot of land and plop a mobile home on it for a fraction of the cost of a house.
Let's focus on the 8,000 or so homes in mobile home parks.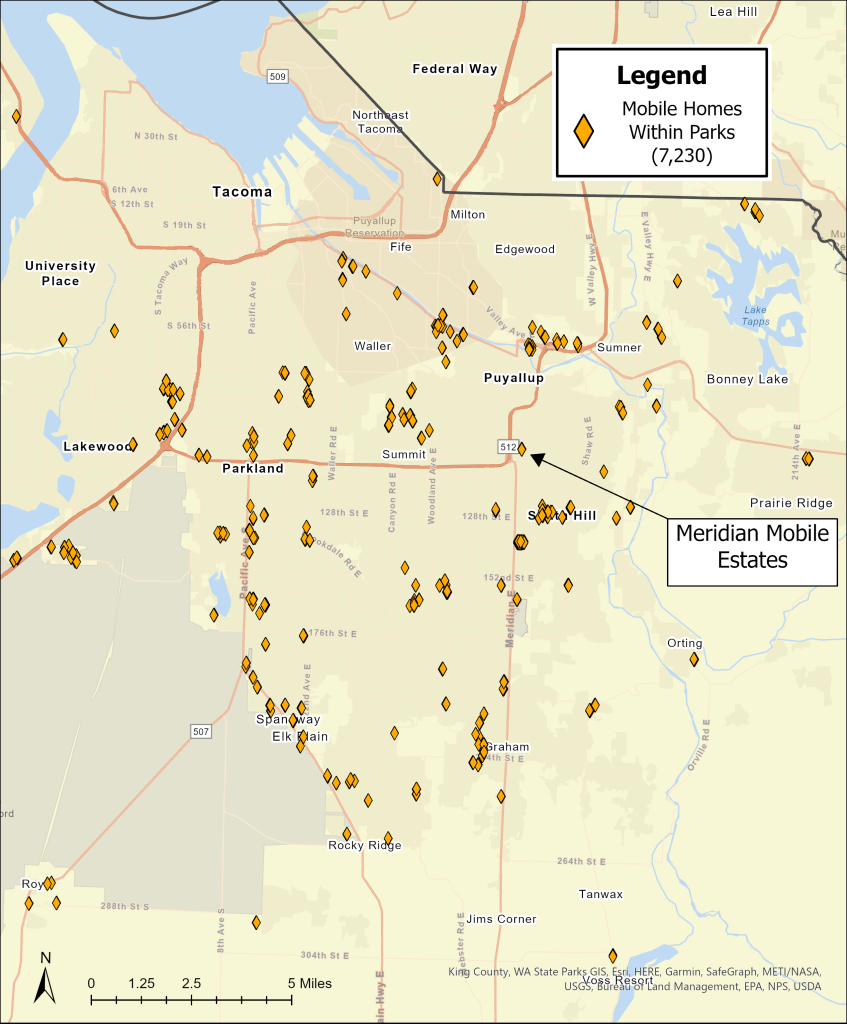 The average household size in Pierce County is 2.7 people, so there are roughly 22,000 people at risk of befalling the same fate as Meridian residents. To put this in a Tacoma context, imagine 1 in 10 families in your neighborhood becoming homeless while getting minimal support. This is what is at stake if we don't get a handle on our mobile home park closure crisis and the larger housing affordability crisis that adds fuel to the fire.
Seeing the spatial distribution of these parks, it is easy to see how this can grow into a widespread, out of control issue that may leave thousands more on the streets in the near future. According to a June 2021 report cited in the New York Times, large investment firms like Timberlane accounted for 23% of purchases of mobile home parks, up 13% from the previous year. Odds are, that number will continue to grow.
In a sense, mobile home parks are a type of affordable housing that is largely out of the public's control and not paid much attention. The house itself is affordable, but the residents have no control over the land. Plus, some neighbors look down on mobile homes and associate them with blight and may seek to hasten their demise or prevent new mobile home parks from opening and providing an outlet for mobile home owners displaced from parks that have closed elsewhere.
Some hope for the future
Zev Cook described a number of intense moments of tears and anger pleading with the council members to do more for their families. She said following the council meeting, the coalition debriefed and the families said that they were hopeful. They have been fighting this fight on their own for years and expressed thanks for the outpouring of community support.
The coalition continues to host tenant meetings every Thursday evening to discuss updates and future plans. This coalition action is part of their wider affordable housing movement, which intends to activate people across the county and get them fighting for working class housing. Cook says that many of the Meridian residents are now getting involved in the movement to make sure their voices are heard, something they never would have thought they could accomplish.
To show your support for the Meridian Residents and learn more, check out this petition.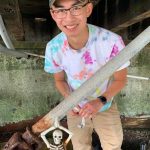 Kevin Le is a Geographic Information Science (GIS) master's student at the University of Southern California. He moved to Tacoma a few years to go to UPS and has stuck around ever since. He's interested in how we can use spatial data to understand our urban landscape and build better cities for everyone.