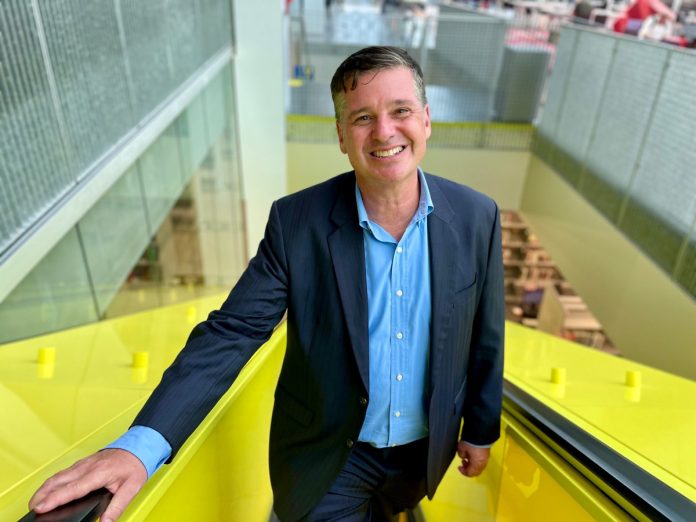 After the Seattle City Council returns from its summer recess after Labor Day, one task in front of it is the confirmation of the next director of the Seattle Department of Transportation (SDOT). Earlier this month, Bruce Harrell's pick to lead the department, Greg Spotts, appeared virtually before the council transportation committee and introduced himself with a brief speech. But it looks like the lion's share of the council's vetting has happened in writing, with answers to a long set of questions already sent back to the committee in advance of his next appearance on September 16.
What are some of the biggest things we learned from Spotts' answers?
We'll be seeing Spotts out in the field a lot
In Greg Spotts, SDOT will be getting an SDOT Director with a Twitter account who looks pretty eager to show what he's encountering on his travels around the city, on and off the clock. Spotts tells the council that one of his top priorities will be to "[c]onduct an extensive listening tour to walk, bike, roll and ride transit with staff and constituents, inviting stakeholders to show me what's working well and what needs improvement… This outreach will also extend to goods movement and the Port."
The Port plays a major role in partnering with the city on big transportation projects, providing funding for everything from the West Seattle Bridge to the new Lander Street overpass in SoDo. Freight advocates, including those at the Port, have pushed back on improvements across the city intended to benefit other modes, like the new West Marginal Way protected bike lane and upgrades to the Route 40 bus corridor.
SDOT has created a website to request a walking tour with the new Director. Spotts is also extending those invitations to the city council. "I'm looking forward to the opportunity to get to know each of you, not just through regular formal briefings, but through exploring your districts with you in person. I'm interested in every aspect of the neighborhoods you represent — not just the streets but also the parks, the small businesses, the housing types, the history and the aspirations of each community. In Los Angeles I've had the privilege of collaborating continuously with 15 City Council members and their staff. It's wired into the way I approach daily business."
Much like former City Engineer Dongho Chang illuminated things happening in the city via his Twitter account (still active from his post at the state), Spotts documenting his time out on city streets will likely subtly influence policy direction at SDOT, highlighting areas of focus. Based on Spotts' prior experience in Los Angeles, I would expect the subject of the city's tree canopy and mitigation of heat impacts to be a frequent topic.
SDOT's next era could be poised to take advantage of big grant opportunities
Frequently in Spotts' answers, SDOT's next director refers to grant opportunities that could be available for the department to take advantage of in the coming years.
"With passage of the Bipartisan Infrastructure Law (BIL), we have an unprecedented opportunity to partner with the Federal government on critical city priorities including reducing vehicular carbon emissions, Vision Zero, bridge repair and replacement, and urban greening," Spotts wrote.
SDOT has applied for a number of small grants, for projects like a Harrison Street transit street, and the Georgetown to SoDo bike connection. But the pipeline for large, transformative capital projects in Seattle has largely emptied out, with SDOT declining to go after USDOT's large RAISE grant this year for lack of a shovel-ready project. Based on the number of times Spotts brings up grant opportunities in his responses to council questions, it looks like applying for outside funding will be a high priority for him.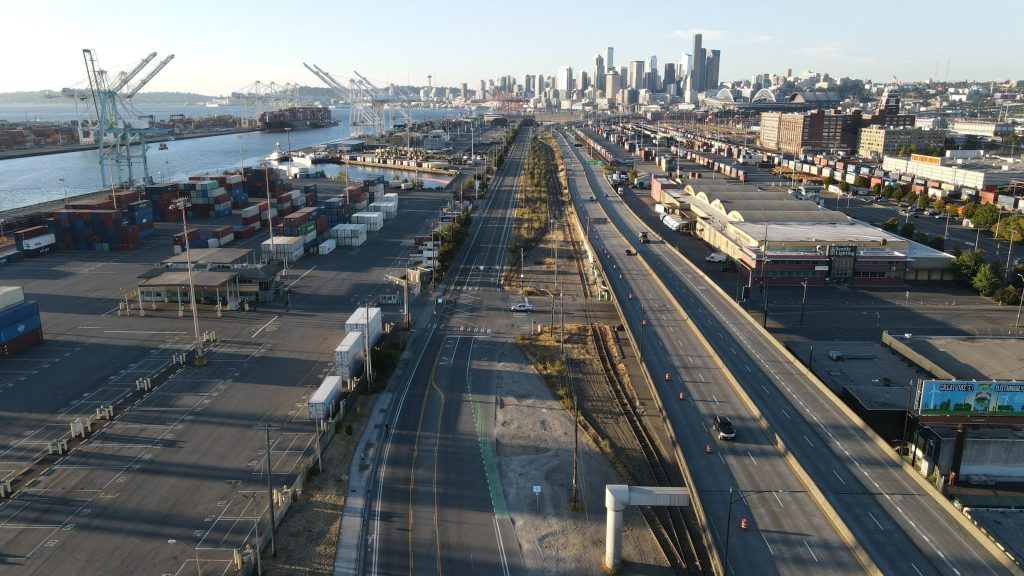 Spotts also makes sure to emphasize that the projects the department looks to fund need to come from the people living in neighborhoods that have been left behind. "I truly believe that in today's environment, projects cocreated with underserved communities are far more competitive in attracting funding than projects dictated from city office buildings (and are more likely to be embraced by the community when completed)," Spotts wrote.
Traditionally, SDOT has gone after funding for projects that were important to the city's loudest voices, like the rebuild of Mercer Street or the new East Marginal Way revamp. It will be interesting to see how that changes under Spotts. It's likely that the next citywide transportation levy, which will need to go before voters in 2024, will include some signature projects but first…we need to decide what those might be.
The Seattle City Council looks like it will stay hands-off when it comes to SDOT
The questions for the new SDOT director are also illuminating in what they tell us about the city council that is asking them, even though they aren't individually labelled. They underscore how hands-off this current city council has been with SDOT. "How do you plan to expand and connect areas outside of the central core via separated protected bicycle infrastructure?" one councilmember asks, after noting the lack of bike infrastructure south of I-90.
SDOT does often take the lead on selecting projects, but the reason that SDOT is poised to construct protected bike lanes on Beacon Hill, MLK Jr Way S, and Georgetown in the coming months is because, in 2019, then-transportation committee chair Mike O'Brien led work to codify the construction of those routes directly into law, with specific funding from the sale of a piece of city property.
At the same time, O'Brien worked to strengthen the city's complete streets ordinance, though it still isn't as strong as many would like it to be.
"Would you consider inclusion of protected bicycle lanes as a standard for all road resurfacing projects?," another question asks. This is another area where the city council could exert direct influence. SDOT is poised to repave busy arterials like 15th Ave NW and Denny Way in the coming years, but it doesn't look like there will be any concerted push from city leaders to rethink how those roads are oriented. The complete streets ordinance is just that, an ordinance, and could be strengthened even further and operationalized routinely.
Under current transportation committee chair Alex Pedersen, however, the council has barely conducted any oversight of SDOT's planned activities, generally only appearing at committee when a law must be passed for things to move forward. A presentation on traffic safety following the deadliest year on Seattle streets since 2006 was only held after Councilmember Tammy Morales pushed for it. Pedersen has not held a briefing on the city's progress on the Bicycle, Pedestrian, Transit, or Freight master plans, or gotten an update on the annual report from the School Traffic Safety Committee.
The questions to SDOT's next director from the city council illustrate that we should expect this trend to continue, but it will be interesting to see how this dynamic changes after next year's district council elections, when potentially any of the seven district-based councilmembers could be replaced.
Too soon to tell what SDOT's next iteration will look like
There are many things that won't be answered by councilmember questions, no matter how piercing. The biggest one perhaps is how much deference Greg Spotts will receive from his boss, Bruce Harrell, and the Mayor's office. So far this year, Harrell sided with SDOT in a high profile dispute between Alex Pedersen and the department over whether the city should go into debt to finance a slate of bridge maintenance projects. Despite the potential optics at play, with Harrell poised to look like he's not investing in needed infrastructure, the mayor's office had SDOT's back and pushed back on Pedersen.
It's inevitable that at some point Mayor Harrell will hand down a decision that will be a tough pill for Spotts to swallow. So far we haven't seen many transportation issues come front and center for Harrell, but there are some big ones on the horizon: the future of the Center City Connector streetcar high among them. Ultimately, it will be in the decisions that get made below the mayor's level where the next SDOT Director will make their mark. Will the department improve on bike lane maintenance and project delivery? Will the parking enforcement unit be integrated into the department after leaving the Seattle Police Department?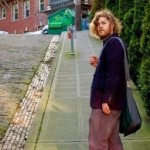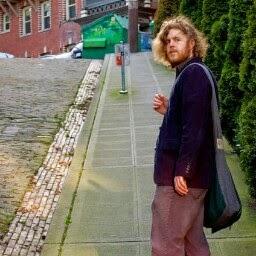 Ryan Packer lives in the Summit Slope neighborhood of Capitol Hill and has been writing for the The Urbanist since 2015. They report on multimodal transportation issues, #VisionZero, preservation, and local politics. They believe in using Seattle's history to help attain the vibrant, diverse city that we all wish to inhabit. Ryan's writing has appeared in Capitol Hill Seattle Blog, Bike Portland, and Seattle Bike Blog, where they also did a four-month stint as temporary editor.