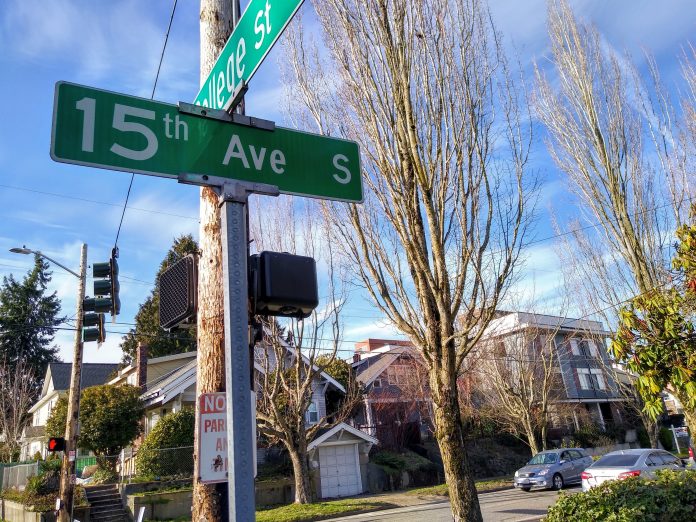 After well over a year of outreach on several proposed options, the Seattle Department of Transportation (SDOT) has selected 15th Avenue S as the route where it will install a protected bike lane in 2023 as a first step toward installing a safe bike route throughout Beacon Hill. The selection was finalized on March 1, according to records obtained by The Urbanist, and the department will start additional outreach with residents along the corridor between the Jose Rizal Bridge and Beacon Avenue S as soon as today.
SDOT's surveys on potential routes, which also included a protected bike lane on 14th Avenue S and a neighborhood greenway on 12th, 13th, and 14th Avenue S, showed clear majority support for the 15th Avenue protected bike lane, with 64% of respondents preferring it.
The department also sees a protected bike lane on 15th Avenue as a way to implement needed traffic calming on the street, which has an existing paint bike lane and street parking. Parking removal will be the most controversial element of the project: there are 133 parking spaces along the stretch in question, and this project as currently planned will remove all of them. According to SDOT, they conducted multiple parking studies and are still recommending moving forward with this option and found that curb utilization on the street was only 47% on average. SDOT considered proposing converting 15th Avenue S into a one-way street to retain parking but found that could lead to an additional two minutes added to transit trips in the area as traffic was diverted.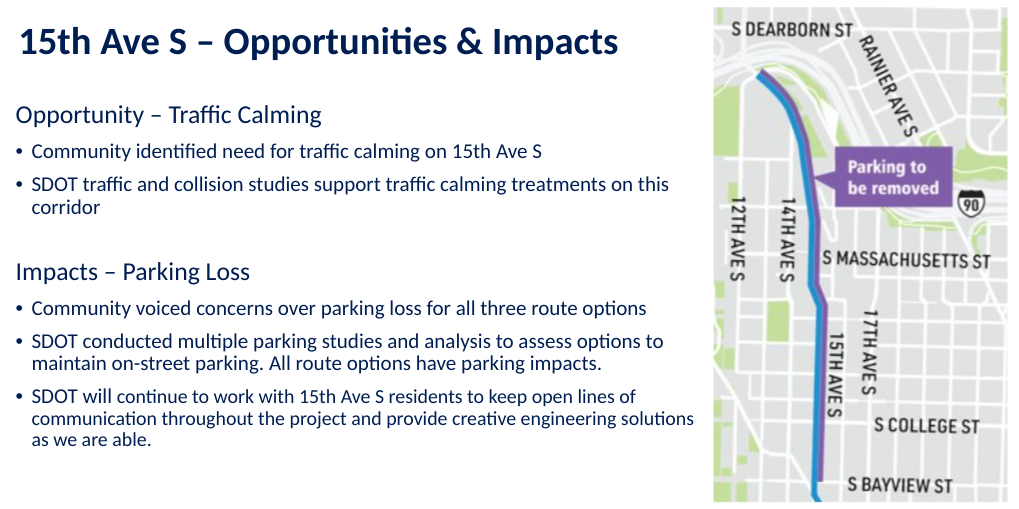 We don't yet know exactly how the facility on 15th will be designed, with two potential options shown in the presentation that The Urbanist has obtained: one includes two one-way bike lanes with two foot buffers between vehicle lanes and the bike lanes and another includes a two-way cycletrack with a two foot buffer as well. The one-way options show the southbound lane as being slightly elevated "to gain required width," something we'll be watching for additional detail on. Since SDOT lists a 32 foot curb to curb width on 15th, that indicates there would be some compromises that come with the one-way options. But that configuration would be best to connect to the Jose Rizal Bridge, which also has one-way bike lanes on it.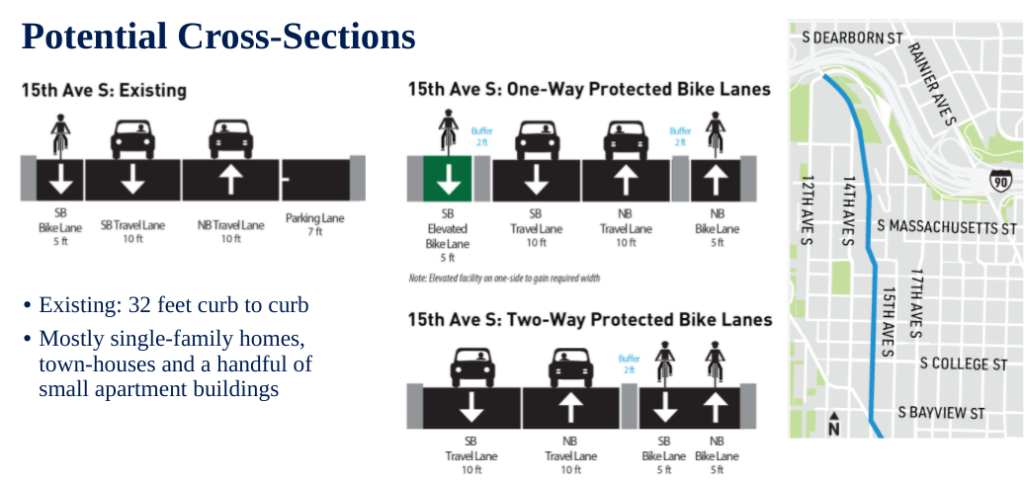 The 15th Avenue S bike lane will connect to Beacon Avenue and run along that street to Spokane Street, at the very north end of Jefferson Park. However, SDOT was considering a diversion off Beacon Avenue between S Forest Street and S Hanford Street, something that is still technically on the table. Obviously a full connection on Beacon Avenue would be best for route legibility and usability. That portion, between Spokane Street on the south and the Jose Rizal Bridge on the north, comprises segment 1 of the Beacon Hill Bike Route project.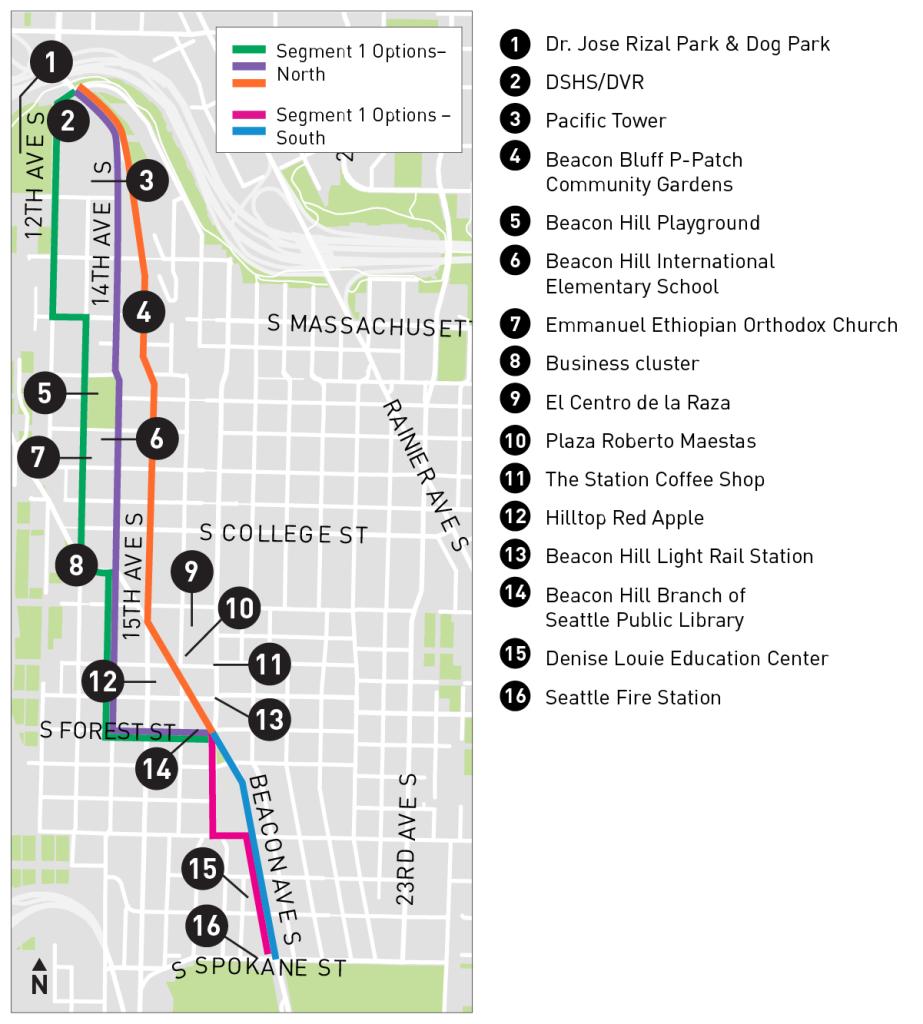 There are no routing decisions for segments 2 and 3: they will run on Beacon Avenue S because there are no other options, really. But funding for those segments has not been fully secured. SDOT is planning to install phase 1 and then move onto the 2nd and 3rd phases as funding becomes available. South of Cheasty Boulevard, a winding pedestrian path snakes down the middle of a large median in the middle of the street. SDOT initially proposed widening this path, leaving the street untouched.
Last year, numerous community members including the Seattle Bicycle Advisory Board, asked SDOT to consider alternatives, because of "the potential to take this asset away from community members or make it more dangerous for community members" by repurposing the pedestrian facility as a primary bike corridor. So far there are no signs this design might be changed, by taking away some of the parking on either side of Beacon Avenue, for example.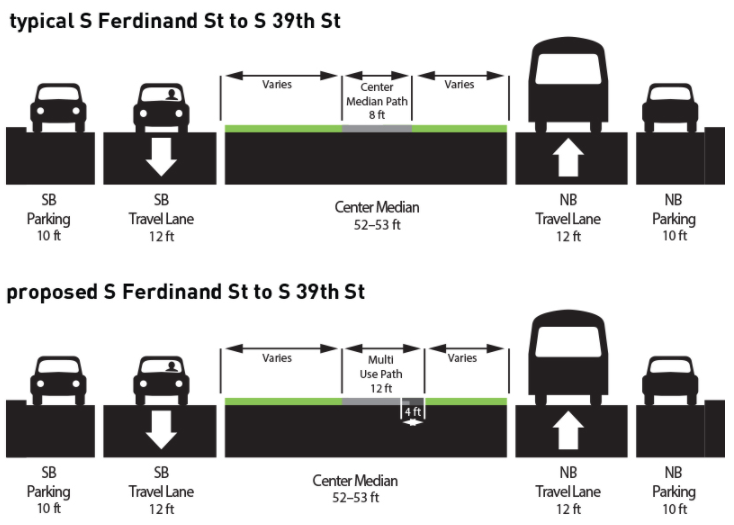 SDOT conducted an extremely extensive outreach process around the North Beacon Hill route options. The project was supposed to get to 30% design by this point, so its timeline has been slightly delayed. But it looks like the additional time spent on outreach has led to the best route for Beacon Hill. Now that a decision has finally been made, SDOT can move forward with getting the additional details of the design right to create a much needed north-south bike connection in Beacon Hill, which is something that has been needed for a very long time.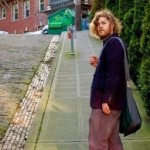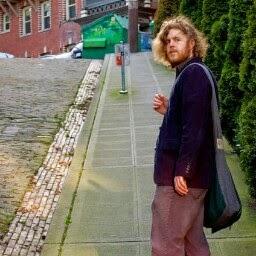 Ryan Packer lives in the Summit Slope neighborhood of Capitol Hill and has been writing for the The Urbanist since 2015. They report on multimodal transportation issues, #VisionZero, preservation, and local politics. They believe in using Seattle's history to help attain the vibrant, diverse city that we all wish to inhabit. Ryan's writing has appeared in Capitol Hill Seattle Blog, Bike Portland, and Seattle Bike Blog, where they also did a four-month stint as temporary editor.