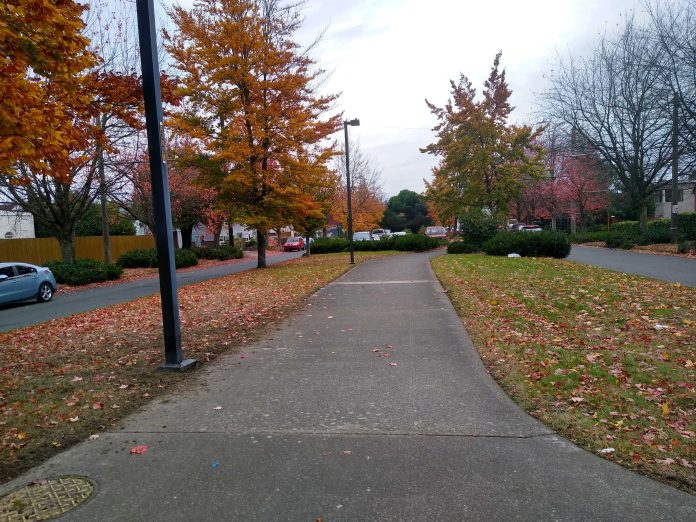 The Seattle Department of Transportation (SDOT) has released initial plans for a large segment of its planned safe bicycle route in Beacon Hill scheduled for installation in 2023. The bike route, which is currently funded by proceeds from the Mercer Megablock, will potentially connect several scattered bike facilities in South Seattle and finally provide a safe way to bike between central Seattle and the South End. There is a survey open until Wednesday on the proposed plans.
The Beacon Hill bike route is being planned in three segments, running all the way from the Jose Rizal Bridge at the very northern end of the neighborhood down to the southern end of Beacon Hill south of Cloverdale Street. Work on a bike lane on 12th Ave S in Little Saigon connecting to King Street is underway right now.
Segment 1, in North Beacon Hill between Jefferson Park and the Jose Rizal bridge, still doesn't have a definite route after SDOT presented a number of options. Both Beacon Hill Safe Streets (the local Seattle Neighborhood Greenways affiliate) and the Seattle Bicycle Advisory Board has indicated a preference for a protected bike lane on 15th Ave S. Such a route would likely be the most direct but also may require the most car parking to be converted to travel lane. In any event, we don't yet know what SDOT's designs for the area look like.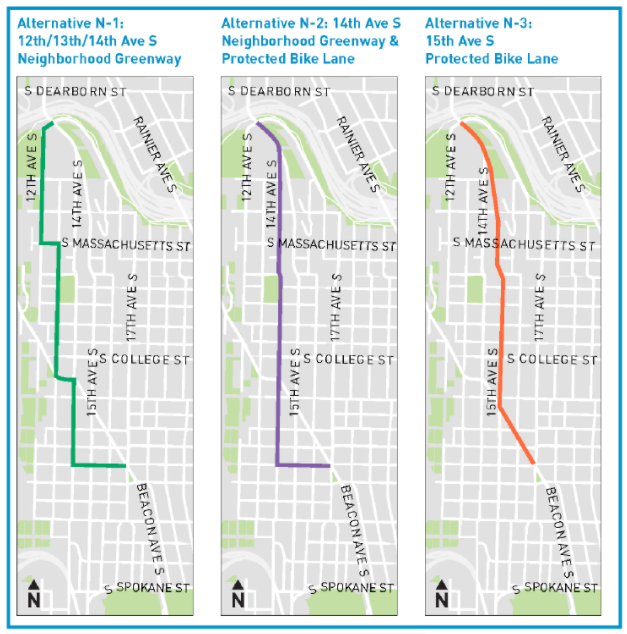 Plans for segments 2 and 3 are what have been released for this round of public comment. These cover everything south of S Spokane Street, the very northern edge of Jefferson Park. Confusingly, SDOT is proposing two layouts for different segments in Segment 2, with the design for Segment 3 matching the southern end of Segment 2.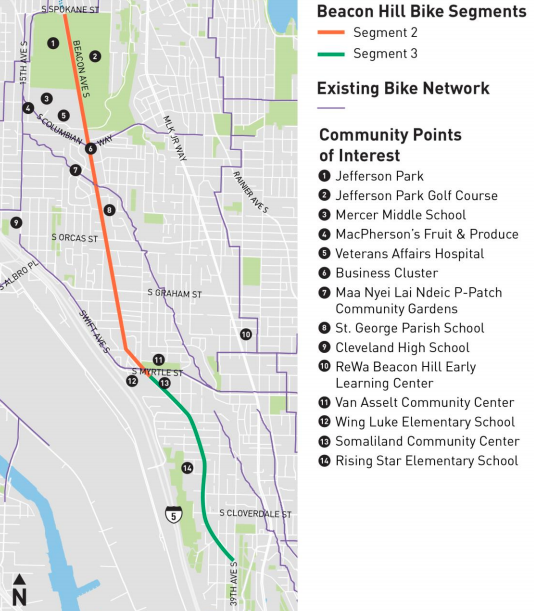 For the portion of Beacon Ave between Spokane and Alaska Streets, which basically matches the length of the Jefferson Park Golf Course, SDOT is proposing to install one-way protected bike lanes on either side of the wide street. Currently there is a center turn lane with very few places to actually turn. This stretch is pretty straightforward.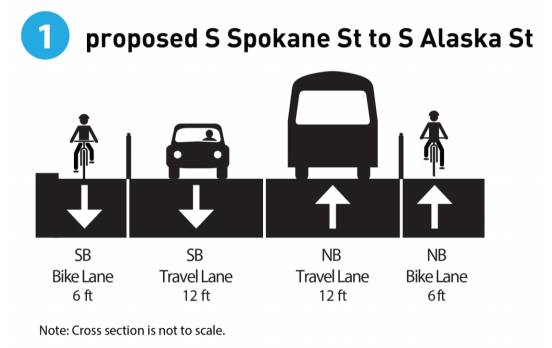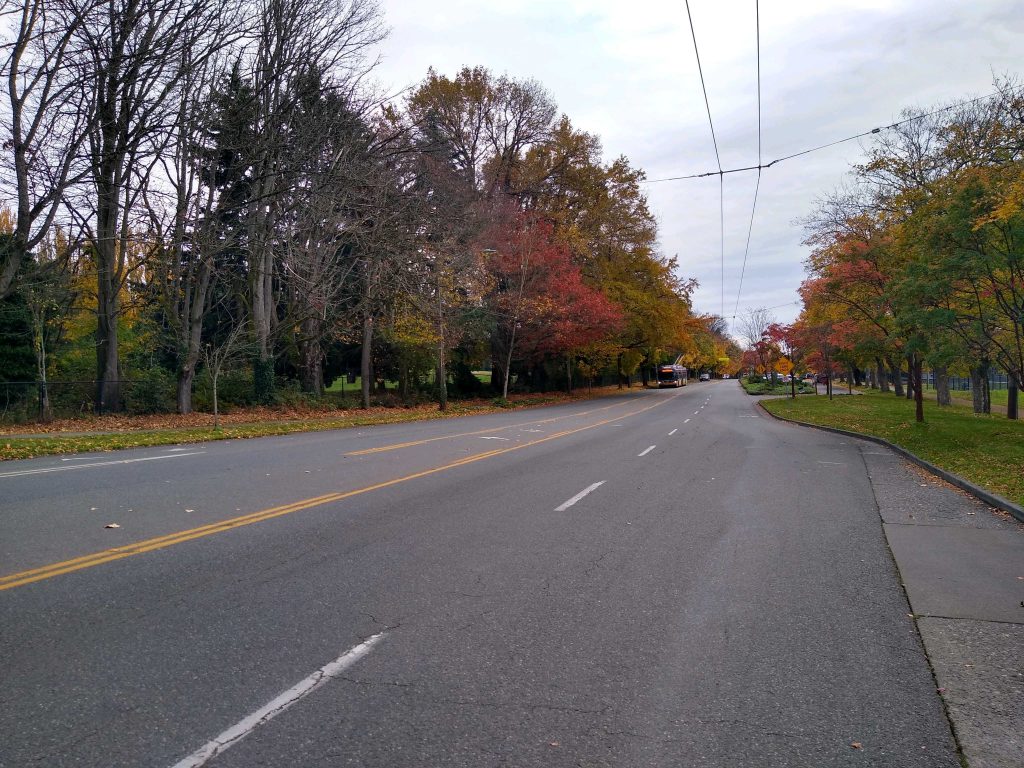 The second layout is proposed for the segment of Beacon Ave that has a very wide center median, approximately as wide as the travel lanes themselves. This median is currently used for parking, with an approximately 8-foot path for people walking. The path also has trees and some lighting fixtures located in it. SDOT is not proposing any separate bicycle facility on the main portion of the roadway, and instead wants people biking to use this path.
This month SDOT told the Bicycle Advisory Board that they want to widen the 8-foot path to 12 feet, still fairly narrow for a path expected to be widely used by people walking, biking, and rolling, but that it doesn't know how much the entire Beacon Hill bike corridor will cost right now and doesn't want to spend money on widening the path if that would mean cutting other elements from the entire project.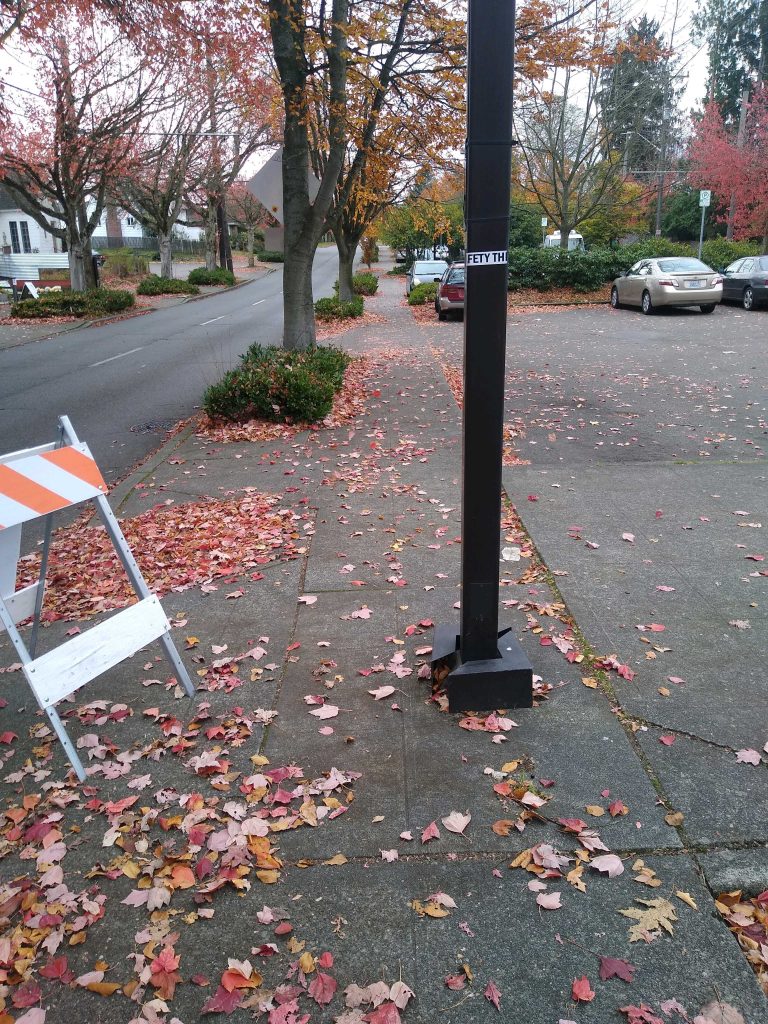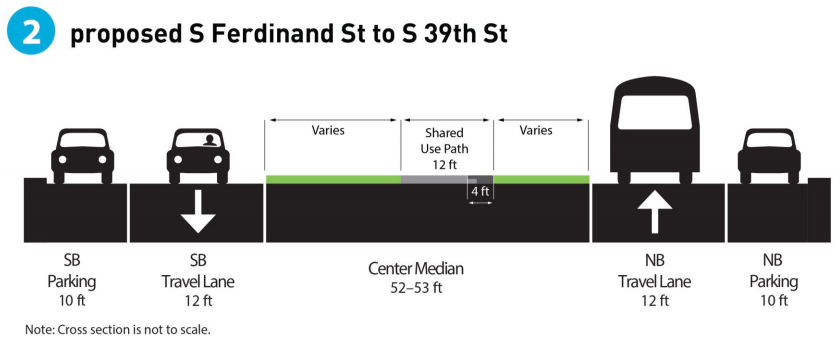 Last week, at an online open house held for people to ask questions about the project, SDOT was adamant that no parking would be removed to make way for more people using the pathway on the center median.
In other words, on a 96-foot roadway, the amount of space being proposed for people walking and biking is only proposed to go up by four feet, and even that is funding-dependent. Several members of the Bicycle Advisory Board expressed concerns about this segment of the plans.
SDOT is proposing to fill in the number of cross-streets that break the median, reducing conflicts. Currently these cut-throughs are used to make U-turns and access the parking stalls. 10 of them are proposed to be filled in, with attention paid by SDOT to how far away the nearest one is. Since this proposal curtails car access a little, there may be pushback.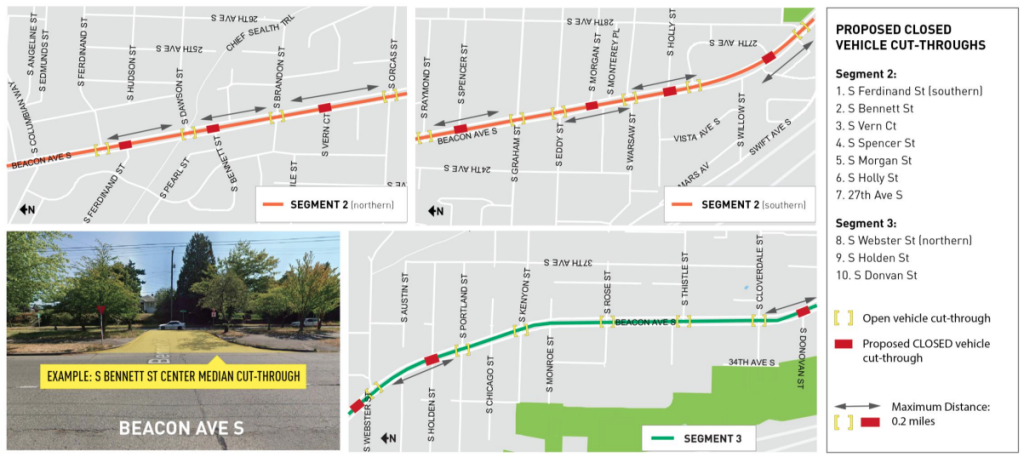 We also don't yet have a full picture of how people biking will transition from the median path to the protected bike lanes adjacent to Jefferson Park golf course. Likely the only way to make this work is with a full signal, but it's unclear if that will happen. Especially important will be the transition between those bike lanes and the ones on Columbian Way, which is only a very short distance.
So far, the plans for this crucial north-south bike route appears to be going extremely far out of their way to not displace any space for cars, which is disappointing but not surprising. The as-yet-unseen plans for the North Beacon Hill segment will make-or-break this project, but in the meantime make sure to complete the survey, which ends at midnight on Wednesday.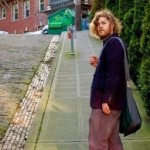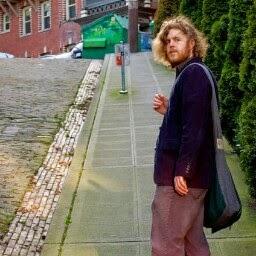 Ryan Packer lives in the Summit Slope neighborhood of Capitol Hill and has been writing for the The Urbanist since 2015. They report on multimodal transportation issues, #VisionZero, preservation, and local politics. They believe in using Seattle's history to help attain the vibrant, diverse city that we all wish to inhabit. Ryan's writing has appeared in Capitol Hill Seattle Blog, Bike Portland, and Seattle Bike Blog, where they also did a four-month stint as temporary editor.