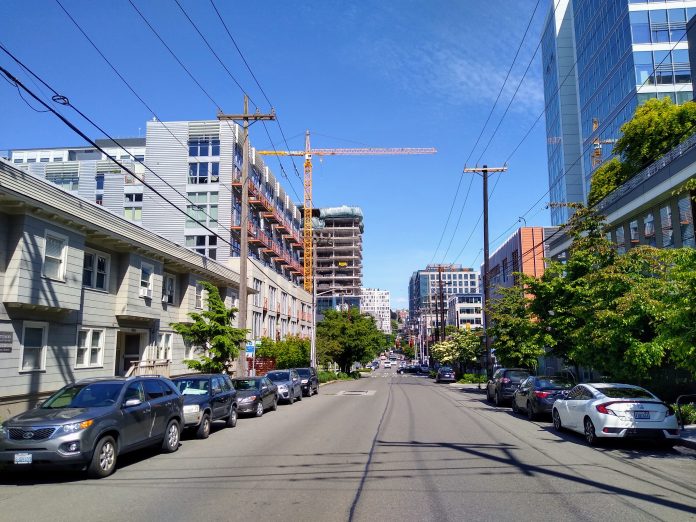 The Seattle Department of Transportation (SDOT) is taking early steps to create a new transit pathway through South Lake Union, moving buses like Route 8 off the heavily congested Denny Way corridor and onto Harrison Street, three blocks north. Early project details are coming into view as the department seeks a grant from the Puget Sound Regional Council (PSRC) for preliminary engineering work. According to its grant proposal, the Harrison Street transit corridor could be in place by 2028 at a total cost of $27.5 million.
That funding would be used to add bus shelters with real-time information signs, repave the street to handle transit vehicles, adjust traffic signals so they prioritize east-west bus traffic, and redesign the curb space on the street to prioritize pedestrian space. The Harrison Street pathway would also be paired with upgraded facilities on 5th Avenue N adjacent to Seattle Center and along Mercer Street in Uptown, taking buses entirely off Denny Way west of Fairview Avenue N. That change would align with King County Metro's plans for the corridor, which includes upgrading the Route 8 to a full RapidRide by 2050. A short eastbound bus lane for Route 8 already exists on Denny Way, which would continue to help move buses even with this proposed change.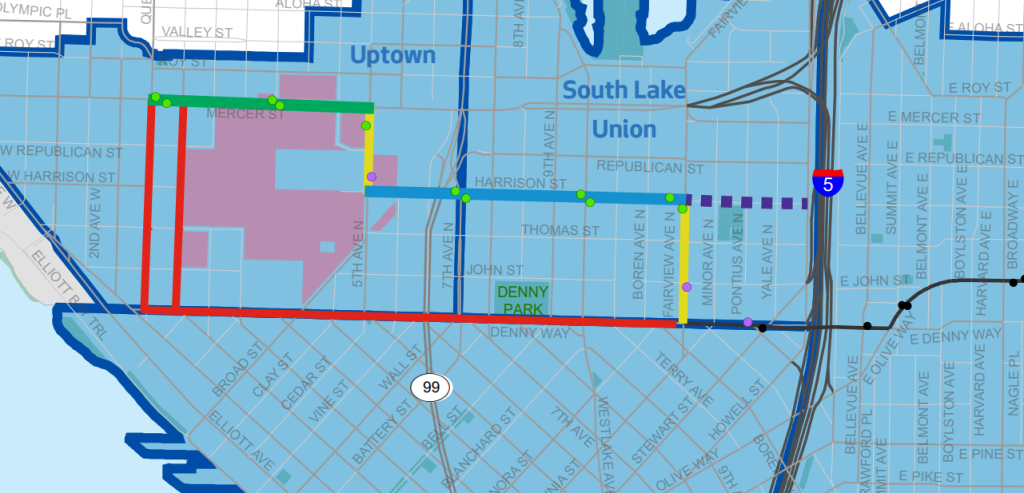 In its grant application, SDOT goes to great lengths to lay out the ways that Denny Way is failing to meet the needs of the people who use it, but most significantly people who aren't in cars. "Dedicated transit lanes are no feasible, and bus travel times are extremely slow in the general-purpose lanes. The road has no bike lanes and the sidewalks are too narrow for large pedestrian volumes. Finally, crossing the street is also a challenging and unpleasant experience. Adding bike lanes and widening sidewalks will not be feasible, and first mile/last mile connections are unwelcoming and difficult along this corridor," the application states.
As a whole, the document points out that the Denny Way corridor is a very uninviting place for transit users, with little opportunity for improvement. Moving buses off Denny doesn't help people trying to cross or to reach destinations on Denny, however, and routing buses three blocks north cuts out a huge segment of the walkshed of Route 8: Belltown and much of Denny Triangle.
According to SDOT, moving Route 8 off Denny Way may reduce bus travel times by 10%, adding what could be 800 additional riders to the route on top of the 8,000 daily riders that it expects to see after ridership completely rebounds following the current pandemic.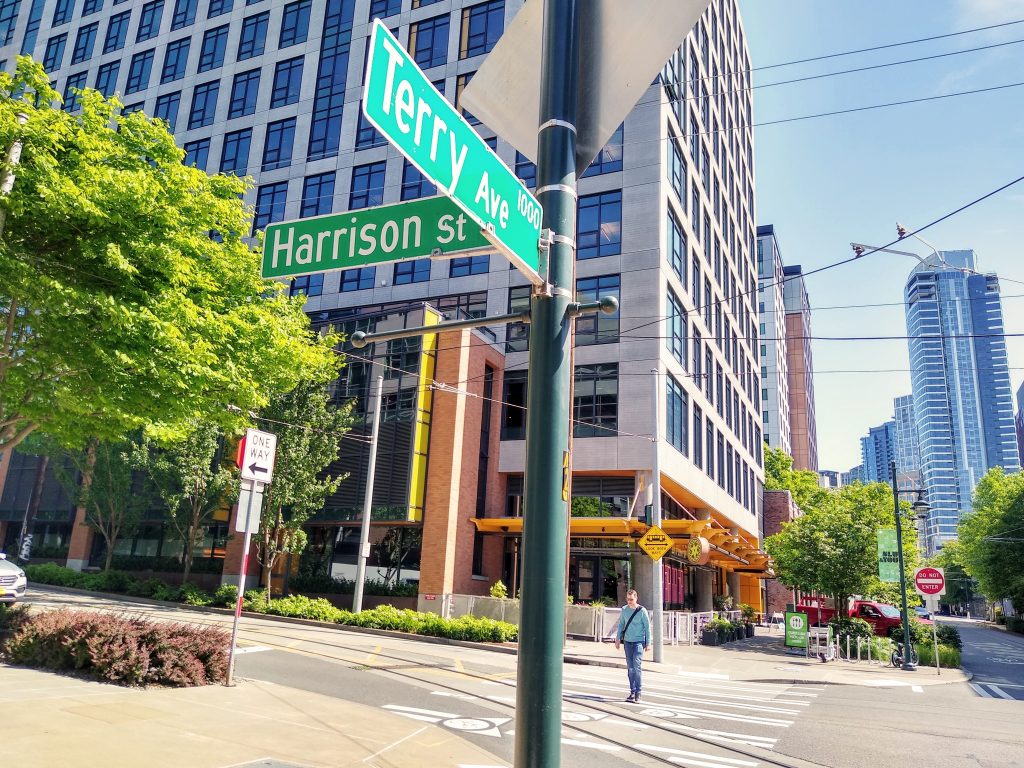 The Harrison Street transit pathway is being developed as the city pushes for "mix-and-match" assortment of light rail stations in South Lake Union and Uptown: a draft resolution on the West Seattle to Ballard Link extension project to be discussed at the city council's transportation committee next week expresses support for a Harrison Street station that would directly align with the proposed transit pathway, but the city also wants to see a Denny Station at Terry Avenue and an Uptown Station on Mercer Street, which was studied by Sound Transit as part of a separate alignment through South Lake Union.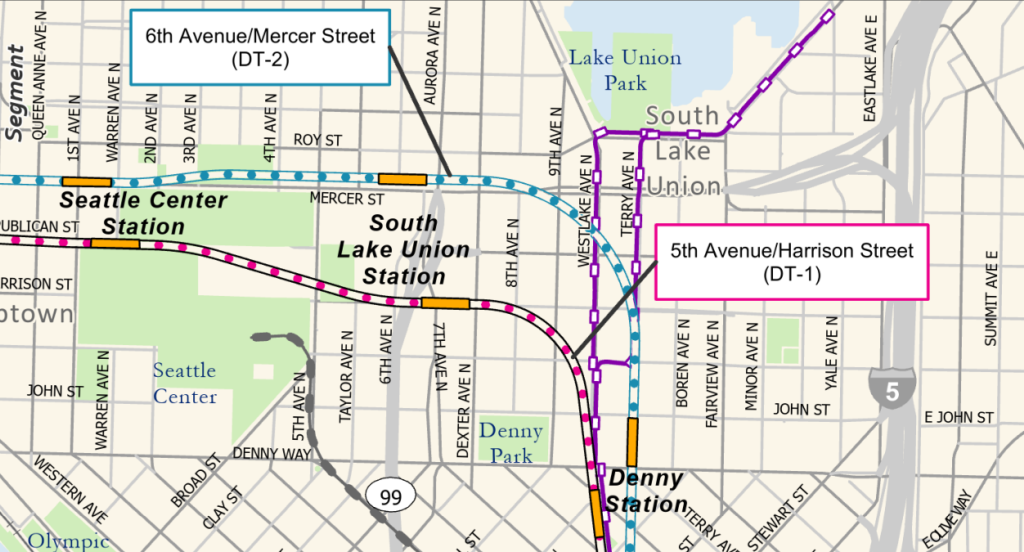 If Sound Transit doesn't select a Harrison Street station alternative for Ballard Link, the utility of using Harrison as a transit street isn't as apparent. A dedicated bus corridor on the north end of downtown where riders can transit to other buses could be valuable, especially as the Washington State Department of Transportation (WSDOT) wraps up work on a reversible transit and carpool lane for I-5's Mercer Street exit. Harrison could become a spot where express buses terminate, a prospect agencies like Metro and Sound Transit would likely appreciate given the fact that a new layover facility on Eastlake Avenue E just north of Harrison is set to start construction this year.
SDOT is seeking $4.5 million from PSRC for engineering work, and it says that local funding for the Harrison Street project is likely to come from both the city's Transportation Benefit District as well as funding for the North of Downtown Mobility Action Plan, which utilizes revenue provided for transportation mitigation from Climate Pledge Arena. Improving performance of Route 8 was emerged as a priority in the city's outreach process around transportation improvements that should be made as part of the arena's renovation.
Earlier this spring, The Urbanist covered how Seattle was taking a break from submitting requests for large federal grants in 2022, but this smaller grant application shows that SDOT does have some projects in the works that could be competitive for those large construction grants in future years.
There's a lot to like about the proposal to finally break the 8 out of its infamous traffic jams, but there are clearly some tradeoffs. We'll be watching to see how the project evolves from this early stage, and in particular how it aligns with Sound Transit's plans for South Lake Union.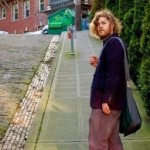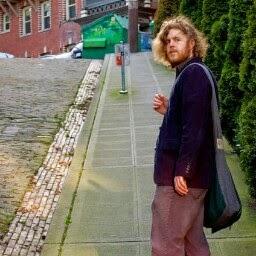 Ryan Packer lives in the Summit Slope neighborhood of Capitol Hill and has been writing for the The Urbanist since 2015. They report on multimodal transportation issues, #VisionZero, preservation, and local politics. They believe in using Seattle's history to help attain the vibrant, diverse city that we all wish to inhabit. Ryan's writing has appeared in Capitol Hill Seattle Blog, Bike Portland, and Seattle Bike Blog, where they also did a four-month stint as temporary editor.