Cross-country train rides with and without kids, dining cars with and without meat, and making travel part of the vacation.
To ride a train across America is the most sublime tension you will ever encounter. You are lazily rocking detached from cell signal, exactingly scheduled where minutes missed can turn to hours of delay, and still barreling safely through the most beautiful landscapes the continent has to offer. It is a push-pull that too few Americans experience.
Amtrak's Empire Builder train route is a two night, 2,200 mile trek across the norther tier of the country. Leaving every day from Chicago at 3:05pm, the train takes 40 hours to go through Wisconsin, Minnesota, North Dakota, Montana and Idaho. Then the train splits in half in Spokane, with one train headed to Seattle and the other Portland. They arrive at the end of the lines just before noon. Attendants and porters clean and restock, then they're back going the other direction by 4:45pm.
This summer, I rode the Empire Builder route in both directions. First I went eastbound solo from Portland to Chicago on the 4th of July. At the end of the month, I returned with kids in tow starting from New York. We first took the Lake Shore Limited to Chicago, then continued westbound once again on the Empire Builder. The first two trains – both headed to Chicago – hit their station times to the minute. The third train from Chicago west ran 12 hours late leading to a cascade of changes and surprise pizza in Wenatchee. More about that in a moment.
Eastbound: From Portland to Chicago
On July 3 at 4:50pm, I stepped into my Superliner Roomette from Portland's Union Station. From a central hallway, the room had a sliding door that opens to two recliners facing one another, a big window, and small folding table between. These rooms are built for two, but I was traveling solo this first portion of the trip.
My room, Number 12, was on the lower level along with a half dozen other rooms, shared bathrooms, and showers. Upstairs, the entire length of the car is private rooms and a connection to the next car. The train leaving Portland had two such sleeping cars as well as two coach seating cars. There is also the view car with panoramic windows and a coffee shop/cafe in the bottom level.
I booked tickets for our July travels back in May. By that point, the cross-country trains were full enough that there weren't any sleeping berths left leaving Seattle. I didn't expect to leave from Portland originally, but I took the hint and did Portland stuff for a couple days before the train left. Including the Portland Craft Beer Festival, which I couldn't have planned better if it was on purpose. We were scheduled to come back through Portland in a month for the same reason of no sleeping cars to Seattle. But there would be less beer fest.
Here's where some of the peculiarities of the Empire Builder pop up. While we left Portland, a train with similar setup simultaneously left Seattle. But instead of the view car, it has a full dining car. We would meet them in Spokane somewhere around midnight. Because meals are provided to folks in the sleeping cars, the Portland train without the dining car got a box dinner. I took the chicken option, which ended up being a gummy pita and some flavorless coleslaw. The cookies were good, at least.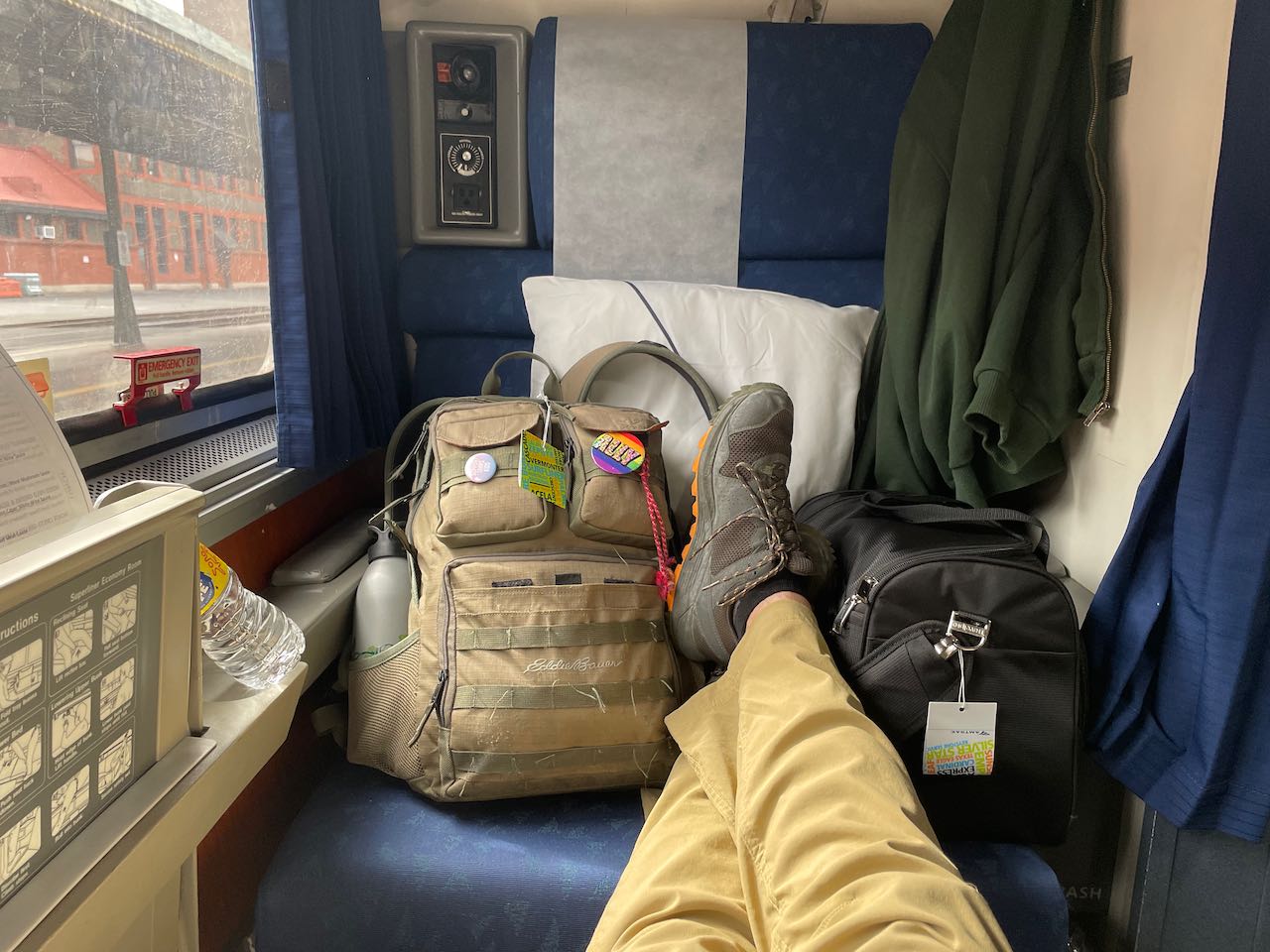 From Portland, the train goes to Vancouver, Washington and turns right for the winding path along the Columbia. As the train rolls, you see the river sink between rising banks of trees, then those banks turned to gold cliffs as we got into to the Gorge. Even at mid-summer, the sun does go down. It was dark at midnight in Spokane where we met the Seattle contingent. The train slept through Idaho and into the mountains of Montana.
In the roomettes, sleeping is a compact affair. The two seats that face each other during the day slide together to create a lower bunk. From the ceiling, a second bunk folds down. Elbow rests double as steps to the top bunk and a net made from seat belt material hooks to the ceiling to prevent roll outs. As a single rider, I elected the top bunk and doubled up the mattress instead of putting in on the lower bed.
Amtrak has advertised that linens have been upgraded. They are comfortable, if not plush. And the ventilation was such that it wasn't hot, but I didn't need more than a thin sheet. From the top bunk, power cables get fished through the edge to get at the single plug labeled "electric razors only." The rooms were not designed for multiple electronics. That's fine because there was no wifi and only cell service in the brief stops in towns. I had some shows downloaded in advance.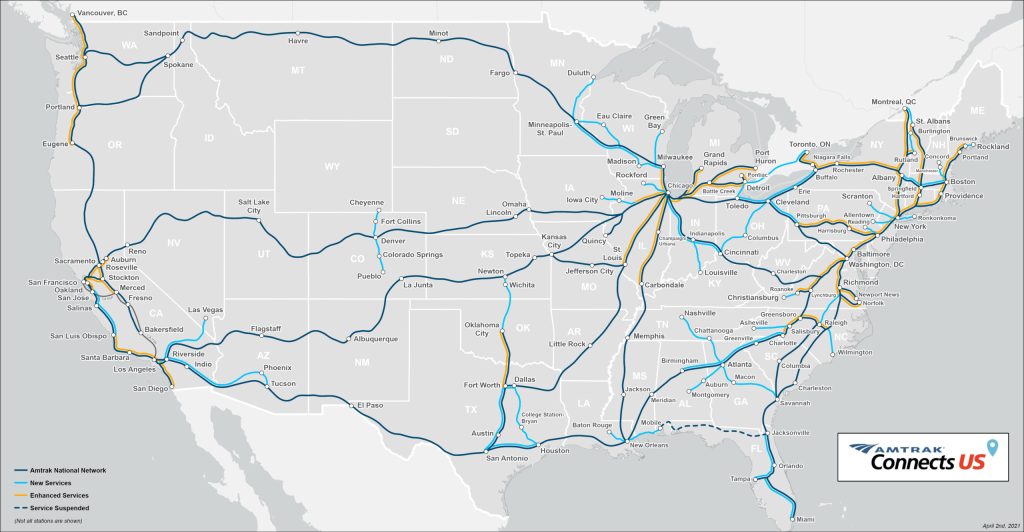 My Independence Day was entirely spent on the train, moving through Montana and North Dakota. As important as the scenery, the dining car joined the train. I was enjoying an omelette at 8am when we left West Glacier, Montana. The train then circled the south edge of Glacier National Park between US 2 and the Flathead River. The tallest of the park's mountains occasionally peaked over the ridge we traveled against. At East Glacier, the terrain opens and so does the throttle, and we were off into North Dakota.
There's a car commercial that talks about seeing America on the 4th of July. They can pound sand. The day should be for rolling through the high plateau of Montana and North Dakota as experienced from rail. The landscape is a patchwork of earthy colors with tufts of green shrubs and rocks along the layered and soft hilled countryside. This evens out to waves of grasses and meandering rivers in the high prairie. The long straight roads marking sections and townships in perfect checkerboard tapered into the far distance. As night fell, there were occasional bursts of single fireworks close to the horizon.
Morning on the train has a lot in common with morning at a campsite, except the coffee is already hot. The shared shower facilities are comfortable to anyone that's stayed in a KOA. The dining car offers grits with breakfast, which feels down home in the right ways. And the best part of the dining car is that they seat you at the table with an open spot and you meet some new folks. The conversations are generous and serendipitous. There's no awkward silences because everyone just looks out the window at some amazing landscape for a moment and has more to talk about. By breakfast on the morning of July 5th, we were moving across the Twin Cities of Minnesota. Lunch was in Wisconsin.
After two nights on the train, the only time I really started feeling antsy was the last two-hour clip between Milwaukee and Chicago. The attendants were moving through the cars taking care of the cleaning that they could and getting linens collected and refreshed for the next riders. That's where it really settled in that I was feeling done with this part of the trip, kind of because everyone around was also in anticipation mode. All were ready to get on with the next thing — which for me was a steak dinner at Bavette's basement bar, so anticipation made a lot of sense.
Westbound, Part 1: New York to Chicago
After visiting family for a few weeks in the Mid-Atlantic, I started on the touring phase of summer with kids in tow. That included visiting every place Ben Franklin took a crap in Philly, and existing in Manhattan to do a bunch of Manhattan stuff. Plus getting cannoli everywhere because they're just not good here in the PNW.
Our return trip started on Thursday, July 28th at the new Moynihan Station in New York. It's a glorious new facility that took over the old post office across from the dank subterranean Penn Station under Madison Square Garden. Sleeping accommodations allow access to the Amtrak Lounge, which in New York had a bar, really good snacks, and a view overlooking the station's spectacular sunlit concourse.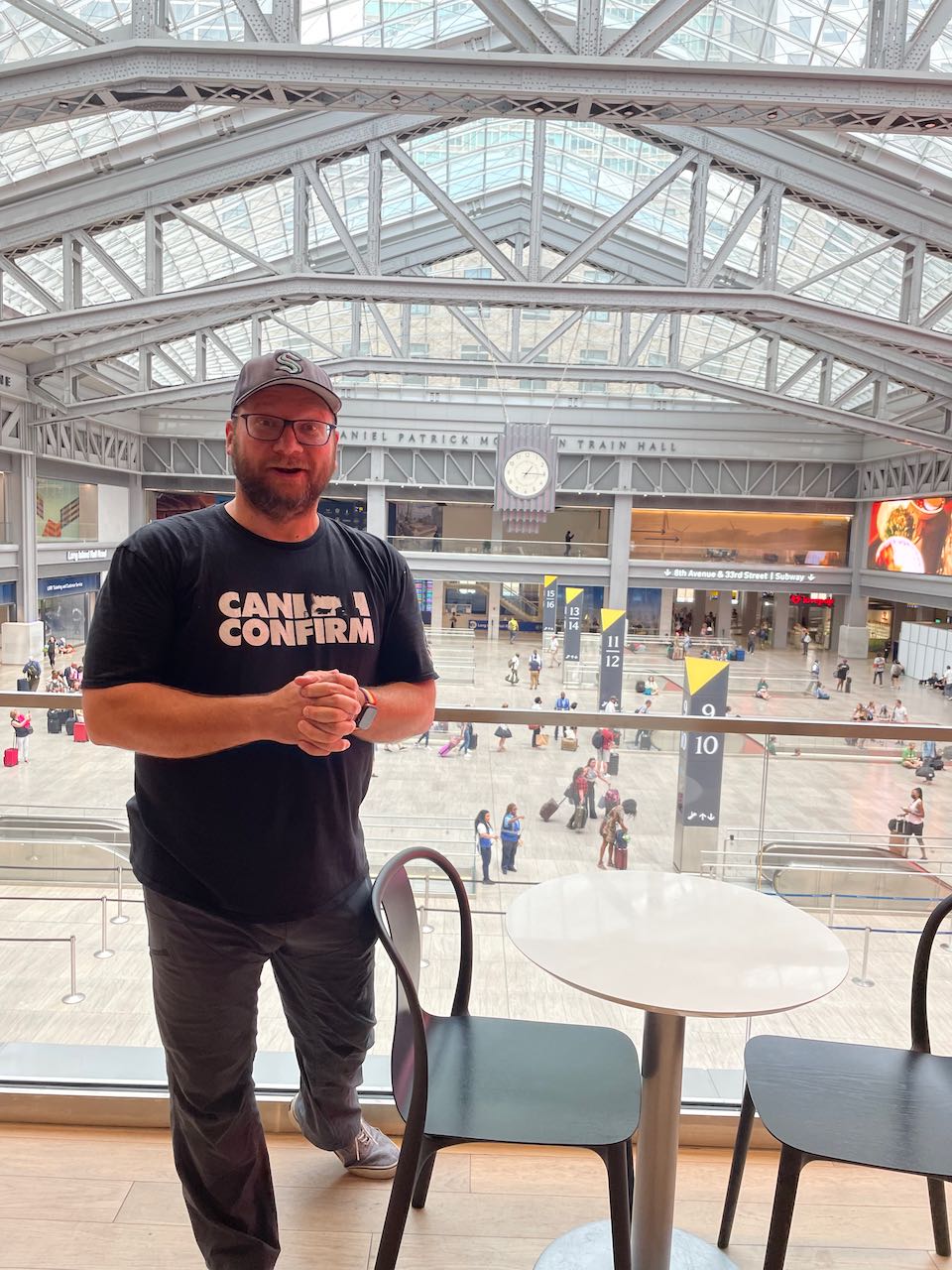 Our first westbound train was the Lake Shore Limited running daily at 3:40pm from New York. It's very different than the trains in the West. Routes under New York do not fit the double-decker train cars. For three people, we reserved two rooms across from one another. The roomettes in these cars are taller because there is no upstairs. They're still laid out in with the double chairs facing one another during the day and bunks at night.

Dining on the Lake Shore Limited is a little different too, with no full dining car on these trains. They still serve hot food, but it is closer to pre-portioned airplane meals. Vegetarian options were hit and miss, so we ordered the pasta, and the meatballs got traded for more noodles between meat and non-meat eating family members.
The ride itself was uneventful and lovely. From Manhattan, the train follows the Hudson River up to Albany. The city steps down to shopping centers, then intermittent to occasional river towns. Eventually trees close until West Point rises like Hogwarts. In Albany, the train meets its sister route from Boston and the trains continue to Chicago together, just like the Empire Builder in the West.
We did not move around this train very much, as it was just one night of travel. The bulk of the scenery was the rivers and hills of upstate New York, to zero complaints. The first Great Lake we encountered was at Rochester just before midnight. Then around all of Lake Erie while we slept.
The Lake Shore Limited does not offer a family bedroom, so with two preteens in tow, it was necessary to take the two room option. Traveling with kids ages 11 and 13 forced the discussion of how to divide up the rooms. Who should be alone: me or one of the kids. Either I'd have one of them in arm's reach with the other behind a door that's lockable from the inside. Or they'd be together behind the locked door, and I'd be solo. We opted to rotate with the youngest sleeping by herself on this first night.
And it was fine. These aren't trains with people moving on and off at a rate to be concerned about someone snatching them. And there's a car attendant up at every stop who knew we were together. We did agree on a time for lights out and all the devices came my way. We were up for breakfast and into Chicago at a little after 10am Friday morning.
Westbound Part 2: Chicago to Portland (or so we thought)
The westbound Empire Builder leaves Chicago each day at 3:05pm. Again, we had rooms so there was access to the Metropolitan Lounge in Chicago's Union Station. That was a comfortable spot to spend the extra three hours we had not anticipated. Mechanical issues delayed the train out of Chicago until after 6pm.
Unfortunately, late trains do not pick up time. Outside of the Northeast Corridor between Washington and Boston, Amtrak leases tracks from the various freight companies that own them. Starting late from Chicago meant we were behind the frequently stopping Friday evening commuter traffic, then at the mercies of freight trains heading west.
Again, our accommodations were a pair of two-bunk roomettes. However, they were split between levels. One upstairs and one downstairs on this double-decker train. It would have been very nice if the booking agent that set us with these rooms back in May had noticed the ages of the kids and mentioned this separation. This rearranged our plans about sleeping pairs to always put me downstairs whether I was alone or not. While I trusted the kids would not ramble off the train in the middle of the night, I still wanted an extra set of stairs for them to reconsider. Again, it all ended up being fine, but something that was on my mind.
The separate rooms also put us in the view car a lot more frequently. Instead of hunkering in our bunks, we were a bit more social between meals and watched the countryside go by from the wrap-around windows. The girls learned a new card game from some kids who were leaving at Glacier National Park. We are still in the midst of a pandemic, so we did tend to keep masks on when moving through the train, but we were flexible when we found a seat or where eating.
The train's delays slowly ticked upward as we moved west. Instead of passing through North Dakota over night, we spent most of Saturday in the state. Our new friend who was scheduled to get off in Glacier around dinner was there after midnight Sunday morning.
Then we hit Libby, Montana where we we got stuck behind a broken down freight train. For almost three hours, they worked to clear the traffic and our train sat stationary. When we started to move again, there was another delay as engineers and conductors were swapped out. Railroad staff have very strict rules about working hours, and our staffers needed to be relieved after their very long shift. In the end, where we were supposed to be out of Libby at midnight Sunday morning, we left Sunday at noon.
The delays created a handful of other issues. Our schedule put us in Portland at 11am, then on a Seattle-bound connection at 7pm. Also, there's simply not enough food on a train to feed people for the extra two meals in a half-day delay. The cafe below the view car pretty much ran out. The dining car had already been running low on its popular dishes and didn't have enough for another meal.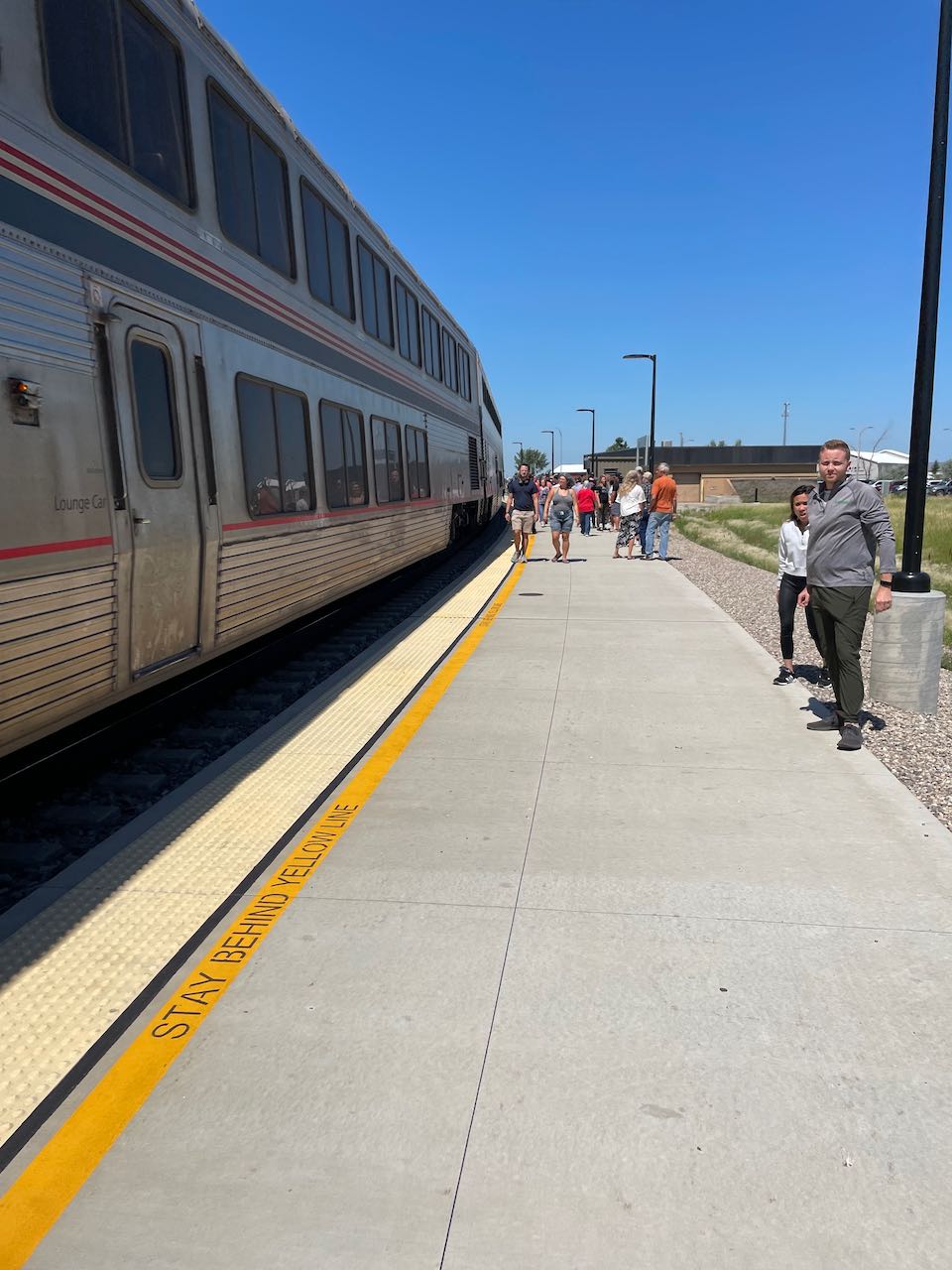 Here is where I get to praise the staff on these trains. From the conductors to the dining staff to the attendants, everyone was patient and gave the answers they could. After Libby, I brought up our soon-to-be-missed connection with the conductor. He rearranged us and our baggage out of the Portland bound train and into the Seattle ones. The dining car provided free lunch for everyone on the train regardless of seating. It was beef stew and rolls, but still better than Fyre Festival rations. After the trains split in Spokane, the dining car picked up pizza, pasta bowls, and salads in Wenatchee. There was also cake for everyone.
We arrived in Seattle at 11:10pm, just short of twelve hours after the scheduled arrival time. Interestingly, the connection train that we were supposed to get in Portland showed up at just about the same time. So, in full wizard tradition, neither late nor early, we arrived home exactly when we meant to.
Yes, I'd do it again.
The grand totals for the summer go something like this: Over three segments and 123 hours on the train, we covered 5,412 miles for a running average of moving at 44 miles an hour. (The 12 hour delay took about 4.5 mph off that average.) We slept in five roomettes across 11 states. We ate 32 plates of train food over 14 separate meal times and enjoyed the company of 10 new friends for conversations. We finished reading eight books, the new season of Umbrella Academy (me, sans kids), dozens of hands of varying card games, but we never beat the stupid airplane level on Cuphead.
Besides the delay, there are a couple improvements I'd love to see in the the experience. Top of the list, more frequent trains would be great. Also the heads up for families if their two rooms are going to be split between floors. The prepped food on the Lake Shore Limited left a lot to be desired. Box meals in the café car are super carb heavy and the fresher stuff sells out really fast. The plugs can be replaced with ones that can hold the weight of a charging block for a modern laptop. And it would be fabulous if the outside windows were cleaned more often. Or ever. Which emphasizes how these long-haul trains are treated for functionality and not enjoyment.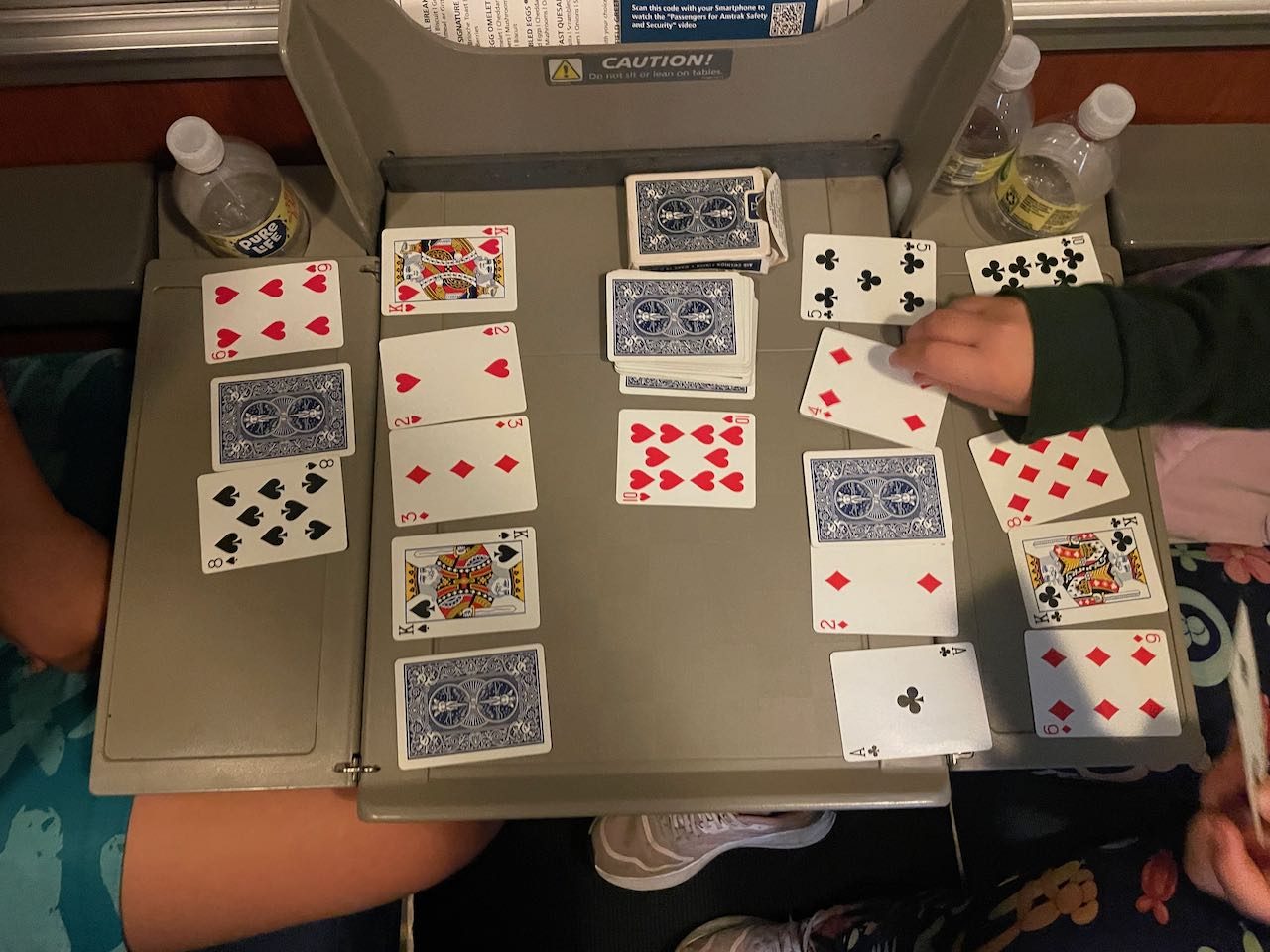 Admittedly, we do have a couple advantages that let this route work for us. First, I make time to vacation by train because I like it and I'm not a big airplane person. Second, the kids have grown up with long touring trips to weird places so they have the capacity (and devices) to entertain themselves en route.
But separating the entertainment from the functionality of travel is a bit of the problem. Seeing this year's catastrophe of a travel season emphasizes how we've broken vacations. Besides the paltry time Americans take away from work, we feel compelled to rush away and then fight to decompress. Rarely does the moving become part of the vacation itself.
Yeah, we were on the train for a while. Other routes may have been a little faster, but not by much. What's different is that I got to participate in the trip with the kids instead of just managing them from the front seat or ushering them to a destination. And that's worth surprise Wenatchee pizza to me.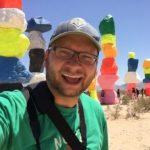 Ray Dubicki is a stay-at-home dad and parent-on-call for taking care of general school and neighborhood tasks around Ballard. This lets him see how urbanism works (or doesn't) during the hours most people are locked in their office. He is an attorney and urbanist by training, with soup-to-nuts planning experience from code enforcement to university development to writing zoning ordinances. He enjoys using PowerPoint, but only because it's no longer a weekly obligation.