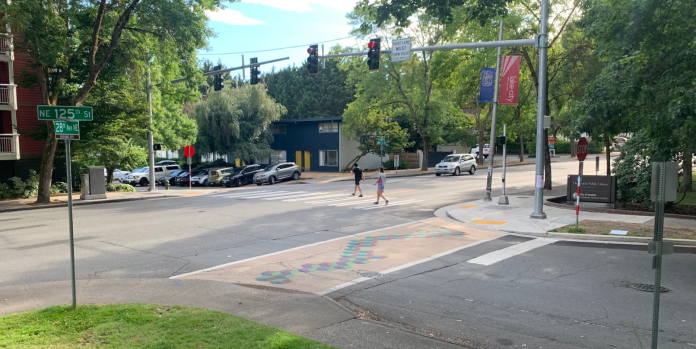 The Neighborhood Street Fund is probably one of the most overlooked components of Seattle's 2015 Move Seattle transportation levy. With a $24 million pot of funding, community members have been able to submit their own ideas for transportation improvements and, if they were selected, see those projects through to completion. Relatively expensive projects, ranging from $100,000 to $1 million, have been eligible for the fund, and so far, in the levy's first two rounds of funding, SDOT has constructed 19 projects across the city, with another eight in progress. That's led to new crosswalks, sidewalks, and trails in areas of the city that wouldn't have necessarily been able to get prioritized.
For the third and final round of funding, the Seattle Department of Transportation (SDOT) has decided not to accept any new project ideas this year. Instead, it's looking back at the project ideas selected in 2019 that weren't successfully funded during the last round. The department received 211 project ideas that it had to say "no" to from that cycle, compared to the 15 that it was able to fund.
Now, it's focusing on the projects located in "geographic equity areas" within Seattle. It's defining those as areas of highest need, based on the city's race and social equity index, its displacement risk index, and rates of Covid-19, according to a presentation given to the Levy to Move Seattle Oversight Committee last week. Those areas are primarily in the far north end of the city, in the south end and the Duwamish valley, and in the University District. Out of those 211 unselected project ideas, 58 are in those areas.
Fifteen of those projects are already being completed by other projects within SDOT, and another 26 were not recommended due to "high cost, limited right-of-way, or lower community priority from 2019 voting." That leaves 17 projects that could potentially receive funding.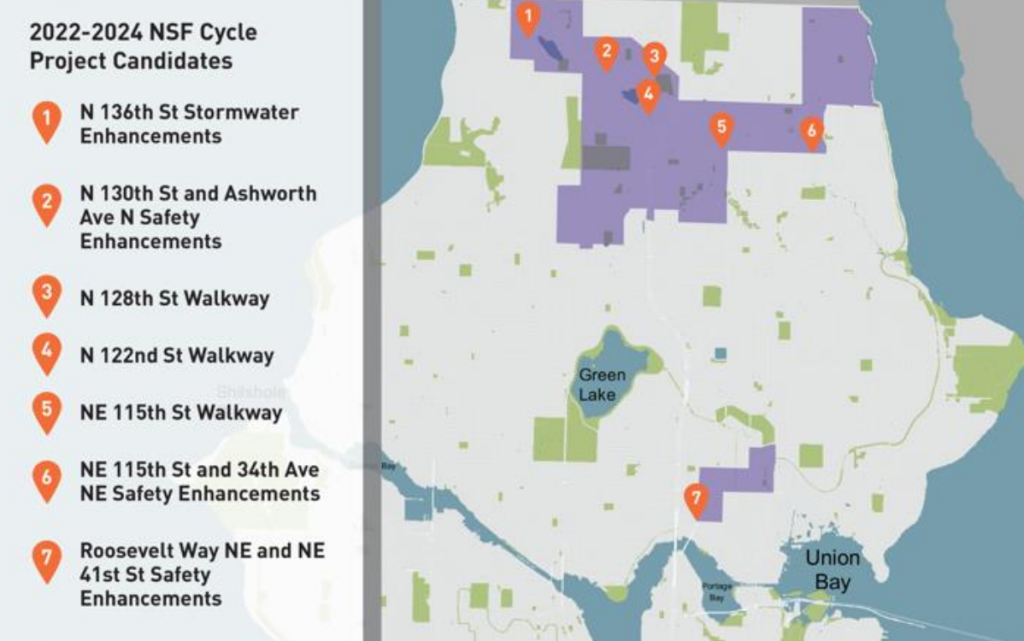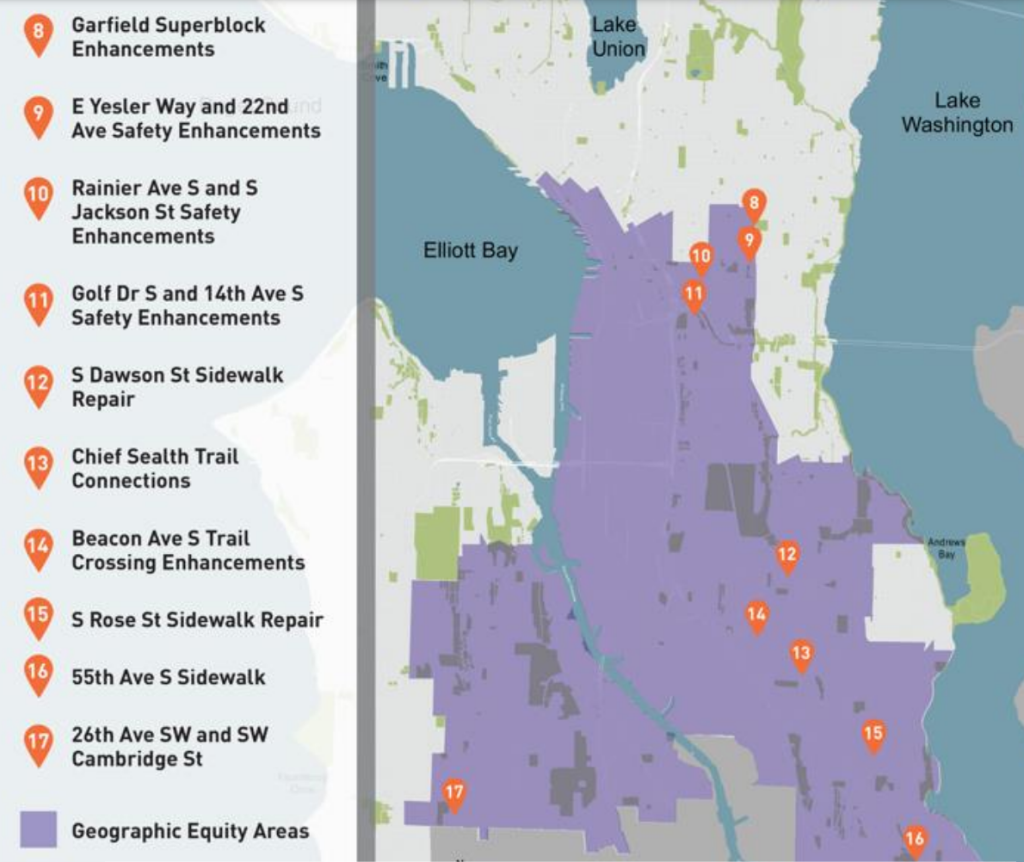 The projects range from crossing improvements like new signals to sidewalk repair, with a fair number of new sidewalks or "walkways," low cost quick build alternatives to sidewalks. Only about $4 million is left for the Neighborhood Street Fund's last round, which means approximately half the projects won't get built — building all 17 would cost $7.65 million according to early cost estimates.
The focus on these specific geographic equity areas is an acknowledgement of the historical disinvestment that these areas have seen, a disinvestment that shows itself in the current outcomes in our transportation system. But notably missing are any projects in SoDo or the Duwamish Valley, including Georgetown or South Park. In any case, the need vastly outweighs the resources available to fill it, with filling gaps in the sidewalk network via a grant program only necessary because of the lack of resources available to the city's new sidewalks program.
The final projects that will be built will get picked by members of the Move Seattle oversight committee. Last week, they were given the full list, and will spend the next two months evaluating the projects and ranking them, for a final vote to be held in early November. That committee is made up of a member of each of the city's modal advisory boards (e.g., pedestrian, transit, and freight) as well as a number of community members picked by the Mayor and the City Council to specifically oversee the transportation levy's spending. SDOT may tell these appointees how it would rank the projects, but it will ultimately be their call.
After this round of funding, it's pretty unclear what the future of these community-driven grant programs will be. A grant program for smaller improvements, the Neighborhood Park and Street Fund, had been turned into a more intentional participatory budgeting program, with the goal of broadening its reach throughout the city. But that program hasn't accepted project ideas since 2019, and it is being sunset, the committee was told last week.
In the past, the grant programs have been a way to placate residents looking to find a way to prioritize improvements that aren't in SDOT's normal queue. Getting a project submitted and into the next phase where it can be voted on can often take several years, and the simple math is that it will likely lead to disappointment. But now, there is no avenue for that whatsoever. With most Seattle residents probably unaware that these grant programs exist, it's not clear that the next transportation levy will prioritize them. These grant programs clearly fill an important need, however, even if the process is not ideal. Who knows what might come next.
If selected, the projects would be built in 2024. You can read more about the Neighborhood Street Fund, including exploring an interactive map of the proposed projects, at the SDOT webpage.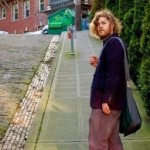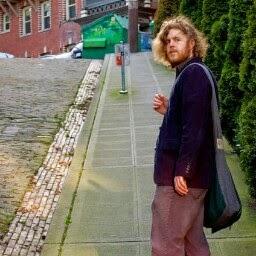 Ryan Packer lives in the Summit Slope neighborhood of Capitol Hill and has been writing for the The Urbanist since 2015. They report on multimodal transportation issues, #VisionZero, preservation, and local politics. They believe in using Seattle's history to help attain the vibrant, diverse city that we all wish to inhabit. Ryan's writing has appeared in Capitol Hill Seattle Blog, Bike Portland, and Seattle Bike Blog, where they also did a four-month stint as temporary editor.