This Transpo Notes roundup touches on a mix of transit stories, including:
Leaky ceiling repairs underway at U District Station;
New Fare Paid Zones coming to Downtown Seattle Link stations;

Community Transit's soon-to-launch microtransit pilot

; and
Short- and long-term Sounder S Line service changes.
U District Station's leaky ceiling getting repairs
Work started this week to repair U District Station's leaky ceilings. Contractors have temporarily closed portions of the sidewalk and bike lane in front the station complex on Brooklyn Avenue NE. John Gallagher, a Sound Transit spokesperson, said that contractors are expected to wrap up repairs in about a month.
Earlier this summer, Gallagher explained why the leaks were happening at such a new station — which only opened last October. "The location of the leak is on the north wall of the south entrance headhouse. We actually installed an observation well at this location and found there is constantly standing water at this location, so we assume it is ground water," he said by email. "The issue is with the interface between the station's underground concrete lid and a structural support beam at the surface level to support the UW building planned for construction above." Contractors are installing better waterproof on the station lid and a new sump pump that will remove standing water on the station lid.
The leaks haven't been without their impacts to riders. With water dripping on the platforms, Sound Transit has had to place buckets to capture the water. Even still, the inconsistency of the leaks has meant that water manages to reach the platform and spread, becoming a slip hazard. Ultimately, this has affected platform capacity and navigation. Sound Transit has tried improve safety with slip hazard cones to warn riders.
Fare Paid Zone changes coming to Downtown Seattle stations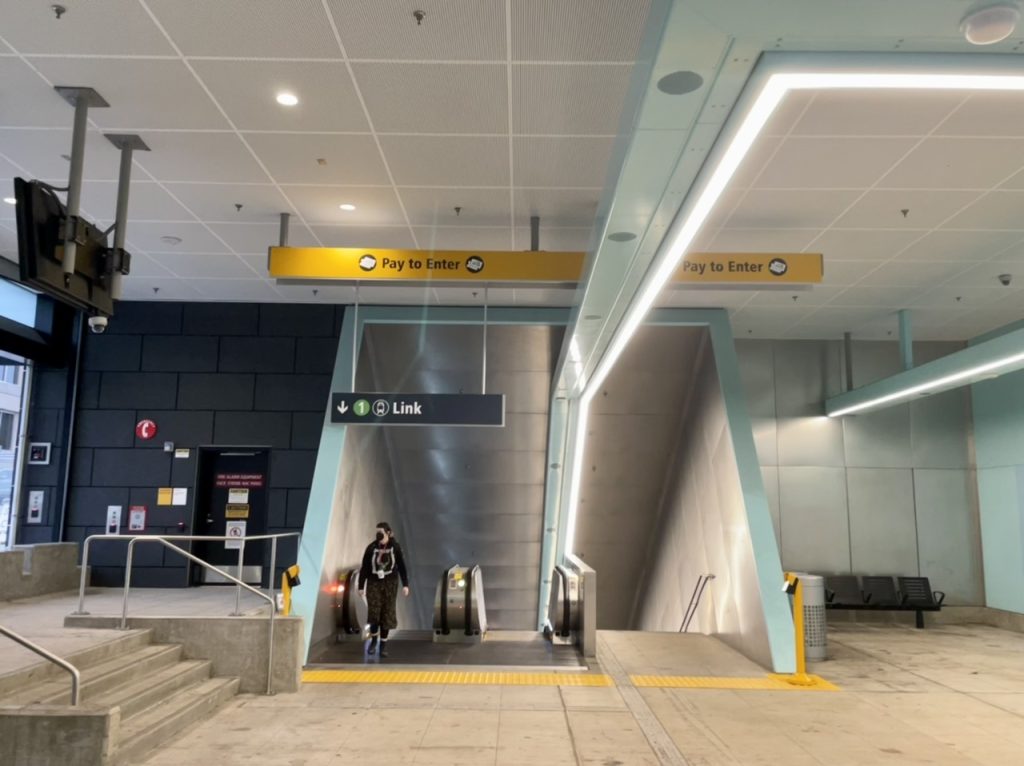 This week, Sound Transit started making big changes to Downtown Seattle Link stations, at least for the agency's fare strategy. New "Fare Paid Zone" signage and markings are being installed at entrances and mezzanines, similar to newer stations like U District, Roosevelt, and Northgate. The signage and markings are bright yellow like the ORCA card reads. Signage hangs above Fare Paid Zones stating "Pay to Enter" with ticket icons. Markings on the floor will include new tactile tiles, which are more physically attention-getting, to warn riders that they're passing into the Fare Paid Zone.
The agency plans to remove ORCA card readers at the platform levels in response to this. Additional ORCA card readers, however, will be installed at the Fare Paid Zone entry areas to support the higher demand for tapping in those areas because of the change.
Before the Fare Paid Zone, riders will be able to purchase valid fare media at ticket vending machines or purchase a pass from the Transit GO Ticket app, if needed. Valid fare media will need to be activated prior to passing through marked Fare Paid Zone thresholds to reach platforms.
With ORCA card readers removed from platforms and all fare payment moved upstairs, Sound Transit will be able to implement another element of its equitable fare engagement strategy. Fare ambassadors will be able to assist riders and inspect them for valid fare media on platforms rather than onboard trains.
To help educate riders about the change, Sound Transit will be posting rider alert signs and running audio messages at stations. The changes will eventually be rolled out to Westlake, University Street, Pioneer Square, and International District/Chinatown Stations.
Community Transit's new microtransit pilot launching
Community Transit is set to launch a new on-demand accessible microtransit pilot in Lynnwood called "Zip." The service would operate in the Alderwood and Lynnwood Transit Center area and is funded for a year. The first of its kind for Community Transit, the service will start on Thursday, October 20th. The agency has set the hours of operation from 5:00am to 10:00pm seven days a week.
As a flexible service, riders will be able to make trips anywhere within the service area boundaries for any purpose. Rides can be requested via a smartphone app or phone. Wait times will vary, but could average 10 to 15 minutes. Riders can expect the same as a regular local bus fare, which is $2.50 for adults. Youth aged 18 and under can ride free. Fares can be paid with ORCA, credit cards, and cash. ORCA card riders can make free transfers if transferring within two hours of their first tap.
Community Transit is evaluating other pilot projects in Arlington, Darrington, and Lake Stevens.
Short- and long-term Sounder S Line service changes
Sound Transit is implementing a series of service changes to Sounder. Some changes have already been rolled out and others are supposed to be on the horizon.
The agency has already reduced trainset lengths on the S Line from seven cars to five. The change is expected to run until the March service change. The reduced trainset lengths is meant to help out Amtrak, which maintains vehicles on behalf of Sound Transit. Amtrak doesn't have enough maintenance staff to service all of Sound Transit's equipment and their own. Fewer vehicles to maintain frees up Amtrak's staff to service equipment needed for the Seattle-Vancouver, British Columbia, which is supposed to restart in just under two weeks. While the change may be somewhat inconvenient to Sounder riders, overall ridership is still only a small fraction of what it was prior to the pandemic.
Sound Transit has said that seven-car trainsets will still be in use on weekends for special game day service this fall. But while the equipment is out of service, individual cars will be retrofitted to incorporate new digital equipment for the forthcoming Passenger Information Management System (PIMS).
Sound Transit plans to restore the 13th and final roundtrip on the S Line on Monday, September 19th. This will add a 7:55am southbound departure from King Street Station (Seattle) and a 10:06am northbound departure from Lakewood.

Stephen is a professional urban planner in Puget Sound with a passion for sustainable, livable, and diverse cities. He is especially interested in how policies, regulations, and programs can promote positive outcomes for communities. With stints in great cities like Bellingham and Cork, Stephen currently lives in Seattle. He primarily covers land use and transportation issues and has been with The Urbanist since 2014.