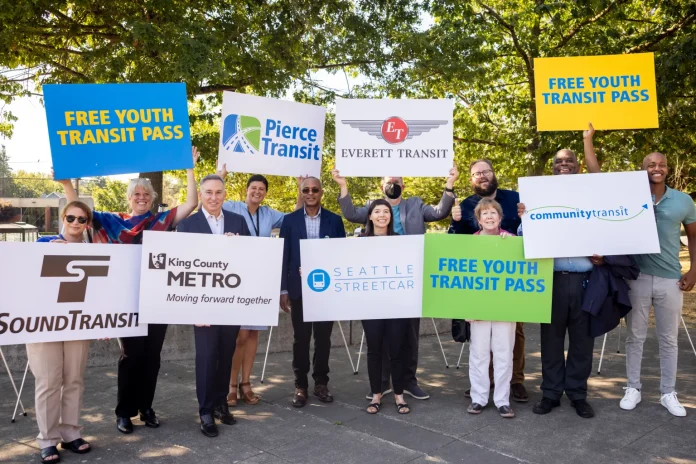 This Transpo Notes roundup touches on a mix of transit stories, including:
Zero youth fares and ORCA Lift fare reduction begin;
ORCA card readers are getting an upgrade and new cards coming;
Sound Transit's board approving an expanded fare ambassador program;
Sound Transit's board conceptually approving equitable transit-oriented development for two Link stations; and
Pierce Transit launching a new on-demand mobility option.
Zero youth fares and ORCA Lift fare reduction begin
It's official: zero youth fares have now rolled out across the Puget Sound region. Sound Transit, King County Metro, Pierce Transit, Community Transit, and Kitsap Transit all started offering zero youth fares today (September 1st). They join Everett Transit which went zero youth fare in July. Washington State Ferries will go zero youth fare in October.
Transit agencies in the regional ORCA pod are hoping to get youth (aged 18 and under) to use special zero youth fare card to track use and report data back to the state, which is providing offset grants to participating transit agencies (though Sound Transit does not qualify at this time).
Youth riders should at least have some form of identification, such as a student card on hand. Zero youth fares apply to the Seattle Streetcar and across participating transit agencies' various service brands, but uniquely the Seattle Monorail is not participating at this time.
Metro has also rolled out a reduced ORCA Lift fare as of today. Fares are $1.00, which is the same as other transit providers like Sound Transit, Kitsap Transit, and Everett Transit.
ORCA card readers get an upgrade and new cards coming
ORCA card readers are now displaying useful information when card users tap. Riders can now see remaining e-purse balances after tapping and how long their activated card is good for transfers in the transit system. Riders can also clearly see when transfers have been accepted and when tapping off the system, such as Link destination stations. This update was only possible once all ORCA card readers in the system had been replaced with the new Init model. This is also why the features were disabled during the transition period this spring and summer.
The ORCA pod has also said that new ORCA cards are coming as soon as the system transition moves forward. Many riders won't need new cards, but a specific subset of cardholders who purchase and reload cards at Safeway and Albertsons retail stores will need to purchase new ORCA cards once the system transition occurs. A new card will cost $3.00.
Sound Transit's board approves expanded fare ambassador program
The Sound Transit board took a big action last week to expand the fare ambassador program. The expanded program targets a 10% fare inspection rate, meaning that the average rider would have a fare check engagement once in every 10 trips on Link. In the past year, fare inspection rates have only about 1% to 3% and prior to the pandemic the rate was about 8%.
Each fare ambassador is only able to inspect about 250 riders per hour, which is lower than the rate that occurred during days of fare enforcement officers. This is because fare ambassadors spend more time on rider assistance and non-fare issues. So the combination of fewer inspections per staffer and a higher inspection rate will increase the number of staffers for the task. Sound Transit expects to ramp up staffing from about a dozen fare ambassador staff members today to 46 staff in 2023 (previously assumed as 28 with fare enforcement officers). This number will rise to 76 staff members in 2024 and 103 staff members in 2025 as additional transit expansions come online. By 2046, Sound Transit expects to have 308 fare ambassador staff (this was originally assumed as 56 fare enforcement officers).
Because the fare ambassador program requires so much more staffing than the old fare enforcement system, Sound Transit has had to reevaluate long-term program costs. The agency originally assumed a 10% fare inspection rate would cost $443 million through 2046 as part of the long-term financial plan. That number has risen considerably to $672 million in the last program cost update — a $229 million increase — which has been reflected in the revised financial plan.
As a result, Sound Transit's projected long-term debt capacity for other programs will further erode to fund the fare ambassador program. The remaining debt capacity in the minimum year of the financial plan will shrink another 0.9% to 5.1% — if, and when, the debt capacity falls below 0%, further challenges and delays to transit expansion delivery are highly likely. The debt capacity has fallen precipitously in the past year with various budget hits from policy decisions; last year the debt capacity stood at 15.8% following program realignment. On top of this all, fare evasion rates remain high on Link at around 40%, further hurting the system's finances.
Equitable transit-oriented development conceptually approved for two Link stations
Last week, the Sound Transit board approved declarations that land at Kent Des Moines and Overlake Village Stations are suitable for surplussing as equitable transit-oriented development (ETOD) sites.
At Kent Des Moines Station, 15 parcels of land comprising two sites west of the station are set for ETOD. The land is estimated to be valued at $13.1 million, but it may be discounted fully to facilitate affordable housing development. Sound Transit estimates that four to six buildings could be constructed on the 4.6 acres of land and deliver about 500 homes and some non-residential uses (e.g., retail and restaurants). Buildings could be six to eight stories tall. The agency hopes to maximize affordable housing with somewhere between 150 and 300 homes at or below 60% of the area median income. King County Councilmember Dave Upthegrove wants Sound Transit prioritize affordable housing over market-rate housing at the site.
At Overlake Village Station in Redmond, Sound Transit has two ETOD sites that total about 2.8 acres of land. The estimated value of the land is about $26 million despite the relative smaller size than Kent Des Moines Station, which is a testament to the high cost of land and housing demand on the Eastside. Like Kent Des Moines, Sound Transit will be able to offer land at a full discount if desired to maximize affordable housing development. The agency believes that midrise development will be best suited at the sites and could deliver somewhere between 250 and 350 homes in two to three buildings. Zoning in the area allows buildings up to nine stories and mixed-use, so there is a lot of flexibility in possible development outcomes.
Pierce Transit launches the Spanaway Runner
On Monday, Pierce Transit launched another on-demand service: Spanaway Runner. The service covers the Spanaway, Parkland, and Midland areas with on-demand van service. Riders can schedule trips via app or phone within the Spanaway Runner zones.
Service runs seven days a week between 7:00am and 10:00pm. Pierce Transit charges regular transit fares on the Spanaway Runner, which can be paid by ORCA cards, digital tickets, and paper passes. Cash is not accepted as a fare payment option.

Stephen is a professional urban planner in Puget Sound with a passion for sustainable, livable, and diverse cities. He is especially interested in how policies, regulations, and programs can promote positive outcomes for communities. With stints in great cities like Bellingham and Cork, Stephen currently lives in Seattle. He primarily covers land use and transportation issues and has been with The Urbanist since 2014.