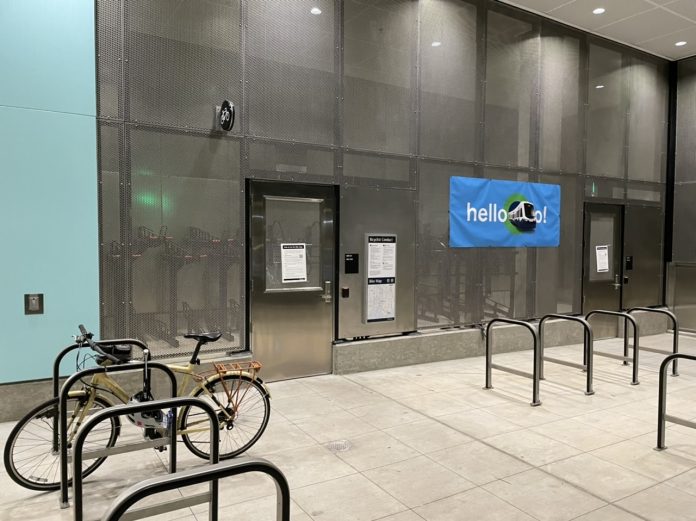 This Transpo Notes roundup touches on a mix of transit stories, including:
New Sounder cars arrive;
$30 million in federal bus grants for Washington transit agencies;
A pilot passenger-only ferry launches service;

Staffing levels at local transit agencies still down;

Update on Link real-time arrival signs; and

New bike rooms open at Sound Transit facilities.
Sound Transit receives new Sounder cars
On Monday, Sound Transit announced that two new cars for Sounder had arrived in Seattle, which include one cab car and one coach car. The cars are the first of 11 new cars that the agency is procuring for the Sounder S Line. Another two cars are set to arrive in mid-September with further deliveries to come, wrapping up sometime in 2023.
In 2020, the Sound Transit board approved the acquisition of three cab cars and eight coach cars to expand the Sounder fleet with the goal of increasing S Line capacity. This could allow for trainsets to be increased from seven to eight cars. The current configuration of trainsets include six coach cars and one cab car plus one locomotive. When all new cars arrive, the Sounder cab and coach car fleet will grow to 78 pieces of equipment.
The equipment is similar in design to existing cars using Bombardier (now Alstom) bi-level coaches. Sound Transit, however, did tout in a press release that "all the cars being purchased include the latest safety design features known as Crash Energy Management (CEM), a technology designed to absorb energy in the event of a collision." The agency also noted that "cab cars feature a full-width windshield for enhanced sightlines." Prior to putting the new cars into service, Sound Transit will put them through a full inspections and testing process. The first certified cars could begin revenue service in the fall.
Federal bus grants bring about $30 million to Washington transit agencies
Last week, transit agencies in Washington were awarded nearly $30 million in federal grants for bus facilities and electrification. Funding comes from the Bipartisan Infrastructure Law that President Joe Biden championed last year. The following transit agencies and programs are getting funding:
Sound Transit – $9,264,000 for new battery-electric buses and charging equipment to service the Stride S3 Line (SR 522 and NE 145th Street) bus rapid transit corridor.
Whatcom Transit Authority – $8,862,951 for new battery-electric buses and charging equipment.
Washington State Department of Transportation – $5,422,168 for new transit vehicles that will benefit Clallam Transit System, Grant Transit Authority, and Mason Transit Authority.
Pierce Transit – $3,870,800 for new battery-electric buses and charging equipment.
Lummi Indian Business Council – $1,876,265 for a new bus operations and maintenance facility.
Cowlitz Indian Tribe – $185,368 for replacement of their bus facility roof.
A Des Moines-Seattle pilot ferry service launches
A new pilot passenger-only ferry service has started in Puget Sound. The M/V Chilkat is running trips from the Des Moines Marina to Bell Harbor Marina in Seattle five days a week (Wednesday through Sunday) with the trial period set to end on October 9th. Travel time is about 40 minutes each way. Cost per trip is $10 for adults, $5 for seniors and active military, and free for children 13 and younger.
Generally, the departure schedule from Des Moines is 10:00am, 12:00pm, 2:00pm, and 4:00pm and Seattle is 11:00am, 1:00pm, 3:00pm, and 5:00pm. An earlier extra pair of trips may occasionally be available depending upon staff. The boat does accommodate up to four bikes and there is an extra $2 surcharge for this. Passengers can also purchase food onboard.
The City of Des Moines is backing the initiative with upward of $500,000 for it. Given the odd pairing, service pattern, and fact that past analyses were not optimistic about the viability of such a service, the cards may already be stacked against success, but time will tell.
Staffing levels still down at local transit agencies
By and large, transit agency operator staffing levels are down this month compared to July.
Metro is budgeted for 2,723 transit operators, including about 2,100 full-timers, but it is short about 163 operators. This is especially acute for the full-time classification.
| | | | |
| --- | --- | --- | --- |
| Month | Full-Time | Part-Time | Total |
| June | 2,004 | 568 | 2,572 |
| July | 1,982 | 585 | 2,567 |
| August | 1,982 | 578 | 2,560 |
Trainees: 35 full-timers and 14 part-timers currently in training.
For Link 1 Line and Seattle Streetcar services, staffing is largely holding steady with trainees in reserve for Link. However, Seattle Streetcar service is fairly inconsistent and remains below pre-pandemic levels.
| | | | |
| --- | --- | --- | --- |
| Month | Streetcar Operators (including reserve) | Link Operators | Link Trainees |
| June | 30 | 106 | 18 |
| July | 31 | 105 | 11 |
| August | 31 | 104 | 9 |
Community Transit is down another two operators for the month, continuing a trend of slow staffing shrinkage.
| | | | |
| --- | --- | --- | --- |
| Month | Full-Time | Part-Time | Total |
| June | 332 | 4 | 336 |
| July | 328 | 4 | 332 |
| August | 326 | 4 | 330 |
Trainees: one graduating in August, four in September, and four starting this week with scheduled graduation in October.
Pierce Transit staffing levels were also down this month. The agency has a target of 430 full-time operators and budgeted for 515 operators total.
| | | | |
| --- | --- | --- | --- |
| Month | Full-Time | Part-Time | Total |
| June | 423 | 0 | 423 |
| July | 430 | 8 | 438 |
| August | 424 | 0 | 424 |
A new class of 14 trainees started on July 25th.
Kitsap Transit lost staffing in the bus service divisions. That appears to have forced the agency to cut service further this month with full suspension of Routes 184, 202, 229, and 338 and a slate of other cutbacks on Monday.
| | | | |
| --- | --- | --- | --- |
| Month | Full-Time | Part-Time | Total |
| June | 94 routed, 45 Access | 9 routed, 2 Access | N/A |
| July | 95 routed, 45 Access, 12 captains, 31 deckhands | 8 routed, 3 Access | 194 |
| August | 91 routed, 41 Access, 12 captains, 32 deckhands | 8 routed, 4 Access | 188 |
Kitsap Transit has two routed and six Access trainees.
Link real-time arrival sign update
Riders keep asking when Link's real-time arrival sign system will be reactivated. The timing, according to Sound Transit, is still murky. Reached by email, Sound Transit spokesperson John Gallagher said in a statement: "We're still expecting to begin installation of new signs in the [fourth quarter of the year]. We should have a clearer sense of timing later next month or early October." Some stations, including ones in Downtown Seattle, will be outfitted with new digital arrival signs. Sound Transit plans to roll out a new digital cross-platform Passenger Information Management System, which will power the signs with information and real-time arrival data. Fine tuning this system will be critical to turning back on the signs.
New Sound Transit bike rooms open
BikeLink has announced the opening of seven bike rooms across Sound Transit facilities. These are located at Beacon Hill, Angle Lake, Roosevelt, U District, and Northgate Link stations as well as the Tukwila Sounder station and South Bellevue park-and-ride. The secure bike rooms can only be accessed by BikeLink card holders. The cards are initially purchased and pre-loaded with $20 of value. The cost to use the bike rooms is typically $0.05 per hour. BikeLink plans to have an app for mobile devices later this summer that can be used at these locations. Additional bike rooms managed by BikeLink are slated to open Judkins Park, Mercer Island, and Downtown Bellevue Link stations by the end of 2023.

Stephen is a professional urban planner in Puget Sound with a passion for sustainable, livable, and diverse cities. He is especially interested in how policies, regulations, and programs can promote positive outcomes for communities. With stints in great cities like Bellingham and Cork, Stephen currently lives in Seattle. He primarily covers land use and transportation issues and has been with The Urbanist since 2014.