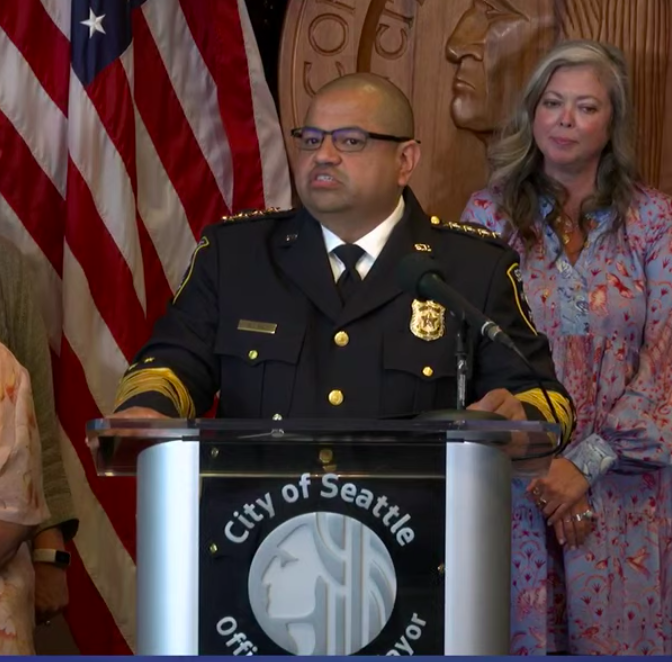 The choice invites questions of whether or not the department will stick to the status quo or advance innovation and change.
Seattle Mayor Bruce Harrell formally announced that interim Police Chief Adrian Diaz is his selection to permanently fill the vacancy created by former Chief Carmen Best's resignation in August of 2020. Prior to being named for the interim position, Diaz had been Deputy Police Chief and worked closely with Best. The selection of Diaz by Harrell represents another choice to maintain leadership with professional history within the Seattle Police Department (SPD), despite the City of Seattle having undertaken a nationwide search.
Other finalists for the position included Seattle Assistant Chief of Police Eric Greening and Tucson, Arizona, Assistant Chief of Police Kevin Hall. The appointment of Chief Diaz will need to be approved by Seattle City Council and the date of the vote has not yet been made public.
When asked at a press conference if the search, which started out with what Harrell described as a "record-breaking" 15 candidates, had been a good investment of public dollars, Harrell was adamant that the time, effort, and expense involved in the process, which was driven by requirements in the Seattle City Charter, was worth it, even if it ultimately culminated in interim Chief Diaz emerging as the top pick.
"There was nothing broken in the process — the process was a good process," Harrell said, explaining that any change to the the City Charter in relation to the police chief selection process would need to be undertaken by the City Council, not his mayoral administration. In Harrell's perspective, part of what made it a good process was the level of community involvement it entailed.
"We needed to hear from all communities. We wanted to not guess or assume or presume, we wanted to make sure we heard everything and you have to bring experts to do that kind of very thorough process," he said.
City Council President Debora Juarez, who served on the search committee, was also vocal in her support for the selection process and the choice of interim Chief Diaz for the position.
"In the seven years I've had the job and all the search committees I've been on, this was probably the most honest, raw, emotional, committee we had because we had to talk about not only the consent decree, we had to talk about the last two years: the elephant in the room, defund the police. We had to talk about the spike in crime. We had to talk about the length of 911 calls. We had to talk about the homeless issues and the intersectionality there," Juarez said in a lengthy set of remarks, which she described as unscripted.
Juarez went on to praise the selection committee as "a safe room where people could say what they really feel and believe because they love this city without being called a name, without getting a death threat, without people coming to their homes."
Examples of other members of the search committee included former SPD Chief Jim Pugel, Councilmember Lisa Herbold, and Prachi Dave, Policy and Advocacy Director, Public Defender Association; Commissioner, Community Police Commission. There were also members of community organizations, and Juarez pointed out that she would not have joined had Esther Lucero, Chief Executive Officer, Seattle Indian Health Board and Gabriel Galanda, an Indigenous rights attorney, not also been members.
What distinguished Chief Diaz as a candidate for Juarez was the respect she said that had been built while working with him over the years and what she saw as his "organic feel and love for this city." Similar arguments were made for former Chief Carmen Best when then-Mayor Jenny Durkan also appointed from within the department despite a national search.
But in a city where crime, including violent offenses, has been on the rise in recent years and police department moral has been low, questions of how much change can result from leadership with deep department ties are inevitable.
City leadership present at the press conference, however, strove to assuage those doubts by highlighting what they saw as Chief Diaz's accomplishments.
"One of the reasons he was chosen was that he did not wait to be appointed to be chief in order to make improvements to the department," Deputy Mayor Monisha Harrell said.
According to Deputy Mayor Harrell, Chief Diaz could have spent his time in the interim role in a "lame duck session," but instead he took action. "We have not wasted the last two years," she said. "He had that sort of leadership even in that interim period."
When it comes to how he will approach the role of Chief of Police, Diaz addressed his capacity as an agent for change in the department.
"There are so many initiatives we are moving forward with. Part of that is the consent decree gives us a foundation of what it expects of a police department, but for us it's really making sure that we are exceeding those baselines and really try to push this department into continuous improvement and innovation," Diaz said.
Wrapping up the consent decree, which was placed on SPD back in 2012 after the Department of Justice found the department was out of compliance with providing police services "in a manner that fully complies with the Constitution and laws of the United States, effectively ensures public and officer safety, and promotes public confidence," would mark a significant step forward for SPD and Chief Diaz. In 2018, the department provided information it argued exhibited that it had met the standards of the settlement agreement of the consent decree and moved on to the sustainability agreement, which is intended to show that the changes will be permanent.
Meeting the requirements of the sustainability agreement will involve making sure that these changes become a permanent part of the Seattle Police Officers Guild (SPOG) contract, which is currently under negotiation. After the new contract is finalized, a judge will need to rule that it meets the standards of the sustainability agreement or determine where more changes are needed.
But with work related to meeting the standards of the consent decree having gone on for a full decade, many Seattleites will be looking for more than its resolution for evidence of change and improvement within SPD. During the press conference, Chief Diaz tried to frame the current surge of new office hiring as a major opportunity on that front.
"If we are hiring hundreds of officers over the next several years, that's a level of culture change that's going to occur," Diaz said.
According to Chief Diaz, the SPD Before the Badge training program will be a major reason by these new officers will bring change to the department. Launched in May of this year, SPD Before the Badge is a five-week training academy in which new recruits enroll before completing their mandatory Basic Law Enforcement Academy training by Washington State Criminal Justice Training Commission. Over the five weeks, new recruits meet with community groups, including groups and individuals who have experienced discrimination and racism from police, learn about support and wellness strategies for handling the stresses of police work, and learn about opportunities for leadership in SPD.
Enrollment in Before the Badge, however, is limited to new recruits without academy training. Earlier this year, the Seattle City Council voted to approve police officer hiring bonuses topping out at $30,000 for experienced recruits coming to SPD from other police departments. Such lateral shifts are common in policing in the U.S., where a documented lack of experienced officers across the country has led to trained police switching departments to benefit from monetary bonuses, other recruitment perks, and new leadership opportunities. Many departments prefer to hire these experienced officers because they are easier to onboard and deploy.
While new recruits who enroll in Before the Badge will certainly make up a portion of the hundreds of officers Mayor Harrell has expressed a desire to hire as part of his plan to increase SPD's numbers from 945 to 1,450 in the next five years, it is not known how significant their numbers will be — or how much cultural impact they will make on SPD while working alongside officers with experience in SPD and other departments.
For those experienced officers, Chief Diaz has said that a mentorship program for sergeants, lieutenants, and captains, in which members of the community will be involved, will provide opportunity for learning and growth. He also signaled to SPD's Equity, Accountability and Quality (EAQ) project, as a means by which to foster lasting improvement and change in the department.
Police departments across the country use a system called Compstat to track and measure crime while also flagging areas of concern related to police performance for department leadership. At SPD, EAQ is a supplemental measure used in addition to Compstat that keeps track of additional performance areas. Related to equity, for example, EAQ using statistical techniques to monitor racial disparities, for accountability it uses Automatic Vehicle Locator (AVL) data to track where officers are spending their time, and for quality, it uses body cameras and automated transcripts generated from body camera footage to assess the quality of interaction between community members and police. These transcripts are evaluated using machine learning methods to assess professionalism and potentially highlight when an intervention is needed. The data obtained by EAQ, however, is aggregated on the department level and is not used to understand individual officer's performance.
Chief Diaz said that the EAQ program was launched with Seattle City Council approval within the last couple months, and that it should help to reinforce officer accountability and public trust in the department. This outlook was consistent with the optimism for SPD's future expressed throughout Diaz's remarks, in which he explained that when he entered the interim chief position he felt that officer moral was "at rock bottom," but since then he has seen it increase.
According to Chief Diaz, there are also reasons why public trust should be on an upswing as well. "We've actually seen a use of force reduction from 2015 to 2021 by 48%. We've seen complaints down from 2015 to 2021," he said.
Barring a no-vote from City Council, Chief Diaz will have the opportunity to continue this work in his new permanent role, which will provide him with the chance to demonstrate if his leadership is able to cultivate the sustainable change and improvement he has publicly committed to making at SPD.
Mayor Harrell is staking his reputation on Chief Diaz pulling it off, even as he tempered expectations that eradicating racism and completely changing SPD culture would be possible.
"I have worked with a lot of chiefs … as they say, 'it's not my first rodeo,'" Harrell said. "And I want to thank all those former chiefs for their outstanding service and leadership. Fact of the matter is that not one chief in our history has completely eradicated racism, completely changed the culture. So I'm not asking this chief to do that. I'm asking this chief to be the strongest and most effective leader he can be to change the culture and optimize our performance."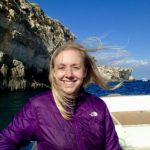 Natalie Bicknell Argerious (she/her) is a reporter and podcast host at The Urbanist. She previously served as managing editor. A passionate urban explorer since childhood, she loves learning how to make cities more inclusive, vibrant, and environmentally resilient. You can often find her wandering around Seattle's Central District and Capitol Hill with her dogs and cat. Email her at natalie [at] theurbanist [dot] org.