The Urbanist Elections Committee has released it endorsements for the 2022 general election. In this episode, reporter Ray Dubicki talks with two members of the Elections Committee. Hannah Sabio-Howell and Rian Watt join the podcast to walk us through the process of developing the candidate questionnaire and surviving some long zoom calls.
As we hear from Hannah and Rian, the Elections Committee puts some serious effort into their work. That can be seen in the thoughtful list of candidates they've endorsed and some very tough calls between worthy candidates. It's all to make sure that you have the best list at hand when filling in your ballot. You can thank them by making sure that ballot gets submitted. Folks with non-urbanist agendas are voting in droves, so it's vital that you make your voice heard.
Of course, we want to know your thoughts, opinions, and methods you are using to get your ballot in by November 8th. Reach out to us at podcast [at] theurbanist.org. As always, you can find The Urbanist podcast on iTunes, Spotify, and other major platforms.
And if you are enjoying the podcast, be sure to offer a "like" or "thumbs up" on your favorite platform. It's a great way to spread the word to new listeners.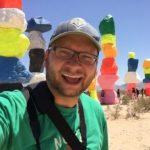 Ray Dubicki is a stay-at-home dad and parent-on-call for taking care of general school and neighborhood tasks around Ballard. This lets him see how urbanism works (or doesn't) during the hours most people are locked in their office. He is an attorney and urbanist by training, with soup-to-nuts planning experience from code enforcement to university development to writing zoning ordinances. He enjoys using PowerPoint, but only because it's no longer a weekly obligation.