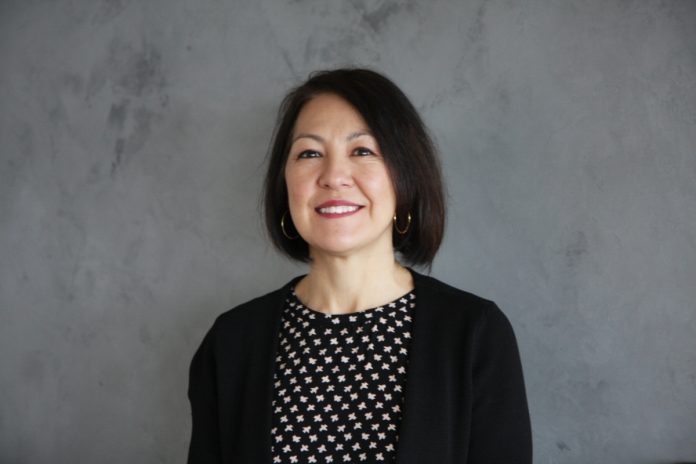 The race for King County Prosecutor couldn't be any tighter. Urbanist-endorsed Leesa Manion is up 32% to 31% over Federal Way Mayor Jim Ferrell in a newly released poll commissioned by Northwest Progressive Institute (NPI). That's easily within the 4% margin of error pollster Change Research modeled for the poll, which was conducted over the past week. Plus, with one-third of respondents undecided, this is anybody's race.
The youngest voting demographic preferred Manion by a two-to-one margin, while older voters prefer the more conservative Ferrell. Trump Republicans overwhelmingly favor Ferrell: 51% of Trump voters prefer Ferrell and just 10% back Manion, the poll found.
The poll also found sharp geographic distinctions. "Manion leads in Seattle and on the Eastside plus Seattle's northern suburbs; Ferrell leads in South King County and in the rural portion of the county," NPI's Andrew Villeneuve wrote. Specifically those numbers are as follows:
Seattle
Eastside and North Lake Washington
South King County
Rural King County
For more on the poll, check out the post in the Cascadia Advocate.
The outcome of the race will have a huge impact on the direction of criminal justice policy in the region. Farrell promises to roll back diversionary programs and reinvigorate the war on drugs with a tough-on-crime punitive approach. Given his police guild endorsements, he appears poised to defer to police unions on the matter of police reform and accountability, which is a formula that has gotten us nowhere.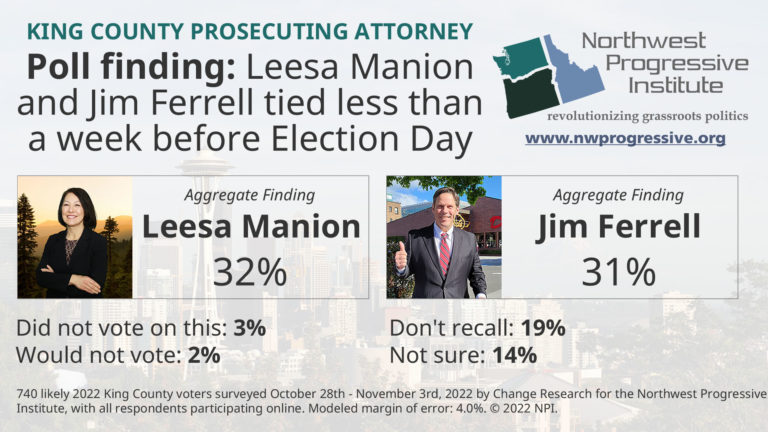 Manion is chief-of-staff for long-time King County Prosecutor Dan Satterberg, who is retiring this year. She has the backing of a wide array of center-left and progressive leaders, plus Satterberg, a former Republican turned Democrat who has embraced some elements of restorative justice and implemented the County's Law Enforcement Assisted Diversion (LEAD) program. She is promising to build on those programs and largely continue Satterberg's approach balancing restorative and punitive justice.
Manion has The Stranger's endorsement, while Ferrell has the giddy support of The Seattle Times editorial board.
The Urbanist Elections Committee (on which I serve) highlighted Manion above all other races on the ballot.
"If we can convince you of one candidate this year, make it Leesa Manion, in the King County Prosecutor race," we wrote. "Her opponent, Jim Ferrell, is running a throwback campaign centered on cracking down on the poor and reigniting a failed war on drugs. What impressed us about Manion is that her goals to decrease crime and disorder are supported by policies that have the benefit of actually working. Respecting constitutional rights and following evidence-based practices to reduce crime over the long-term is a winning combination. Somehow violence prevention and diversionary policies have gotten a dirty name, but they remain the most effective way to rehabilitate people and reduce recidivism rates. In short, after interviewing Manion, we're convinced she's the real deal and will be the better county prosecutor."
While Manion wants to invest in social services and rehabilitating people, Ferrell's approach entails pouring money into jails to maintain the lock-them-up approach and high recidivism rates that come along with it. The choice couldn't be more clear. In such a tight race, the victor is likely to be determined by the stronger turnout operation in the final week. Younger voters need to turn out for Manion to prevail.
Get your ballot postmarked or in drop box by 8pm on Tuesday, November 8. Check out The Urbanist voter guide for more endorsements.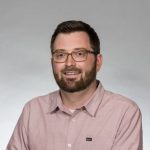 Doug Trumm is publisher of The Urbanist. An Urbanist writer since 2015, he dreams of pedestrianizing streets, blanketing the city in bus lanes, and unleashing a mass timber building spree to end the affordable housing shortage and avert our coming climate catastrophe. He graduated from the Evans School of Public Policy and Governance at the University of Washington in 2019. He lives in East Fremont and loves to explore the city on his bike.