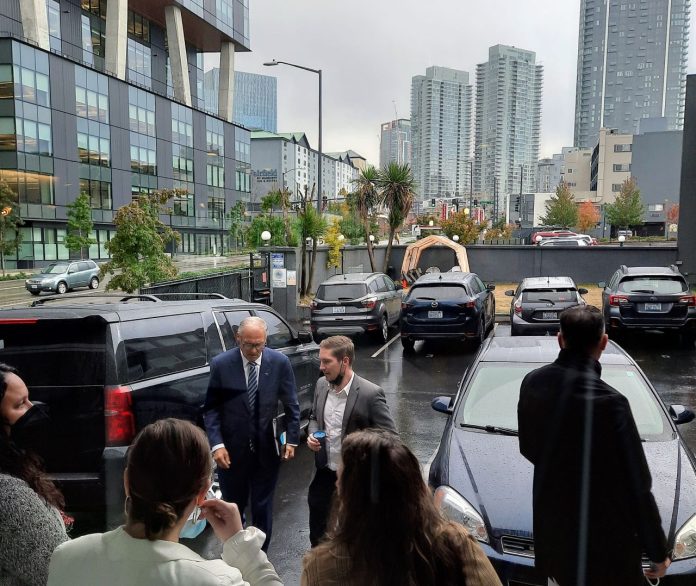 Governor Jay Inslee was in Seattle yesterday to tout his efforts to reduce homelessness across Washington State, which he said were bearing fruit. Inslee also pledged another state legislative push to reform zoning and speed up permitting in order boost housing creation and put downward pressure on housing prices, which have been skyrocketing statewide.
The governor's press release laid out three focus areas around increasing housing availability for next session.
"Increasing density near transit corridors by creating a public-private partnership transit-oriented development program and establishing requirements around the number of units that are priced affordably."
"Speeding up development by creating a new permitting pilot program and digital permitting platforms."
"Helping lower-income first-time home buyers by expanding a tax incentive for people who sell their homes to first-time home buyers in the state's home buyer program."
The governor underscored the connection between prevailing housing prices and the rate of people sliding into homelessness — research has shown jumps in housing prices correlate with jumps in homelessness.
"Availability and affordability are two sides of the same coin," Inslee said in a statement. "Affordable housing is necessary for preventing people from sliding into homelessness, for helping people transition out of shelters and into permanent housing, and for strengthening the ability of working people to establish economic stability and security."
At the press conference, Inslee was flanked by State Rep. Nicole Macri (D-Seattle – 43rd District); Marc Dones, head of the King County Regional Homelessness Authority (KCRHA); Roger Millar, secretary of the Washington State Department of Transportation (WSDOT); Brett D'Antonio, CEO of Habitat for Humanity Seattle-King County & Kittitas; and Lisa Daugaard, executive director of Public Defender Association. Speakers praised the approach WSDOT has used to get people at encampments rapidly housed so the encampments can be removed without displacing people to set up new encampments elsewhere.
"The reality is that when we use public funds with the best and most innovative strategies that we have instead of clinging to things that we know do not work like our old congregate shelter models, we can rapidly resolve encampments," Dones said in their remarks. "We can bring everyone inside. That is the reality we can live in."
Macri helped secure the $815 million for housing and homelessness that Inslee requested in his supplemental budget earlier this year.
"To me this has been really worthwhile and why it has worked is number one because of the courage. The courage to do the right thing. The courage to stop literally sweeping this problem under the rug," Macri said. "The courage for the state to make to make investments in our communities and partner with local communities. The courage to do things differently."
The state's new Rapid Acquisition program has allowed permanent supportive housing to be deployed more quickly. The fund has helped nonprofits and housing authorities purchase hotels or new apartment buildings, like LIHI's new Dockside project in Green Lake announced this summer, which got a shoutout from Macri.
"As the governor said, often, almost always, to build housing and stand it up has taken years," Macri said. "Now with courage and conviction it is taking weeks and that is making all the difference."
Overcoming past hurdles to statewide zoning reform
Last year, Inslee backed a push to replace single-family zoning with fourplex zoning in major cities in the state. Rep. Jessica Bateman (D – Olympia) led a coalition that carried forth that legislation, but the bill died in the House. With no Republican support, a delegation of skeptical Democrats (largely from Eastside suburbs, it would appear) was able to kill both the fourplex bill and backyard cottage reform.
The fourplex bill never came up to a floor vote, but if backyard cottages were too much radical for a legislator, fourplexes likely were too. The state representatives who voted against backyard cottage reform were Tana Senn (Mercer Island, 41st Legislative District), Larry Springer (Kirkland, 45th LD), Lisa Callan (Issaquah, 5th LD), Steve Kirby (Tacoma, 29th LD), Bill Ramos (Issaquah, 5th LD), Amy Walen (Kirkland, 48th LD), and Alicia Rule (Blaine, 42nd LD).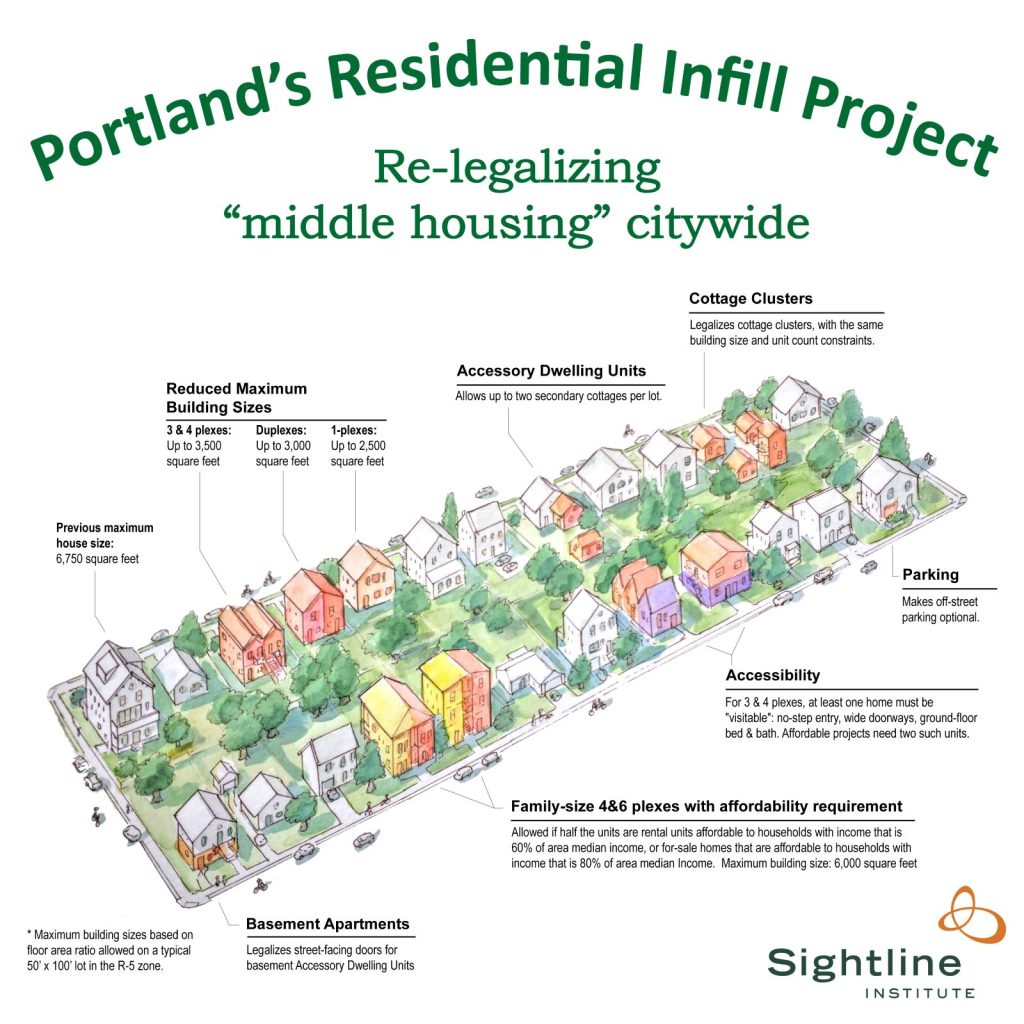 The makeup of the legislature isn't likely to change drastically, but there could be cause for optimism. Kirby has since retired, and his likely replacement Sharlett Mena, whom The Urbanist Elections Committee endorsed, pledged to support the fourplex bill or similar legislation. Additionally backers hope that tide is turning and greater awareness of the housing crisis and the need to act could change a few minds among returning holdouts.
Governor Inslee also pledged a different approach this time around, with high-density multifamily zoning teased near high capacity transit, but more discretion for the cities to set zoning elsewhere with the state providing a target of multifamily or missing middle housing they would have to hit.
"Freeing up more land along these transit corridors we think is a good approach," Inslee said. "A second approach is for cities to meet some targets for percentage of land that is available for more dense housing… We're gonna advance both those, I believe, working with legislators, but one way or another: We're not making any more land in the state of Washington; so we have to free up some more land for housing for Washingtonians."
The details are still to be ironed out and released, but one way this might work is setting a maximum percentage of residential land that could be zoned exclusively for single family homes and leaving it up to the cities where to make the zoning changes to hit the target. Perhaps, for instance, if a transit-rich city had 70% of their residential land set aside for single-family homes (like Seattle or Bellevue do) they'd have to cut that in half in a possible compromise approach. But it's also possible the state could end up going with squishier guardrails that could end up making it easy for cities to wiggle out of the requirement or block new housing through other means.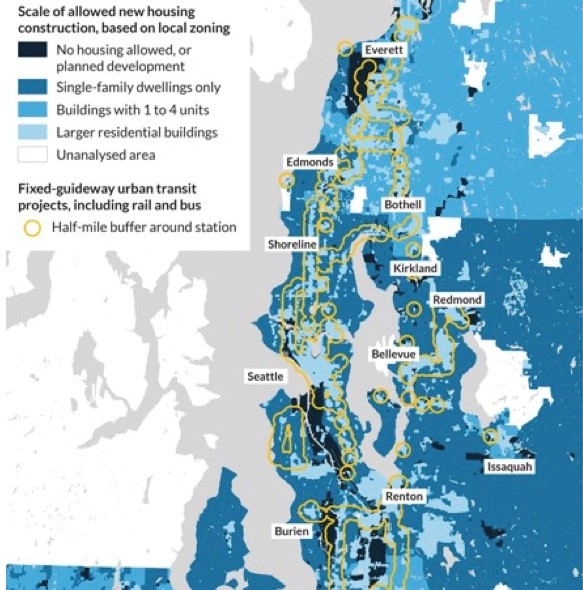 Land use regulation remains very restrictive and focused on single family homes across most of the Puget Sound region even as population has grown by one million residents in the last two decades. Housing supply has failed to keep up, as a recent Urban Institute research brief highlighted. Lead researcher Yonah Freemark stressed the need for a diversity of zoning changes spread across an urban area, not narrowly limited to transit corridors.
"Our research for the Puget Sound suggests strongly that limiting the zoning change to just the areas directly around transit will do little to impact the inequitable distribution of housing availability and construction in the region today," Freemark said. "So, if one of the primary goals of zoning reform or of housing growth is to encourage more access to housing including in areas that are quite exclusive today, just looking at the areas directly around transit — like the very close-in areas — I think is going to be pretty ineffective. We need a diversity of zoning changes implemented simultaneously."
Double-digit annual increases in median home prices have been common across the state in recent years. "In Washington state, from 2019 to 2020, median home prices increased 13.7% in just one year," the governor's release notes. "This housing affordability crisis is not just in the state's urban areas, but also in rural communities such as Chelan and Okanogan counties."
Increasing supportive housing
While the legislature failed to act on zoning reform, it did increase funding to state's housing trust fund, which was projected to double the pace of production of affordable housing and transitional housing.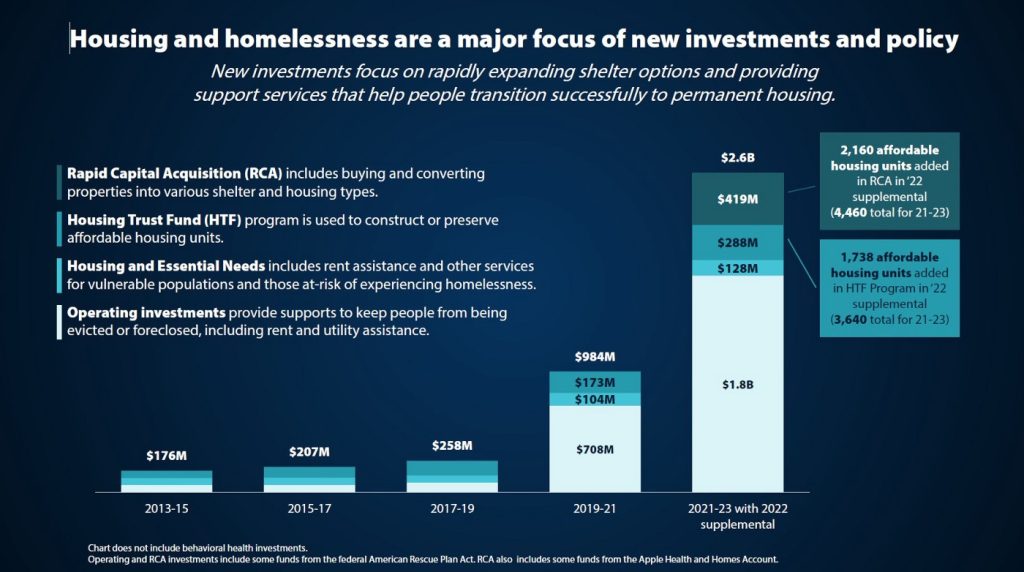 "In the 2022 session, legislators approved funding to almost double the number of new units to more than 4,400," the governor's office said in a press release. "Within the first year, 14 new facilities have already opened, serving approximately 830 residents. The Washington State Department of Commerce has awarded funding to an additional 19 projects in 12 counties that will provide nearly 1,000 additional units. The majority of the acquisitions are apartments or hotels that will be modified to provide long-term transitional or permanent housing."
This uptick in supply of supportive housing has in turn allowed the state to increase efforts to rapidly rehouse homeless people and make credible offers of transitional or permanent supportive housing to people camping on state-owned property such as WSDOT right-of-way along highways. Inslee announced an Right of Way Safety Initiative in May.
"We're protecting the motoring public and removing squalor from our our highways," Inslee said Wednesday.
Asked for details on how encampments had endangered motorists, Secretary Millar had said that shopping carts associated with encampments had caused some collisions on highways, but that primarily it was the encampment residents that were at risk living in such close quarter with high volumes of high-speed traffic.
WSDOT and Commerce have partnered with local agencies in King, Pierce, Thurston, Snohomish and Spokane counties to bring people inside from encampments on agency land.
"More than 124 individuals living at encampments have been transitioned to housing or shelter," the Governor's office said. "Due to the extensive outreach and efforts to connect individuals to the right kind of services, at least 119 still remain housed."
Spokane Camp Hope political maelstrom
The pace of progress hasn't been fast enough for some, however. Spokane Mayor Nadine Woodward and Spokane County Sheriff Ozzie Knezovich have threatened to clear Camp Hope, an encampment of about 450 homeless people on a WSDOT property along I-90, within weeks before all residents can be connected with housing. Declaring Camp Hope a nuisance that's "devastated the neighborhood," Sheriff Knezovich has gone on Fox News to blame "liberal policies" for creating the problem, but he hasn't actually stepped foot in the encampment, Crosscut reports.
Governor Inslee criticized that move, saying while he shared the goal of closing the encampment, he didn't want to play "whack-a-mole" and move the problem to other areas in Spokane, such as parks, but instead address it in a more permanent way. He contrasted the haste with Camp Hope with a more deliberate approach to the Dearborn encampment in Seattle, which led to all residents in the encampment save for one still being in housing today after that encampment was cleared in August through the Right of Way Safety Initiative with KCRHA's help.
The press conference video via TVW.
Dones also praised that deliberate approach, which they said was focused on resolving the problem for good.
"We know that helping people who have complex challenges, including behavioral health needs, requires a trusting relationship," KCRHA head Dones said in a statement following the Dearborn camp removal. "Taking the time to understand people's needs, developing a clear plan to meet those needs, and providing the appropriate housing pathway — that's what we were able to do for the people living at Dearborn. We provided options that meet people's needs."
While Spokane's leaders have likely earned the governor's ire for suing him seeking to force a Camp Hope sweep, the city has lead when it comes to zoning reform. In July, the Spokane City Council voted to replace single family zoning with fourplex zoning on an emergency basis, skipping the years of process and appeals that have plagued changes in Seattle. Spokane's "missing middle" zoning change could become permanent if it is well-received.
Looking ahead
The state legislature goes back into session on January 9th. The Urbanist will monitor more details of the state zoning bills, permitting reform, and housing investments in the governor's budget as they emerge.
Governor Inslee stressed homelessness really is linked to the issue of rising housing prices and constrained housing supply. So this could finally be the year the state takes action on zoning and land use regulations stifling housing production.
"I want to reiterate: freeing up the land to build middle housing for a computer scientist who just moved here from Boston and makes a $170,000 a year is imperative if we're going to solve this homelessness problem," Inslee said. "Because if that person can't buy a new house, they go compete for an old house. It drives up real estate prices. It drives up rent, and folks at the bottom of the economic pyramid become homeless. So we have to do all these things throughout the spectrum of housing."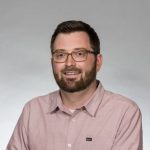 Doug Trumm is publisher of The Urbanist. An Urbanist writer since 2015, he dreams of pedestrianizing streets, blanketing the city in bus lanes, and unleashing a mass timber building spree to end the affordable housing shortage and avert our coming climate catastrophe. He graduated from the Evans School of Public Policy and Governance at the University of Washington in 2019. He lives in East Fremont and loves to explore the city on his bike.