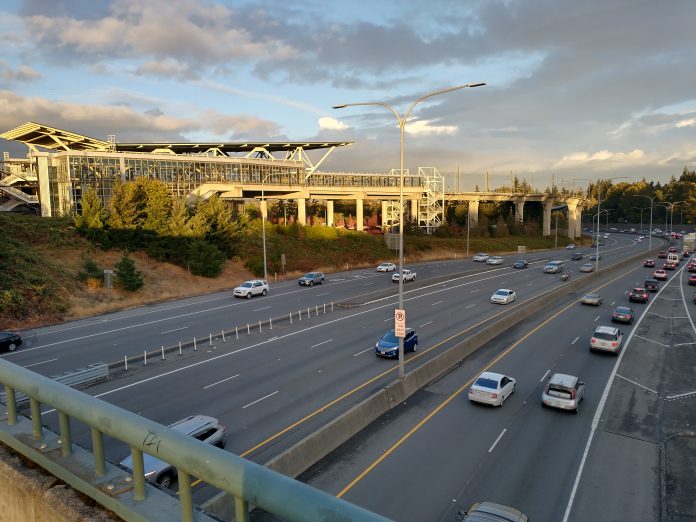 The South King County city has ambitious goals, but a car-centered landscape will be difficult to transform.
Walking the area near the Tukwila International Boulevard light rail station is not a pleasant experience.
The station sits adjacent to State Route 518 – a three-mile freeway that connects Renton and Burien — as well as the busy intersection of six-lane Highway 99 and Southcenter Boulevard. It's a car-centered assortment of gas stations, drive-thru fast food restaurants, Sea-Tac airport's car rental facility, and a few scattered apartment buildings. To the west, you encounter a handful of single-family homes, a steep hill with a rarely-used bike lane, and several streets lacking sidewalks.
However, this neighborhood could significantly change in the next decade — if Tukwila follows through on a new transit-oriented housing and development plan.
Thanks to a $100,000 grant from the Washington State Department of Commerce, the City and ECONorthwest studied ways to increase the supply of affordable housing within one-half mile of the Link station. Published in September 2021 and created with extensive public input, the plan identifies community needs for housing and transit, looks at challenges facing the city, and recommends strategies for increasing the supply of a diverse range of housing options.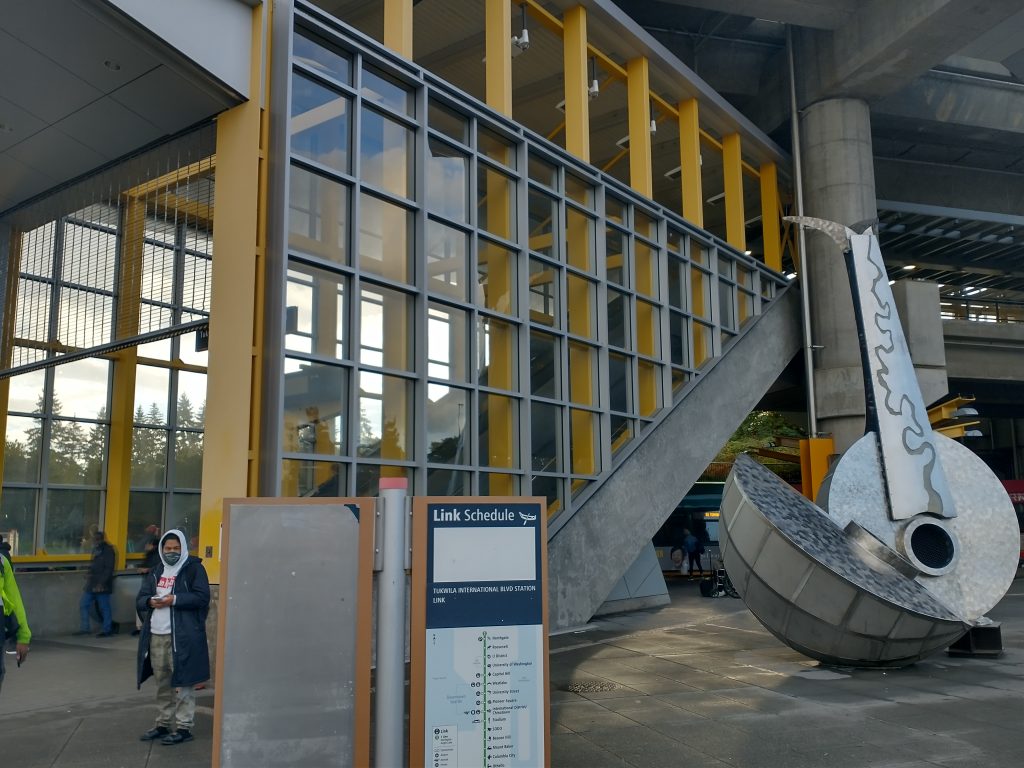 The report notes that the city of Tukwila — where 66% of the population are people of color and about half of residents earn less than 50% of average median income (AMI) — is expected to grow from 20,000 residents today to nearly 30,000 by 2040. The plan sets a goal of building 4,200 new homes in 20 years.
"Those are ambitious targets," said Nora Gierloff, director of Tukwila's Department of Community Development. "Yet we were only getting 20 housing units a year for a long time, and now we're getting hundreds of units a year." The report said that in 2019, Tukwila added 576 total new units of housing.
In public comments documented in the report, community members expressed the most concern about lack of affordable housing options and the pressures of displacement. As Seattle's housing supply continues to become more expensive, it's sending ripples throughout South King County. Tukwila City Councilmember Cynthia Delostrinos Johnson, who chairs the Planning and Community Development committee, said she's hearing from constituents forced to leave local schools because of rising housing costs. "They're telling me they're seeing rents be raised by $100 to $500 [per month]. These are families that are still recovering from the pandemic and dealing with the rising cost of literally everything from food to gas."
Another perennial concern is the lack of three-bedroom units, whether rental or for sale. "We should be intentional about diversifying those opportunities," Delostrinos Johnson said. "If we increase zoning, not everything needs to be affordable housing. But we do need to be intentional about setting aside a goal for how much is affordable. And attainable home ownership is a big one too."
Spurring equitable housing
The transit-oriented development plan, published in 2021, offers a detailed series of recommendations, and both the city council and mayor's office seem to be embracing many of the goals and committed to finding ways to enact them. Delostrinos Johnson is open to passing a variety of legislation, from zoning changes to increasing funding for the city's Community Development department to speed permitting of new housing projects. "I'm honestly open to any and all of the strategies that were recommended in the report."
Gierloff said the city's implementation of the recommendations will likely get a boost after the completion of Tukwila's 10-year comprehensive plan in 2024. "The comp plan update has so much regarding housing analysis and zoning changes that I think this is really going to fold into that process," she said.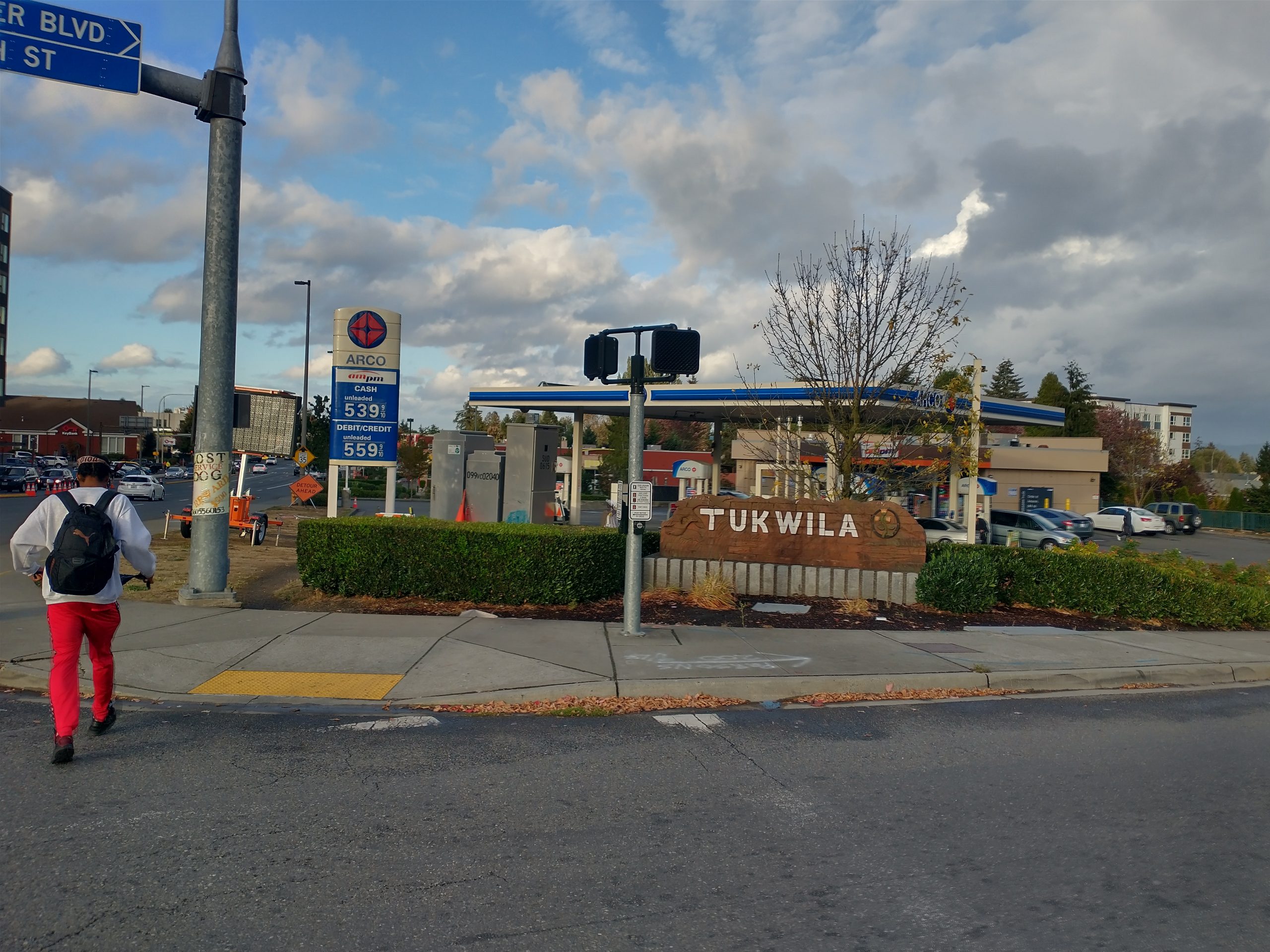 The report issues recommendations for policy changes in three areas: increasing density of housing, preventing displacement, and improving infrastructure near the station.
Policies the report recommends that could increase density include tax exemptions for multifamily projects with affordable units and creating development requirements that encourage homes with more bedrooms. Design rules are also scrutinized, such as reducing required recreational space and step back requirements. Most contentious may be a proposal to halve parking minimums per unit. Parking minimum requirements would go from 2.0 to 1.0 per dwelling unit in High Density Residential zones. Parking typically adds between $30,000 and $75,000 per stall to project costs, according to Sightline Institute, and developers pass along costs to tenants in higher rents whether they rent a parking spot or not.
Even though parking tends to be a hot-button issue, Delostrinos Johnson said she's looking very seriously at reducing minimums. "Community members are sometimes really loud about parking requirements," she admitted. "But are we going to allow parking to stop us from building housing, which is a huge need in the community right now?"
Gierloff said the city is already moving forward in partnership with South King County Housing and Homelessness Partnership (SKHHP) to document where affordable housing currently exists in Tukwila. "We've joined together with them to do an inventory of both regulated and unregulated affordable housing to see what's out there now, as a first step towards anti-displacement," she said. "It's not an easy problem to solve."
The plan makes other recommendations to prevent displacement in Tukwila, including:
Identify programs that encourage home buying
Connect with nonprofits developing affordable housing, both for rent and for sale
Increase support for tenants and strengthen anti-discrimination
Inventory existing regulated and unregulated affordable housing
Offer low-cost loans to developers of affordable housing
The report also offers a few recommendations for improving pedestrian infrastructure around the Link station, specifically, a pedestrian bridge over State Route 518 that would improve access to neighborhoods south of the Link station.
"There are some areas of our community that don't have great access to transit," Delostrinos Johnson said, noting that she supports increasing pedestrian accessibility and also Sound Transit's plan to create a new infill station at Boeing Access Road, which would help residents in north Tukwila.
Extending a surge already underway
While Tukwila explores its options for improving transit oriented development, there are already a number of affordable housing projects in the works or completed within the half-mile "walkshed" surrounding the station (and a few more that are slightly further away).
In October 2021, Bellwether Housing opened The Confluence, a 101-unit affordable housing complex featuring one-, two-, and three-bedroom apartments at South 152nd Street and Rainbow Circle. A five-minute walk from the light rail station, The Confluence is income-restricted, offers an abundance of three-bedroom units for larger families, has several common spaces, and features an onsite Resident Services Program connecting those who live there to social services.
The privately developed Polaris project at the intersection of S 154th Street and Highway 99 is expected to open in early 2023 and will offer 365 units of middle-income affordable one-, two-, and three-bedroom apartments. Kitty-corner from the station, this project is in SeaTac, just across the city line from Tukwila.
Tukwila has a large population of immigrants: around 40% of residents were born outside the United States. To help create both affordable and culturally relevant living space for immigrant families, the innovative Wadajir Residences and Souq project, funded in part by a $1 million federal grant, will feature 100 cooperatively-owned homes and a Somali-style open market. The project, a collaboration between Forterra and the Abu Bakr Islamic Center, is currently stalled because of negotiations over parking requirements
"They have 100 mostly family-size units, which are really important," Gierloff said. "But they only have space to do 69 parking spaces on site. We're trying to balance the goal of this very worthy project with controlling impacts on the neighborhood." Gierloff said the city hopes to reach a compromise and make an exemption that will reduce parking requirements for the project.
Forterra has recently been in the spotlight for its controversial handling of a grant filed with the Snoqualmie Indian Tribe to harvest sustainable timber used to build an affordable housing project in Tacoma. The Wadajir project does not appear to be affected, but a spokesperson from Forterra did not respond to questions before this article went to press.
To address the housing needs of the most vulnerable, Low Income Housing Institute (LIHI) announced in April a $2.3 million grant from the King County Department of Community and Human Services to build two tiny home villages in Tukwila that will house 80 formerly homeless residents. One of the projects will offer 20 tiny homes at a property owned by Riverton Park United Methodist Church, about a mile north of the station — not technically in the walkshed, but which could help reduce the number of people living without shelter near the station.
Because senior housing has less stringent parking requirements, Tukwila has been able to fast-track several complexes for elder residents, most notably, Tukwila Village, a 193-unit age and income-restricted apartment center built by the nonprofit Sustainable Housing for Ageless Generations (SHAG) and opened in 2018. The project, about a mile from the Link station, is part of Tukwila's ambitious 20-year plan to revitalize the Tukwila International Boulevard area. Tukwila Village was created in conjunction with the opening of a new community center and a new branch of the King County Regional Library system.
To address the lack of middle income housing that's purchased rather than rented, Homestead Community Land Trust is building The Southard homes project, which will feature 18 townhomes, 11 of which will be affordable to those earning between 60% and 80% AMI. It will likely open in early 2024.
Missing funding for missing middle
Affordable townhomes represent a building type and price point often missing from development outside of fast developing urban hubs. In her three years on the council, Delostrinos Johnson said she's learned a lot about missing middle housing and believes Tukwila should do more to encourage it. "Our city should consider not only transit oriented development, but putting missing middle housing in some of our single family-zoned areas," she said.
This year, Delostrinos Johnson said, Tukwila received an additional $100,000 grant from the Department of Commerce to examine ways to increase the supply of missing middle housing.
At current construction rates and land prices, it's impossible to build privately-developed owned housing that's affordable for middle income residents, said Kathleen Hosfeld, director of Homestead Community Land Trust. She notes that the lowest baseline cost to build a townhome is $450,000 — which is $150,000 more than middle income residents can afford.
"So it falls to folks like Homestead and Habitat for Humanity to build those homes and go out and get the subsidy to reduce the price," Hosfeld said.
The Southard's land is held in community trust, and buyers of the homes must reside there, be income qualified, and agree to sell only at a price fixed by a formula that attempts to track average income growth over time. "We do want to build wealth, but not to build so much wealth that the home becomes unaffordable," Hosfeld said.
Hosfeld notes that only about 4% of affordable housing funds currently go toward ownership housing projects in King County. She said the state and county will need to vastly increase funding for affordable homeownership programs if they're going to address the legacy of racist exclusionary policies such as redlining and GI Bill mortgages denied to Black service members.
"These problems are coming home to roost," Hosfeld said. "The folks setting up funding mechanisms for affordable housing and restricting it to rental housing — that was intentional. If you look at these patterns, at the end of the day, it seems we really don't want some people to own stuff."
Delostrinos Johnson said that protecting Tukwila's diversity is one of the reasons she ran for city council and why she focuses on housing: "Tukwila is a place where a lot of immigrants and refugees would come and settle, with not a lot of money. It's been a welcoming place for them. But at the same time that we create this welcoming place, our policies are not keeping up. When we allow gentrification — when we allow the increase of rent to go so high that these folks can't live here anymore — it really erodes that sense of welcoming community that we've created for so long."
Correction: An earlier version of this article stated the Polaris development was in Tukwila, but it's actually in SeaTac. We've updated the article to reflect that. Sincerest apologies to SeaTac.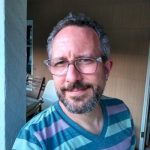 Andrew Engelson is an award-winning freelance journalist and editor with over 20 years of experience. Most recently serving as News Director/Deputy Assistant at the South Seattle Emerald, Andrew was also the founder and editor of Cascadia Magazine. His journalism, essays, and writing have appeared in the South Seattle Emerald, The Stranger, Crosscut, Real Change, Seattle Weekly, the Seattle Post-Intelligencer, the Seattle Times, Washington Trails, and many other publications. He's passionate about narrative journalism on a range of topics, including the environment, climate change, social justice, arts, culture, and science. He's the winner of several first place awards from the Western Washington Chapter of the Society of Professional Journalists.