The City of Tacoma has a number of ongoing projects in 2023 to make its communities more vibrant, accessible, and healthy for residents. This is true of transportation, which will see notable projects like the Sound Transit Hilltop light rail expansion progress ahead in 2023, and it is equally true of another major focus area that hits closer to home: housing.
The City's population is expected to grow by over 127,000 people by 2040, a figure representing more than half of Tacoma's 2021 population of 219,205. The entire Puget Sound Region is expected to grow by 5 million residents in the same amount of time, so it's going to be really cozy in Tacoma.
This fast-paced growth presents many challenges. Throughout 2023, the City will be working to convince residents that its new strategies around affordable housing and homelessness will pay off, while community groups like Tacoma Tree Foundation employ their own methods to help the city grow.
Making a Home for Everyone
A focal point of The Urbanist's housing coverage in 2022, the Home in Tacoma (HIT) initiative seeks to allow for more affordable housing to be created throughout the city. Under HIT, zoning laws would be relaxed or reworked to allow for "missing middle" housing to be built, providing a variety of housing options and price points for individuals and families.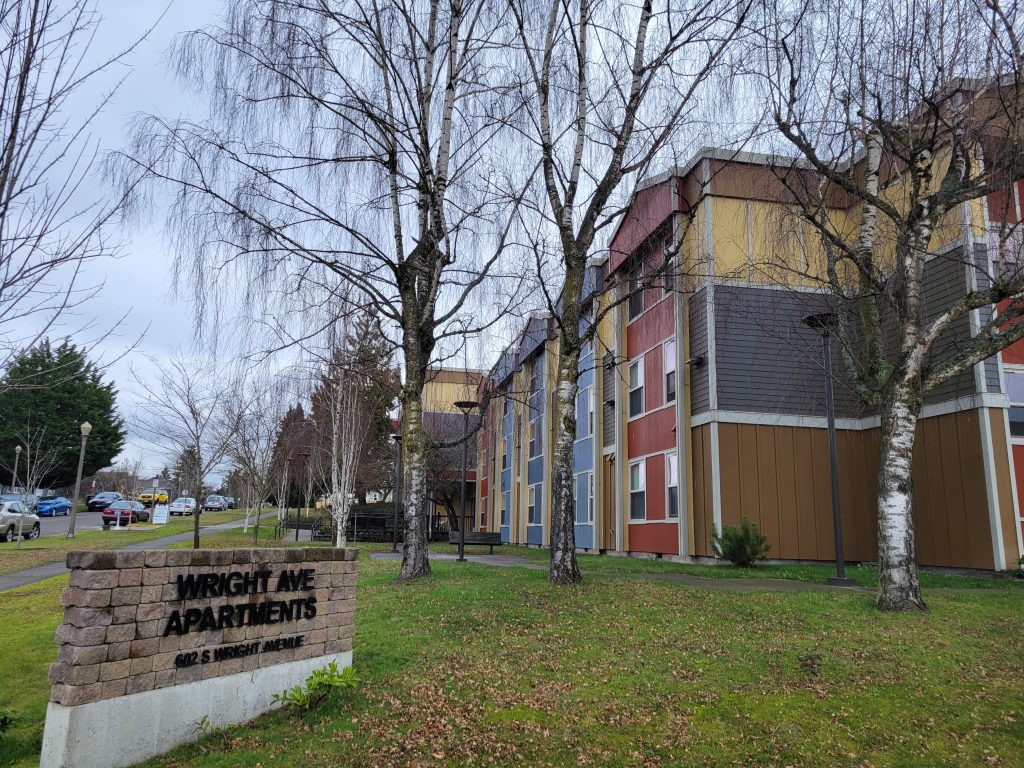 Home in Tacoma as a plan was approved by Tacoma City Council in December 2021. Since many residents found issue with HIT (from the idea of the plan itself to how it was communicated to the public and everything in between), the Council's Planning Commission took comments and released a Scope of Work in June of 2022. This Scope of Work indicated the City's commitment to public engagement and equity through this entire process. On page 11 of the document, above where the project timeline is noted, the City specifically states:
"The following schedule is based on the project milestones. Timeframes indicated are tentative and will be adjusted to ensure there is enough time to get the work done and engage with the community. "

City of Tacoma
This indicates the City is willing, and likely planning, to delay the project in order to hear public comments on the matter — which could take time because since HIT's approval the plan has garnered both critics and supporters.
For example, a major concern held by many people is the affordability of new housing, including a local opposition group aptly named "Don't Seattle My Tacoma." This group generally seeks to cut down on the degree of rezoning for increased housing density and significantly slow the entire HIT process, arguing that the long term impacts of this rezoning are unknown and need to be studied before widespread implementation.
However, city planners have been quietly working on the technical aspects of HIT in the latter part of 2022. One aspect of their work noted in the timeline is creating a standard of "Affordable housing regulatory incentives and requirements updates."
This indicates that affordability is a priority and that the City wants to provide incentives and minimum requirements for affordable housing when developers and private landowners decide to take advantage of the new regulations.
Don't Seattle My Tacoma's website also contains fiery rhetoric about loss of street parking and other issues that impact homeowners, without acknowledging the pain experienced by renters as housing costs continue to mount. Such messaging casts further doubt on the nature of their motivations around affordable housing.
On the flip side, other community groups like the "Home in Tacoma For All Coalition" seek to expand HIT, strengthen support for low-income folks, and establish policies to protect the health and safety of vulnerable communities. This community coalition is composed of a number of local workers' unions, business owners, and other community groups.
The inclusion of the demands from different community groups shows that the City of Tacoma is willing and able to listen to the views of its citizens. That being said, it has taken a long time and significant effort to get to this more equitable point in HIT.
Which brings us to 2023, when the City intends to kick public engagement into high gear. One component is the Regional Benchmarking Report written by the Planning Commision. Tacoma is not alone in its middle housing effort and the report details similar work done by other cities in the Pacific Northwest to provide reference points for Tacoma's plan. This can provide clear examples of things that work for the city to point to while avoiding pitfalls or less effective measures. This is critical in engaging the public as these will be concrete examples to get community buy-in and to show this plan will work.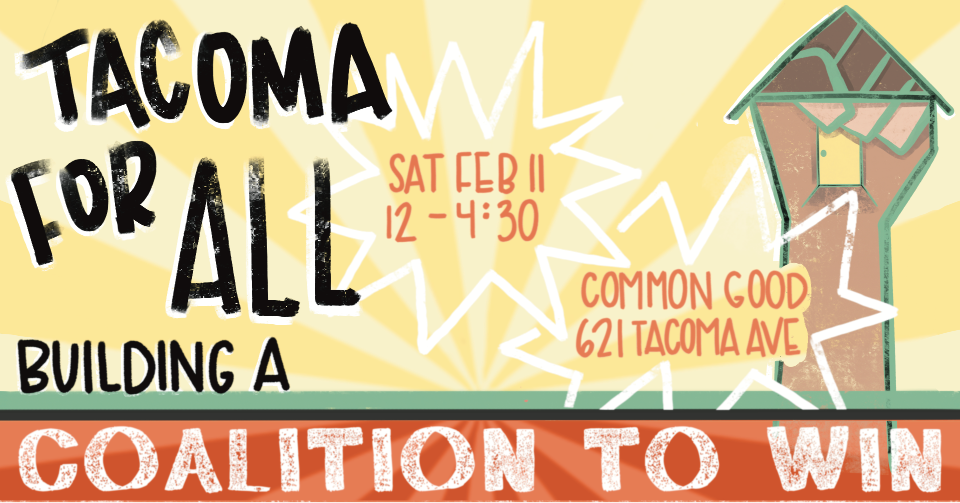 The Home in Tacoma For All Coalition also plans to pump up their engagement. On February 11th, they will host a Tenants Rights Action Conference.
In an email to supporters, they write "The conference will feature an array of inspiring speakers, educational workshops, and a democratic discussion on our strategy to win a tenant bill of rights. On February 11th we will decide together, as a community, whether to move forward with filing a tenant rights ballot initiative or to focus on a pressure campaign on the City Council."
In speaking to an organizer for the group, they mentioned particular excitement on the last point, as passage of a tenant rights initiative could immediately codify protections for those in unstable housing situations. Readers can RSVP at the link above.
The City has also established multiple ways in which residents can their ideas on how to improve Home in Tacoma. Here is a general survey to share personal priorities when it comes to housing. Here is where readers can comment specifically on possible environmental impacts so the City can identify and address them. Both of these surveys are due February 10th, 2023!
Finally, here is a website where you can share your ideas in a public forum and find more information. There is a Public Idea Board on the site where you can share your opinions regarding HIT and engage with other Tacoma residents anonymously. Much of the remainder of 2023 will focus on this public engagement and technical refinement, with adoption of the revised plan by City Council coming hopefully before the end of the year.
More Than Just a Building
What's in a home? A physical building, a bed, someplace not too hot, but not too cold either. Our homes are more than just the buildings we sleep in. They are our communities and neighbors and streets and sidewalks. They are the air we breathe and the wind we feel.
Whether we realize it or not, trees are a major environmental factor in helping make our communities healthier and more stable. Not only do they purify the air, but they are aesthetically pleasing, contribute to better mental health, increase the rate of recovery from illness and even reduce power consumption by helping regulate temperature in neighborhoods.
Back in 2011, a study by the University of Washington found that Tacoma had a canopy cover of around 19%, the lowest of any city in the Puget Sound region. In my own study conducted last year, I found the canopy cover average to be actually around 15% across residential areas. Comparatively, Seattle has about 28% canopy cover. A healthy tree canopy is generally viewed as at least 30% citywide.
Since the 2011 study, Tacoma has worked to increase canopy cover through federal grants and additional studies to identify priority areas. In 2017, the City's Urban Forestry team conducted a study across the city that culminated in the Urban Forest Management Plan (UFMP) that was adopted by City Council in 2019. The UFMP is a comprehensive document that lists policy changes, public engagement opportunities and dozens of other tasks to help grow Tacoma canopy cover to 30% by 2030.
Unfortunately, due to the COVID-19 Pandemic, attention and funding shifted to other departments and the status of the UFMP is unclear. The last update on the City website was back in 2021, which primarily listed progress on drafting policy changes, ongoing studies, collaboration with different departments and minor public engagement. One product of the last update was this ArcGIS StoryMap, which details the importance of tree canopy and how it specifically applies to Tacoma.
Thankfully, it is not just on the City to grow our canopy. The Tacoma Tree Foundation (TTF) was established in 2018 by local arborist Sarah Low. TTF has stepped up in recent years to acquire funding from the City and take the workload off of them. The organization works to provide education on the importance of trees and proper tree care. Additionally, they help distribute free native trees to Tacoma residents that want them in addition to planting trees in public spaces where they are lacking.
Their work goes beyond simply education and free trees. Using a grant from the U.S. Forest Service, and in collaboration with the Nature Conservancy in Washington, the University of Washington, and the City of Tacoma, TTF has established the Greening Research in Tacoma (GRIT) project. This study seeks to examine the impact of TTF's programs by measuring the ambient temperature in the Tacoma Mall Neighborhood. This measure's the urban heat island (UHI) effect, where the cities tend to retain heat throughout the day rather than cooling off in the evening.
The Tacoma Mall neighborhood is just one focus area for TTF, with another being the Parkland neighborhood. Projects for both areas are called "Green Blocks" because these areas simply lack the vibrant verdant of dense tree canopies. Both programs seek volunteers from those neighborhoods (and anywhere else in Tacoma) to help inform neighbors and lend a hand in tree planting. Further, they have established a Community Advisory Group where all involved organizations and community volunteers can share updates and ideas. The group meets quarterly and is open to any Tacoma resident, though there is a preference for residents coming from neighborhoods with less tree canopy.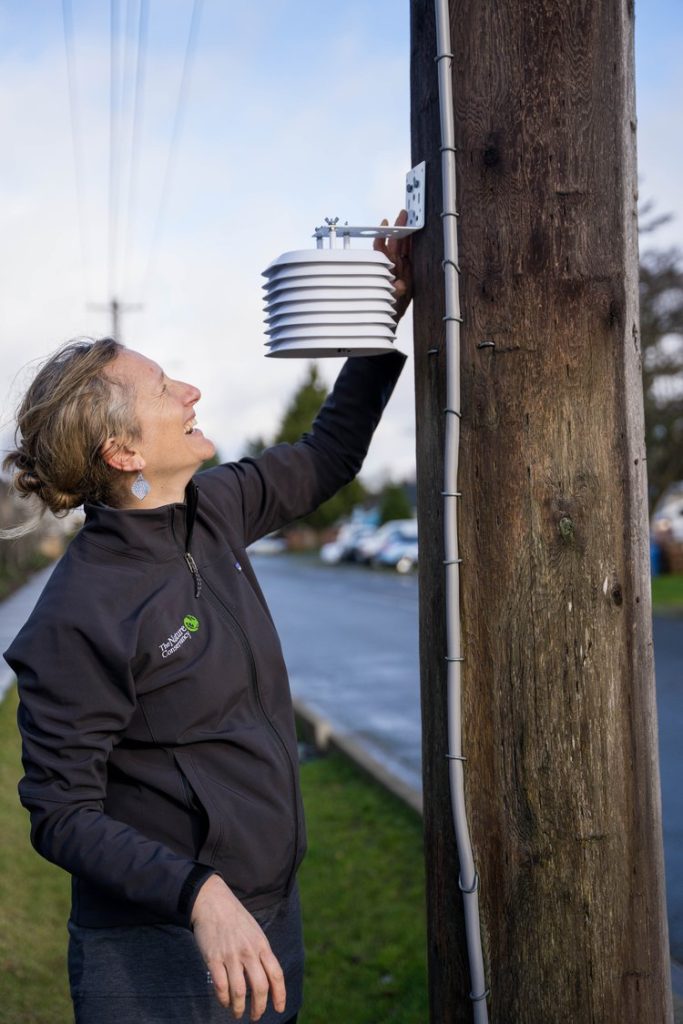 TTF has already lined up a few events in the first part of 2023. Looking at their calendar, they have a few community events to celebrate recent tree plantings in addition to walks and activities to learn more about the trees in different Green Spaces in the City. But most importantly, they are seeking volunteers for events on February 4th and 23rd. The first event is helping plant 50 trees at Madison Elementary School, a school in the Tacoma Mall area surrounded by pavement with minimal shade. The second event is assisting in distributing 200 free trees to Parkland residents. If you have never planted a tree before and are unsure of how to care for young trees, TTF is also holding a paid Tree Steward training on February 18th to (applications due by February 8th, Parkland residents will be prioritized).
Though progress is slow, trees can only grow so fast, TTF is building the base for a strong urban tree canopy for Tacoma. By continuing their education and collaboration, TTF will build community and government buy-in to not only meet, but hopefully exceed 30% tree canopy by 2030.
More Money, But is That Enough?
In May of 2017, the City of Tacoma declared a public health emergency due to a growing number of homeless encampments. A month later, the City Council approved the establishment of shelter sites throughout the city to get people off the streets and connected to services with the goal of finding permanent housing.
As of this article's publication, there are 10 shelter sites, primarily in the southern half of the city or near Downtown. Some are 100% run by the City while others are co-run with community groups or religious organizations. There are additionally four safe parking sites throughout the county, designated and protected parking lots where those struggling with homelessness can safely sleep in their cars for up to 30 or 60 days, depending on specific site policies. At all of these sites, hygiene facilities and social services are available to support these individuals in exiting to permanent housing and addressing any personal struggles they are facing.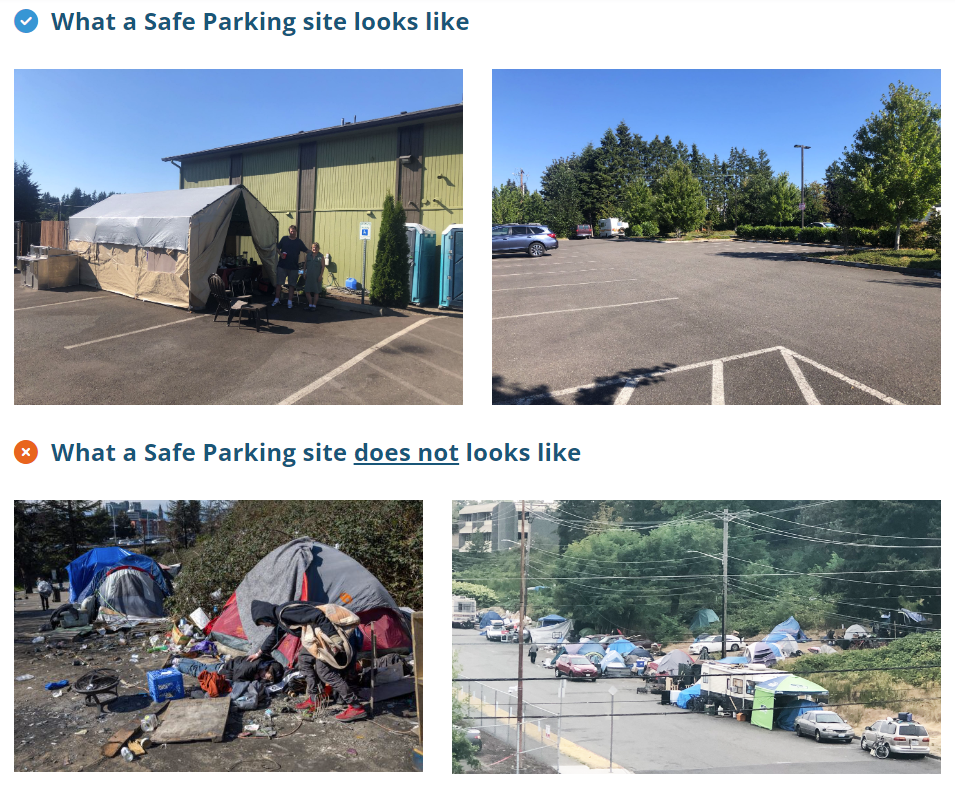 Pierce County has built a custom Google Earth Map with the locations of all the shelter sites in the county.
In October 2022, to address growing community complaints regarding unauthorized encampments, Tacoma City Council passed Ordinance 28831, banning all camping within a 10-block radius of the 10 shelter sites and all public property within 200 feet of Tacoma's mapped rivers, waterways, creeks, streams, and shorelines. This would force houseless folks to enter shelter sites and/or move outside the radius.
The policy went into effect on November 14th, with warnings being posted two weeks before to allow people to pack up and community organizations to offer help. Currently, the larger encampments appear to be gone, but it's possible to observe a number of hidden encampments of individuals or small groups still within some banned zones.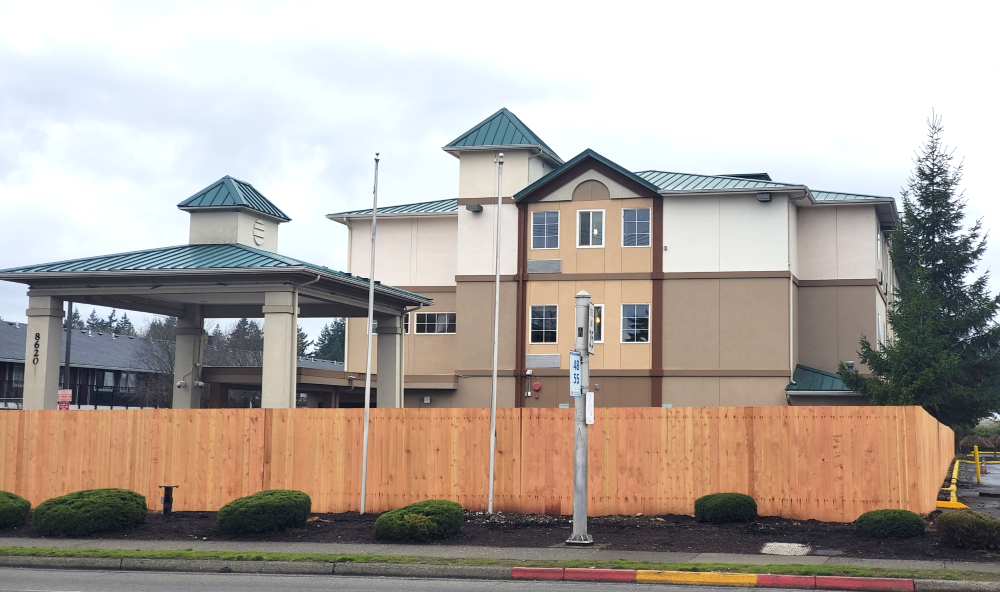 As of January 16th, 2023, there are 506 people staying at these sites, with 305 actively working with a case manager. There have been a total of 2319 clients served since 2017, with 720 exiting to permanent housing. There are 36 available beds across all sites. One site to point out is Aspen Court, the site of the previously shuttered Comfort Inn on Hosmer Street. This site not only acts as an emergency shelter, but as transitional housing as well. The most recently opened shelter site, Forging Path, is located at 3561 Pacific Avenue.
For the remainder of 2023, we may expect the opening on additional shelter sites and/or the expansion of sites and services within. At the end of November 2022, City Council passed the 2023-2024 budget, which included $101 million for homelessness services operations, up from the $16.8 million allocated for 2021-2022. The City also voted to maintain the current shelter capacity, showing a long term commitment to these sites.
In an email with a city representative, current plans are to use that funding to open a new safe parking site at Holy Rosary Church, expanding capacity at the Forging Hope site on 35th and Pacific by summer 2023 and investment into the Tacoma Rescue Mission's Men's Shelters.
This funding will be critical because while the City's shelter program has helped hundreds of people find stable housing, Pierce County estimates 3,000 of houseless folks (about 70% of the houseless population) are not able to get into shelters or other safe spaces each night. By expanding the number of beds, sites and services, hopefully that gap will be bridged.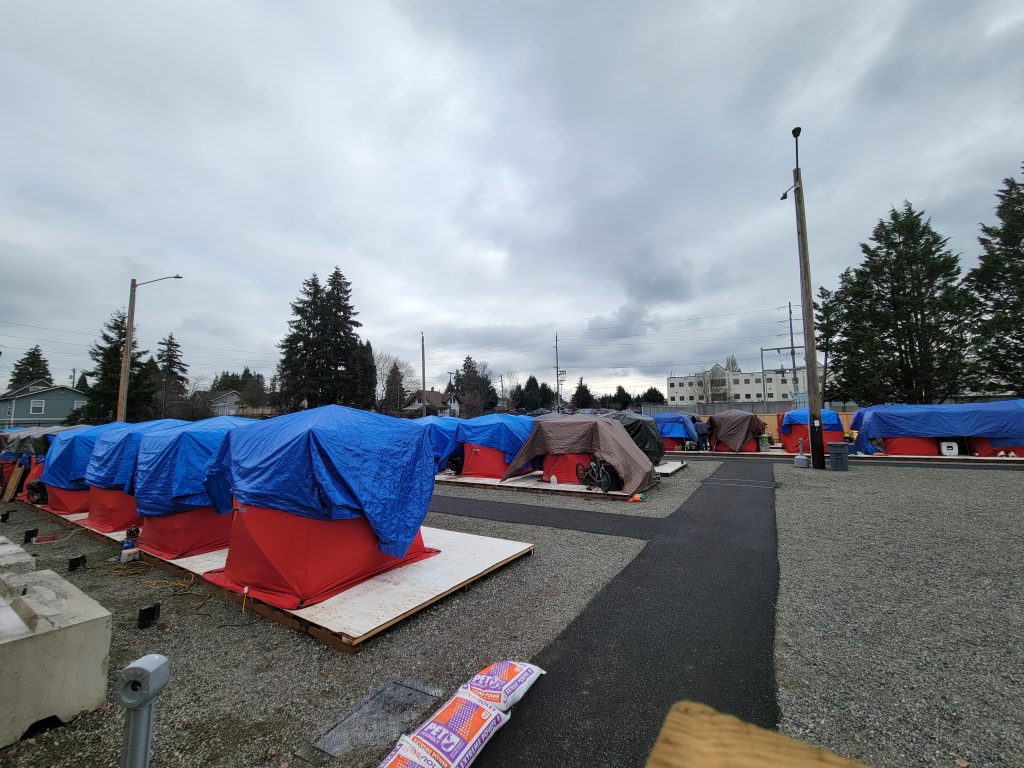 Looking at housing in 2023, we can expect actions and policies from the City to try to expand, improve and find housing for Tacoma residents. Some will argue the City is overstepping while others will say it is insufficient. The Urbanist believes that more can always be done. While our housing crisis will not be solved in 2023, this will be an important year in determining Tacoma's trajectory for the next decade.
To learn more about or get involved in any of these projects, please see below:
Home in Tacoma's Project Page on the City of Tacoma's website or contact planning@cityoftacoma.org
Tacoma Tree Foundation's website or contact the City of Tacoma's Urban Forestry Program at trees@cityoftacoma.org
Homelessness Strategy page on the City of Tacoma's website or contact ccarbone@cityoftacoma.org
For those seeking to access housing services, please see the Coordinated Entry Website or call (253) 682-3401. Coordinated Entry is a community group assisting in finding housing for homeless folks, including beds at emergency shelter sites.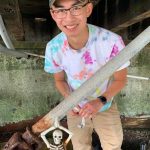 Kevin Le (Guest Contributor)
Kevin Le is a Geographic Information Science (GIS) master's student at the University of Southern California. He moved to Tacoma a few years to go to UPS and has stuck around ever since. He's interested in how we can use spatial data to understand our urban landscape and build better cities for everyone.