If you travel around Capitol Hill, the Central District, and Madison Valley, you've likely seen construction on E Madison Street in preparation for King County Metro Transit's RapidRide G, slated to come online in Fall of 2024. For most of the day on weekdays and Saturdays, RapidRide G will run buses every six minutes between Downtown Seattle to Madison Valley, connecting some of Seattle's densest and most transit-rich neighborhoods.
To prepare for RapidRide G's arrival, Metro is examining the service it provides in the area and proposing revisions to routes 10, 11, and 12, as well as permanent removal of Route 47. The proposed changes will have considerable impacts on bus service in Capitol Hill, resulting in some gains and losses.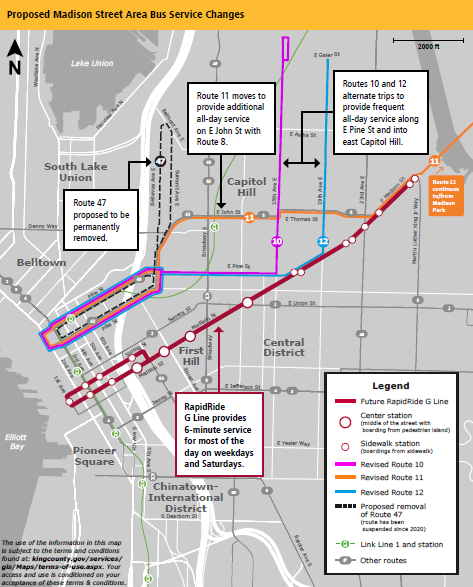 Metro has released a survey seeking public input on proposed route changes that will be open until May 8th. The agency is also hosting a series of pop ups and public houses to connect with more riders. The first pop up event will be March 26th, at Gay City: Spring Queer Market, 11am-4pm, and the first open house will be April 6th at the Miller Community Center, 6-7:30pm.
Here's an overview of some of the proposed changes to check out ahead of completing the survey.
Permanent removal of Route 47
Of the changes proposed, the most impactful might be the permanent removal of Route 47, which connected riders living in the western segment of Capitol Hill near Bellevue Avenue E and Summit Avenue E with Downtown until it was suspended in 2020 due to loss of funding. The change would remove seven bus stops on Bellevue and Summit, and it would most heavily impact riders living north of Olive Way.
Metro states in the survey that removal of Route 47 would allow for more focus on lines running on Broadway (Route 49 and 60) and Olive Way (Route 8 and revised Route 11), but the agency owns up that the steep climb between Bellevue and Broadway will present difficulties for riders, especially those with challenges walking and rolling.
Revisions for Routes 10, 11, and 12
In the survey, Metro proposes that routes 10 and 12 operate along E Pine Street — instead of on E John Street and Madison Street –until they turn north on 15th Avenue and 19th Avenue.
Trips would be scheduled to run every 15 minutes or better, opening up frequent all-day service between Downtown Seattle and eastern Capitol Hill along Pike and Pine Street and 15th and 19th Avenue.
However, the change would also result in bus service along the busy commercial area on 15th Avenue between E John Street and E Galer Street no longer providing a direct connection to the Capitol Hill light rail station. Riders coming from that area would need to transfer to Route 11 to access the station.
Metro is also proposing to reorient Route 11 from E Pine Street to E Thomas Street, E John Street, and E Olive Way between 24th Avenue E and Bellevue Avenue. These proposed changes would provide a new direct connection between Capitol Hill Link light rail station and the Madison Park neighborhood and Meany Middle School, and Kaiser Permanente's medical campus.
Want to share your feedback on the changes outlined above? Complete Metro's RapidRide G survey before May 8th.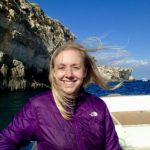 Natalie Bicknell Argerious (she/her) is a freelance reporter and podcast host at The Urbanist. She previously served as managing editor. A passionate urban explorer since childhood, she loves learning how to make cities more inclusive, vibrant, and environmentally resilient. You can often find her wandering around Seattle's Central District and Capitol Hill with her dogs and cat. Email her at natalie [at] theurbanist [dot] org.