While a non-trivial portion of Emerald City's economy (and, honestly, personality) is coffee based, we don't often take the time to consider what our daily cup of joy and purpose actually *IS*. Could coffee be veggie broth, seed juice, or bean tea? We'll let you come to grips with the conclusions made here.
As discussed in the video, the tax ramifications of beverages served hot or cold are pretty profound. It may have been easier to make this distinction than the one made by the City of Seattle in formulating the Sweetened Beverage Tax. Defining coffee as something particular could have been preferable to simply blanket exempting milk based drinks, which is the way the council went. Boon for particular fancy latte emporia, cruddy for anyone who realizes frappes wreck the scales with upwards of a dozen packets of sugar.
For those that are not steeped in FNAF lore or the frantic YouTube explainer presentation style, Food Theorists is one branch of the four headed MatPat video empire. Along with Style Theory, Film Theorists, and the original Game Theorists, Matthew Patrick is conveying an incredible amount of information to a combined 30 million subscribers, and streams to pretty much everyone under 25 years old. Useful demographic to explain BORGs.
We do find ourselves liking these videos. Besides their unique takes on interesting subjects, MatPat also gave The Urbanist a shout out in the video Sonic is Dying…of Hunger. It caused a certain 12-year-old who lives in my house rent-free to announce that we had a legitimate website because MatPat mentioned us.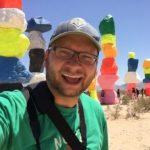 Ray Dubicki is a stay-at-home dad and parent-on-call for taking care of general school and neighborhood tasks around Ballard. This lets him see how urbanism works (or doesn't) during the hours most people are locked in their office. He is an attorney and urbanist by training, with soup-to-nuts planning experience from code enforcement to university development to writing zoning ordinances. He enjoys using PowerPoint, but only because it's no longer a weekly obligation.