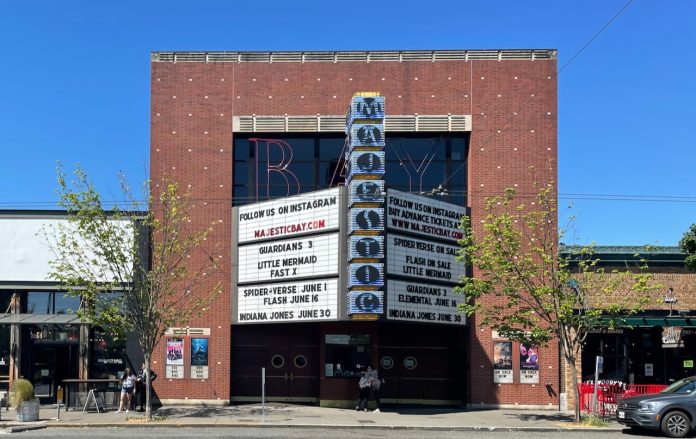 Place looks to be important in these flicks
Yes, it's that time of year when the sun actually graces the Seattle sky. (Don't tell anyone, it'll ruin our image.) It's also the time when we get the flood of popcorn movies swarming the local multiplex theaters. This is not the time of the year for deep insights into the universe, so we are not expecting incisive looks into the soul of a city. However, these movies look to treat the places they run through as important. Whether through world building or drawing inspiration, these movies happen in places that are relevant to each story.
Spider-Man: Across the Spider-Verse – June 1
Spider-Man is canonically both friendly and neighborhood based, placing Peter Parker very specifically in Queens with forays into the rest of the city. It was a departure from the DC practice of a fabricated Gotham or Metropolis (or Palmera City from this year's Blue Beetle movie), and grounded the web slinger in real live, with real teen problems.
When Miles Morales took the Spider-Mantle, the setting changed to Brooklyn but was still very much part of the story. In 2018's dazzling Spider-Man: Into the Spider-Verse, Morales' movement through his borough was a lot of his grounding in becoming a hero. This sequel looks to draw the character away from this dimension, leaning into the possibilities of the powerful animation bringing this story to life. But the story will inevitably return to his neighborhood, as Spidey always does.
Speaking of supers movies, this summer has its fair share. One of Spider-Man's partners in the Marvel universe, Guardians of the Galaxy 3 has already released as an enjoyable end to the goofball team's cosmic hijinks with plenty of feels. From the DC Universe, the aforementioned Blue Beetle echoes the "bitten by an insect" theme with a new hero's powers coming from a tech scarab (though the character predated Spider-Man by 30 years.) The Flash and its troubled lead actor actually make it to theaters just in time to reset the DCU with time travel and lots of Michael Keaton Batman. DCU movies aren't set in cities so much as they're set in potential targets, large sets waiting to be blown up. The only exceptions are Superman's Smallville and Batman's Wayne Manor that truly grounded both of their characters. Of course, both also have gotten repeatedly blown up, which kind of proves the point. The Flash releases on June 16 and Blue Beetle releases on August 18.
Past Lives – June 2
Moving away from the trifling popcorn movies for a second, Past Lives looks to be a touching movie for grown ups. Starring Greta Lee, Teo Yoo, and John Magaro, and directed by first time director Celine Song, the movie charts the reconnection between friends who were separated in their early teens, and charts the cross-ocean and cross-cultural hurdles at the reunion. Place looks to be of such importance here, both in the cinematography of the cities and the way people relate in different parts of the world.
Summer is not usually the place for mid-size movies, with films needing to be bombastic and massive to stand out in the crowd. Increasingly the rest of year hasn't been kind either. However, studio A24 has been a refuge for these films (there's another one later). After the studio's massive dual successes with Everything Everywhere All At Once and The Whale last year, they have a lot of leeway to release a movie like this in the busy summer season.
Asteroid City – June 16
Director Wes Anderson's movies are quite unique things. Little jewel boxes of intricately detailed and painstakingly photographed treats, in an instantly recognizable color palette. I mean, in the promo still, Tom Hank's pants and shirt are the reverse of the sky and land behind Jason Schwartzman. Lordy, this is a film major's fever dream. And with a list of actors that I'll get yelled at for listing because I'm paid by the word, there's going to be a lot of opportunities for this goof-ballery.
Many Anderson films lend themselves to being stuck inside a box, whether it's the Tenenbaum's brownstone mansion, Steve Zissou's submarine, or The Grand Budapest Hotel. So there is a part of us that included this film because it's one of the few that has "city" literally in the title. It will be interesting to see what he does stuck outside in the desert. Hopefully it will function as well as many of his windup confections of the past.
Elemental – June 16
Ruby Gillman, Teenage Kraken – June 30
With two weeks between them, the major animation studios are coming hard with computer generated water. Disney's entry is Elemental, a rom-com meets cute between absolute opposites of Fire and Water. Directed by Peter Sohn, who did the gentle but disappointing The Good Dinosaur, it features voices by Leah Lewis and Mamoudou Athie. This looks kinetic enough to get the kids past any "EWWW KISSING" scenes.
Dreamworks Animation offers Ruby Gillman, Teenage Kraken, which we are absolutely predisposed to like for our own local reasons. It's hard to label this a "coming of age" story because, while that's an important component, there's a growing list of movies about "coming to powers" that's a not so vague allegory for puberty. Like last year's Turning Red, and the entirety of X-Men comics. The film is directed by Kirk DeMicco (Boss Baby, The Croods) and Faryn Pearl (Trolls World Tour) with voices from Jane Fonda and Toni Collette.
Animated movies (like Spider-Man above) do a lot of heavy lifting with their set design, even though the sets are completely imaginary. The Minions movies of Illumination Studios lean hard into the squished and leaning building aesthetic of the Dr. Seuss movies they also produce. Dreamworks goes hard for, let's say, RenFest Realism with movies like Shrek and How to Train Your Dragon. Disney's urbanism leans hard on the castle-in-a-field aesthetic (sometimes with trains!) that we've covered before. The upshot for these movies is that the kids will have a great time, and we're here for some solid world building.
Barbie – July 21
Okay, we are going to go out on a limb and say no one expected the Barbie movie to take quite the surreal vibe it's projecting in the trailers. Not completely sure what we would expect from director Greta Gerwig, who did Lady Bird and Little Women, but it wasn't the surreal pink monster that's now rolling our way. It's included here because the Real World is a scary place, and seeing it play against the Barbie Dream House is going to be fascinating. Starring Margot Robbie's feet and Ryan Gosling's hair, this is going to be fantastic.
The Barbie movie comes out the same days as the highly anticipated Oppenheimer, a Christopher Nolan retelling of the development of the atomic bomb. While the real life city of Los Alamos, New Mexico was built to support developing the weapon, it doesn't look like that urbanism plays more than a passing part in this film. Also, I'm really angry about the stupid end of Interstellar. The universe does not run on love. It runs on caffeine and contempt for the Astros.
Problemista – August 4
Problemista is another A24 movie, like Past Lives above, that looks to cut through the explosive, fluorescent summer movie barrage with something completely unique and poignant. It looks to be a boy-meets-bureaucracy story with a countdown to deportation, with the twist of imaginative cinematic internal monologue. The movie is directed by first timer Julio Torres, who also stars along side Tilda Swinton in a fright wig.
The giveaway here that place is important may be the slow drag, tinker toy New York, New York song playing in the background, or it could be the semi-dream setting that Torres gives his home in El Salvador. Either way, it really emphasizes the way these surprise summer movies tend to draw out their settings to describe character and move the plots along. While some of this summer's huge movies look like they're going to have interesting places to explore, it's these smaller ones where the place has a chance to be a character too.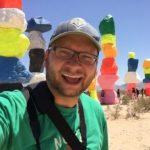 Ray Dubicki is a stay-at-home dad and parent-on-call for taking care of general school and neighborhood tasks around Ballard. This lets him see how urbanism works (or doesn't) during the hours most people are locked in their office. He is an attorney and urbanist by training, with soup-to-nuts planning experience from code enforcement to university development to writing zoning ordinances. He enjoys using PowerPoint, but only because it's no longer a weekly obligation.