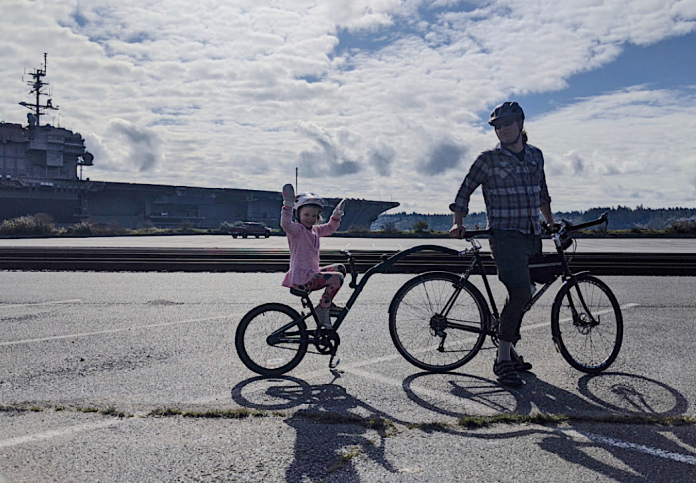 Bremerton is set to double its bike lanes, but will the City follow though to create a true network?
Twelve watery miles due west of Seattle, Bremerton (population 44,000) is the cultural and employment hub of Greater Bremerton (pop. 180,000) and Kitsap County (pop. 280,000). The city's largest employer, Puget Sound Naval Shipyard is basically a high tech Jiffy Lube for the Navy's nuclear fleet. Bremerton's progressive, ethnically, and socioeconomically diverse citizenry is awash with quirky nuclear engineers, underwater welders and sailors, and boasts a vibrant community of weirdos, street artists and activists.
At first glance, Bremerton seems on the brink of embracing multimodal transportation and safe routes to school. The City is planning no fewer than six major bike/ped projects before the end of the decade. Grants are fully funded, the Mayor and City Council seem to be supportive, anti-bike backlash is (thus far) absent in the City. Even the US Navy is playing a constructive role (no, really). All the stars seem to be aligned for major progress toward a more walkable and bikeable Bremerton.
Bremerton has several key advantages as it attempts to improve multimodal transportation.
A majority of voters and businesses (including the Shipyard and both Downtown and Charleston business associations) express support for safer streets and bike lanes.
Geographically, Bremerton is a city of six or seven peninsulas, where land dead-ends at water. Therefore, there's very little 'thru traffic' and traffic volumes on many streets are very low.
Parking restrictions near the Navy Shipyard mean new bike lanes don't compete for parking on the city's sparsely trafficked streets.
A very pro-street safety City Council, a mayor who seems to be savvy enough to know which way the wind is blowing and a strangely helpful US Navy – more on the Navy later.
But the City faces several major challenges to progress.
First, the City has a history of building mediocre bike lanes, like dead-end bike lanes, gutter lanes, and unprotected paint-only lanes on fast-car streets. Bremerton has only two blocks of protected bike lanes.
Second, while the City fails to connect individual bike lanes to other bike lanes. Virtually every bike lane in the city simply ends, leaving big gaps for cyclists to navigate.
Third, the city's Level of Service policy means every effort is made to make rush-hour cars go fast, and bike lanes are penalized for not supporting that necessary but myopic goal.
Overriding the other shortcomings is a lack of vision for what the City's multimodal network should be. There's no 'Future Bike Network Map' that the city is working toward, nor even short and long term goals for the number of miles of bike lanes or increasing the percentage of shipyard workers or ferry riders that use active transportation.
These challenges are not insurmountable. Virtually every local elected politician and Public Works official say they want to improve multimodal transportation in Bremerton. But bereft of real goals or a strategy to achieve them, the City's efforts and dollars pour disproportionately into street policies that favor rush-hour traffic over all other users, as exemplified by Bremerton's stated policy on Level of Service (LOS).
'Level of Service' on Bremerton Streets
Bremerton City Council seems interested in changing how the City measures street/intersection Level of Service. LOS is like a 'report card' for a street or intersection, with letter grades from A to F. Current Bremerton LOS only measures how fast cars can get through intersections – no consideration for people walking, biking, or taking public transit. From a 2019 Central Bremerton Traffic Study:
"Levels of Service are typically expressed as a letter score from LOS A, representing free flow conditions with minimal delays, to LOS F, representing breakdown flow with high delays. Intersection LOS is based on the average delay experienced by a vehicle traveling through an intersection."
Current Bremerton LOS doesn't even attempt to measure how a street functions for an elementary student trying to get to school safely or a mom pushing a stroller to the grocery store on Wheaton Way. Bike lanes, which increase safety for all non-car road users, are assumed to reduce the LOS because they might slow rush hour traffic. Bremerton traffic engineers have a hammer, and City policy dictates that every nail will 'make rush hour traffic faster.'
City Council seems poised to adjust Level of Service measurements to include Bicycle Level of Stress and Pedestrian Level of Stress, as well as increase the proportion of commuters not traveling in single-occupancy vehicles. That change would provide City engineers with street safety and multimodal targets they would be eager to hit.
Bremerton's Nascent Bike Network
Bremerton's meager bike infrastructure is less a 'network,' more a 'smattering.' Where bike lanes exist, they often dead end, sometimes just blocks from one another. "Bike Lane Ends" signs litter the streets and City of Bremerton hasn't updated the official City of Bremerton 'Bike & Walk' page which links to the 2007 Multimodal Plan, not the more recent Complete Streets Plan (2018).
But changes are afoot. The City has six active bike projects slated for completion between 2023 and 2026, which will add eight miles of new bike lanes in different parts of the city. Collectively, these projects will easily double the bike lane miles in Bremerton.
Six are at least partially funded:
Manette Bike Path (E 11th & Perry) – Construction Summer 2023 – 0.5-mile new bike lane, an uphill-only bike lane. Doesn't connect to nearby Manette Bridge Gap: 2 blocks.
Warren Avenue Bridge (SR 303) – Construction 2026 – bike and pedestrian improvements to this 0.8-mile, 70-year-old bridge. No bike lanes connect to either side of the bridge.
Manette Bridge Westside Roundabout (Washington Avenue/11th) – Construction begins late 2023 – 0.3-mile of new bike lane as part of a new roundabout intersection (about which, meh) – Gaps to the north and south.
West Kitsap Way – Studying now, no construction date – 1.5-mile extension of the East Kitsap Way (SR 310) bike lanes – Great project, protected bike lanes. Site of the bike death of a Navy Submarine XO, Orlando Suarez.
Naval Avenue – Study complete, no construction date – 0.7-mile N-S bike lane connecting Shipyard's Naval Gate… almost (falls 0.5 mile short) to the dense Anderson Cove neighborhood.
Viewridge/Almira Safe Routes to School – Construction 2025 – 1.0-mile bike lane, critical section of an eventual NE Bremerton bike network. City is planning for extensions, north and south, but as of yet, no timeline for implementing the approved Callow Avenue bike pedestrian connector to the Warren Avenue Bridge.
Other important, unfunded projects include:
A route from Charleston to Gorst/Port Orchard along SR 3 and SR16.
Multi-use trail from Kitsap Way to Jarstad Park (Gorst) thru City of Bremerton's vast western forests.
Shorewood Drive/Erlands Point Bike and pedestrian path to connect military housing and the Naval Hospital to the Shipyard.
6th Street (below)
These are great projects, but even if or when they are completed, the City has no plan to connect these individual bike lanes to the larger network. Only one of these six new bike lanes connects to existing bike infrastructure and until these gaps are filled, Bremerton's bike network will remain unsafe and disconnected.
6th Street: Canary in the Coal Mine
The most important currently unfunded project is 6th Street, which is the long-planned East-West thoroughfare to connect Downtown Bremerton with points West: Charleston, West Hills, Gorst and Silverdale. The 6th Street 'Road Diet' (aka 'rechannelization') has appeared in every Bremerton transportation planning document since 2007, including the 2007 Downtown Subarea Plan, 2007 Non-Motorized Transportation Plan, the 2018 Complete Streets report, the 2019 Corridor Feasibility Study and the 2023 Joint Compatibility Transportation Plan. Each of those documents recommends a bike lane on 6th. And the 2019 study is an incredibly detailed traffic report, disproving the notion that we must complete yet another traffic study before the 6th Street bike lane can be built.
Unfortunately, the City of Bremerton is moving forward with a major 6th Street resurfacing project in three phases 2020-24) WITHOUT building a bike lane. City officials have made a series of spurious and seemingly contradictory comments about the 6th Street bike lane. Initially, they stated that they would quickly and easily paint an unprotected bike lane immediately after the repaving project. But no, the administration is claiming the bike lane will be very expensive ($2.5 million) and require yet more traffic studies, lest the bike lane reduces rush hour 'Level of Service'.
The third and final phase of repaving "6th Street Naval Avenue to Warren Avenue Pavement Preservation (Phase III)" is scheduled for summer 2024 construction. In the community a sensible plan is being talked about to delay the repaving project until resources can be found to install multimodal components, as directed by the 2018 Complete Streets Program. Stay tuned.
Involvement of the US Navy
A unique asset to Bremerton's quest to build a multimodal network is the US Navy's participation in transportation issues. Naval Base Kitsap employs 46,000 sailors, the majority of which travel every day to Central Bremerton's Puget Sound Naval Shipyard (PSNS). PSNS's workforce is set to expand, due to large construction projects, and soon, a third aircraft carrier will be based there.
For the Department of Defense (DoD), getting those sailors and workers to PSNS is a national security issue. So Bremerton was awarded a DoD 'Economic Adjustment grant' to develop the Joint Compatibility Transportation Plan (JCTP), which seeks to "resolve traffic and parking conflicts … and ensure Bremerton's growth will not impede Naval Base Kitsap – Bremerton (NBK-BR) missions which are critical to our nation's military readiness."
The JCTP asks: How will even more shipyard workers and sailors get to work in a fast-growing city? One fact the JCTP uncovered is that even Bremerton's vast parking infrastructure (7,000 spots downtown, 6,000 on PSNS) aren't enough if all PSNS employees want to drive alone. Furthermore, the Navy and City have jointly announced in the JCTP that they will not construct any more parking in Central Bremerton.
Led by Bremerton Mayor Wheeler and D5 City Councilmember Goodnow, the JCTP process identified three alternatives, best laid out in the September 2022 JCTP update. Alternative 2 and Alternative 3 both recommend new, multistory parking structures on or near the base; they differ in where those structures would be located. Either Alt 2 or 3 would be bad news, necessitating a freeway enlargements such as the 'Gorst Project', which envisions "nearly $75 million to begin the effort of widening Highway 3 through the Gorst corridor (a megaproject with a price tag approaching a half-billion dollars) as well as $35 million for widening and safety improvements on Highway 3 in Belfair."
Instead, the JCTP 'Prefers' Alternative 1, which explicitly prohibits new parking lots in Central Bremerton, thus "fewer cars coming into downtown Bremerton," by building park-and-rides outside the city and investing in transit and multimodal transportation infrastructure. Crucially, no major new car infrastructure will be built in Central Bremerton, though park-and-ride hubs would likely be built to the north, west, and south.
Additionally, the JCTP created a list of 13 critical infrastructure projects, 10 of which improve bike and pedestrian mobility. The report could have gone the other way. Alt 1 is – in theory – a big win for safe streets advocates, the City, and the Naval Shipyard. But as a wise woman once said, "fancy studies don't build bike lanes."
Not to give up on its car-first/car-only heritage, Bremerton Public Works presented a document in June 2023 pushing to build yet another multi-level parking lot downtown, in apparent contradiction to the JCTP. It seems that Public Works is once again at odds with Mayor Wheeler, the Navy, and public opinion.
Conclusion
Over the past 17 years, Bremerton has laid out ambitious plans to expand the multi-modal network. Yet the City has been achingly slow to build out individual bike projects, and has little vision for connecting separate bike lanes into a true network. Critically, the City has shown a stubborn resistance to the no-brainer 6th Street road diet during the current repaving project in 2024, despite the multimillion dollar pandemic-era resurfacing of that street.
Public pressure is building to force the Wheeler administration to carry out the clear will of the people. Stay tuned.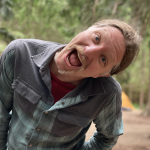 Travis moved to Washington in 2004, bouncing between Seattle and Spokane, before finding bliss on the Kitsap Peninsula. A bicycle has been his primary mode of transportation since 2002. He has lived in Chicago, San Francisco, and San Juan, Puerto Rico. He holds no antipathy in his heart for humans who disagree with him nor cars. He just wants to make his adopted city of Bremerton safe for his daughters to ride their bikes.