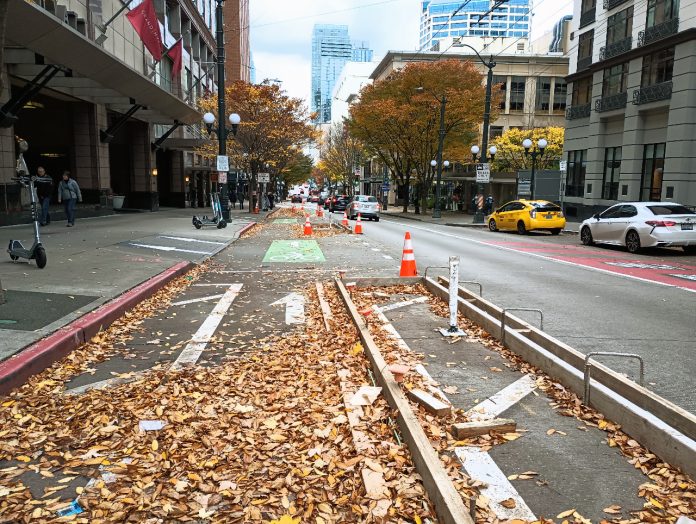 Seattle's downtown bike network is about to take a big step forward in the coming months as work finally gets underway to create a fully separated connection between Capitol Hill and downtown via Pike and Pine Streets. When complete, riders will no longer have to choose between awkwardly riding on the sidewalk or sharing a lane with fast-moving traffic to get between two of the city's busiest neighborhoods.
For months now, crews have been working downtown, upgrading the existing paint-and-post bike lane barriers along Pike and Pine while they make other upgrades as part of the $40 million "Pike Pine Streetscape and Bicycle Improvements," which broke ground back in January.
Partially funded via the waterfront redevelopment project, many of the improvements planned are intended to give the one way couplet of streets a "distinct identity," as the Downtown Seattle Association — one of the biggest advocates for the project — puts it. But with those cosmetic upgrades, which include new rust-colored poured concrete crosswalks at most intersections, come some valuable safety upgrades that the city has waited a long time for.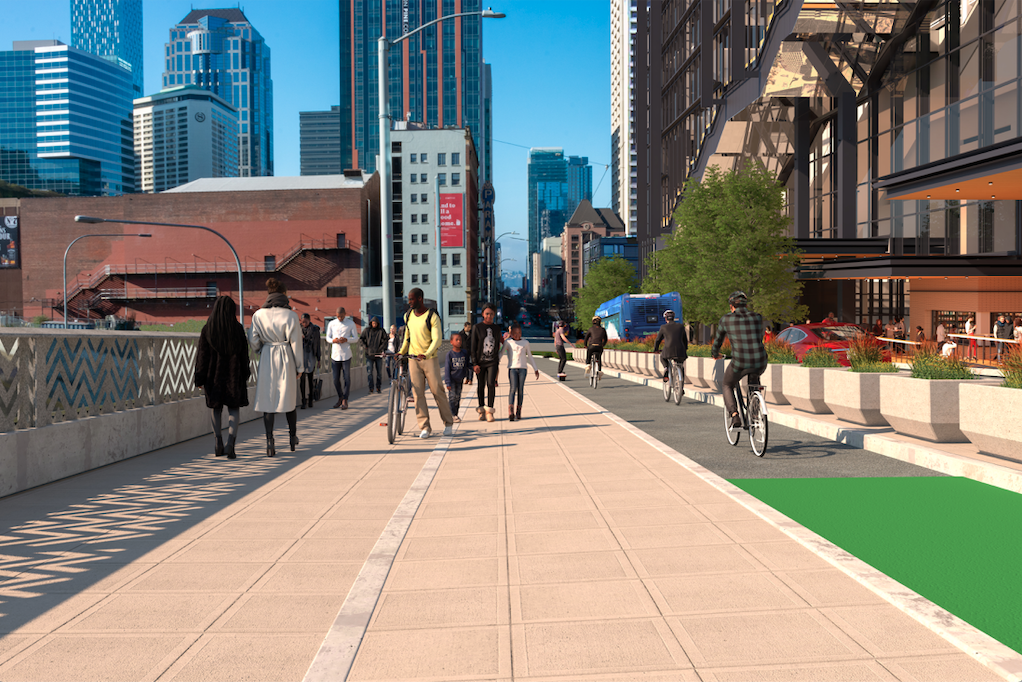 Now work is starting on the Capitol Hill end of the project, where daunting gaps have long existed in the bike network. As early as this weekend, vehicle access for westbound drivers on Pike Street will be permanently removed so that work can proceed to extend the uphill bike lane along the north side of the street, with a full conversion to one-way traffic all the way to Bellevue Avenue. That work will also expand the sidewalk along Pike as it crosses over I-5, a rare opportunity to add more pedestrian space along a high-volume corridor.
Work along the entirety of the twin corridors will continue well into next year, with 100% completion expected around fall.

Pine Street also has a traffic revision in its future, as it gets converted to one-way operation all the way into downtown from Bellevue Avenue as well. Once those revisions are in place, Pike and Pine will operate like they do in central downtown, with eastbound traffic on Pike only and westbound traffic on Pine. An exact timeline for that change is expected in the coming weeks.
This change in traffic patterns is the reason that Sound Transit's Route 545 ST Express bus to Redmond, which has made morning stops in the edge of Capitol Hill on the way to the Eastside since 2005, had to stop directly serving the neighborhood this September. Construction delays and a long reroute via Pike make the diversion untenable for the agency, and light rail will take over the connection by 2025.
When complete, people biking toward downtown from Capitol Hill will be able to use a new protected bike lane on Pine Street, creating separated space through the intensely problematic intersection at Boren Avenue that has been a barrier to usage of the corridor for decades. On Pike Street, riders heading up the hill will avoid the harrowing merge from the left side of the street, where the bike lane runs up to 6th Avenue, and the right side, where it currently runs east of 9th Avenue.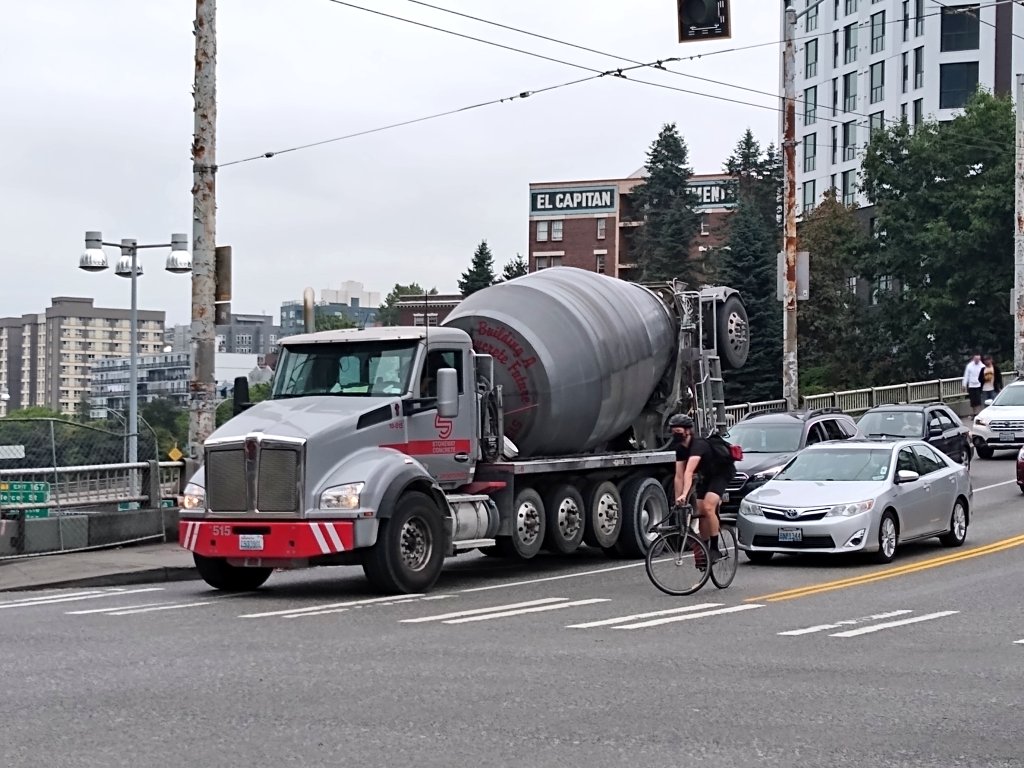 Some of the design elements of the new Pike and Pine reflect the same lack of forward-thinking vision apparent along Alaskan Way, where the waterfront project's signature bike path is nearing completion now. At a stretch of Pike Street under the Washington State Convention Center, for example, the bike lane will be rerouted on the sidewalk around a light pole, creating a pinch point that will be cursed by people biking for years. Anyone who has traveled through the area during a major convention like Emerald City Comicon knows that a sidewalk bike lane at this busy spot will cause conflicts with pedestrians, but this was the path forward chosen instead of taking away additional vehicle space along this stretch.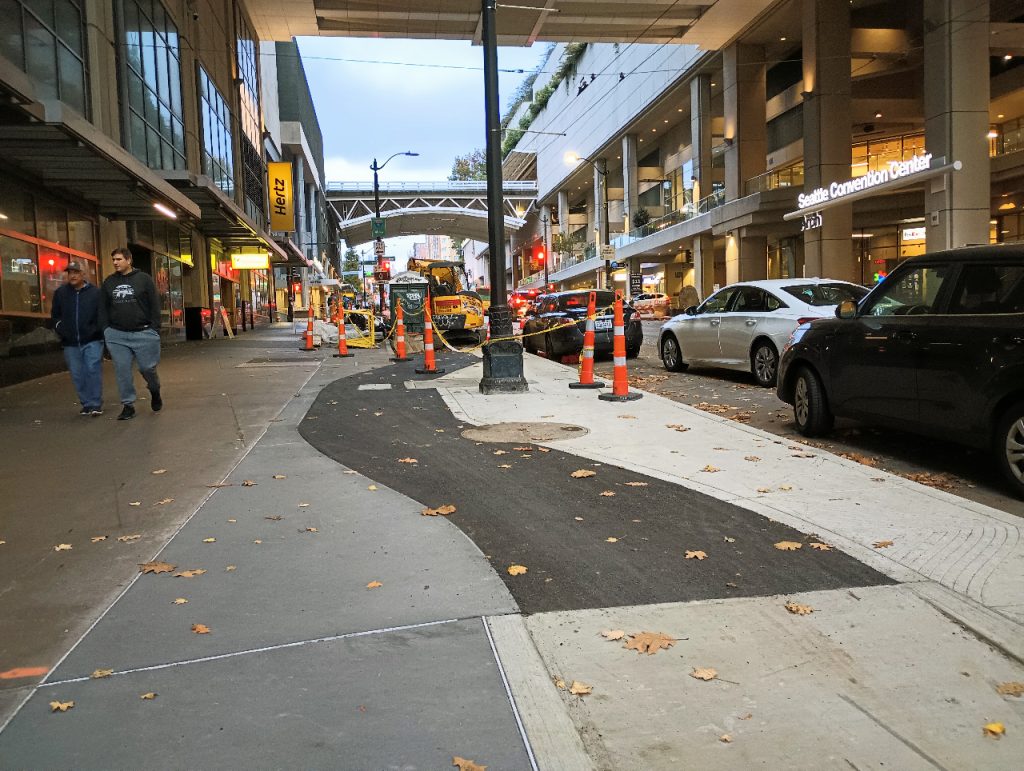 One block up, the bike lane will take another jog into what's now a parking lane. Apparently, expanding the sidewalk worried Washington State Department of Transportation (WSDOT) engineers, who were concerned about weight restrictions on the WSDOT-owned bridge structure over I-5. This led to a proposal to redesign the project to jettison the weight of the expanded sidewalks on the Pike Street bridge over I-5 and instead move forward with only plastic-post bike lanes. That decision was reversed in 2021 after The Urbanist highlighted the step and advocates pressed the issue.
Likewise, pedestrianizing the 100 block of Pike Street at Pike Place Market, another big push from walking and biking advocates, ended up happening but only after the entire street was rebuilt to create a "shared street" on the block.
Some other improvements coming with the project are likely going to be widely appreciated when they finally go in. The gap in the bike network around Boren Avenue isn't the only one that is set to be filled in here: At Westlake Park, the infamous merging zone on Pine Street between Fifth and Fourth Avenue, where the bike facility currently disappears for a block, is set to be remedied with a planter-protected bike lane through the park.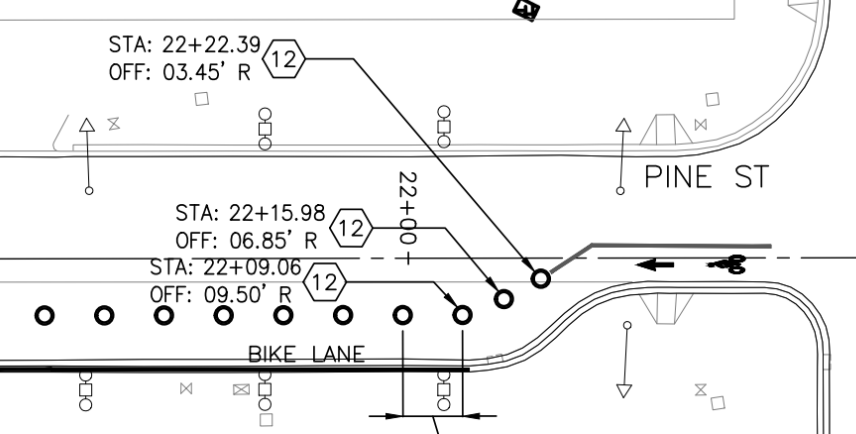 Elsewhere in downtown, SDOT is currently moving forward with a full upgrade of the two-way 4th Avenue protected bike lane between Pioneer Square and Belltown. Concrete barriers being added along that stretch will match the ones going in along Pike and Pine as well as 8th Avenue connecting to South Lake Union, though a gap in protection remains between Westlake and Belltown that would have fully connected the network in that area.
This work compliments a number of projects moving toward construction that will connect gaps in the bike network throughout South Seattle, following the work of advocates and elected officials like Mike O'Brien and Tammy Morales to ensure the area wasn't left out of plans for the city's bike network under the Move Seattle Levy. With much work left to be done and many more needed connections waiting to be filled in, these projects set to be fully open within the next year or two should solidify momentum to keep moving forward.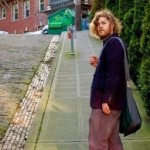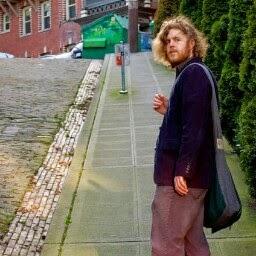 Ryan Packer lives in the Summit Slope neighborhood of Capitol Hill and has been writing for the The Urbanist since 2015. They report on multimodal transportation issues, #VisionZero, preservation, and local politics. They believe in using Seattle's history to help attain the vibrant, diverse city that we all wish to inhabit. Ryan's writing has appeared in Capitol Hill Seattle Blog, Bike Portland, and Seattle Bike Blog, where they also did a four-month stint as temporary editor.