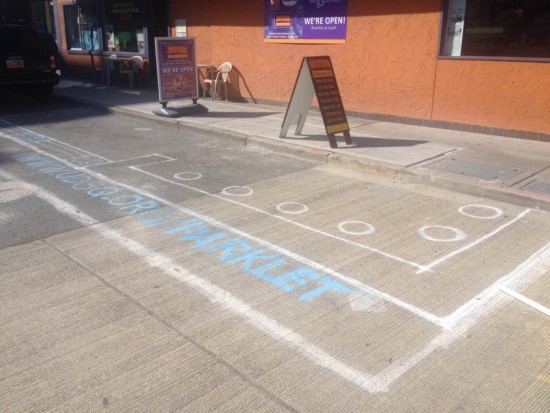 Freshly painted parklet goodness, that's what we spotted a few weeks ago. We got curious about these alien markings in the street and decided to checked out the fading, bluish website link. And, we were delighted to find out that much more is in store for these parking spaces than just the painted etchings of a fantasy parklet. The folks at U District Square have a plan for this slice of NE 43rd Street. Their vision is a transformation of this northern stub of NE 43rd Street into an open space for pedestrian and bicyclists. A permanent parklet installation will be the centerpiece of this street makeover.
We recently spent some time to meet up with Cory Crocker, a local architect and neighborhood leader, who has been spearheading the effort on the parklet project. Crocker told us that community members, planning and architecture students, and neighborhood businesses have been working diligently on the parklet project. Earlier this year, the U District Parklet was one of 13 parklet project proposals chosen by the Seattle Department of Transportation (SDOT) for the 2014 pilot project program. A few loose ends like funding, last minute project modifications, and final permit approvals remain before the parklet project can break ground; but the budget has been set, agreements made, and suppliers picked.
The vision for a parklet comes from a desire to provide a key gathering space in the heart of the University District. Given the immediate proximity to the heavily traveled and much beloved University Way corridor (aka The Ave), the parklet will help realize a portion of this big community goal. Crocker described NE 43rd Street as a shared space for pedestrians, parklet-goers, and bicyclists alike. To achieve this, Crocker says that SDOT has agreed to allow the U District Square backers to close the entire northern half of NE 43rd Street from motorized traffic. The street closure would extend from The Ave to the mid-block alleyway just west of The Ave. This space would then be reserved for the parklet, Pronto! Cycle Share docking station, and additional open space.
Local Häagen-Dazs owner, Lois, has thrown huge support behind the project. As an early backer, she has proudly advertised the project to patrons at her store while also offering generous Kickstarter thank-you gifts to project donors. Lois sees the parklet as a way to bring vitality and new patrons to her street and the wider neighborhood. But she's not the only shop owner that supports the project, others like Doug of Bulldog News and David of the Ugly Mug Cafe do, too. Businesses on NE 43rd Street like Cedars and Kai's have been heavily impacted by the temporary street closure.
Sound Transit broke ground on the University District subway station last December. And ever since, NE 43rd Street and Brooklyn Avenue NE have undergone intermittent street and sidewalk closures as well as street rechannelizations. For the time being, through-traffic from Brooklyn Avenue NE to The Ave via NE 43rd Street is closed. Pedestrians and cyclists are still able to access this area despite the construction-related closures to car traffic, a sidewalk on the south side of NE 43rd Street remains fully open. On-street parking also remains along the NE 43rd Street stub, and northbound traffic may pass through the mid-block alleyway. Sound Transit has indicated that NE 43rd Street may reopen to one-way traffic in February. Needless to say, this has created a less-than-desirable situation for businesses and local patrons alike.
The parklet design is very modern with sleek lines, flashy metals, and bold colors. Bar seating, benches, planters, and tables will be provided to give people a place to sit, eat, read, and watch passersby. It is anticipated that the parklet will measure about 8 feet wide by 30 feet long (240 square feet). The original design was a bit more permeable than the one above, but it had to be revised to make the best use of limited space options. On sunny days, umbrellas will be rolled out to give some measure of shade to parklet users. Local businesses have agreed to help ensure that umbrellas are taken down after hours and stored in order to discourage overnight camping at the parklet. Further revisions to parklet design may be required as needed to accommodate unobstructed spaces between the parklet and the cycle share docking stations as well as the crosswalk.
But this space isn't just for the parklet. As Crocker notes, it's just one piece in a larger effort for a shared open space. Bicycling will be a big draw. Pronto! Cycle Share has already placed a docking station on the north side of NE 43rd Street right in front of Kai's restaurant. Necessarily, this will translate into a lot of foot traffic back and forth through the space. The Pronto! docking station location is a hotspot for tons of spontaneous trips to and from the University District. Bicyclists could conceivably choose to visit other establishments on or near The Ave while others may choose to walk home or go to University of Washington.
To help support the parklet and bike share station, the north half of NE 43rd Street will be closed to traffic. SDOT and the Seattle Fire Department (SFD) have tentatively agreed upon ways that the U District Square group can do this. Two or three planter boxes will be placed parallel to the crosswalk along The Ave. These planter boxes will effectively run from the north sidewalk to the street centerline. The planter boxes are a creative way to demarcate the pedestrian-oriented space while providing plenty of permeability. At least 20 feet of street width must be maintained for fire access, and SFD says that since the planter boxes are semi-permeable, they pose no problem for fire trucks. Crocker hopes that additional planter boxes will also be placed along the alleyway and the street centerline to spruce up the street and make it safer. Of course, that is dependent upon surplus money not yet budgeted for.
SDOT has also indicated that they are supportive of painting the street in a variety of colors and designs to clearly mark the northern half of the street. Four on-street parking spaces would be left on the south side of the street while through traffic will have a narrow lane to flow through when NE 43rd Street reopens to one-way traffic, and a loading zone for deliveries would be moved in front of Flowers–a favorite culinary institution of the neighborhood.
U District Square is in the midst of its Kickstarter campaign to raise $6,000 by October 23rd, and has produced an elegant video to promote their project (see blow). $8,000 have already been secured in the form of a grant from the Seattle Department of Neighborhoods. Once U District Square achieves its Kickstarter fundraising goal, Crocker and project organizers will be working with local volunteers to construct the parklet at weekend installation parties. They expect to open the parklet toward the end of October or early November. But that can't happen without support by volunteers and donors (which we hope you can be).
The parklet, bike share docking station, and initial pedestrian-oriented open space may just be the beginning of an even larger public space in the future near the University District subway station. It doesn't take much to imagine a future festival street or public park in the street. Street fairs are already a common feature annually in the University District and a weekly farmers market closes two blocks of The Ave near the University Heights Community Center. That leads us to a series of upcoming community forums on open space in the University District.
As Scott noted yesterday, there will be a three-part series of community forums to discuss future open space. The first in this series will be Tuesday evening (October 7th) to explore the types of activities and values that University District residents want for open space. The forum will be held at the Alder Hall Commons on the University of Washington campus. The event is sponsored by the U District Partnership with city department staff on hand for it. Refreshments begin at 6.30pm with the forum running from 7pm to 9pm. Future forums will take place on October 30th and December 3rd to discuss the topics of physical elements and pathways to success for open space in the University District.

Stephen is a professional urban planner in Puget Sound with a passion for sustainable, livable, and diverse cities. He is especially interested in how policies, regulations, and programs can promote positive outcomes for communities. With stints in great cities like Bellingham and Cork, Stephen currently lives in Seattle. He primarily covers land use and transportation issues and has been with The Urbanist since 2014.