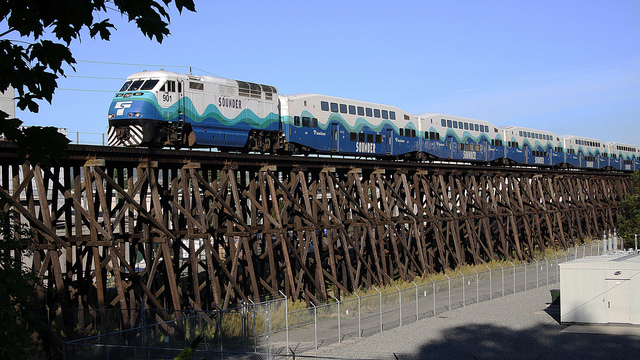 The Tacoma Trestle is a 0.65-mile long trestle in Tacoma that stretches east from Freighthouse Square (the Tacoma Dome Sounder station) to the BNSF mainline next to the Puyallup River. The trestle is wooden and over 100 years old. It dates back from when the Milwaukee Road stretched across the country from Chicago to Seattle. The trestle is currently being used daily by Sounder trains and is a key part of the Point Defiance Bypass.
The Point Defiance Bypass is an upgrade to an existing rail line that stretches from Tacoma Dome to DuPont running along the I-5 corridor. Currently, Amtrak Cascades trains have to use the Point Defiance Tunnel, which is single-tracked and runs through slow curves on BNSF's mainline along the edge of the Puget Sound. The Point Defiance Bypass will give Amtrak trains a faster way to get between Tacoma and Lacey while also becoming much more reliable. When completed, trains will save up to 9 minutes per trip compared to today's route.
The Tacoma Trestle is a choke-point on the Point Defiance Bypass. The trestle is single-tracked, unlike the rest of the bypass, which will be double-tracked. Being made of wood, the trestle is highly vulnerable to earthquakes and can't support as much weight as modern bridges.
A replacement of the trestle was approved in 2008 as part of the Sound Transit 2 ballot measure (ST2), and a $10 million TIGER grant issued last year has helped move construction forward by 5 years. The concrete trestle will be supported by two round columns side by side. Art is being considered including lighting, concrete forms on the retaining walls, or steel cut panels to make the new structure more visually interesting than just standard concrete bridging.
The new trestle will be double-tracked to support more Sounder and Amtrak service and will feature a crossover between the two tracks as well as an expanded platform at Freighthouse Square in order to accommodate Amtrak trains. Minor street repairs and upgraded railroad signals are also part of the project. The completion date for the project will be late 2017.
If you're interested in providing comments on the Tacoma Trestle project, be sure to take Sound Transit's survey.
Guy is a high school student in Bellevue with a strong desire to become an urban planner. Before moving to Bellevue, he grew up in the Paris metropolitan area where he fell in love with and learned from some of the best rail systems in Europe. Translating his experiences from abroad to Seattle, Guy is now passionate about improving this region's public transit (especially marine-based transportation) and cycling infrastructure. Aside from the technical side of things, Guy also enjoys photography and music.