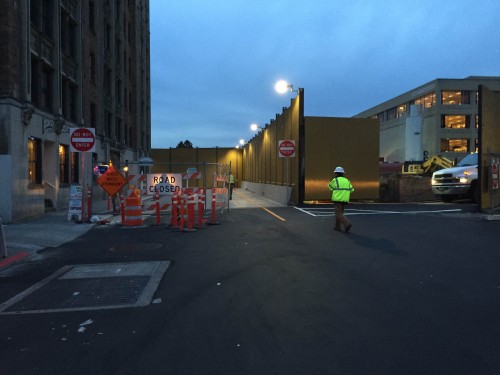 Construction on the University District Station has been well underway since December 2013. As part of site preparation and equipment storage to construct the station box, Sound Transit's contractors have had to repeatedly change pathways for pedestrians and cyclists while closing streets to motorists. One key closure has been at the intersection of NE 43rd St and Brooklyn Ave NE. While a portion has reopened today, the full block of Brooklyn Ave NE between NE 45th St and NE 43rd St, and small portion on NE 43rd St east of the intersection, are planned to remain closed for the duration of station construction.
Contractors have focused much of their work on drilling down pilings, excavation toward the south portion of the station box, and constructing a new bridging system. The latter of which will make many residents, students, and visitors to the area happy. This new bridge is at-grade to the surrounding streets, but is intended to allow traffic movement above the station box while work continues below. The bridge extends along NE 43rd St from the alleyway west of Brooklyn Ave NE to the west edge of Brooklyn Ave NE. This will help reconnect part of the grid by creating a one-way traffic system northbound on Brooklyn Ave NE to University Way NE (The Ave) via NE 43rd St.
For drivers and bicyclist alike, this will be a welcome change because it provides better options for moving around the area. Pedestrians will also get some measure of benefit out of the reconfiguration with wider sidewalks, new crosswalks and handrails, and a permanent pathway. The contractors have place ample striping, signage, and other improvements along the stretch of reopened street.
Photos of the streets nearly complete earlier this week are below.

Stephen is a professional urban planner in Puget Sound with a passion for sustainable, livable, and diverse cities. He is especially interested in how policies, regulations, and programs can promote positive outcomes for communities. With stints in great cities like Bellingham and Cork, Stephen currently lives in Seattle. He primarily covers land use and transportation issues and has been with The Urbanist since 2014.