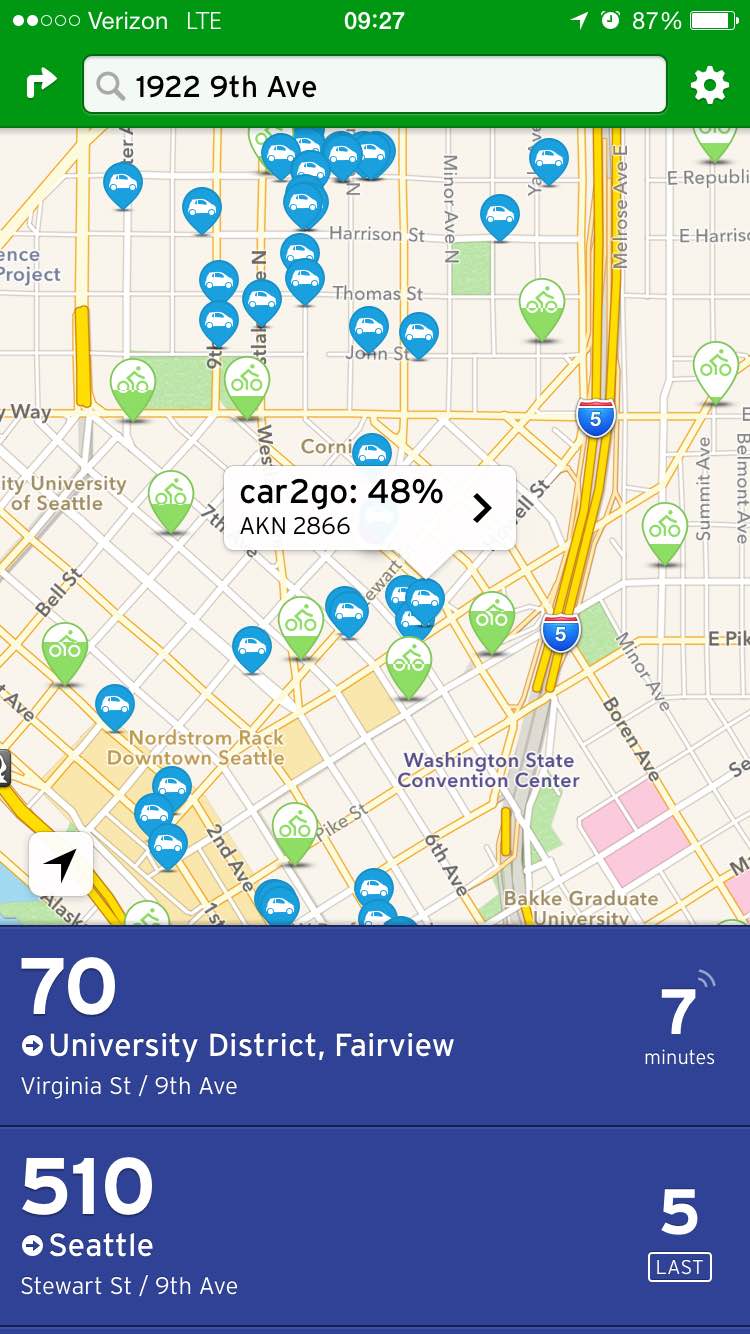 The Transit App just keeps getting better and better. Yesterday, software engineers behind the app enthusiastically announced the roll out of a new transportation service to the app with the introduction of Car2Go. As a carshare service, Car2Go has become wildly popular with over 59,000 registered users in the Seattle area. Naturally, the carshare service has also become a staple in their daily and weekly transportation mix. So, it makes sense to have Car2Go as one tool in the transportation app toolbox.
Car2Go joins a growing list of supported non-transit transportation services like bikeshare and rideshare (where available). In December, Transit App rolled out national coverage of Uber as their initial rideshare partner. And, throughout the summer, Transit App began a soft deployment of bikeshare integration with Pronto! going live locally in September. With addition of Car2Go to app, Seattle has become one of 9 metropolitan areas that utilizes the full suite of services from The Transit App.
Car2Go Integration
The new Car2Go feature works seamlessly within the existing user interface. Much like the bikeshare service, Car2Go is shown as baby blue dots–as opposed to green dots–when zoomed out. As you zoom in, small baby blue pin drops with car icons begin to appear. You can tap on any of these which will show a bubble identifying the carsharing service, how much fuel is in the vehicle, and the corresponding license plate number. By tapping the bubble, you will be given an option to reserve the vehicle or learn about Car2Go.
First time users of Car2Go on The Transit App must authorize the app before reserving. This can be done the same way as a normal reservation through the app, except that the user will be prompted for their screename and password. Once a vehicle is reserved, a checkmark appears on the pin to indicated the reservation. You can see a countdown timer to reservation expiration by tapping on the reserved vehicle. And, just like Car2Go's native app, users can cancel any reservation that they don't want. Simply tap on the reserved vehicle and choose the "cancel reservation" option.
If you're hoping for other features that found in Car2Go's native app like automatic door opening, you're out of luck. But, you can swap to the Car2Go app on-the-fly and continue with your reservation. Another functional limitation with the Car2Go integration is trip planning. Under this initial release, it is not possible to estimate cost and time to destination like transit and Uber.
Other Changes
In addition to Car2Go integration, the revised app includes an updated widget and calendar/contacts support. Users of The Transit App can activate a widget in iOS Notifications screen to show the nearest transit lines and the next departure times. Uber is now added to the widget, but the occurrence from our experience is rare. The Transit App also features a handy search bar that allows you to see recent locations dropped or searched for, major destinations like Westlake Station, and all the transit lines in your region. The search bar will now support contacts to show their addresses and calendar events. By selecting a calendar event, you can plan your trip based upon the location and start time.
In order to activate all of these new features, you will need to download Version 3.4 to your mobile device.
Supported Puget Sound transportation services by The Transit App include: Sound Transit (buses, Link Light Rail, and Sounder), King County Metro Transit (buses, streetcars, and water taxis), Pierce Transit, Kitsap Transit (buses and foot ferries), Intercity Transit, Washington State Ferries, Pronto! Cycle Share, Car2Go, and Uber. The Transit App also serves over 85 metropolitan areas in North America and Europe. 

Stephen is a professional urban planner in Puget Sound with a passion for sustainable, livable, and diverse cities. He is especially interested in how policies, regulations, and programs can promote positive outcomes for communities. With stints in great cities like Bellingham and Cork, Stephen currently lives in Seattle. He primarily covers land use and transportation issues and has been with The Urbanist since 2014.