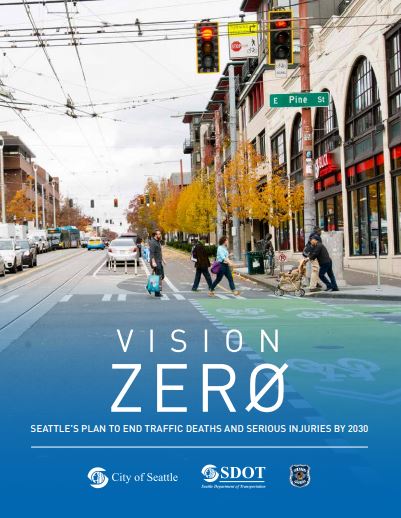 On the backdrop of Lake City Way yesterday afternoon, Seattle Mayor Ed Murray met with dozens of supporters and advocates to unveil his citywide plan to eliminate all traffic deaths and serious injuries by 2030. The Mayor was joined by Scott Kubly, Director of the Seattle Department of Transportation, and Kathleen O'Toole, Chief of Police for the Seattle Police Department, who will help spearhead the Vision Zero program by joining forces to reduce speeds, design safer streets, restrict right turns on red, and conduct active police enforcement. The Mayor's plan will build upon many of the elements and policies previously identified and implemented through former Mayor Mike McGinn's Be Super Safe initiative.
City of Seattle launches Vision Zero, citywide effort to eliminate traffic deaths & serious injuries. #VisionZeroSea pic.twitter.com/gWP24QtEUA

— seattledot (@seattledot) February 12, 2015
Here's a portion of the full press release from the Mayor's Office.
"Our Vision Zero campaign will educate people who drive, bike and walk on how we can all work together to make our streets safer," said Murray. "We are rolling out a range of new safety improvements that will help get our kids get to school, reduce fatalities on city arterials and make our neighborhood streets safer. Our transportation system must work safely for everyone and this plan will save lives."

While Seattle is consistently recognized as one of the safest cities in the country, more than 10,000 traffic collisions occur each year. In 2014, 3,449 injury collisions were reported to the Seattle Police Department. Fifteen people died in traffic crashes, including five who were walking or riding a bike.

At the core of Vision Zero is the belief that death and injury on city streets is preventable. The Vision Zero approach emphasizes smarter street designs – forgiving streets that account for human error. When paired with targeted education and enforcement, the effort will save lives.

"Implementing the Vision Zero initiative is vital to creating a safer transportation system," said Tom Rasmussen, Chair of the Council's Transportation Committee. "The way we design our streets, enforce the rules, and educate the public does make a difference. But, most importantly, each of us whether we walk, bike or drive must do our part to make our streets safer for all."

To make Seattle streets safer all, Seattle's Vision Zero effort will include the following actions in 2015:

Reduce the speed limit in the downtown core to 25 mph by the end of 2015.
Improve safety at 10 high-crash intersections downtown by eliminating turns on red lights, installing leading pedestrian intervals to give walkers a head start, eliminating dual turn lanes and other engineering improvements.
Install 20 mph zones on residential streets in up to ten areas near parks and schools with documented collision histories.
Enhance safety on arterials — like Rainier Avenue S, 35th Avenue SW, Fauntleroy Way SW and 5th Avenue NE where 90 percent of serious and fatal collisions occur — by installing speed reductions, radar speed signs and enhanced street designs.
Add twelve new school zone safety cameras in six school zones to improve safety for kids as they make their way to and from school.
Add seven miles of protected bike lanes, more than 40 crossing improvements and 14 blocks of new sidewalk to make travel safer across all modes.
Conduct targeted enforcement throughout the city for school, pedestrian and bike safety, along with enhanced DUI enforcement. SDOT and SPD will work together to educate people in advance of these patrols, so everyone will expect enforcement and better understand the rules of the road.

"We're excited to join other leading U.S. cities like New York and San Francisco in adopting Vision Zero," said SDOT Director Scott Kubly. "By lowering speeds and retooling our busiest streets, we will protect our most vulnerable travelers, and we will save lives."

"The Seattle Police Department's number one priority is public safety," said Seattle Police Chief Kathleen O'Toole. "Our officers are often the first responders to traffic incidents and we know that more can be done to increase traffic safety,"

The Seattle Police Department has embraced a data-driven approach to law enforcement through SeaStat, which quickly addresses crime hotspots based on analysis of crime data and community reports of incidents. In partnership with the SDOT, SPD will use a similar approach to address traffic collisions.
>

Stephen is a professional urban planner in Puget Sound with a passion for sustainable, livable, and diverse cities. He is especially interested in how policies, regulations, and programs can promote positive outcomes for communities. With stints in great cities like Bellingham and Cork, Stephen currently lives in Seattle. He primarily covers land use and transportation issues and has been with The Urbanist since 2014.