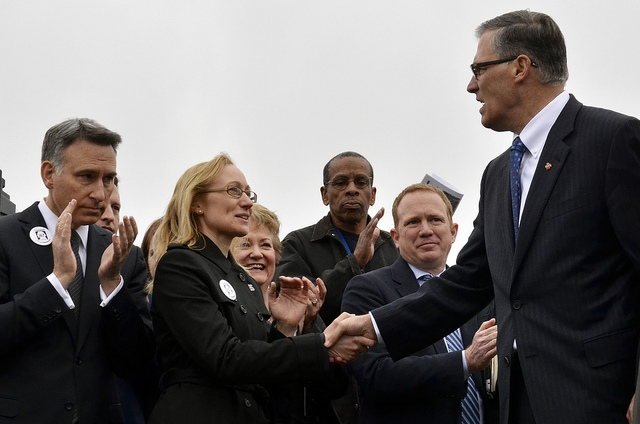 Tensions are flaring between progressive interest groups in Seattle. Groups representing labor and environmentalists recently have found themselves on opposing sides of the decision to lease one of Seattle's port terminals to Shell. The Sailor's Union of the Pacific supports this agreement, while environmentalists are pursuing a lawsuit. Dave Freiboth, the executive secretary of the King County Labor Council, captures this problem well, articulating how pitting progressive interests against each other is a lose-lose proposition.
The Puget Sound Gateway Project
The needless fracturing of progressive interests doesn't end at Seattle's port. The transportation proposal by Governor Inslee outlines $1.9 billion in funding for the Puget Sound Gateway Project, but the most optimistic estimates reveal few benefits from this highway expansion project.
To summarize, the project would widen lanes on two highways in segments that cut through Puget Sound urban areas. The first part of the project would add capacity on SR-167 in Tacoma:
At first glance this project seems somewhat reasonable. It adds capacity to a direct route between the Port of Tacoma's Commencement Bay operations and SR-167. But on closer examination, this project is a huge waste of money. There already are several direct, quick connections between the Port of Tacoma and SR-167. Google Maps shows three different options from Point A (the Port of Tacoma Road and SR-509) to point B (SR-167 and SR-512), all taking 15 minutes or less. It seems unlikely the new project would save more than five minutes.
The second part of the Puget Sound Gateway Project would expand SR-509 and extend it south of the Seattle-Tacoma International Airport. This project is the brainchild of the Port of Seattle, which hopes to connect SR-509 to I-5. SR-509 currently terminates at S 188th St., but would be extended as far as S 200th St. to reach I-5. The rationale behind this extension is clear: to link Port of Seattle facilities in the Duwamish to Seatac and other facilities south of the airport. The proposal would essentially change a city-sized street into a highway cutting through Burien, but the benefits are as negligible as the Port of Tacoma portion of the project.
Google Maps shows three options for getting from Point A (Des Moines Memorial Dr & SR-509) to Point B (I-5 at S 200th St.) All three options take 11 or 12 minutes. Again, it's hard to imagine that this highway expansion would save more than five minutes.
$1.9 billion is not worth building barriers in our urban environments, increasing traffic, and furthering sprawl. Furthermore, $1.9 billion is an insane amount to spend on saving businesses five minutes in freight travel time. The case for these projects becomes even more flimsy when compared to other potential investments. This proposal comes at a time when Washington's infrastructure is in desperate need of maintenance and a bridge on the most traveled highway in the state recently collapsed. Meanwhile, the state is limiting the amount of money Seattle can raise for transit. If the state invested this $1.9 billion in transit, it would be more than enough to build a subway from Downtown Seattle to West Seattle. So why does Governor Inslee support this project?
The most likely explanation is the support of labor groups. Teamsters Local 174, International Longshore & Warehouse Union Local 19, and Professional & Technical Employees Local 17 all support the SR-509 extension project.  The  International Longshore and Warehouse Union Local 23 have likewise voiced support for converting the at-grade portion of SR-167 into a grade-separated highway.
A Better Way Forward
State transportation funding doesn't have to pit progressive interest groups against each other. In fact, progressive interest groups should share many of the same priorities. A recent report from Shelterforce shows how unified support for efforts that limit sprawl and create better urban environments can create a virtuous cycle for progressives, benefiting labor groups and environmentalists alike. For example, urban sprawl was a major enabler of white flight in Atlanta, which in turn weakened the union's political base:
Because our members joined that flight to the suburbs, we quickly lost much of our political clout with the city. And, because we were scattered over several suburban counties, we didn't have a concentration of power in the suburbs either.
In Portland, the opposite happened. Strong planning led to dense construction booms that helped ease efforts organizing people in the construction trades:
Shiprack recalls how when he was young, Portland's downtown suffered vacancies and abandonment. The trades grew weak as construction work in developing suburbs favored anti-union contractors. That all changed after the late 1970s, when the state enacted a statewide land use planning law, requiring every city or town to designate an Urban Growth Boundary, or UGB, outside of which farms and open space would be preserved.
The case study in Portland even shows how unions leveraged the virtuous cycle of local growth:
Over time, almost half a billion dollars of Oregon building trades' pension assets were invested in the Portland area, Shiprack explains, creating a virtuous cycle of good construction jobs generating retirement contributions, which in turn financed more construction. The pension funds still own numerous buildings in Portland, generating solid returns for retirement income as real estate rents and values appreciated thanks to Oregon's UGB policy.
The final case study by Shelterforce reveals how Denver combined the political strength of environmental activism with that of labor groups to improve the city. It all started with a meeting that laid out smart growth:
A veteran environmentalist who attended the meeting recalls it well even today, saying, "That meeting overall was a turning point, not only on growth issues, but also renewable energy, particularly with the building trades. Out of that meeting, the growth agenda was solved, especially the FasTracks work. It paid even greater dividends on renewable portfolio standards."
Opportunity in Puget Sound
The Puget Sound Region has many large, active labor groups. Unfortunately, the groups connected to the ports seem entirely focused on expanding highways. These highway expansions will further create sprawl and sink public money into investments with very little return. This reinforces negative stereotypes about government and results in poor land use that creates systemic obstacles to advancing progressive causes. The state desperately needs an expanded conversation between environmentalists, urbanists and labor to better understand land use policy benefiting all progressives.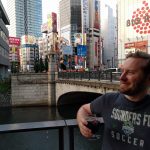 Owen is a solutions engineer for a software company. He has an amateur interest in urban policy, focusing on housing. His primary mode is a bicycle but isn't ashamed of riding down the hill and taking the bus back up. Feel free to tweet at him: @pickovven.