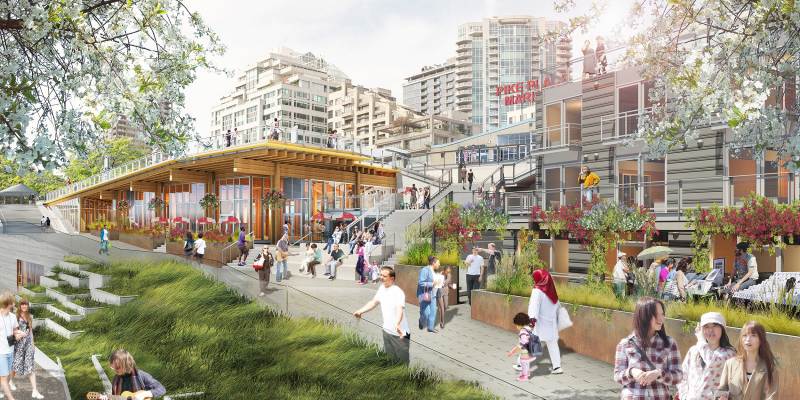 Last week, the Seattle City Council voted unanimously to commit $34 million towards the Pike Place Market expansion project. The new low-rise, mixed-use development will stretch from the north side of the Market to the waterfront, connecting downtown to a host of new amenities when construction wraps up in late 2016. From funding to design, the project is an admirable example of good urbanism.
For starters, the expansion will replace a lifeless 0.75-acre surface parking lot on the site of the former Municipal Market Building, which burnt down in 1974. Plans to replace the structure were obstructed by the cost and complexity of building over the railroad tunnel that runs beneath. Many have written that the project has been 40 years in the making since the fire, but the truth is that this is an historic realization of the Market's original vision, dating back to the early 1900s.
The project will position the Market as a community hub, not just of commerce but also of public resources, services, and open space. Plans call for over 30,000 feet of open space and 15,000 feet of retail space with 55 new stalls for local vendors and 12 new "stores with doors." The space will also be home to a new neighborhood multi-service center run by the Pike Place Market Foundation to provide health treatment and education, homeless services, legal assistance, and access to healthy food. It will partner with the Chief Seattle Club to honor the Native American community and history of the Market.
On site will also be 40 units of senior and low-income housing, just steps away from fresh local produce and goods. During public hearings on transit reductions, some of the most powerful stories came from seniors who depend on their bus line to get to the grocery store each week. Building senior housing virtually in the market will remove a key barrier to healthy food and active spaces for seniors.
Some vendors worry that the new Market will lose its old, funky charm. In many ways they're right. Walking through the market, its charm comes from the chaos of overlapping neon signs from different eras, cracked tile, worn brass door handles and a smell that permeates the space long after the vendors have packed up and gone home. These features can't be built new—they happen organically with age.
Designers know that, so they've decided to focus on honoring the historic character of the building by maintaining the existing structure and incorporating key design elements like heavy timber, galvanized steel, and concrete into the new space. They will also preserve one of the most striking and celebrated features: views of Mt. Rainier, the Olympics, and Puget Sound.
Also included in the plans are 300 garage parking spaces. While some urbanists might decry parking as a woeful waste of space on prime urban real estate, the expansion would not be possible without it. Much of both city and state support comes from replacement parking funds created by the Viaduct replacement. With a $79 million price tag, the Market can use all the help it can get. But even with the combination of city and state funding, issue bonds, grants, and tax credits, $9 million more must come from private philanthropy. To date over $2.1 million has already been raised, and you can donate more by buying a hoof print or charm to be installed in the new space.
The Pike Place Market expansion is good urbanism at its core: it balances historic character with new development; works to incubate small local businesses; offers expansive public space in an active setting; connects the community with resources and services; bridges the business of downtown with the recreation of a new waterfront; and accomplishes all of this by replacing a dead surface parking lot.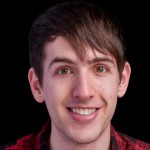 Ben is a Seattle area native, living with his husband downtown since 2013. He started in queer grassroots organizing in 2009 and quickly developed a love for all things political and wonky. When he's not reading news articles, he can be found excitedly pointing out new buses or prime plots for redevelopment to his uninterested friends who really just want to get to dinner. Serving as the Policy and Legislative Affairs Director, Ben primarily writes about political issues.