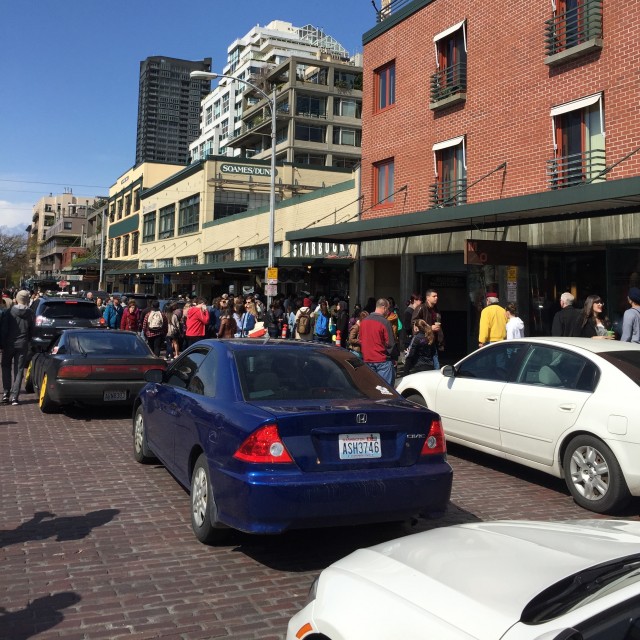 With nearly 100 years of urban activity for public trade and assembly, Pike Place Market is a mark of deep civic pride for Seattleites. The market nearly met its end on numerous occasions: in 1950, a plan was hatched to turn it into a giant parking garage; in 1958, the Municipal Market Building burnt down; and, in 1964, Downtown interests wanted to raze the whole district to build high-rise office towers instead. Despite all of that, the market still stands as a honeycomb of activity driven not by big box retailers, but rather local artisans, harvesters, and beloved cultural figures who call more than a dozen buildings and their surrounding streets home.
Naturally, this kind of steeped history makes that market a place of authenticity where tourists and bona fide city dwellers alike to meet, eat, and peruse all that the district has to offer. On any given day, the market is bustling with people on foot through the market halls, alleyways, sidewalks, and even the streets! Yet, this people-oriented success also seems to be its greatest pitfall. The market happens to draw large numbers of drivers who can't fathom giving the space over to the people who really own it–the market-goers.
So, it's no surprise then that on a Saturday spring afternoon, when the marketplace is entirely teeming with people, the market hallways are nearly impassible while those relegated to the sidewalks are pushed into parked cars. But even that isn't the worst; walking in the streets can be a terribly unpleasant experience with drivers grimacing at the market-goers because they're "blocking" traffic.
Yet, in a recent article, Matthew Johnson of Seattle Transit Blog astonishingly lauded this nightmarish scene as Seattle's best woonerf. Johnson went further to argue in favor of people driving through Pike Place. To his credit, his brief discussion raised good points about changing the make up of the pedestrian environment and keeping the street open for deliveries. But these points were layered under a set of poorly devised arguments for general vehicular traffic:
[T]here are legitimate reasons for driving on Pike Place. Maybe you are dropping off someone with mobility issues, or you've got a dinner party and don't want to haul 2 cases of wine from Pike and Western Wine Shop up the hill and back home on Link, or maybe you even work for a business in the market (yes it's not just a tourist photo op, but an actual market) that needs a delivery….As long as automobile drivers recognize the priority of non-motorized users (which they obviously do in Pike Place), what is gained by banning automobiles? The only change I would make to Pike Place would be to either lower the sidewalks or raise the street. In Seattle's only real woonerf, it would be nice if the street engineering matched the usage. Aside from that, leave it alone, why fix what isn't broken?
Arguments like the wine shop and two cases of wine are sour grapes. They're an emotional appeal to people's sentiments about some perceived equity–like the need for on-street parking over other uses–but ultimately, they just don't hold water.
The Dutch are the masters of woonerfs and they put people first; everything else comes second. So here's my proposal: Let's put foot traffic first on Pike Place.
The Seattle Department of Transportation (SDOT) should close Pike Place and Pike Street from First Avenue to Virginia Street to non-delivery through traffic. Daily restrictions should be in force from reasonable morning to afternoon periods (approximately 10am to 4pm) in order to capture the core market hours for people activity. With the street stretching a mere four blocks–with most of the traffic centered on Pike Place itself–the restriction should be a relatively benign change when in operation. Outside of these hours, the restriction would not apply, which would return the district to a regular circulation and demand pattern.
The closure of Pike Place to through traffic is not as dramatic as it might sound, but it would require changes to the space and streets leading up to it. SDOT (or their designees) would need to manage the entry points to the market core to ensure that general vehicular traffic is routed away from the market during enforcement of the street restrictions. The main entry points to the market consist of: Pike Street/First Avenue, Pine Street/Pike Place, Stewart Street/Pike Place, and Virginia Street/Pike Place. As a first step, SDOT could place clear signage notifying motorists of the general vehicle traffic restriction on Pike Place.
A more substantial, but relatively inexpensive option is bollards. These have the benefit of restricting traffic movements and offering an opportunity to enhance the streetscape if executed properly. It wouldn't take much for SDOT to put in automatic, retractable bollards at the base of Pine Street and Stewart Street to prevent spillover traffic while still allowing access for emergency vehicles. First Avenue and Pike Street as well as Pike Place and Virginia Street would need to have part of the right-of-way blocked by bollards to keep a one-way flow of delivery traffic. Streets would necessarily be clearly signed as such, potentially with painted notices on the ground to ensure that the message is clear for motorists. Alternatively, SDOT could use moveable gates to achieve the same effect, whether automated or manually operated.
There's no question that deliveries are imperative to the operation and success of market vendors and proprietors at all hours–not just before and after the close of business. SDOT should identify priority loading and unloading zones with maximum times for deliveries/shipments to occur within designated locations of the market area.
On-street parking on Pike Place would be prohibited for general vehicular traffic during restriction hours. However, these spaces would available upon the lifting of restrictions and close of business. Some might argue that this would be a burden to the less able or those who are making significant purchases at the market. But, ample parking would remain accessible within a block or two of the market on the east-west streets and the market parking garage. Vendors and regular patrons use existing accessible routes and dollies to transport themselves and goods to buses, taxis, or their own vehicles. There's no reason why such restrictions would put any unreasonable burden upon those who choose to visit.
With the part-time closure of Pike Place, the street could be put to greater use for both people and vendors. It's conceivable that a whole new class of street vendors could fill in some of the opened space by the removal of a car lane and parking lanes in front of the market. Temporary, rollaway stalls could be placed in the street or perhaps new pop-out awnings could be added to market buildings. At the same time, it may make sense to create a true woonerf. Pike Place is a cobble street with irregular sidewalks. Entirely removing the sidewalks to create a curbless space could dramatically improve permeability for people on foot and push them to want to interact with street vendors. A practical way of achieving this would be to roll the curb softly into the existing cobble bricks lining the street.
With a 56-foot right-of-way, there's no reason why people should have to resign themselves to less than 10% of the street space. Let's push for a Pike Place Market renaissance, one in which people are put first.

Stephen is a professional urban planner in Puget Sound with a passion for sustainable, livable, and diverse cities. He is especially interested in how policies, regulations, and programs can promote positive outcomes for communities. With stints in great cities like Bellingham and Cork, Stephen currently lives in Seattle. He primarily covers land use and transportation issues and has been with The Urbanist since 2014.