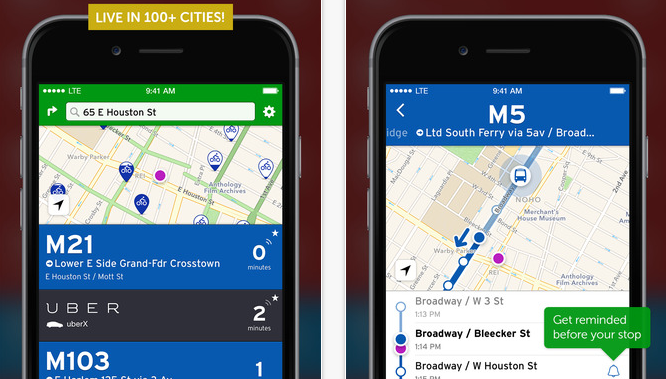 Building upon recent improvements to alerts, the Transit App pushed out a new update yesterday to help out you snoozing transit riders. Never miss your stop again with the new handy stop announcements. Selecting a specific stop announcement is simple. Users can do this in two ways:
The first way is to select a particular route number using the search function. This will display all stops on a route and the user can pick which one in given direction to be receive alerts on. Alternatively, the user can choose announcements for all upcoming stops.
The second way is to find your bus using the Nearby Mode and selecting the routing. This will enable the user to choose the stop announcements in the combined map / stop list (Hybrid View) window.
Users also have the option of disabling announcements the same way. Notifications are generated through GPS so the app knows when a rider is approaching a stop. Announcements typically appear one stop before the actual stop.
Aside from this slick addition, Transit App has three other new features. The Hybrid View shown above is an improvement over the old app version. Stops were previously listed exclusively in their own window instead split with the map. Another great part of this is that the map shows where a stop fall on a line by shading out parts of route that the bus or train will have already traveled and highlighting in a bolder color the portions remaining. Disabling alerts and alarms is also easier than ever with full control in the settings tab. And finally, iOS 9 users get a bump in searchability. Searchlight queries with terms like "King County Metro 5" and "King Street Station" will turn up the corresponding station or route from Transit App without even searching in the App.
Supported Puget Sound transportation services by Transit App include: Sound Transit (buses, Link Light Rail, and Sounder), King County Metro Transit (buses, streetcars, and water taxis), Pierce Transit, Community Transit, Everett Transit, Kitsap Transit (buses and foot ferries), Intercity Transit, Washington State Ferries, Pronto Cycle Share, Car2Go, and Uber. The Transit App also serves 106 metropolitan areas in North America, Europe, and Africa.

Stephen is a professional urban planner in Puget Sound with a passion for sustainable, livable, and diverse cities. He is especially interested in how policies, regulations, and programs can promote positive outcomes for communities. With stints in great cities like Bellingham and Cork, Stephen currently lives in Seattle. He primarily covers land use and transportation issues and has been with The Urbanist since 2014.