Some places in Seattle are wetter than others, according to new data from Seattle Public Utilities. SPU recently released a map showing variations in annual rainfall using data from rain gauges throughout the city.
The rainiest neighborhood? Rainier Beach in southern Seattle, averaging 38 inches of rain per year. The driest is around Belltown and Uptown, averaging 33 inches per year. Seattle's many hills cause small rain shadows on their eastern sides, miniature versions of the larger rain shadow cast by the Olympic Mountains over the entire region. The Cascade Mountains' foothills around Issaquah also squeeze out some extra rain that lands in eastern Seattle.
KOMO meteorologist Scott Sistek explains:
Now, the rain shadow effect usually doesn't affect the number of rainy days across the area, as in, it doesn't mean it's going to be sunny in Ballard while it's pouring in Magnolia (at least, most of the time) but it's main effect is to keep the rain somewhat lighter. So if Magnolia gets 0.50″ in a rain event, perhaps Ballard only gets 0.40 inches. That makes up for some of the rain differences.
Year-to-year, the rainiest part of the city differs thanks to another local phenomenon: the Puget Sound Convergence Zone, which is typically above northern Seattle where wet air congregates after moving around the Olympic Mountains. As a result, Sandpoint was the rainiest neighborhood in 2014.
Although we are currently experiencing the milder, drier weather of an El Niño, Sistek warns that our upcoming winter won't be immune from big storms and lots of rain. So, Seattleites, don't be afraid to break ranks and grab that unused umbrella.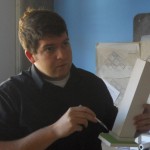 Scott Bonjukian is a car-free urban designer with a passion for sustainable and efficient cities. With degrees in architecture and urban planning, his many interests include neighborhood design, public space and street design, transit systems, pedestrian and bicycle planning, local politics, and natural resource protection. He primarily cross-posts from his blog at The Northwest Urbanist and advocates for a variety of progressive land use and transportation solutions.