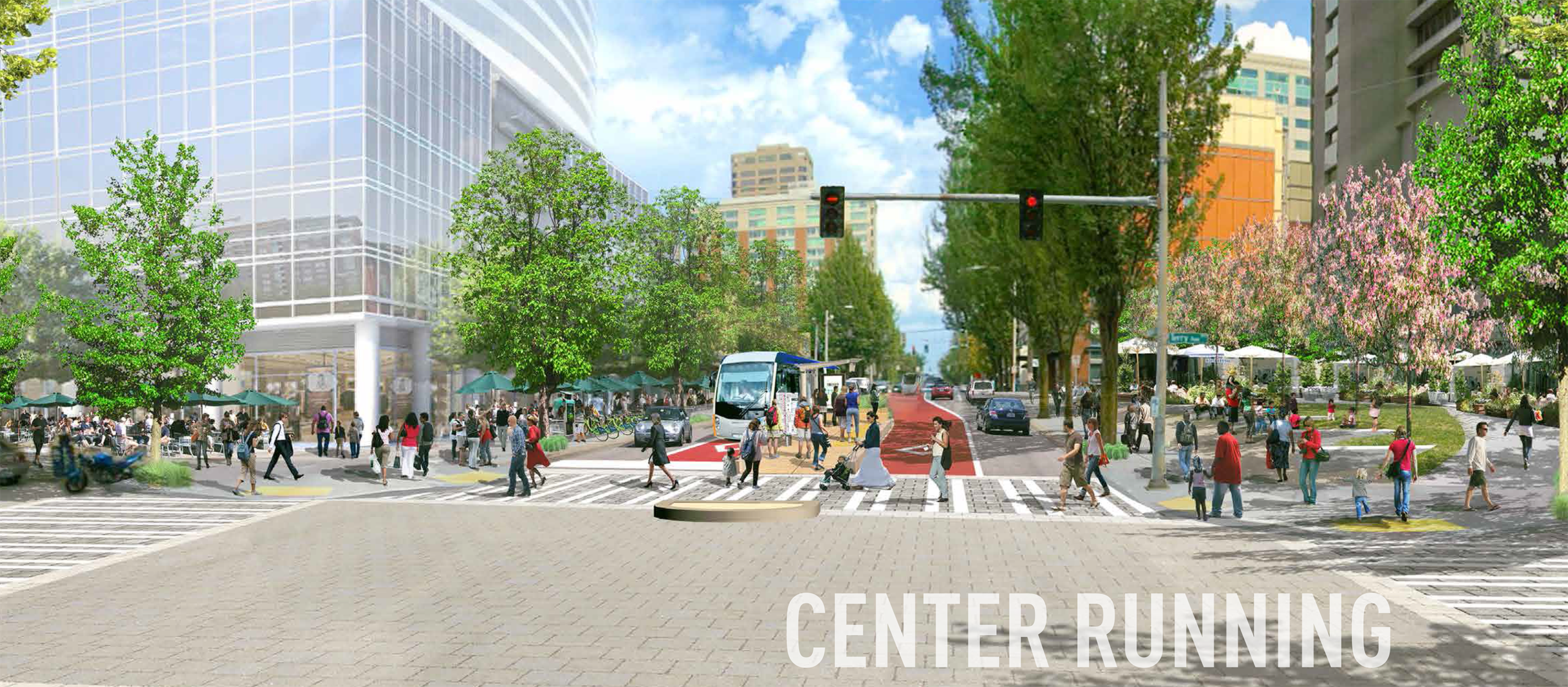 On Monday night, the Seattle Department of Transportation (SDOT) held its fourth open house on the $120 million bus rapid transit (BRT) project planned for Madison Street. SDOT staff and consultants from Nelson Nygaard chatted with a packed house about recent survey results, technical details, and the latest concept design. The general mood seemed to be upbeat, but many people think the project can do better. Seattle Transit Blog succinctly covered the problems last week, lamenting that only a small part of the corridor will have true bus-only lanes. While this and other issues remain unaddressed, the current design will effectively improve mobility through some of Seattle's densest neighborhoods.
The Madison BRT project is one of seven high-capacity transit projects envisioned by Seattle's Transit Master Plan, adopted in 2012. These projects will be branded under King County Metro's RapidRide service, which already offers some BRT features like off-board fare payment, all-door boarding, and transit signal priority that lowers travel times. Three RapidRide routes (C, D, and E) already operate in Seattle in a mix of general traffic, business-access-transit (BAT) lanes that allow right turns and/or on-street parking, and bus-only lanes. The next seven, to be phased in over a number of years, are to be distinguished by greater use of bus-only lanes.
The Roosevelt corridor between Northgate and South Lake Union is the second project now being studied. All of the projects will be at least partially funded by Proposition 1, a 10-year, $930 million property tax levy approved by Seattle voters this month. Other funding is expected from the federal government and regional partners like the Puget Sound Regional Council.
The Madison project is slated to extend approximately two miles from First Avenue in Downtown to the 23rd Ave E in the Central District. Along the way are a number of commercial districts, medical and educational institutions, and heavily populated residential neighborhoods that will be served by 11 stations. The vehicles themselves will be 60-foot articulated electric buses, similar in style to the new buses Metro is planning to roll out. The buses will also have three doors on each side, allowing for rapid boarding and flexibility between stations located on the sidewalk and in the middle of the street. The stations will feature shelters, real-time information signage, and fare payment. Improvements for sidewalks, landscaping, traffic signals, and bike routes are also planned.
With just these features and the planned 10-minute frequency during peak periods, the project will be a significant upgrade over existing bus service. Route 12 currently runs on Madison Street between First Avenue and 19th Ave E. It is usually filled to capacity during the morning commute, and traffic causes travel times to unpredictably vary by as much as seven minutes. Population and employment growth will only exacerbate the issue in the years ahead, so SDOT is being proactive by converting the corridor to BRT.
The details are of particular concern to potential riders and stakeholders. In Downtown, the buses will use curbside BAT lanes, allowing for motorists to make right turns and access parking garages. SDOT wants to keep at least two general purpose lanes open on downtown streets, and these streets have one-way traffic, so median stations were ruled out. Westbound the buses will use the south side of Madison Street. Eastbound they will run on the north side of Spring Street to avoid traffic queuing for the Spring Street on-ramp to I-5 and preserve on-street parking for the federal courthouse on Fifth Avenue. Spring Street was chosen as the return over Marion Street because it's closer to the Downtown transit tunnel and models showed it has slightly better travel times. Spring Street also was supported by 60 percent of respondents in an outreach survey (PDF).
Significantly, First Avenue was chosen as the western terminus of the line over Alaskan Way and Western Avenue (and it also received the most survey support). This means the buses will actually share a station with the Center City Connector streetcar on First Avenue between Madison and Spring Streets. With both projects starting construction in 2018, this is a notable example of collaboration between city projects that might otherwise operate in silos.
In an earlier post about the Center City Connector, I expressed concern that the streetcar stop was somewhat far from the Marion Street pedestrian bridge, a major conduit for thousands of daily ferry passengers. But now that the stop will be shared with BRT the two block distance seems perfectly reasonable. Plus, BRT project manager Maria Koengeter and rail transit manager Ethan Melone told me this in an e-mail:
…when passengers disembark from ferries, there are high pedestrian volumes at First Avenue and Marion Street. The stop location between Spring and Madison allows for these pedestrian volumes to be distributed as passengers wishing to transfer to the streetcar progress to the shared BRT/streetcar stop. If the stop were located at Marion Street, the pedestrian volumes generated by streetcar and ferry riders would likely exceed the capacity of the sidewalks at this intersection.
In First Hill, eastbound buses will rejoin Madison via 9th Avenue. From there to 15th Ave E (a distance of 12 blocks) the buses will resemble true BRT and run in dedicated center lanes and use stations in the median.
However, between there and Martin Luther King Jr. Way (preferred by the public over 23rd Ave E as the eastern terminus) the buses will run in general purpose lanes with mixed traffic. At the open house SDOT stressed that the traffic volumes in this part of the corridor don't merit dedicated lanes. But many attendees raised concerns that SDOT is falling short. Dedicated right-of-way is at the top of the scorecard for rating BRT systems. Future population growth and increasing traffic volumes will surely render mixed-traffic operations unreliable in the future. And with voters approving the transportation levy, there is a clear mandate from Seattleites to build the best infrastructure that their taxes can buy.
At this point, there is also the question of why SDOT wouldn't just go ahead and extend the project all of the way to the Madison Park neighborhood. Surely the capital cost wouldn't be much more if the buses are just running in mixed-traffic by that point. It would eliminate the need for Downtown-bound riders to transfer from Route 11 to the BRT line, and it could support future transit-oriented upzones in a low-density residential area.
Tom Brennan, of Nelson Nygaard, made a presentation during the open house in which he mentioned pedestrian and bicycle improvements would come with this project. Sidewalk fixes, new curb ramps, and landscaping were vaguely announced. He said three stations will have particularly attractive amenities: Terry and Bolyston; between 12th Ave E and 13th Ave E, and at 22nd Ave E. He also mentioned improvements to the pedestrian experience over I-5, but when I pressed an SDOT staffer for details he didn't have any answers.
Brennan also showed the bicycle routes that will be implemented. Because Madison Street street isn't wide enough for bicycle facilities, and it is a steep street in places, SDOT will build several routes identified in the City's Bicycle Master Plan to connect the Central District with Downtown. There will be one-way protected bike lanes on Union Street between Broadway and 27th Ave E, and a number of neighborhood greenways on University Street, Denny Way, and 24th Ave E and and 27th Ave E.
All things considered, the Madison BRT project will deliver a good crop of multi-modal infrastructure for Seattle. High-frequency and high-capacity transit is essential for the the state's largest job and residential centers. It's an incremental step towards encouraging more people to leave the car at home, which has environmental and health benefits beyond lowering traffic congestion.
However, public scrutiny is still needed where SDOT seems to have lowered its BRT standards. More can be done to ensure the project is built for the future, not just today's conditions. Send the project team your feedback and stay tuned for future updates on this project.
This article is a cross-post from The Northwest Urbanist.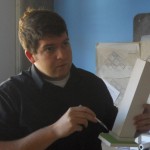 Scott Bonjukian is a car-free urban designer with a passion for sustainable and efficient cities. With degrees in architecture and urban planning, his many interests include neighborhood design, public space and street design, transit systems, pedestrian and bicycle planning, local politics, and natural resource protection. He primarily cross-posts from his blog at The Northwest Urbanist and advocates for a variety of progressive land use and transportation solutions.