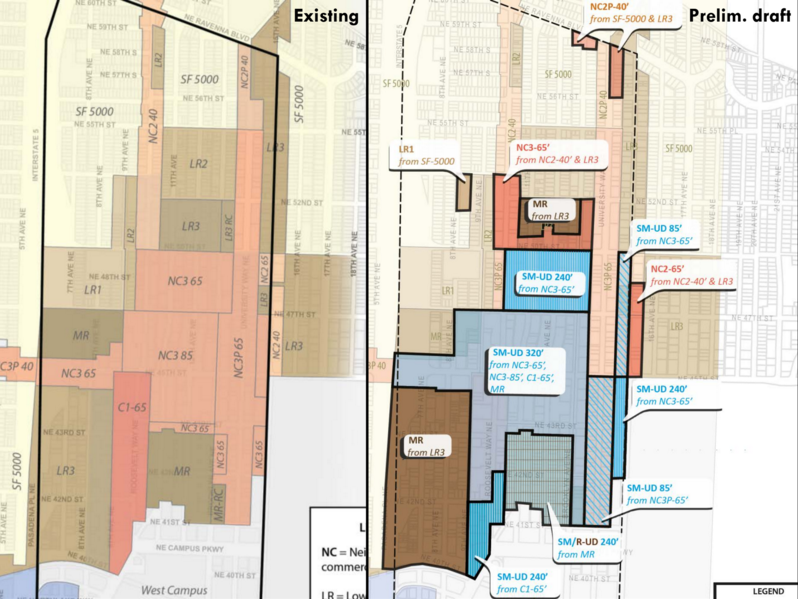 This past summer, a draft proposal for rezones within the University District was released by the Seattle Department of Planning and Development (DPD). By and large, the most dramatic of these are proposed on the blocks within a 10-minute walk walkshed of the future University District Station. A handful of modest rezones are proposed near the periphery of the neighborhood, including two near Cowen Park, a stretch of University Way NE on the north end, and one property near the University Playfield; these are partly meant to cleanup nonconforming uses and allow expansion of existing uses, although each of these would enable substantial infill and redevelopment of sites.
Proposed Zoning Changes
A suite of zoning changes proposed for the University District could accommodate an additional 5,000 new dwelling units and 4,800 jobs within a 20-year plan period over base zoning in effect today. At the heart of the changes is a desire to focus growth of housing and jobs centrally in the neighborhood around a major high capacity transit investment. By 2021, the University District will have an operational subway providing frequent service south to Downtown Seattle and the airport, and north to Northgate. Sound Transit is building the new station close to the neighborhood's core at NE 43rd St and Brooklyn Ave NE. Naturally, the blocks closest to the station are proposed for the highest intensity zoning options.
The City had evaluated a variety of different zoning options during the environmental review (EIS) process. One option would have seen larger swaths of land rezoned at lesser intensities than the current draft proposal while a second option would have seen a nearly equivalent amount of land zoned at slightly higher intensities. But on the whole, the current draft proposal most closely resembles the 2B Alternative of the Final Environmental Statement issued back in January.
An important understanding from the overall draft zoning proposal is that zoning changes are meant to reflect a "wedding cake" zoning approach. Areas closest to the center have the highest intensity zoning for height and activity. Moving away from the center, allowed heights are reduced and non-residential uses are increasingly limited until only residential uses are permitted.
Interestingly, University Way NE (The Ave) is largely untouched by zoning changes in the draft proposal. This was an intentional move by DPD as community members consistently requested that the general character of The Ave be preserved. Zoning on much of The Ave is already generous allowing a wide spectrum of uses and building heights, yet many of the most popular establishments are only in one-story buildings; just a few buildings actually cap out at the maximum height permitted. Still, two small portions of The Ave will see modest zoning changes.
Seattle Mixed Zoning
A few hundred properties near the neighborhood core could be rezoned to one of four Seattle Mixed (SM) zones: SM-UD 320, SM-UD 240, SM/R-UD 240, and SM-UD 85. But before jumping into where those changes are planned, let's discuss what SM zoning is.
In brief, SM zones envision the development of dense, diverse, and mixed-use communities that are built around walking. They are typically limited to the cores of urban centers, urban villages, and station overlay areas. SM zones strike a unique balance between giving maximum flexibility in allowed uses and activities while striving for development that provides local housing and reflects neighborhood needs. General development regulations apply to all SM zones, but the University District (UD) designation will come with specialized requirements specific to the neighborhood.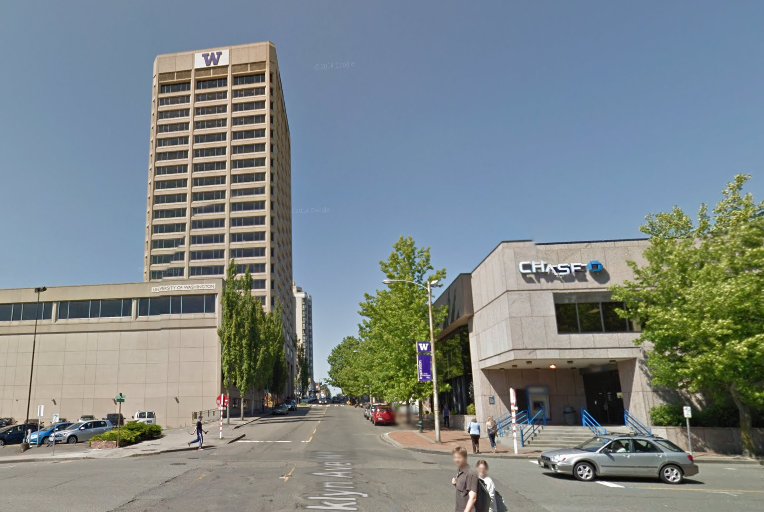 The immediate blocks surrounding the University District subway station could be rezoned to SM-UD 320, a similar zoning to that is found in much of South Lake Union's densest blocks now under construction. Structures of up to 320 feet in height could be permitted on blocks with this zoning. In other words, buildings could top out at the height of the University of Washington Tower, which stands at 325 feet. Approximately 110 properties could be affected by the proposed rezone, including:
~9 properties zoned MR;
~24 properties zoned C1-65;
~30 properties zoned NC3-65; and
~45 properties zoned NC3-85.
Four pockets of the neighborhood surrounding the proposed SM-UD 320 zone could be rezoned to SM-UD 240 (one of which could have the special SM/R-UD 240 designation). The primary difference between SM-UD 320 and SM-UD 240 is maximum height; structures could go as high as 240 feet in height.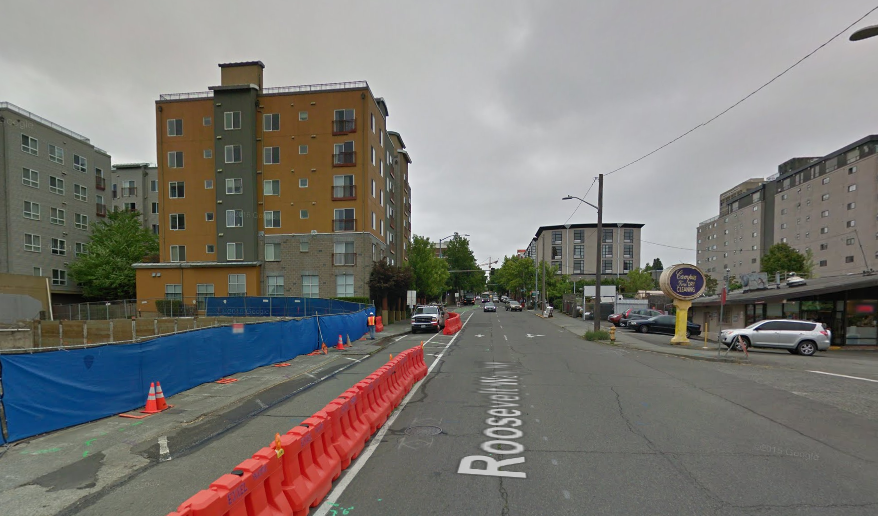 The first pocket of SM-UD 240 zoning could include six properties at the south end of Roosevelt Way NE. These properties lie between NE 42nd St and NE 40th St. The properties are currently zoned C1-65, meaning that while a mix of uses are allowed, including residential, buildings are limited to 65 feet in height (six stories). The proposed zoning could add as many as 17 floors of development capacity on some of these properties.
The second pocket of SM-UD 240 zoning could include five properties along the west side of 15th Ave NE from NE 45th St to NE 42nd St. Properties along this segment of the street are currently zoned as NC3P-65. A variety of neighborhood commercial uses are permitted with maximum building heights set at 65 feet. Some may wonder why properties further south or east of the area proposed to be rezoned are not included in the changes. The simple answer is that the parcels are owned by the University of Washington; the university has special institutional zoning on its properties that apply instead. Therefore, those properties, and many others, are not proposed for any zoning changes as part of the neighborhood-wide rezone process. Additionally, NE 45th St offers a natural break point in zoning along 15th Ave NE, which is why different zoning changes are proposed north of the intersection.
The third pocket of SM-UD 240 zoning could include 50 properties in the blocks between NE 47th St, University Way NE (west of the alley), NE 50th St, and 11th Ave NE. These properties are currently zoned as NC3-65, but like their sister zoning types, they also allow a mix of uses with buildings limited to 65 feet in height. NC3-65 and LR2 zoning west of this area is proposed to remain intact as a buffer to residential blocks beyond them. Meanwhile, NC3P-65 zoning east of the area is also proposed to remain in place to retain the established character of The Ave.
The fourth pocket of SM/R-UD 240 zoning could include approximately 60 properties in the blocks between Roosevelt Way NE (east of the alley), NE 43rd St, Brooklyn Ave NE, and north of the University of Washington West Campus. These properties are currently zoned as MR, a medium density residential zoning with maximum building heights of 75 feet (seven stories). With the SM/R-UD 240 zoning designation, there would be an added emphasis on residential uses as opposed to commercial and office uses on such zoned land.
The University District could also see two pockets of SM-UD 85 zoning could. The first of these is envisioned for seven properties on the west side of 15th Ave NE between NE 45th St and NE 50th St. These properties are currently as LR3 and NC3-65. The second pocket is envisioned for the southern portion of The Ave, which includes 45 properties. The blocks between NE 45th St and NE 41st St are currently zoned as NC3P-65, but new SM zoning could invigorate some change on the blocks while retaining their traditional character.
Neighborhood Commercial Zoning
Two properties at the intersection of NE Ravenna Blvd and Brooklyn Ave NE are proposed to be rezoned from SF5000 to NC2P-40. These properties are best known as the Cowen Park Grocery and The Park Ravenna Apartments. Property owners of these buildings requested zoning changes so that their uses would be legally permitted. Under SF5000 zoning, the buildings and uses are deemed legal nonconforming, meaning that the uses can continue, but cannot be substantially expanded or redeveloped. NC2P-40 zoning would bring the properties in conformity with the land use code and mirror adjacent zoning found on University Way NE.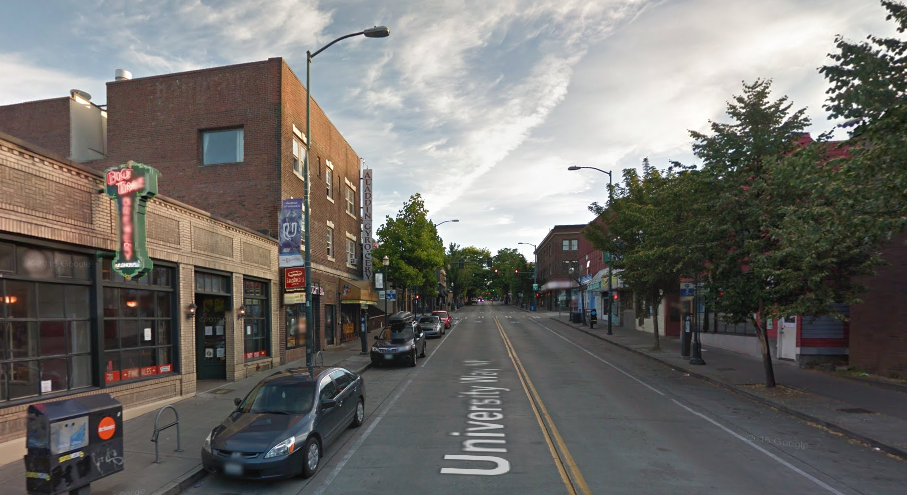 Eight properties on the east side of University Way NE from Ravenna Blvd NE to NE 56th St could be rezoned from LR3 to NC2P-40. This stretch of University Way NE contains a mix of lowrise apartment buildings ranging from two to four stories and a few commercial uses; some of these uses and structures do not conform to the LR3 zoning. As a result, property owners here also suggested that the properties should be rezoned so that zoning more closely matches current development on the block. NC2P-40 zoning would mirror zoning directly south and west of the block.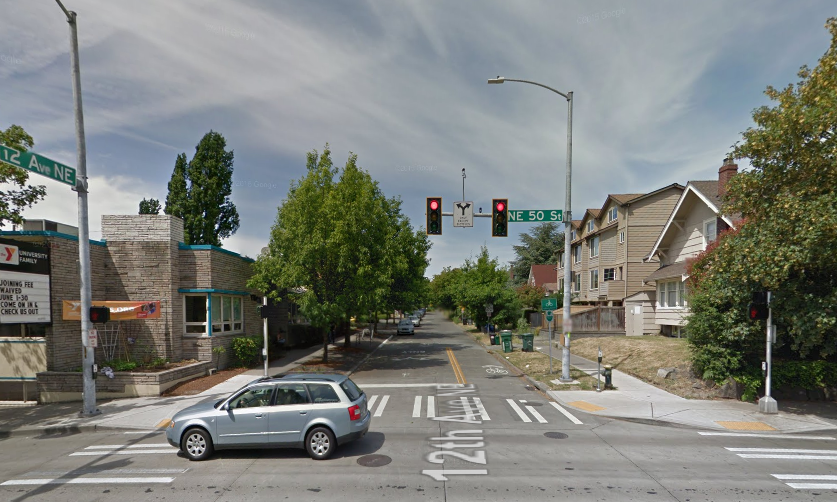 A further 40 or so properties north of NE 50th St between 9th Ave NE (east of alley) and University Way NE (west of alley) could be rezoned from NC2-40 and LR3 to NC3-85. And finally, 11 properties north of NE 45th St and located on the east side of 15th Ave NE are proposed to be rezoned from LR3 and NC2-40 to NC2-65.
Midrise Zoning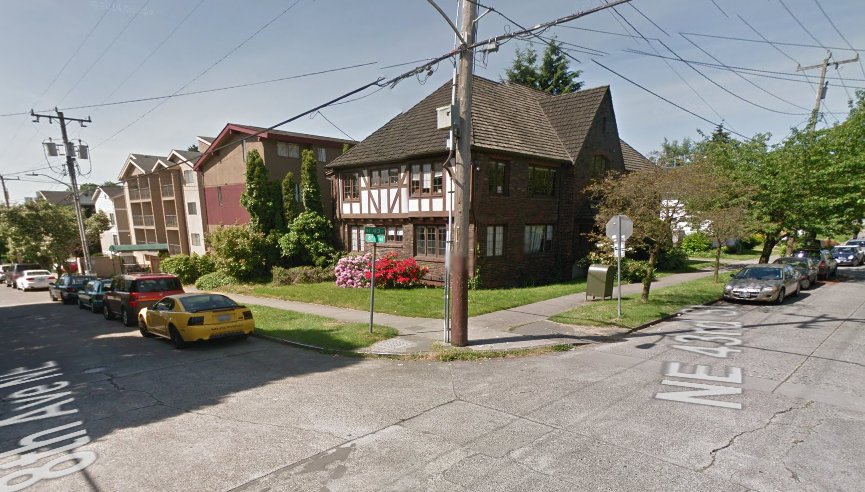 About 180 properties zoned LR3 could be rezoned to MR in the southwest quadrant of the neighborhood. Multi-family buildings largely prevails in this portion of the University District with only a few single-family homes remaining. MR zoning would allow buildings up to seven stories where only four stories (40 feet) are currently permitted. A further 40 or so properties zoned LR3 could be rezoned to MR on the blocks just north of NE 50th St between Roosevelt Way NE and Brooklyn Ave NE; the zoning could extend as far north as NE 52nd St.
Lowrise Zoning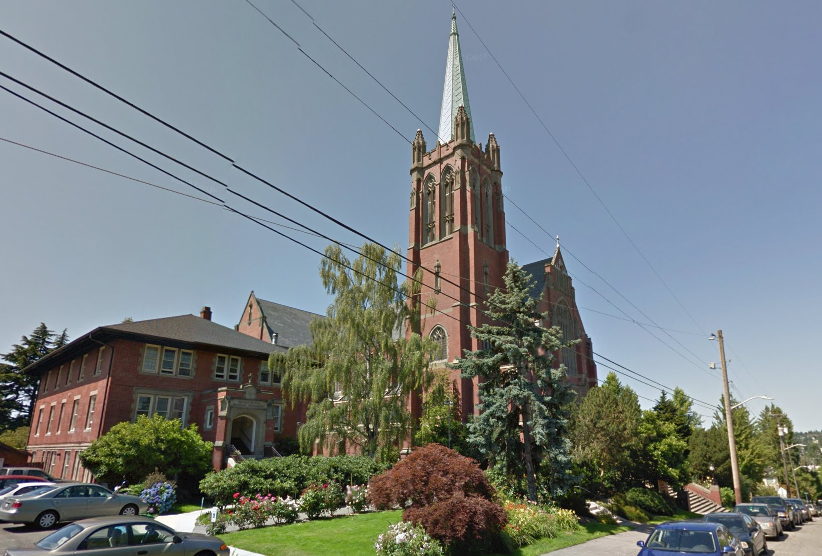 Finally, a portion of the Blessed Sacrament Church property is proposed to be rezoned from SF5000 to LR1. The primary purpose for this zoning change is to allow the parish community to build new accessible ramps, a below ground parking facility, and an expanded rectory for the Dominican priory. As it stands today, the parish community cannot pursue these site improvements on any portion of the property zoned SF5000.
This article focuses on draft zoning changes proposed for the University District, which are subject to change through the legislative process. A previous article covered adopted Comprehensive Plan changes within the neighborhood.

Stephen is a professional urban planner in Puget Sound with a passion for sustainable, livable, and diverse cities. He is especially interested in how policies, regulations, and programs can promote positive outcomes for communities. With stints in great cities like Bellingham and Cork, Stephen currently lives in Seattle. He primarily covers land use and transportation issues and has been with The Urbanist since 2014.