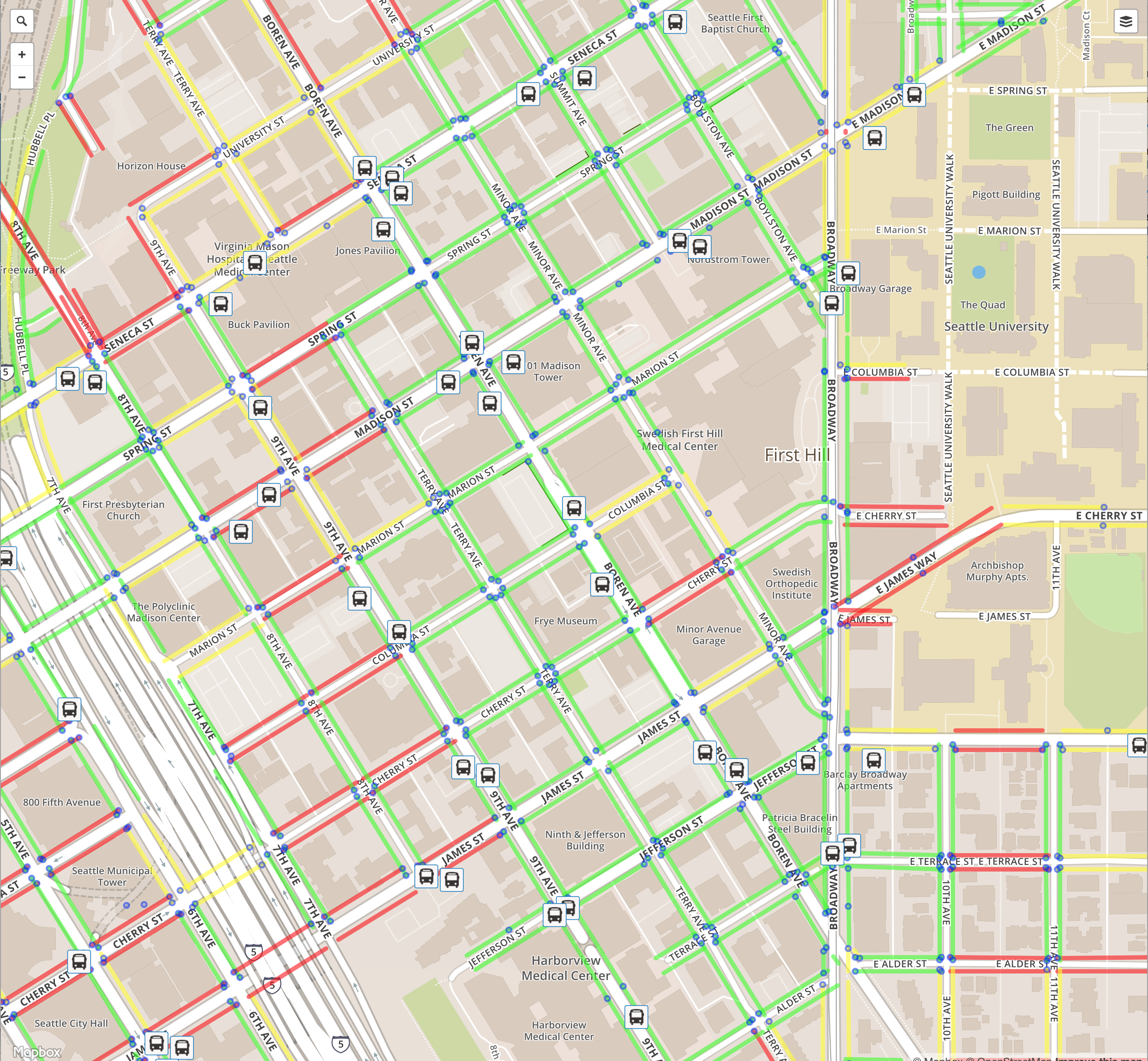 Navigating around the City of Seattle can be very difficult for those who care for or live with mobility limitations. Many of our streets are still missing curb ramps, or even sidewalks. Add to this, our city's topography, which can change from block to block on the same street, often unexpectedly, and you have a recipe for serious mobility challenges.
To help solve this problem, AccessMap Seattle has created a new web-based application that will display a street map, centered around your current location. In addition to bus stops, public elevators, and curb ramps, the map also clearly indicates the degree of incline (green to red) for each block within the city of Seattle. This is crucial information for those with limited mobility, and just as useful to those whose mobility is not limited.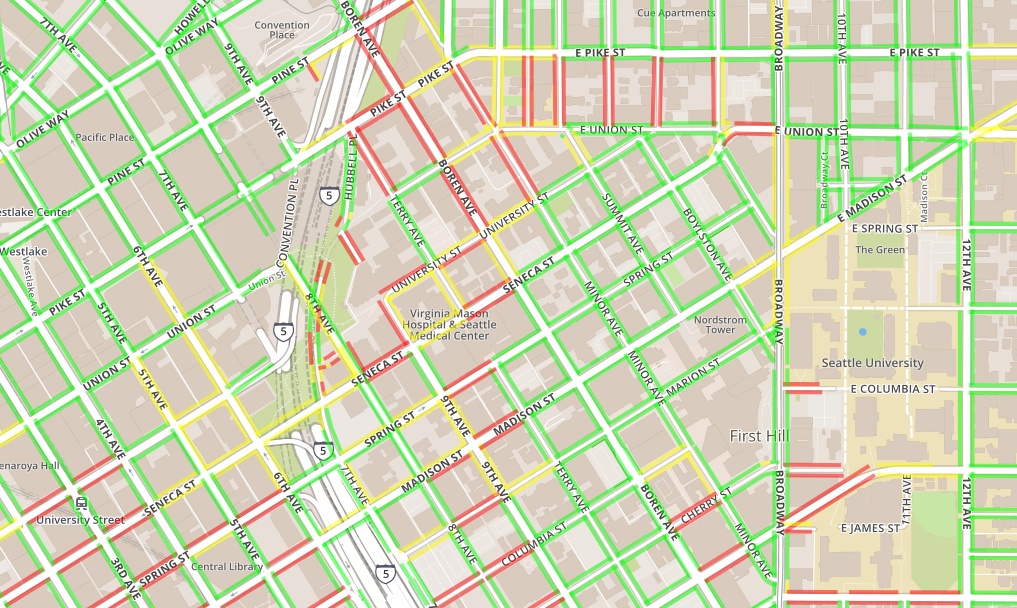 This first illustration (above) clearly demonstrates the issues that someone with limited mobility will encounter when trying to visit First Hill. Ignoring the fact that First Hill is, foremost, a hill, this illustration depicts how quickly the incline of a street can change from block to block — from green (level) to red (steep) with very little advanced notice. For First Hill — or Pill Hill as it is colloquially known — which is home to three of Seattle's hospitals, mobility access is a deeply important issue. Many who visit the hospitals are indeed mobility challenged. AccessMap is a valuable resource that employees, patients, and others can use to determine how to get around with greater ease.
The next illustration (above) depicts Seattle around the Ship Canal. Here the red lines clearly indicate the location of Phinney Ridge as well as the borders of Queen Anne Hill. These changes in terrain are a major obstacle for those with mobility limitations. The only easily accessible route is via Leary Way along the north shore of Lake Union, and even then that route is not ideal.
Meanwhile, other areas like lower Fremont and lower Wallingford have mild accessibility challenged (in yellow) due to gentle slopes. These areas may still be relatively undesirable for those will severe mobility challenges.
This map series can be quite useful for policy makers in our city. It clearly defines where there are obstacles, be they natural or man-made, and this information may be used to help with redevelopment plans, potential transit routing, candidate locations for hillclimb assist, and more.
In addition, the information displayed on this map does not just benefit those with mobility limitations as pedestrians and cyclists have a similar need for this information. This information may be used to plan safe routes between neighborhoods for use in inclement weather as well as disaster preparedness.
The folks behind AccessMap Seattle are currently looking for people interested in getting involved with the project. According to their website, they are looking for feedback from people who have mobility issues, or who wish to simply contribute to the project. If you are a developer who is interested in helping, they ask that you check out their GitHub repository or email them directly at developers@accessmapseattle.com to find out how you can get involved.
Gordon is a native New Yorker who wisely chose to leave the Northeast in the early 1990s. A past resident of Belltown, and Queen Anne, he currently calls First Hill home. He is a board member of the First Hill Improvement Association (FHIA) as well as the FHIA Transportation Committee Chair and is constantly looking for ways to improve transportation up the hill.