With a new light rail station soon to open (March 19th) up on the University of Washington campus, the Seattle Department of Transportation (SDOT) has teamed up with their partner transit agencies to turn the Montlake Triangle into a new transit hub. SDOT is improving the overall transit rider experience and revising the local bus stop configuration. Two new bus stops are under construction on NE Pacific St (both are relocations), a third stop will open northbound on Montlake Boulevard, and fourth stop (also on Montlake Boulevard) will reopen after a long hiatus. All of this is due for completion in advance of the Spring service change due on March 26th.
Last year, King County Metro and Sound Transit collaborated on a regional process to revise select portions of the bus network throughout Seattle and the Eastside in order to make better use of forthcoming light rail stations at Capitol Hill and the University of Washington. Through that process, the King County Council and Sound Transit Board of Directors adopted substantial changes to how the bus network would operate, particularly through the University of Washington. This, of course, has necessitated local improvements to ensure that bus and rail connections work.
As it is, the light station is located on the east side of Montlake Boulevard, a wide, complex, and fast-moving street. It's not exactly an ideal location for bus transfers, let alone people on foot or bike, which is why Sound Transit and the University of Washington have invested heavily in pedestrian bridges. But SDOT wants to make bus transfers to and from rail just a little quicker and easier.
Bus stops in both directions on NE Pacific St will be moved a block or so east from their current locations, saving transferring riders about two minutes in walking time. But as with any bus stop change, there are some drawbacks. The most obvious are longer walking times for a very select few trips within the UW Medical Center complex and buildings at the very southeast of the UW campus. For most riders though, the bus stop changes will likely be a very welcome improvement.
The new stops will come with upgrades like real-time arrival information signs, a wider curb area, and better shelters.
A new westbound stop on NE Pacific St will have four bus shelters, meaning a net increase of three from today, while the eastbound stop will remain with four. SDOT is also filling in an on-street parking strip on the north side of NE Pacific St so that buses don't have to pull into the curb to pick up passengers. Instead, buses will travel and stop in the furthest right lane like today. The benefit of this configuration, of course, is that the curb area will be wider to give waiting passengers more comfort and allow pedestrians to walk on the main sidewalk unobstructed.
Another bus shelter will also open at a new northbound stop on Montlake Boulevard. This is being added because revised bus service for two Northeast Seattle routes will now directly service the Link station. Routes 65 and 78 will loop around the University of Washington campus before continuing onto 15th Ave NE, NE Pacific St, and then northbound Montlake Boulevard, bringing them right to the footsteps of University of Washington Station. SDOT will also reopen the former southbound stop on Montlake Boulevard, which was closed during reconstruction of the Montlake Triangle and pedestrian bridges across the roadway. That stop will be served by routes 44, 45, 71, 73, and 373.
Real-time information signs will be installed exclusively at the Pacific Street stops; not the other four bus stops nearby. SDOT plans to have the real-time information signs show all of the routes that service a stop. In the westbound direction, ten King County Metro and four Sound Transit routes will serve the stop there while six King County Metro and five Sound Transit routes will serve the eastbound stop.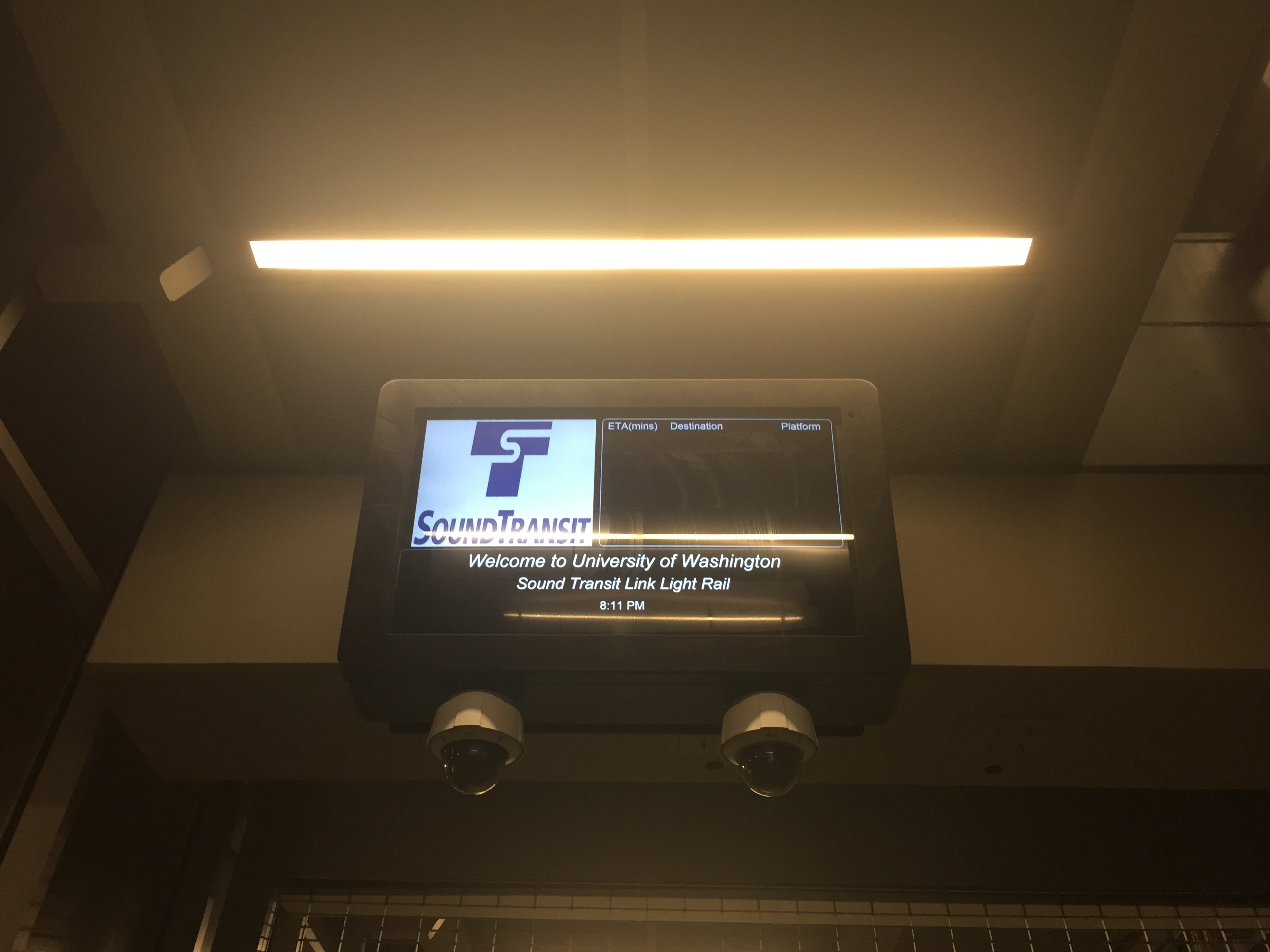 Additional signage will also be introduced throughout the area. Sound Transit, King County Metro, and SDOT are actively coordinating an effort to ensure that signage style is consistent across stops and the station. The four closest bus stops to the station will be signed as "bus bays" and numbered one through four. Area maps will be located at the station to help guide riders to the appropriate bus bay by number and identify which routes service each stop. Directional signage will also be placed on the station grounds to give riders further assurance that they're heading in the right direction for their transfer. Once riders arrive at the station, they will be welcomed by dynamic signage with live information by OneBusAway and entrances themselves will have ample signage to direct them to trains.
All in all, SDOT and their partner transit agencies are trying to make the Montlake Triangle and University of Washington Station transfer area work better for the riders that will pass through everyday. These investments will go a long way toward achieving that. But there's still ample opportunity to improve how buses operate through the area and minimize delay to transferring riders.

Stephen is a professional urban planner in Puget Sound with a passion for sustainable, livable, and diverse cities. He is especially interested in how policies, regulations, and programs can promote positive outcomes for communities. With stints in great cities like Bellingham and Cork, Stephen currently lives in Seattle. He primarily covers land use and transportation issues and has been with The Urbanist since 2014.