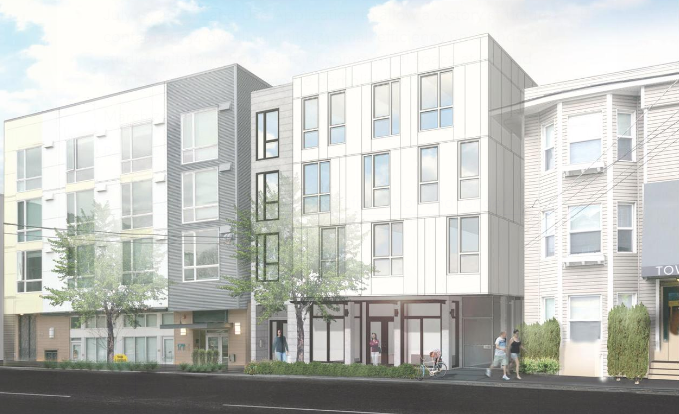 A construction notice for a new mixed-use building appeared on Capitol Hill Seattle yesterday. The notice itself is fairly succinct explaining the anticipated construction timeline (September 2016 through November 2017), the scope of the project proposal (four-story building with 34 micro units and commercial space), who to contact for questions, and the local impacts (bike lane closure and temporary sidewalk relocation). There's no doubt that people will quibble over the bike lane closure. But the unique aspect here is that the development contractor, DMC Special Project Group, posted the notice in the community forum to let neighbors know about the work ahead of time. While I haven't seen something like this before personally, I hear that it is becoming a more common practice by development firms, likely to generate positive will and to protect against criticisms of unannounced construction.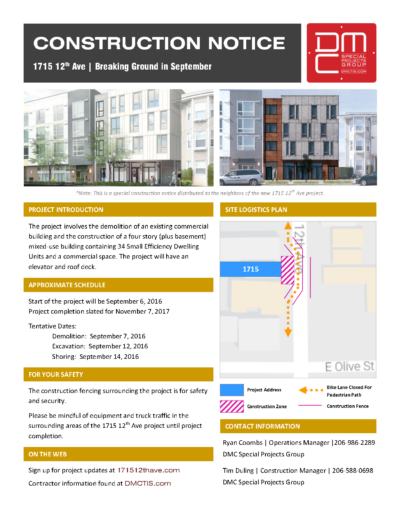 Seattle's land use process certainly provides ample notice when major development proposals are being developed and decided upon. What it doesn't do is clearly spell out when development actions will take place and the local implications that they may have. Neighbors reasonably have concerns about what new development next door or down the block may have on them. When will they be leveling out the site and begin building? Will I still be able to get through the construction zone? Are they keeping the landmark structure? How close will they be grading to my property?
Not everyone may know that a project is even planned–they could be new, missed the land use application notice, or might have been too far to even receive notice–despite better access to information through apps like Seattle In Progress and the Seattle Department of Construction and Inspection's Property & Building Activity and Shaping Seattle Buildings maps. So giving people a little upfront notice before breaking ground can go a long way toward building better relationships between neighbors and the development community while allaying an ocean of fears and concerns. And it also has an added bonus: free advertising to lure in future tenants. Win-win.

Stephen is a professional urban planner in Puget Sound with a passion for sustainable, livable, and diverse cities. He is especially interested in how policies, regulations, and programs can promote positive outcomes for communities. With stints in great cities like Bellingham and Cork, Stephen currently lives in Seattle. He primarily covers land use and transportation issues and has been with The Urbanist since 2014.