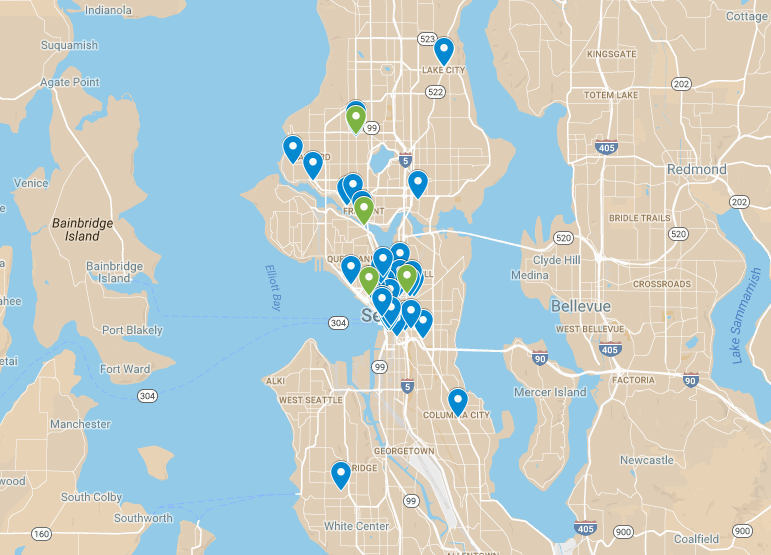 PARK(ing) Day is returning to Seattle this Friday with 47 parklets and four pop-up street improvements across the city. Scores of parking spots will temporarily be converted in a demonstration of how right-of-way space can be put to alternative uses besides parking storage. Most of the venues will be located in and around the city center, but temporary parklets will reach as far north as Lake City and as far south as Roxhill.
Following on from the building success of PARK(ing) Day+ from previous years, the Seattle Department of Transportation (SDOT) will allow some venues to operate on Saturday as well. On both days of the event, parklets and pop-up street improvements will be open from 10am to 7pm allowing commuters, visitors, and residents alike to participate in the demonstration projects.
Our friends at Seattle Neighborhood Greenways (SNG) are partnering with Coyle's Bakeshop to showcase a tactical urbanism installation in Greenwood at N 83rd St & Greenwood Ave N. The pop-up street improvement will involve four curb extensions and two parklets. SNG hopes to collect data on traffic speeds and failure to yield. The installation will be in place both days.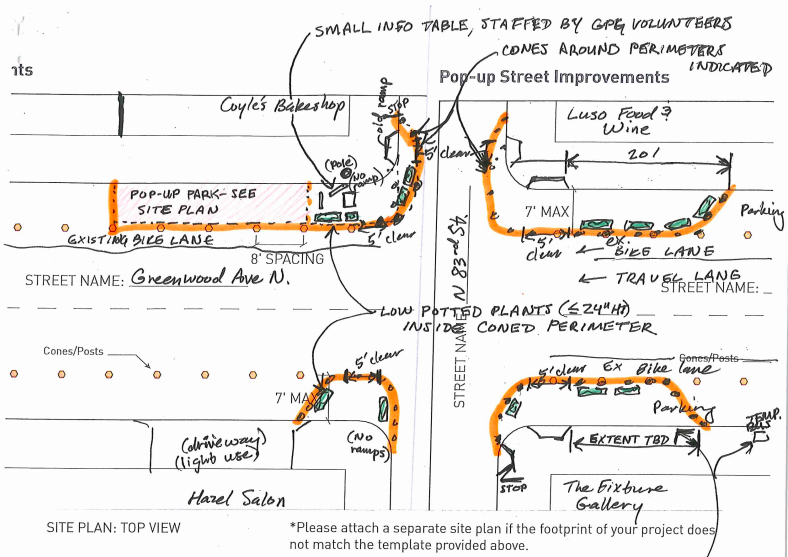 But if you can't make it up to Greenwood, three other pop-up street improvements will be installed. Urban Racks is sponsoring a bike corral on Second Avenue in Uptown. Site Workshop Landscape Architecture is sponsoring a cycletrack on Florentia St in North Queen Anne. And Cascade Bicycle Club and Commute Seattle are sponsoring a protected bike lane installation on E Pine St in Capitol Hill, which be present on both Friday and Saturday.
There will also be plenty of temporary parklets to enjoy, running the gamut from play spaces to street seating. You can get a head start on planning your PARK(ing) Day and PARK(ing) Day+ by clicking on the pins in SDOT's interactive map above. PARK(ing) day is a great reminder of how much street space we currently devote to storing cars, and how easy it is to take some of that space back.
Let's Make #Homes4WA
Washington faces a very deep housing availability and affordability crisis that has only worsened in the past several years. It's time for Washington to face this crisis head on. It's time to take action to house Washington. Let your legislators know we need their help to house everyone.

Stephen is an urban planner with a passion for sustainable, livable, and diverse cities. He is especially interested in how policies, regulations, and programs can promote positive outcomes for communities. With long stints in great cities like Bellingham, Cork, and Seattle, Stephen currently lives in Kenmore and primarily covers land use and transportation issues for The Urbanist.