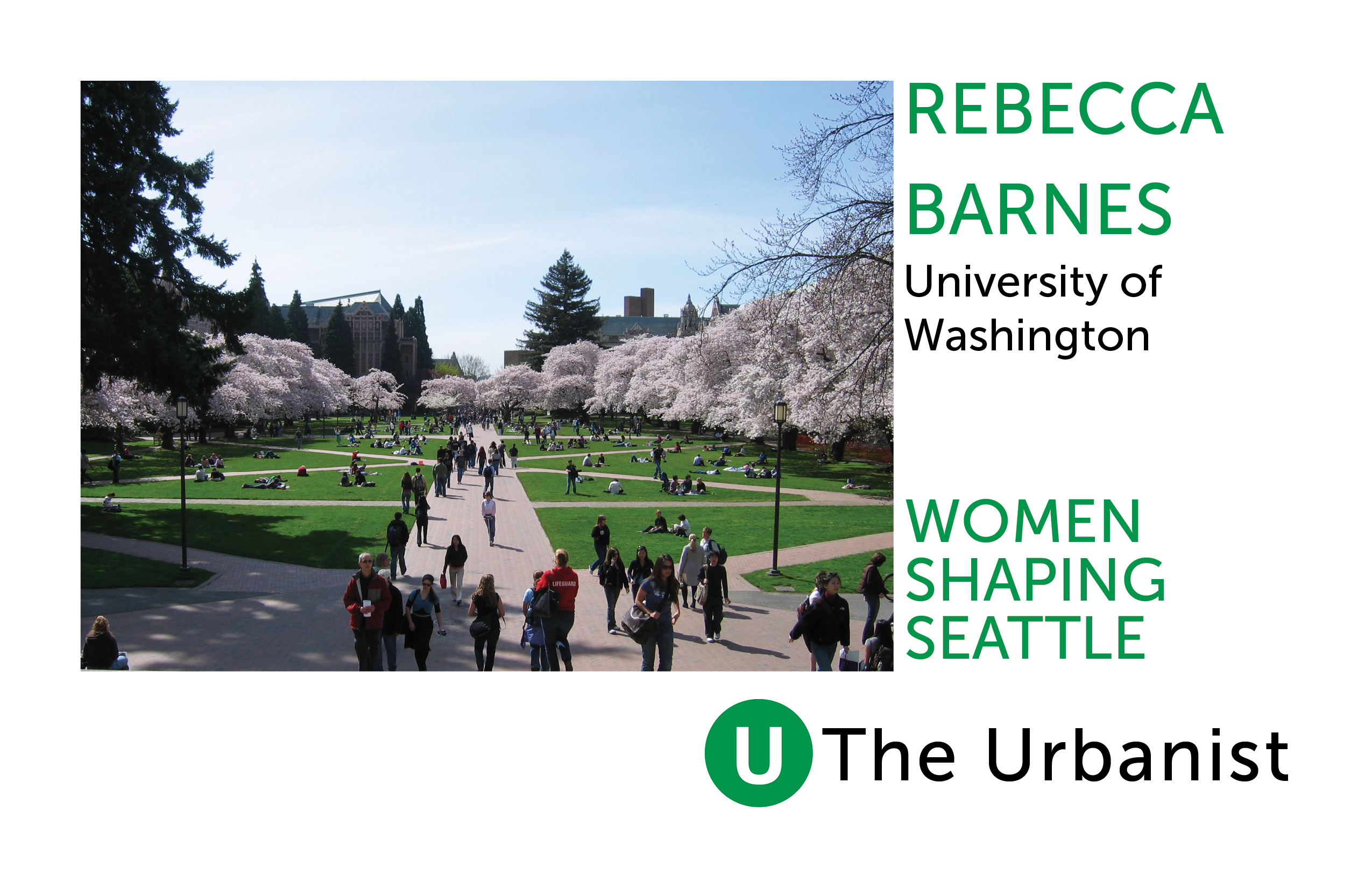 Rebecca Barnes, FAIA is the University of Washington University Architect and Assistant Vice Provost for Campus & Capital Planning. Rebecca was previously the Chief Planner for the City of Boston and Director of Urban Design & Architecture for the "Big Dig" in Boston. Rebecca was involved in developing and implementing the concept of 'urban villages' in Seattle, "as a theory of how significant change could be accommodated without diminishing or devaluing Seattleites' ways of life".
We asked Rebecca her thoughts on Seattle, the role of universities in cities and her experiences as an architect and planner as part of our Women Shaping Seattle series exploring how women have changed and continue to change the design of the city.
You've been involved in some real game changers for Seattle, like your urban villages work. What do you think is the next big change needed in Seattle?
Seattle is on a roll, enjoying an enviable almost-golden era. Is big change needed? I am tempted to answer, humility. By which I mean such qualities as wisdom that seasons impatience for change, curiosity to explore beyond limited perspectives, patience to understand and believe in each other, and willingness to commit to making this a better Seattle hospitable to all people. I hope Seattle is capable of modeling ways of sharing wealth that ensure Seattle's future as a region where everyone is welcome and can find their place in the social network, where anyone can find an affordable place to live, work that contributes and fulfills, an entire range of lively cultures and educational experiences, urbane and humane, respectfully interactive with its natural and historic context, and that we are able to act in time to achieve this.
Easy to say–who would disagree? And yet not only do we have homelessness and hate crimes, we have underfunded public education, limited availability of arts programming for kids, insufficient open space, reduced bus transit, and both young people and older people at all income levels are being priced out of the city. I don't imagine anyone has all the answers.
Locally, there are some bright spots to support and celebrate. To mention only a couple dear to a planner's heart: Mayor Murray is in the process of restructuring City departments to facilitate information-sharing and strategic planning with a city-wide focus to overcome the traditional compartmentalized silo effect of isolated departments. The silo effect has been responsible–nationwide, not just here–for wasting resources and citizens' good will with expensive and frustrating fiascos. Relatedly, the City's new Planning Director at the Office of Planning and Community Development, Sam Assefa, is working with colleagues and staff citywide to develop integrated databases that will enable the City to coordinate its many departments' goals, budgets, projects and outcomes, stretching dollars by anticipating as well as accommodating the inevitable changing conditions of Seattle and Northwest living.
How has the role of universities in cities changed over time?
When I served as Boston's chief planner fifteen years ago, that city began to proactively collaborate with universities and healthcare institutions–so-called "anchor institutions" due to their more permanent identities, and physical infrastructure/campuses. Cities across the country now look to higher education and healthcare partners to not only pursue their traditional missions, but also to contribute to public transportation, open space, housing, and enhancing social and economic equity. And the institutions themselves have begun to find ways to adopt some private sector behaviors–and partners–in order to stretch their increasingly constrained budgets and develop innovative ways of pursuing their traditional and expanding missions.
The heart and soul of this new partnership approach is shared information and resources. Like University of Washington's program "urban@uw", which focuses university research and resources on specific City-identified issues, informing City leaders about university programs in order to find opportunities to do things in ways that may accomplish the goals of both. The UPASS program is a long-standing and outstanding example of addressing shared goals. With all students and many faculty and staff subscribing, University of Washington transit ridership has reached unprecedented highs and commutes by single-occupant vehicles reached unprecedented lows. Collaborating with the City as well as with private sector and non-profit partners has great potential to extend and enhance the university's ability to address its needs and those of its community.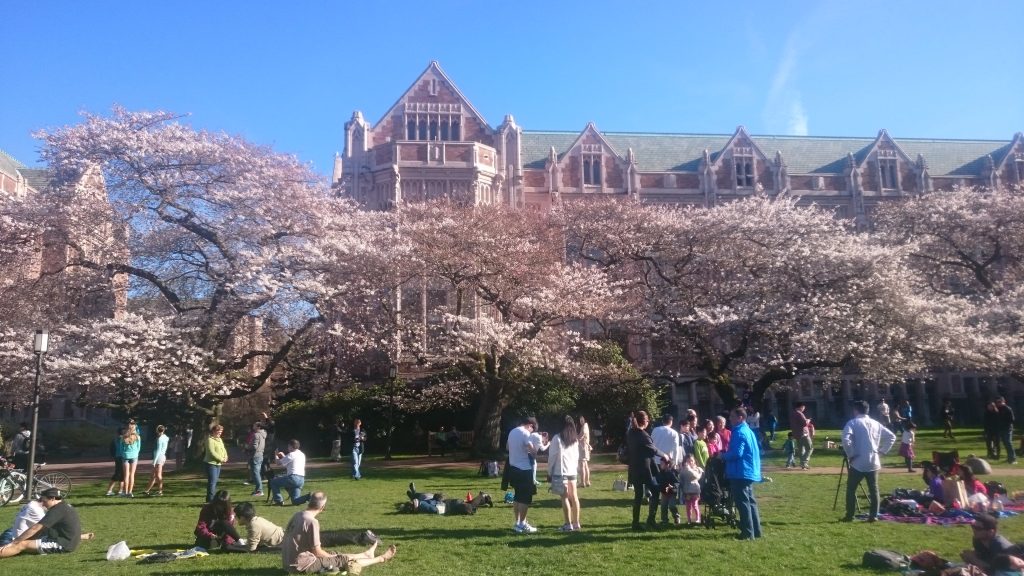 What can universities that have existed in city centers for a long time and that have an established reputation and limited opportunity to change their location (like the University of Washington) do to shape the city?
A proposed up-zone for the U(niversity) District is just about to hit the City Council agenda, and it will be followed soon by a proposed new master plan for the University of Washington's growth and development. Both zoning proposals are responses to changing conditions and goals that have the potential to reshape this part of the city.
Perhaps the greatest of these is the new Sound Transit light-rail line that is to connect the U District south to downtown, other neighborhoods, and Sea-Tac airport, and north to Northgate and beyond. Anticipation of two regional light-rail stations, one at each end of the UW campus, galvanized community, City and University leaders to shape a newly collaborative effort with the idea of maximizing this opportunity for the broadly-shared goals. These include job growth, housing affordable to the full spectrum of income levels, a public realm and open space network sufficient to the community's needs, integrated and multi-modal transportation, social services–altogether the elements consistent with a vital, lively, opportunity-rich and inclusive urban university community.
And what can universities do to improve student and visitor experience?
UW is a public institution, funded with public dollars for public education. Everyone is welcome to its diverse, beautiful campus, which is one of the most admired in the US (some would say world-wide). Aware of the potential to more completely welcome and serve students and visitors, a recent UW initiative convened a broad-based group to look for opportunities. High on the list of suggestions are an improved wayfinding and signage program, a well-located visitor welcome facility, and more extensive and coordinated use of technology to provide useful information when and where it is most needed. Expect to see the first phase of a map-based wayfinding program installed soon on the main campus; it will be map-based and include links to supplementary online information.  
What do you find most enjoyable and challenging in your work?
Both in my formal education and in learning on the go I've warmed to missions associated with "making the world a better place".
"When I graduated from college in a lackadaisical economy, I had to define my own path and becoming an architect seemed like a way to serve the housing affordability part of a better-place mission. I didn't imagine it would be a springboard to the enormous range of placemaking experiences and roles that I have explored and enjoyed."
Three decades of learning by doing produced a range of outcomes that far exceeded my hopes and dreams for making my contribution: Many of Boston's Big Dig icons–the Lenny Zakim Bunker Hill Bridge, the Rose Kennedy Greenway and Conservancy and Crossroads, the vent buildings and highway structures, the construction phase pedestrian-walkways keep-the-city-open kit-of-parts. Seattle's "urban villages" and Westlake Park and ARCADE magazine. And stewardship of the treasure that is University of Washington's campus collection–Seattle, Tacoma, Bothell–in a time of enormous innovation and reorientation, helping to define the path forward. The challenges inherent in this work have to do with first understanding what the needs are and then exploring, developing and effectively communicating ambitious, even inspiring, and feasible options to intrigue and hopefully convince constituencies and decision-makers.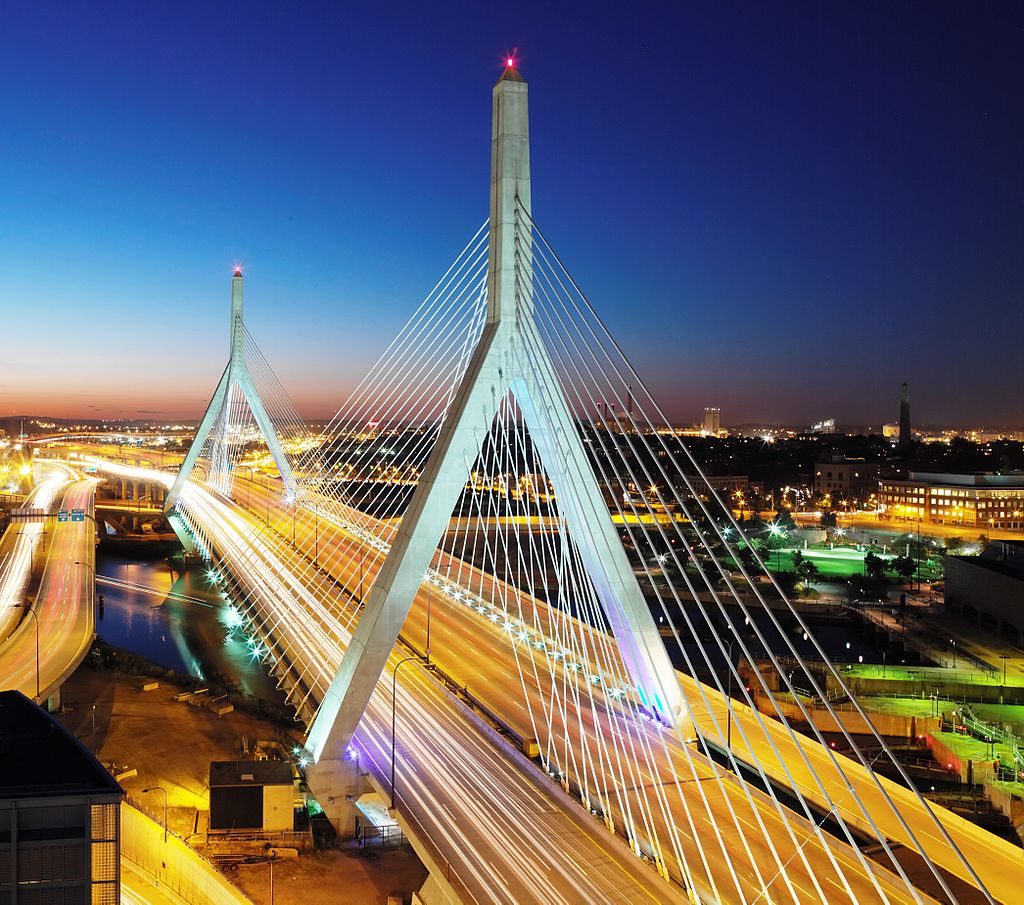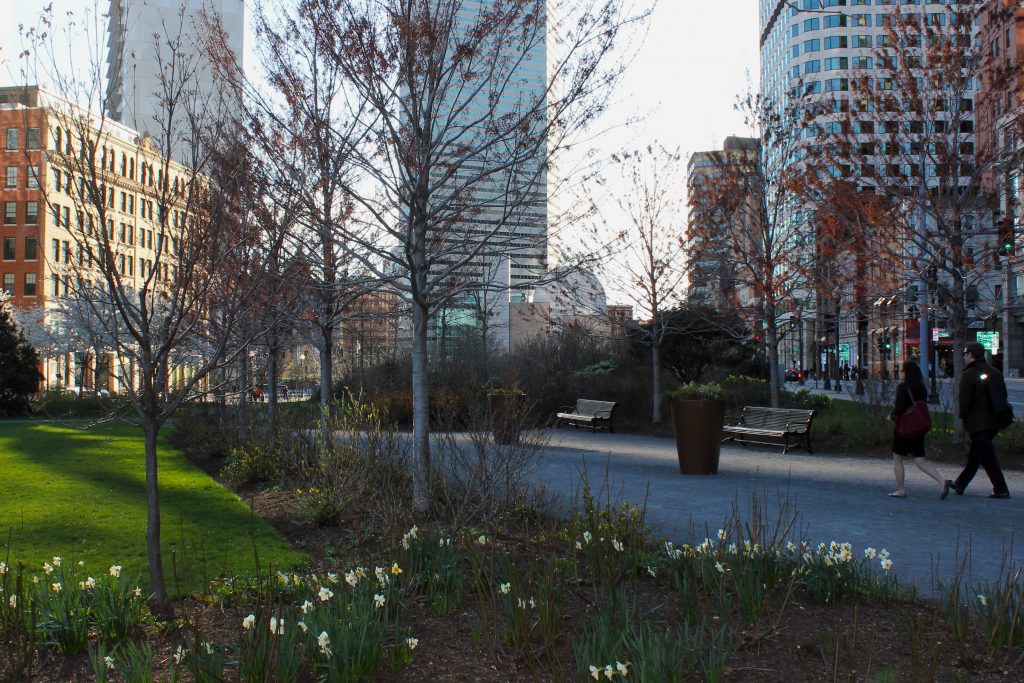 Being a woman has influenced every aspect of my professional experience. My being at the table or in the room was almost always a surprise to someone–because I was female. My pay was generally less than my male colleagues. My ideas sometimes couldn't be heard until a man repeated them as his. It was expected that I would let children get in the way of my commitment to my job, firm and profession. The litany of consequences of being female in a male-dominated industry is long and well-articulated elsewhere. At the same time, there have been many gratifying and very meaningful aspects to being a woman architect: Public sector employers who sought qualified women, and public sector work meetings where there were as many women as men at the table all working explicitly on behalf of the public good; wonderful women–and men–who led the way, broke the ground and mentored me, wonderful women – and men – who sought my counsel, appreciated collaborating with me and applauded my – our – accomplishments; breaking molds and establishing new norms, challenging and changing expectations, casting broader nets for solutions, forging partnerships, focusing resources on social and cultural aspects of physical planning, convening conversations and leading advocacy that would make positive differences to others' paths and in the practices of our admirable and beleaguered alliance of design, planning and construction industries. Exhilarating!
Further information about Rebecca's work can be found here.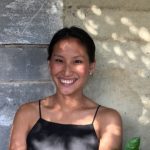 Rebecca works in Research & Policy at the Committee for Sydney, an independent think tank and champion for the whole of Sydney that provides thought leadership to enhance the economic, social, cultural and environmental conditions of the city. After working for a few years as a lawyer in her home city of Melbourne, Rebecca decided to explore her love of cities and moved to Sydney to begin a Masters of Urban Planning. She is interested in making cities more inclusive, sustainable and healthy.