Officials at the Port of Seattle have been geeking out recently with snazzy renderings for two new airport projects at Sea-Tac. The latest drawings unveiled Thursday shed more light on how a new $660 million international arrivals facility (IAF) connecting the South Satellite and Concourse A might work. Earlier in September, the Port of Seattle dropped some renderings for a big refurbishment of the North Satellite (known as the NorthSTAR project), which are the new digs of Alaska Airlines' growing empire.
International Arrivals Facility
For anyone who has traveled through Seattle on a return trip from abroad, the need for a new international arrivals facility is obvious. The Port of Seattle has worked to piece together a functional albeit cramped space for passport control in the basement of the South Satellite. Travelers are funneled into various sectors with foreigners generally heading toward booths operated by US Customs and Border Protection agents and American nationals to newish electronic passport scanner kiosks. After clearing the initial hurdle of checking in through passport control, travelers pick up their checked baggage at the carousels below, and then proceed to make their declarations about their belongings and wares brought from abroad.
For the unlucky few making an onward journey by air, they have to return their baggage to a separate carousel so it ends up on their connecting flight–an arcane process that is not done by most other nations–while passengers ending their journey at Sea-Tac must return their bag to another bagged drop and ride to Carousel 1 at baggage claim in the main terminal to pick it back up. Exiting the facility, travelers are able to go back upstairs or enter a special door to the loop subway connecting to Concourse A and Concourse B.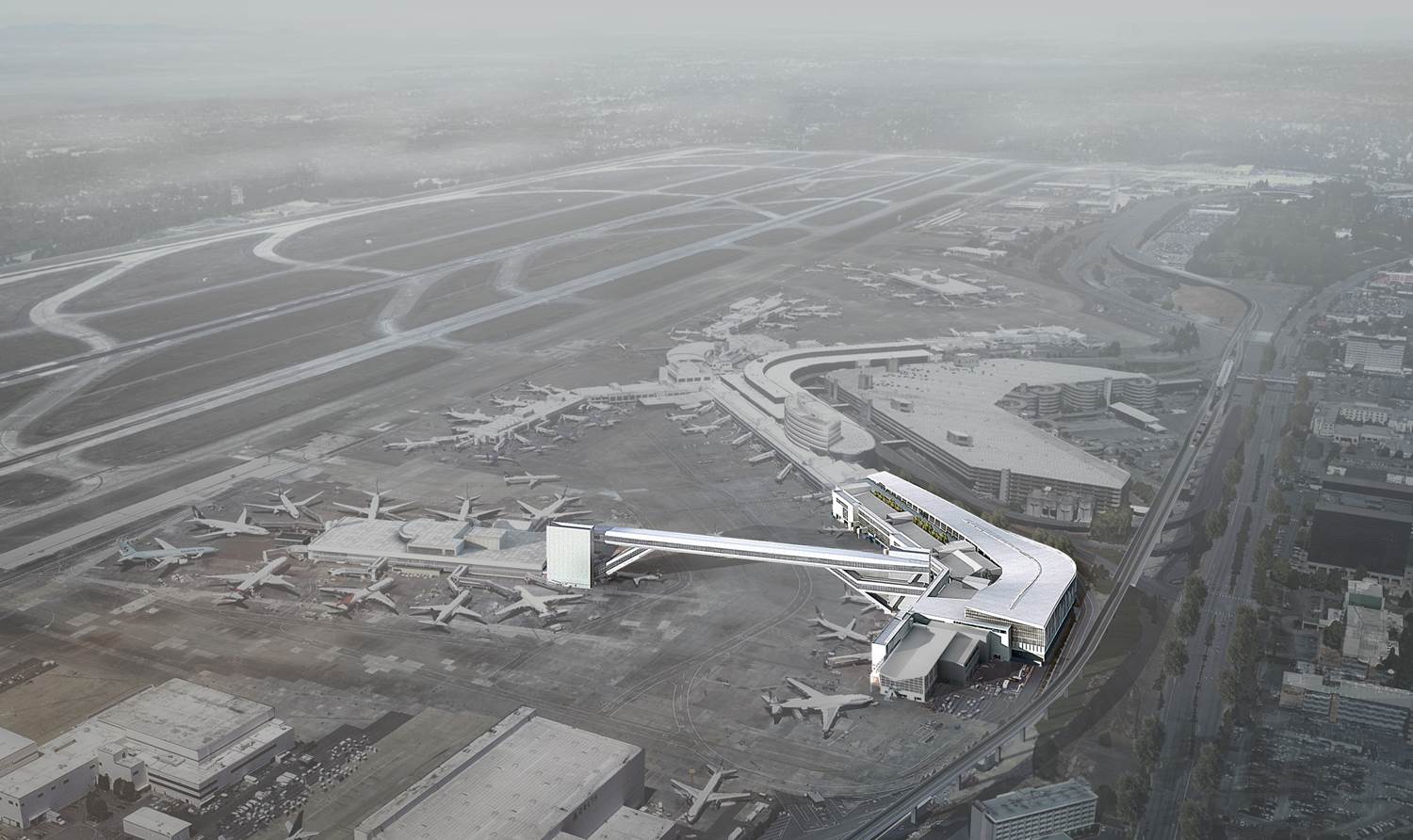 Port of Seattle officials have put a lot of effort into identifying a reasonable approach to address the growing problem of overcapacity and delay of international travelers. The solution that they plan to put into action isn't an elegant one, but it should go a long way toward building capacity for the growth of international traveler passing through Sea-Tac. A skybridge will be constructed connecting the South Satellite to Concourse A, with an escalator system escorting passengers up, across, and back down. Concourse A will get a major makeover–which was only fully reconstructed in 2004–with a 450,000 square foot addition just east of the concourse's existing footprint to provide the requisite services necessary to support the IAF. The new addition would span multiple levels and include, among other things, a new international baggage claim, secured corridor connecting with gates at Concourse A, more room for passport control, and all of the support facilities necessary to carry out customs.
As the renderings suggest, the new IAF will be very light and airy. There will be lots of windows, curves, and even an expansive southern exposure. That will surely be a welcome change from the current state of a dark cavernous chamber as the first bit of the American experience. Welcome to the United States. The Port of Seattle has picked Skidmore, Owings, and Merrill, LLP (SOM) and Clark Construction Group to head up the design-build project. Other local firms are also contributing to the project, including names like The Miller Hull Partnership and KPFF Consulting Engineers. The new build will be designed to meet the standards of LEED Silver, a high green building certification standard.
But the IAF will also function a lot better as the international traveler numbers grow, which have steadily risen over the past decade by more than double–an unsurprising increase given that more than a dozen new international destinations (e.g., Reykjavík, Shanghai, Paris, Hong Kong, Guadalajara, and Dubai) have also been added during that time period. Sea-Tac's currently facility is only designed for 1,200 passengers per hour, but daily peaks at 2,000 passengers lead to minimum connection times for onward passengers at 90 minutes.
The Port of Seattle's new facility will be able to accommodate well over 2,600 passengers at opening and push down minimum connecting times to fewer than 75 minutes. Passport control booths will more than double from 30 today to 80 at the new IAF with ample room for even more electronic kiosks. Baggage claim services will also improve for passengers with an increase in carousels from four to seven and eliminating the need to drop bags after customs and picking them back up at the main baggage claim for those ending their journey at Sea-Tac. Instead, passengers will be able to exit straight into the main terminal and head for ground transportation.
The existing format of the airport leave Sea-Tac hamstrung when it comes to the arrival of wide-body aircraft, all of which must go to the South Satellite. With a new secure corridor planned for Concourse A, Sea-Tac will be able to accommodate more arrivals at those gates. The Port of Seattle expects that this will allow an increase in gates from 12 to 20 for the wide-body variety. It's worth noting that the A gates already handle some arriving and departing international flights–like other areas of the airport–but arriving flights come from locations that have US passport pre-clearance at the originating airport (e.g., Vancouver, BC, Edmonton, and Calgary).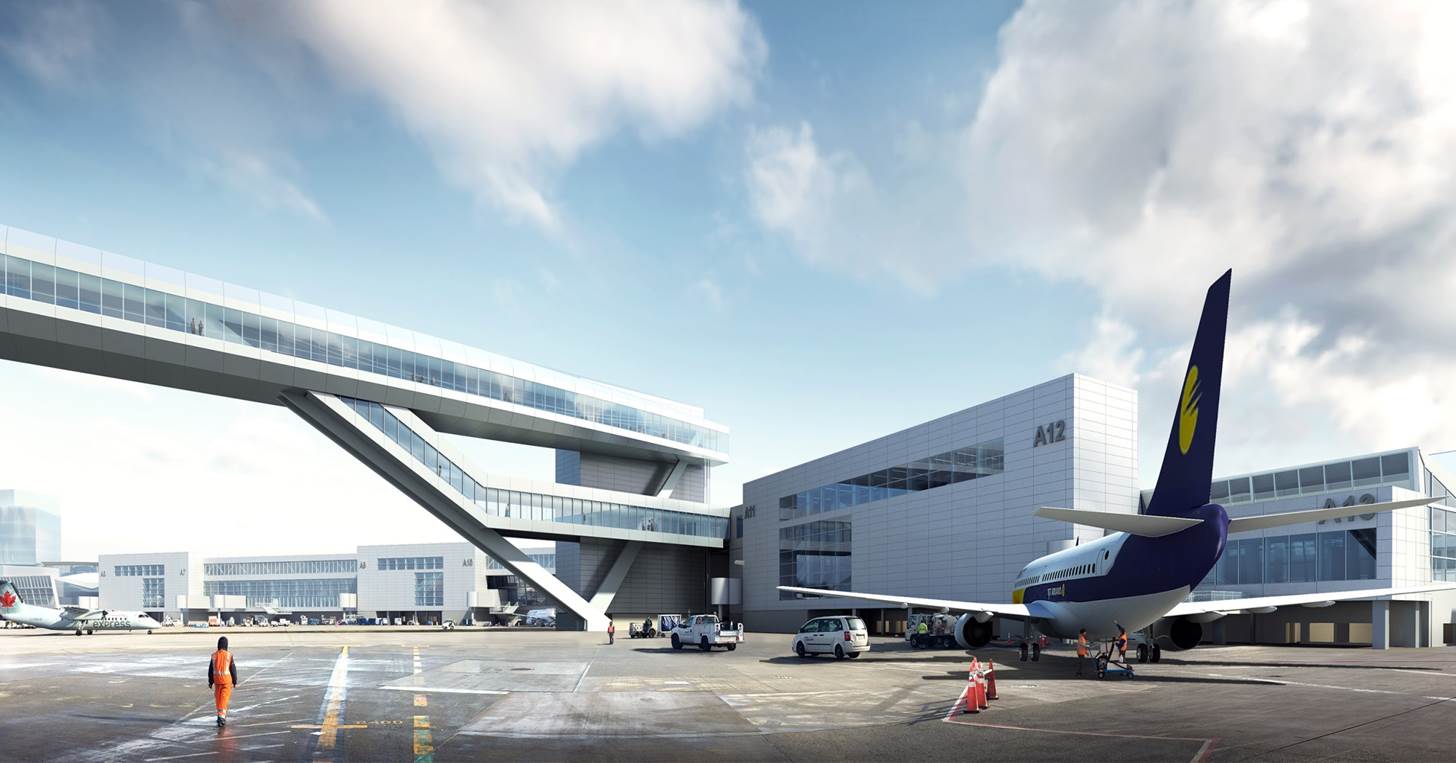 The skybridge would span about 900 feet from end to end and be elevated 85 feet above the tarmac. The height, of course, is intentional, allowing large aircraft to maneuver through below. The Port of Seattle says that the skybridge will be pre-fabricated off-site and put into place over a short seven-day window.
Construction is expected to break ground early next year with the facility becoming operational in late 2019.
NorthSTAR
For more than a decade, the Port of Seattle has been making huge strides to modernizing existing passenger facilities. The latest improvements are slated from the North Satellite, which opened in 1973 and still feels like a terminal of that era. The Port of Seattle will reinvest upward of $540 million on a massive refurbishment and expansion of the North Satellite. Alaska Airlines has promised to pitch in an extra $36.8 million for its add-ons that include a new exclusive passenger lounge on an upper floor and private space for their employees. A further $65.9 million is going toward supplementary projects like main terminal improvements, refurbished baggage system, and vertical access improvements to Alaska Airlines' airfield stands at Concourse C.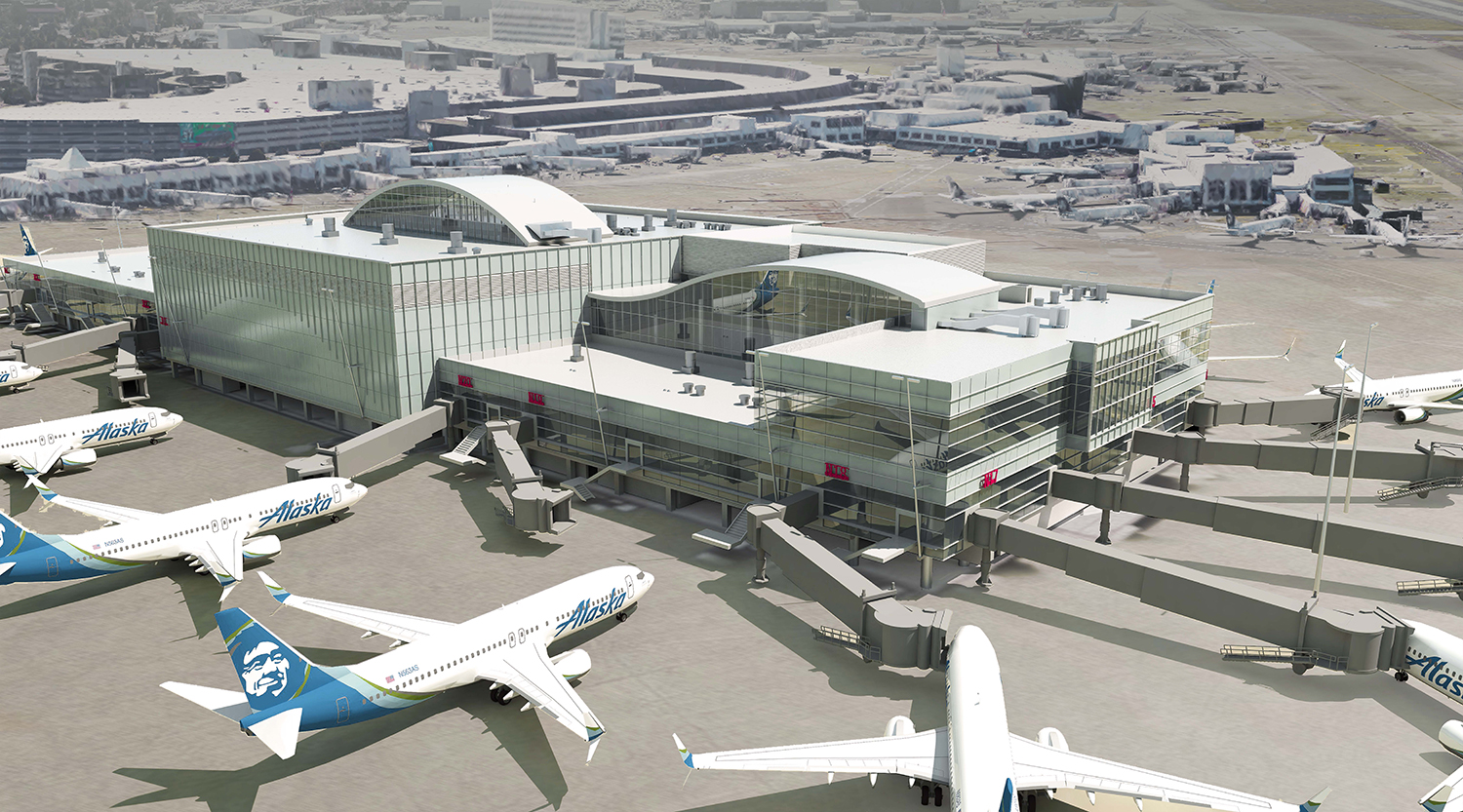 Gate capacity at the North Satellite will grow from 12 to 20 as part of the refurbishment, which will be made possible by expanding the building by 240 feet in length westward. The Port of Seattle estimates that this should total about 181,000 square feet of new space.
The terminal refresh will be more than just upgrading a dated interior and adding gates. The exterior will look more contemporary will wavy roofs and lighter glass, which will be a big change over the boxy white and block facade of today. Dining and retail space will grow from 19,000 square feet to 46,000 square feet allowing for a true airport marketplace experience. Like retail and restaurants in the main terminal, the marketplace will offer more local boutique options instead of just national fast food chains. An extra mezzanine floor will be constructed above the main terminal floor, providing more dining space and unparalleled views of the airfield and beyond. And other terminal improvements will include an updated subway lobby and a new Alaska Airlines Board Room lounge.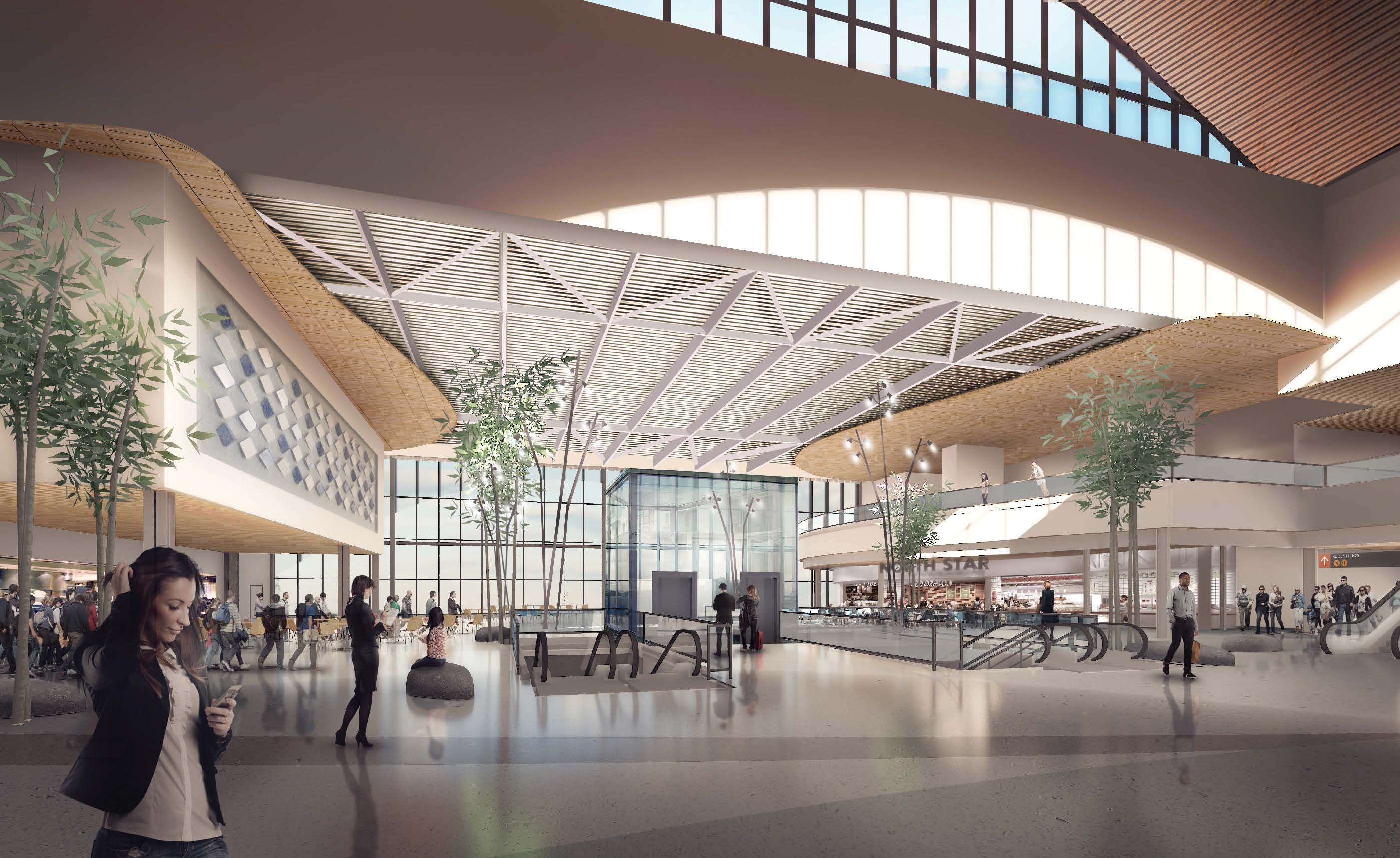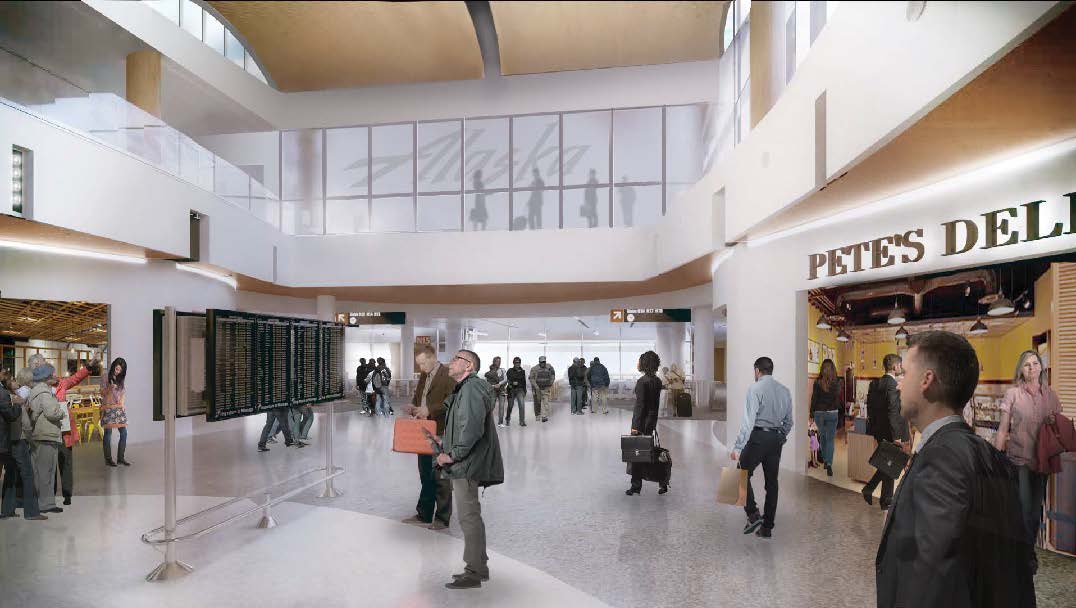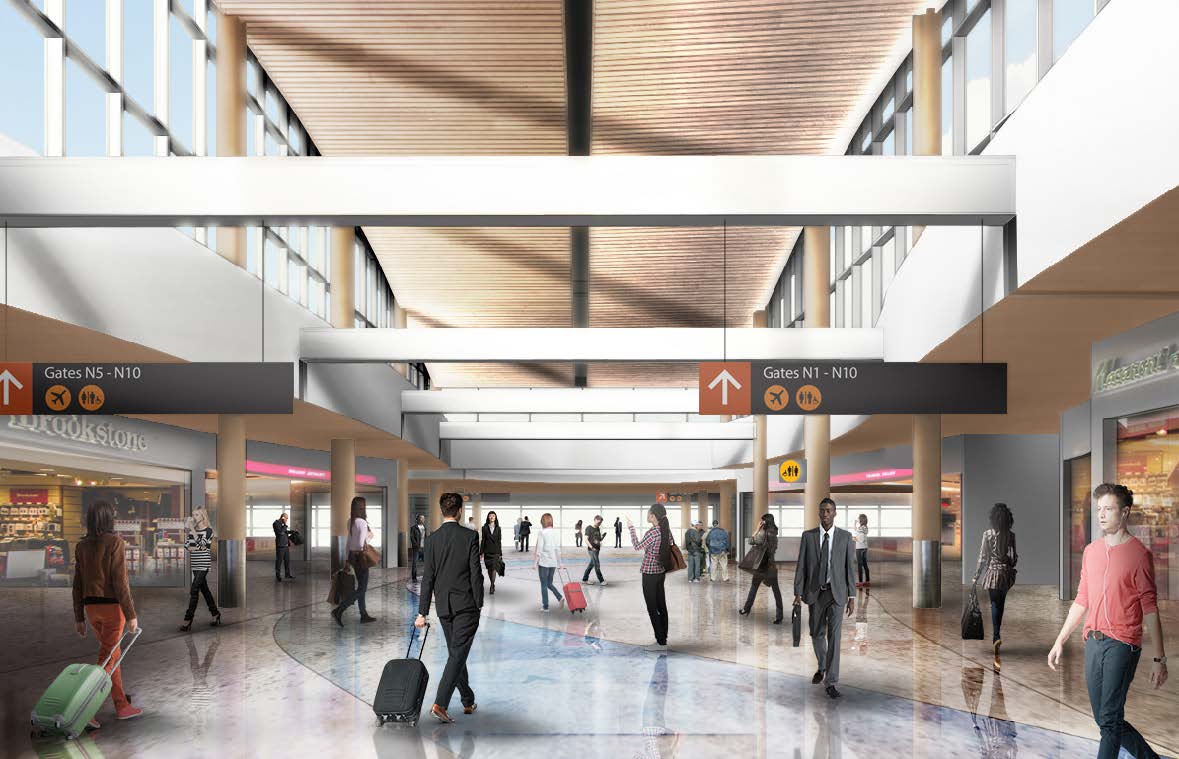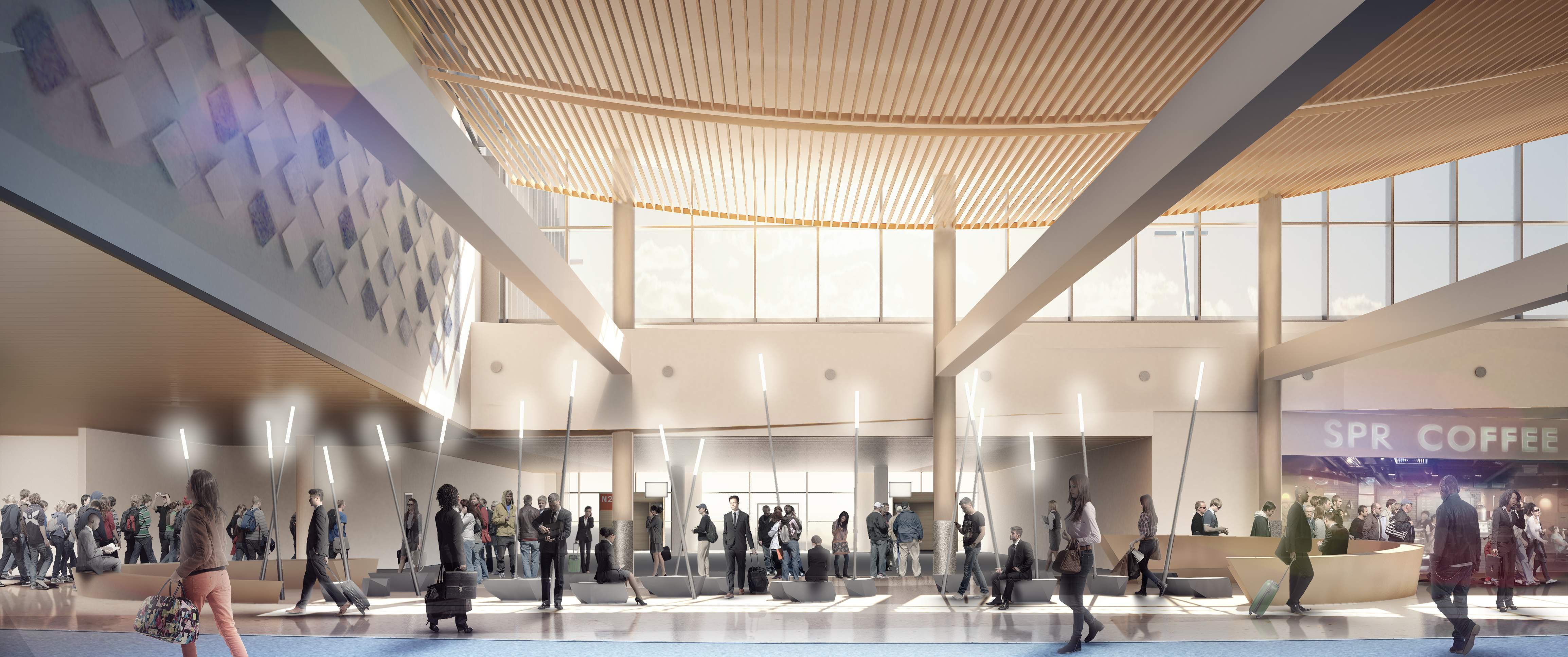 With higher passenger loads and changing behaviors of passengers that want more space for productivity and opportunity for conversation and serendipity, the old concept of the standard holdroom is moving toward the more open holdroom. The passenger experience will be more modern by adding that extra holdroom space, but the Port of Seattle also plans to thoroughly renovated the existing hold rooms at gates.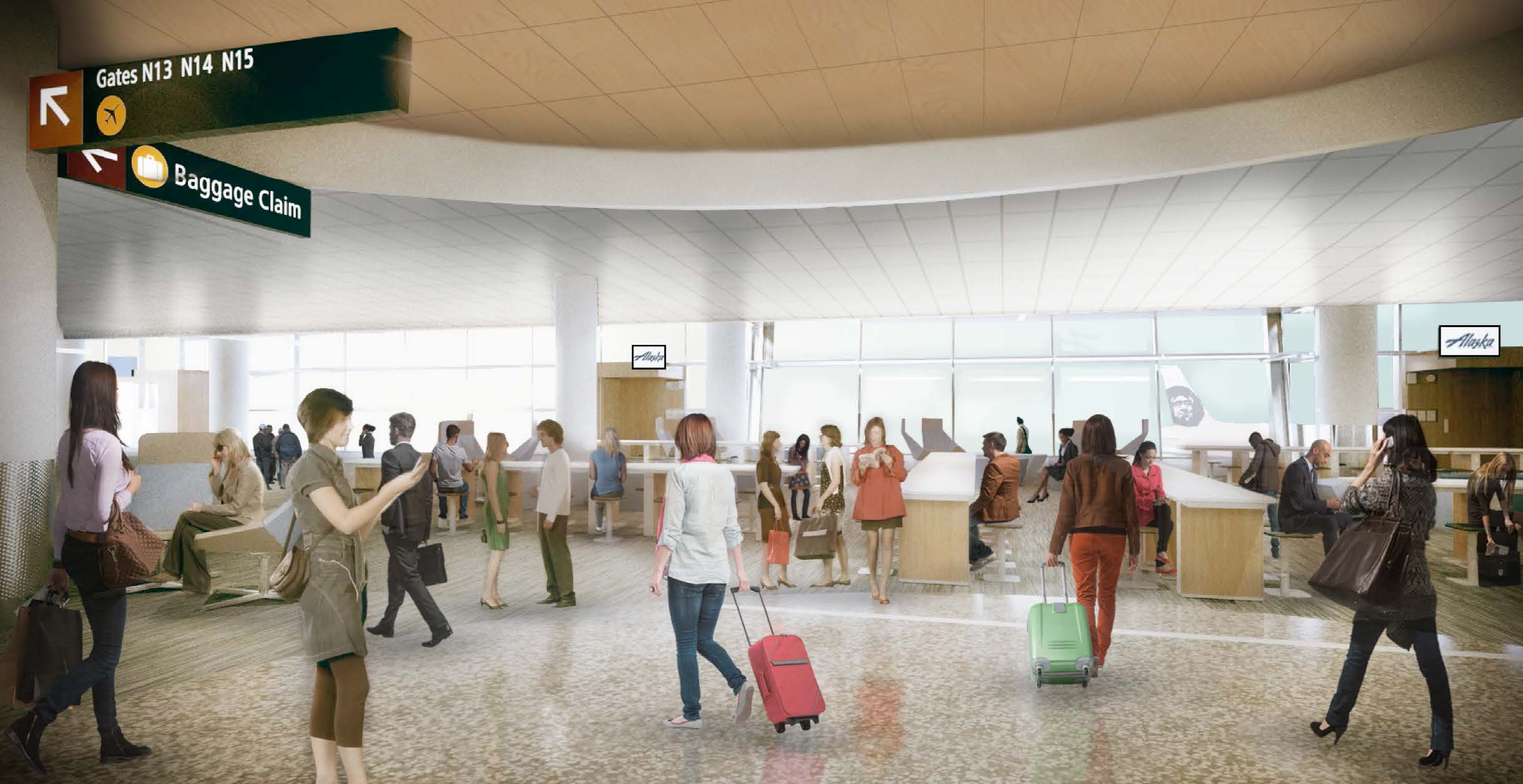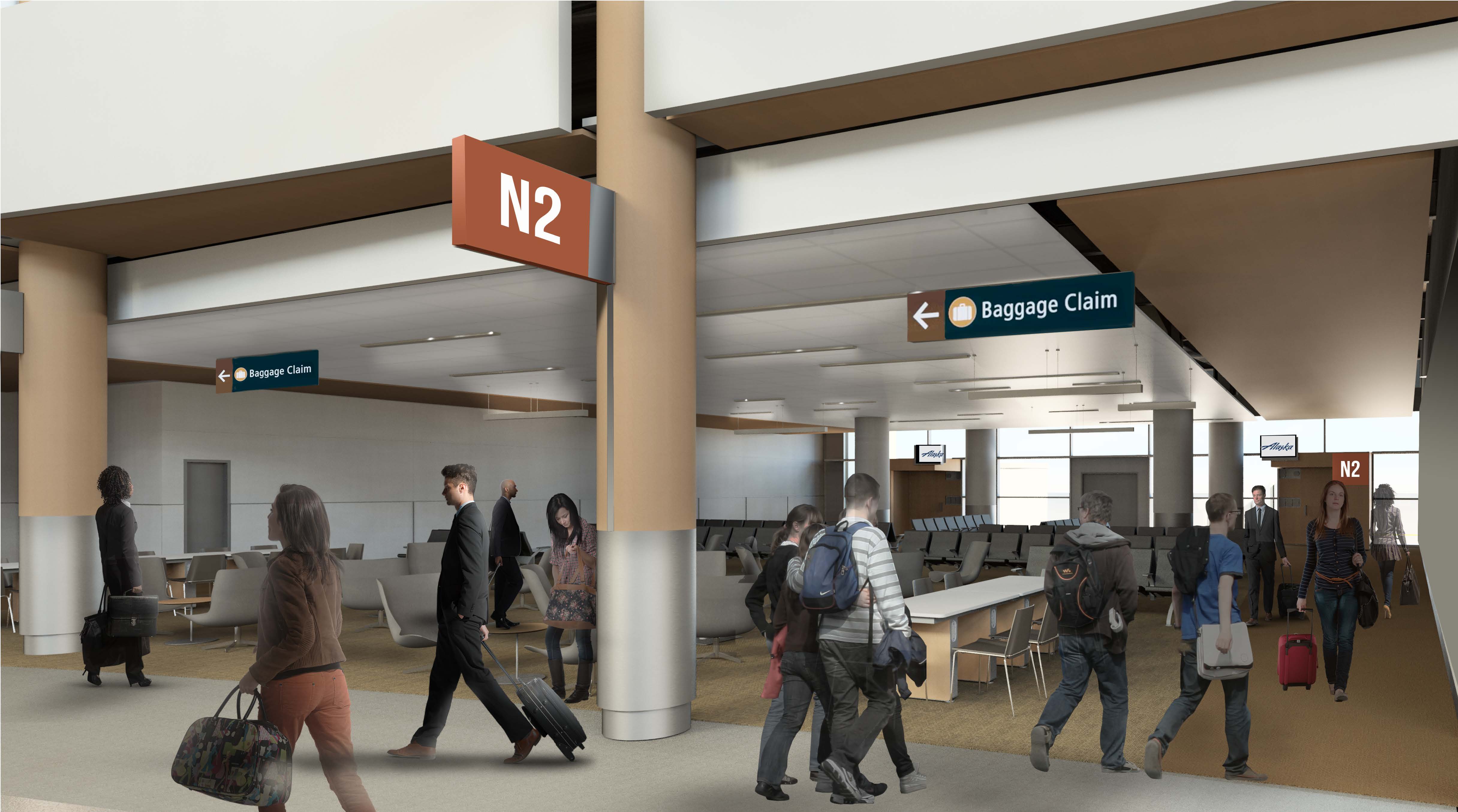 Construction on some of the supplementary NorthSTAR projects have already been completed, but work will get underway on Phase 1 at the North Satellite early next year. Phase 1 should be complete in mid-2019, which will mark the beginning of Phase 2 construction. The target date for total completion of work at the North Satellite is Spring 2021.

Stephen is a professional urban planner in Puget Sound with a passion for sustainable, livable, and diverse cities. He is especially interested in how policies, regulations, and programs can promote positive outcomes for communities. With stints in great cities like Bellingham and Cork, Stephen currently lives in Seattle. He primarily covers land use and transportation issues and has been with The Urbanist since 2014.