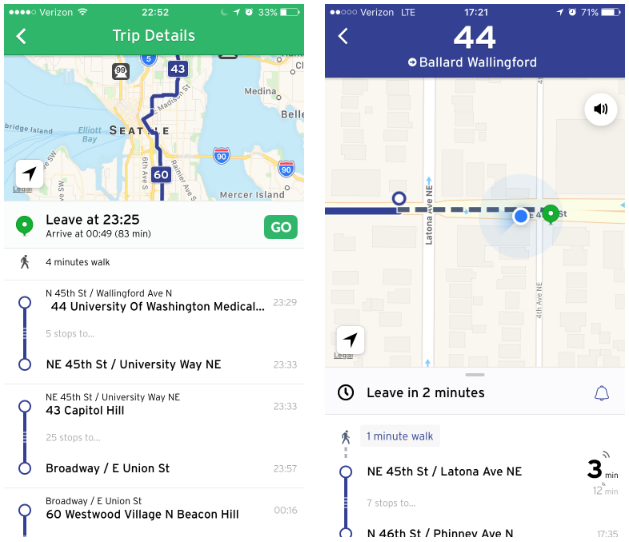 Transit App continues to pioneer what it means to be a transit app. Now entering its fourth generation, the smarty-pants app developers have revolutionized live trip planning and launched a new in-app navigation assistant mode that smooths the process of getting from Point A to Point B. As part of a company rebrand, Transit App has also dropped the "app" simply becoming Transit. Just two months ago, Transit released an update that focused on lines, bringing regional transit networks to the forefront on the map screen and producing the cleanest routing lines in the map biz.
Trip Planning
Trip planning is now easier than ever with available services listed like they always have been, but with a twist. Where real-time trip data is active and integrated with Transit, the in-app trip planner will show the options as live, which are indicated by pulsing signals. The trip planner doesn't just give live information for the first leg of a trip; it also calculates connecting services to give you the best possible options. So maybe you would usually take two reliable bus pairs to get from your origin to destination because you know the span between the two almost always works out–except for when it doesn't. Well, Transit throws that out the window and tells you that you have other options that may be better right now. In absence of live data for a particular service, the trip planner will calculate based upon estimated scheduled arrival times.
The trip planning feature has also been updated to provide information about the approximate frequency of each transit service, which is indicated by the rotating clock above a trip option. So if you're curious about how often you could make a trip on Route 49, for instance, it's easy to know that it comes every 14 minutes or so during the time period searched.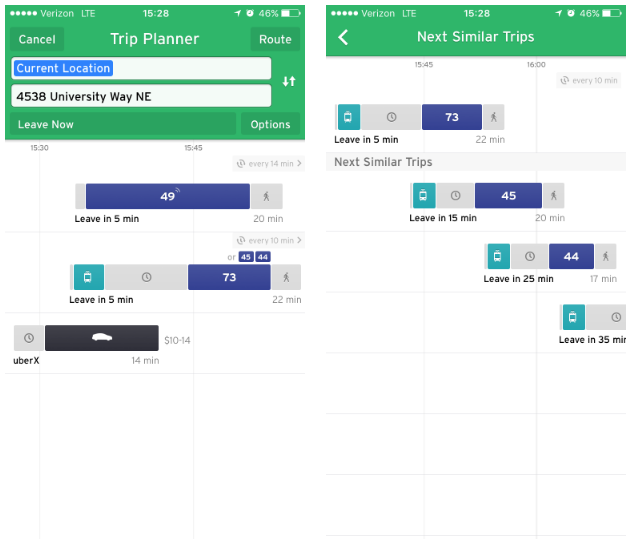 Alternatives also appear, so in a theoretical trip from Capitol Hill to the University District there are many other viable trip pairs like Link plus Route 73 (or Routes 44 and 45). Say you that you like the second trip option in the trip planner, but you don't want to leave right away. You can tap on the rotating clock above the trip option to see upcoming alternatives that are similar.
Transit will walk you through with step-by-step instructions much like any navigation app out there like Tom Tom and Google Maps, giving live time estimates.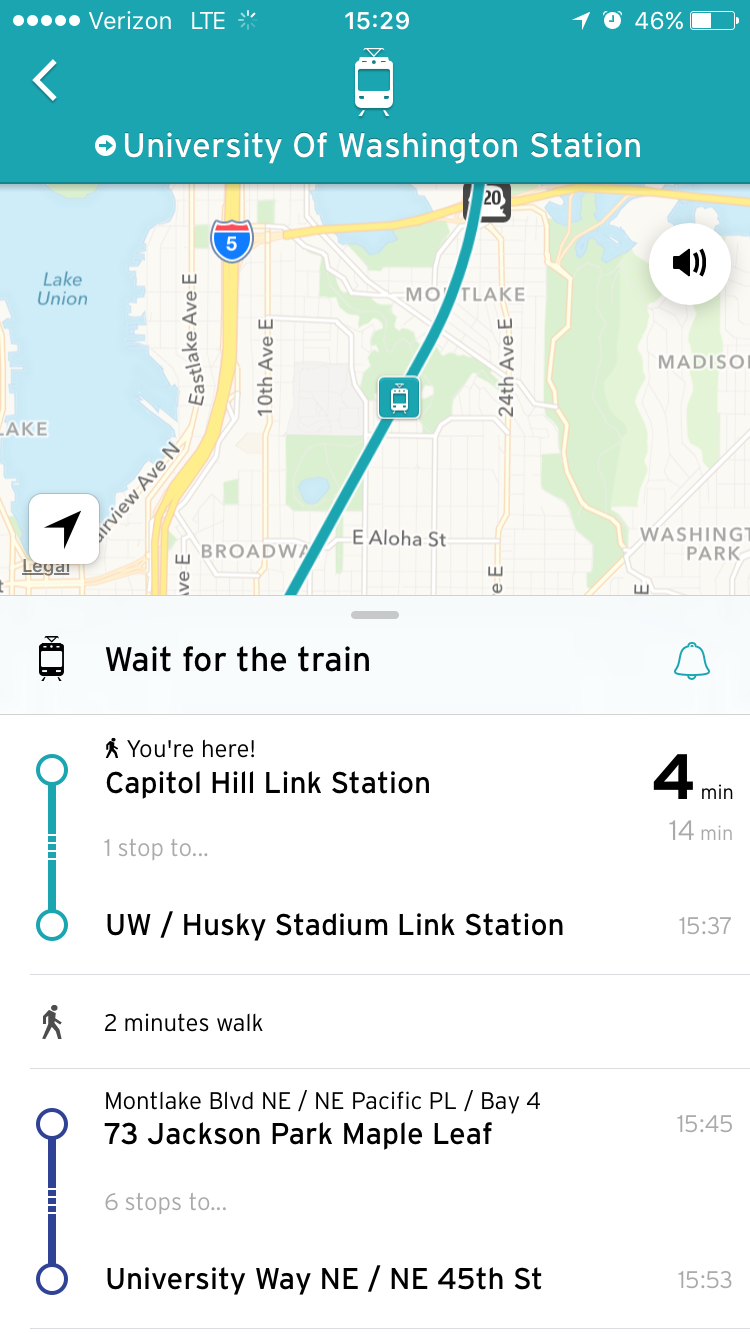 Not everyone likes to walk long distances. Transit gives you control in how trip options appear in the trip planner. Users can tap the gears icon to reveal app settings, which include a toggle to turn on and off the walk minimization option. When walk minimization is activated, the trip planner will give a preference toward trips that don't involve a lot of walking unless it can't otherwise be avoided.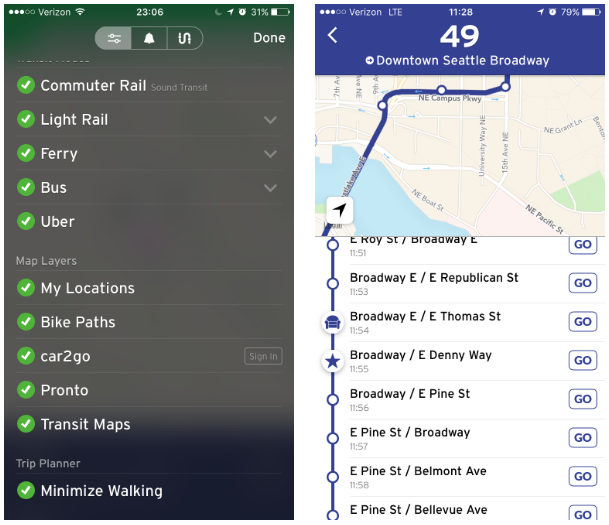 For Puget Sound users, the new trip planning features will be widely available wherever real-time information is being transmitted to Transit. Bus routes operated by King County Metro Transit–including ST Express–should appear with live arrival information. Transit also has live trip data from Seattle Streetcar and service for Pierce Transit and Intercity Transit. Unfortunately, that leaves out much of the rest of the regional transit network, which among others, includes Community Transit, Washington State Ferries, Kitsap Transit, and all other Sound Transit services. Some of the agencies have it within their power to simply flip the switch on live data now, but instead have hoarded it for their internal systems.
GO Feature
Building upon the real-time arrival framework, Transit has also launched a new feature called GO. The feature acts as your personal assistant along every step of your journey telling you when to leave, where to stop and wait, and which bus to hop on. The feature is so powerful that it can even let you know that the bus happened to get a little ahead on its way to your stop and that you should start kicking up the pace of your walk if you don't want to miss it.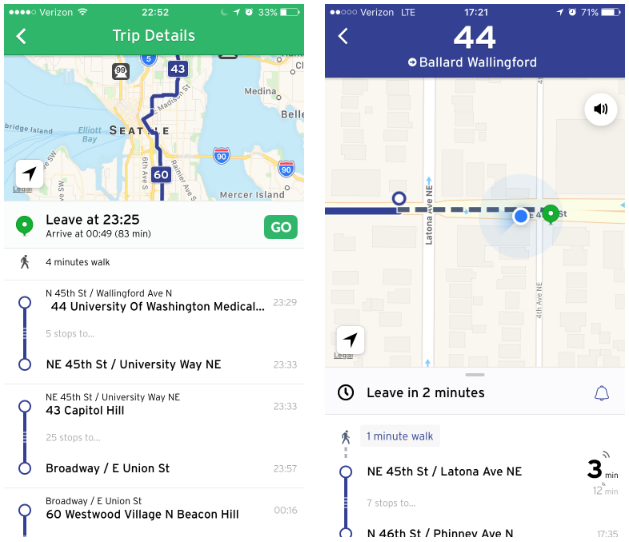 GO keeps going once you're onboard a bus or train giving you updates as you approach your destination or transfer point. Push notifications and voice alerts–in a soft English tone–begin when you're just a few minutes away, letting you know it's time to get ready to deboard. If your bus or train gets detoured or you're going miss a transfer, the GO assistant will let you know and even recalculate your options allowing you to choose which connection to take and when you'll arrive at your destination.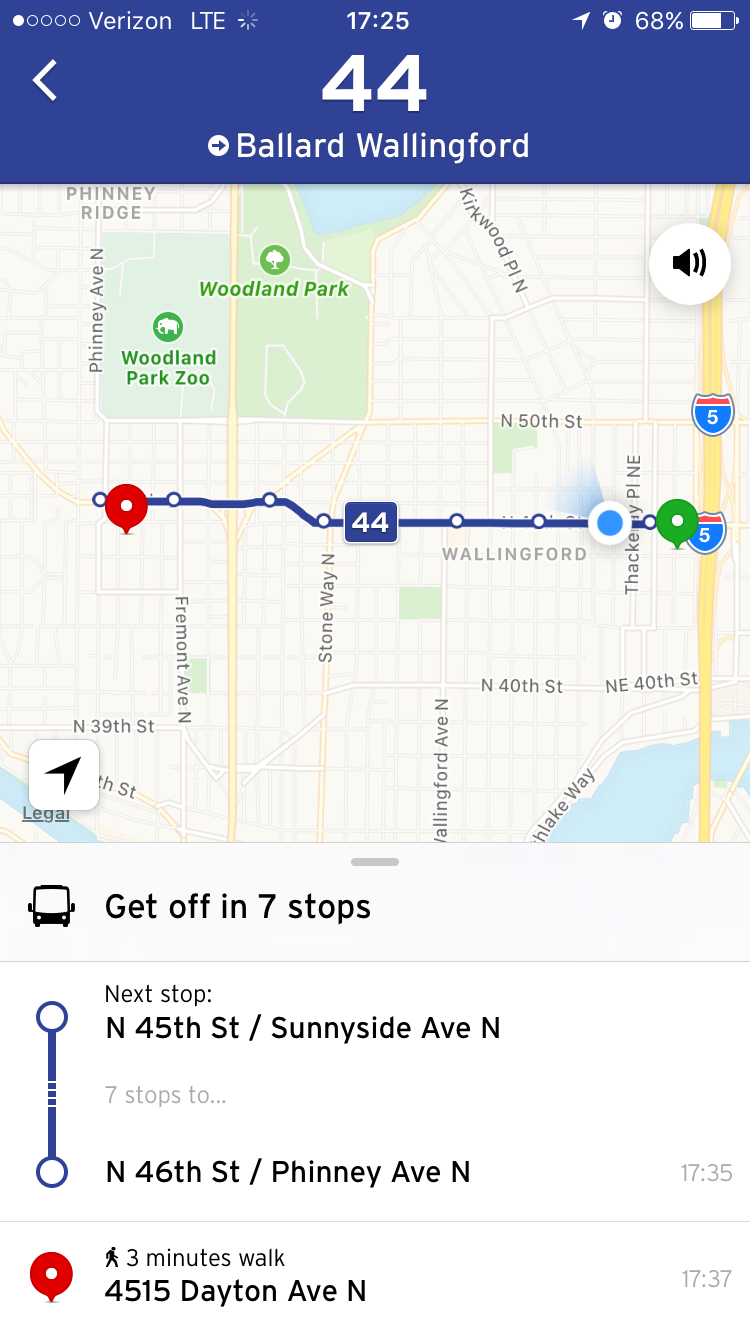 Even if live data isn't available, GO will still work using schedule trip times to estimate where the bus or train should be and on e you're onboard it will analyze your trip based upon your GPS location.
There's More To Unlock
As Transit continues to make innovations in its app service, some features aren't widely available everywhere. Two great features that haven't made it to the Puget Sound include transit alerts and specialized bikeshare features, the latter of which is relatively new and probably not headed to Pronto any time soon.
Portland serves as a great example of how Transit has integrated agency alert information at the route level, giving riders a leg up about service disruptions, delays, and long-term reroute notices. Whenever a route has a special alert, the app will indicate it as an exclamation mark within a triangle. Tapping on the affected route with will display how many alerts have been issued and allow the user to go to the alert screen to learn more about how the route might currently be affected.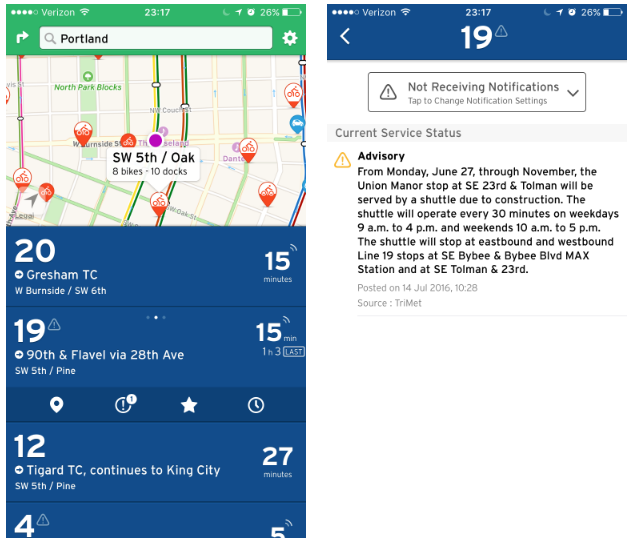 Once a user has navigated to the alert screen for a particular route, they can choose whether or not to receive future notifications as they are issued. Going a step further, Transit allows the user to filter frequency of route alerts to only during commute hours or at all times. Most regions where Transit is active don't have the feature, but it would be a nice-to-have in the Puget Sound.
Bikeshare is a common feature in Transit with docking stations appearing on the map as pushpins in cities that have a system in place. Seattle happens to be one of those lucky cities. But Transit has a special feature in some regions that goes beyond the pushpins and adds bikeshare as an active transit option in the nearby mode. Using Toronto as an example, users will see nearby bikeshare stations appear similar to buses and trains indicating the location, number of docks, and number of bikes available. Users can also learn about the temporary pricing plans for bikes, purchase a temporary bike pass, and access their docking station-specific passcodes once a pass is purchased.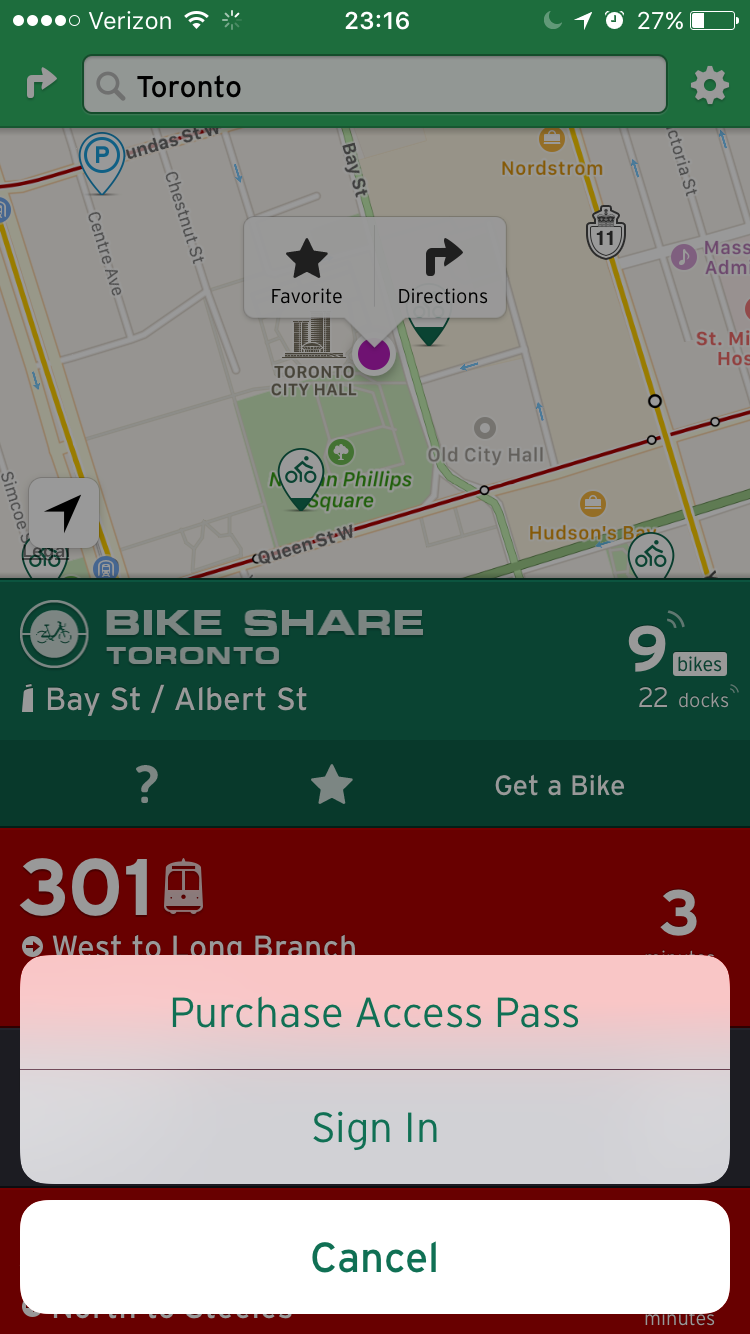 Toronto's bikeshare system is operated by Motivate–the outgoing contractor for Seattle's bikeshare system–and has contracts for Divvy in Chicago, Bixi in Montréal, and CoGo in Columbus–all of which also have the same integrate Transit-bikeshare features as Toronto. While the option is really only geared toward casual users at this point, there's no reason to think it couldn't graduate to the next level giving full-time members of bikeshare systems the same sort of mobile benefits. If compatibility is possible with whatever Pronto system Seattle gains in the future, the overall user experience for ease of access would be greatly improved over messing around with a keyfob.
With live data now better integrated with Transit than ever before, there's no doubt that the app developers will continue to push for more reliable and ubiquitous access sources to power the system. Hopefully agencies around the region will see the benefit of opening their data vaults so that third parties can help translate the information in a more meaningful and powerful way for everyday riders.

Stephen is a professional urban planner in Puget Sound with a passion for sustainable, livable, and diverse cities. He is especially interested in how policies, regulations, and programs can promote positive outcomes for communities. With stints in great cities like Bellingham and Cork, Stephen currently lives in Seattle. He primarily covers land use and transportation issues and has been with The Urbanist since 2014.