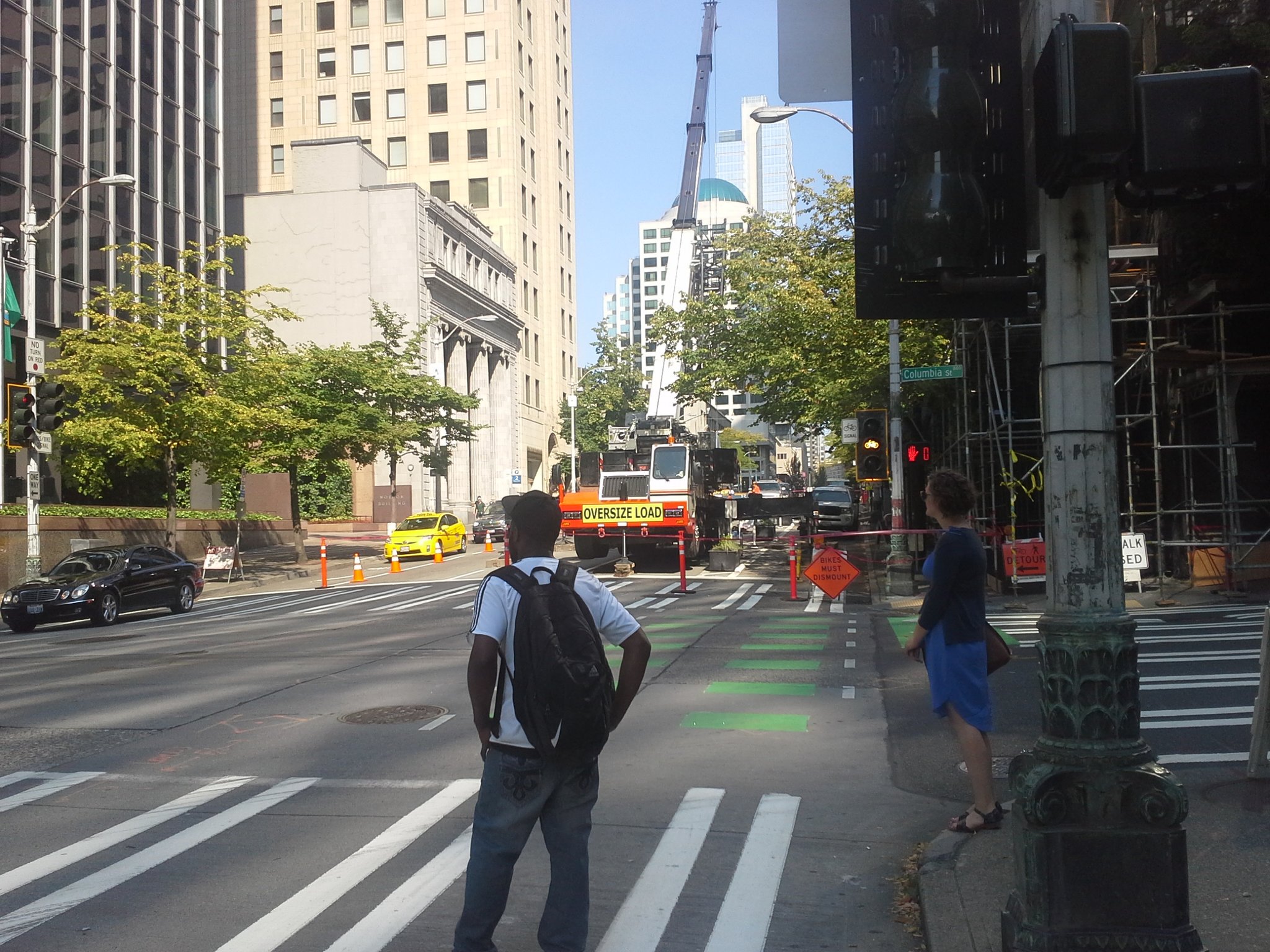 People for Bikes recently announced the results of their nationwide review of all of the new bike infrastructure that opened in 2016, with the top award going to a long-awaited Seattle project: the Westlake Avenue cycletrack. The Westlake cycletrack is a key piece of Seattle's bike network that should help to revolutionize getting around on two wheels between South Lake Union and North Seattle. It's really great–comfortable for all riders, even if the parked cars do seem a little too close for comfort.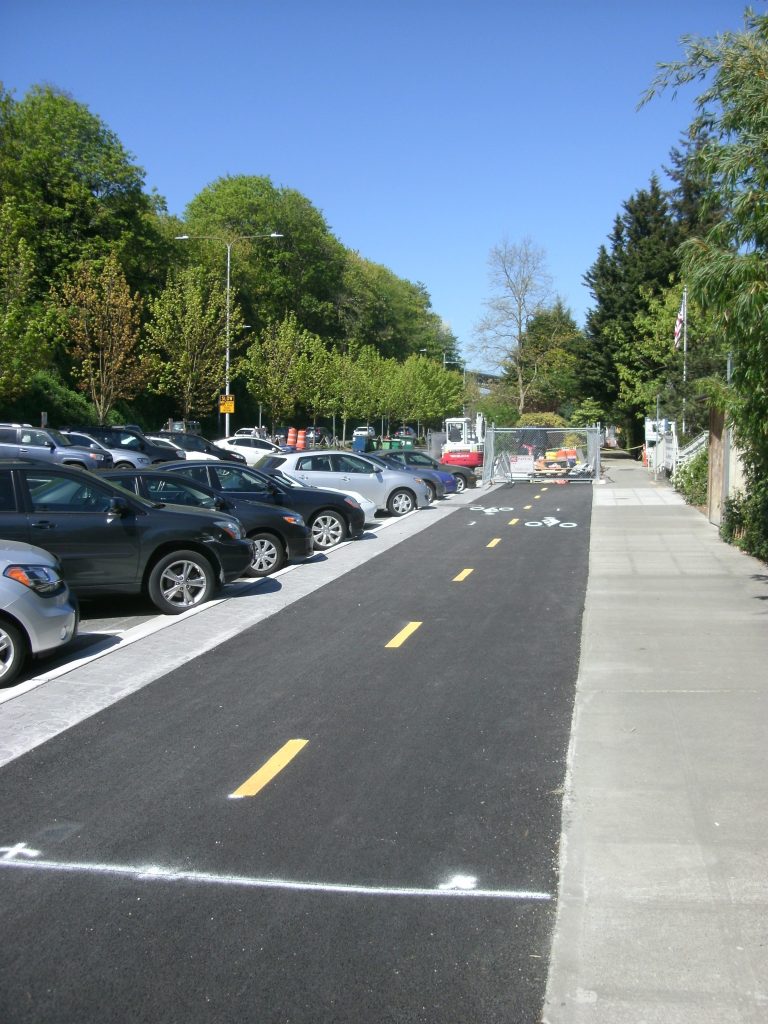 While I agree that this project should get top marks, I have to award Westlake merely runner-up status in the 2016 bike arms race. My choice for the #1 piece of bike infrastructure that people get around via bike in Seattle could not do without? The sidewalk.
The sidewalk plays a key role in most Seattle bike lane designs. Even the Westlake cycle track depends on the sidewalk on its southern end, where riders are forced to choose between ending up on Westlake Avenue between dangerous streetcar tracks and safer 9th Avenue. If you want to travel east in South Lake Union from the cycletrack, the sidewalk on Mercer is probably your best bet, with the Mercer bikeway underneath Aurora going no further east than Dexter.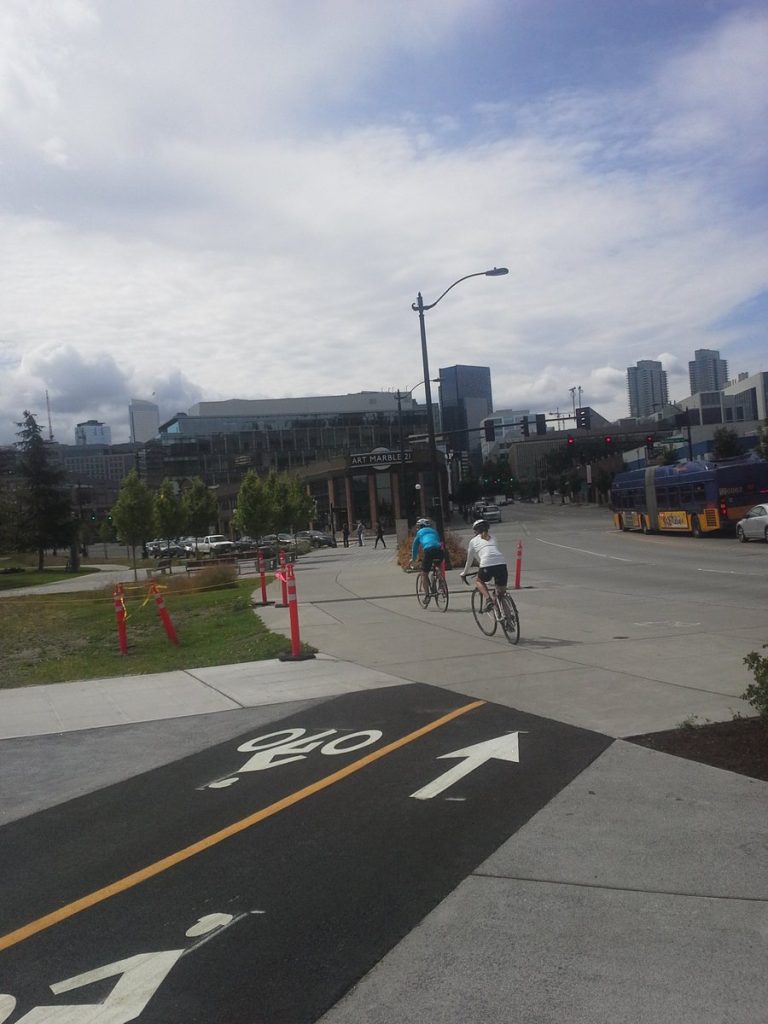 Despite our city's Complete Streets ordinance, if there's a major arterial that you need to use on your bike, there's one place where you are going to feel safe riding, and it's not in the street.
Also in 2016 sidewalk-biking highlights:
When the Burke-Gilman Trail was closed for repaving this fall, users found that the Seattle Department of Transportation (SDOT)-approved detour sent them onto a busy five-lane street. Riders with kids and people who are not that comfortable on busy streets found themselves depending on the sidewalk during construction, a pretty common theme. While it's clear that the Director's Rule on construction closures has led to some improvements this year, there is still a long way to go toward ensuring that true detours are provided for construction closure. It remains a mystery why the SDOT Twitter account, one of the most forward-thinking DOTs in the country in terms of multi-modal divisions, still does not see fit to tweet about construction closures in bike lanes or sidewalks, even when the closures are orchestrated by the department itself. Yet SDOT still sees its mission as letting Twitter users know about a disabled car in a five-lane road at 11pm.
Most Pronto stations require using the sidewalk to access them, either because they are pointing away from the street or because they are not located on bike infrastructure. My personal favorite is the one located at the northern end of our flagship Downtown bike lane, Second Avenue, which is southbound-only between Pike and Pine and the Pronto station has been a block away for northbound riders for a year and a half now.
Even new projects are being planned with central sidewalk-riding components. When the Madison BRT project was at 10% design, plans for bike facilities on Union Street included fully separated bike lanes crossing 12th & Madison, which is a tricky three-way intersection. When the design progressed to 30%, because Metro buses might have trouble navigating the corner with the bike lane displacing the travel lane, bike riders were moved onto the sidewalk with pedestrians.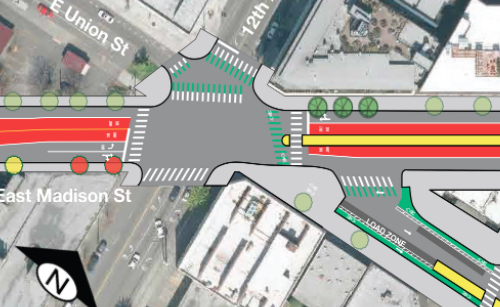 And of course, in busy areas where the sidewalk is used pretty much 100% for, you know, walking, bike riders just have to find anywhere that they can fit. Take for example, bike riders on Pine Street heading Downtown, who in nice weather outnumber drivers handily, who get to jam between a through-lane and a turn lane, and leapfrog with buses until getting into a north-south bike lane.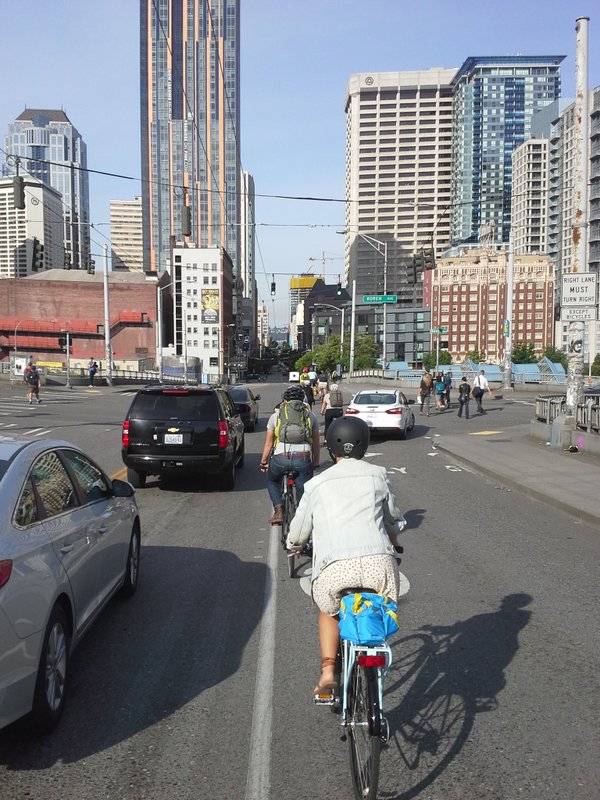 Of course, the fact that the sidewalk remains such a crucial piece of infrastructure indicates that our network is still very much splintered throughout the city. But good news! Thanks to the City Council, Bike Master Plan spending from the Move Seattle levy has been moved forward into to the 2017-2018 budget, $1 million in 2017 and $4 million in 2018. And that's not the best part: in the budget language was added stipulating that the funding "would include a proviso requiring SDOT to develop a spending plan that emphasizes connecting existing bike facilities to create a citywide network before spending the additional $5 million."
So, bravo on some successful infrastructure projects this year, SDOT. Let's keep working in 2017, and see you on the sidewalk.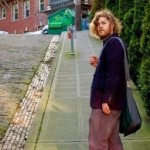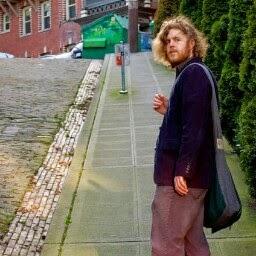 Ryan Packer lives in the Summit Slope neighborhood of Capitol Hill and has been writing for the The Urbanist since 2015. They report on multimodal transportation issues, #VisionZero, preservation, and local politics. They believe in using Seattle's history to help attain the vibrant, diverse city that we all wish to inhabit. Ryan's writing has appeared in Capitol Hill Seattle Blog, Bike Portland, and Seattle Bike Blog, where they also did a four-month stint as temporary editor.