Another year, another great list of articles from our writers at The Urbanist. Here are our top ten articles from 2016 based on readership. Each is worth a full read.
Why You Should Vote No on Seattle Initiative 123 by Scott Bonjukian
After two previous articles on the effort to save the Alaskan Way Viaduct, this third and final installment made a case against the disaster that was Initiative 123. The measure was an attempt to derail a decade of waterfront planning and would have jeopardized funding for new city parks and recreation resources. We were one of the few local publications to cover the issue in such detail. Seattle residents ultimately rejected I-123 with a resounding NO vote of 82 percent.
A Once In Lifetime Opportunity: Walking, Biking, And Dancing On SR-520 by Stephen Fesler
In this event notice we celebrated the opening of the new SR-520 floating bridge over Lake Washington. For a few days the Washington State Department of Transportation closed the bridge to cars and opened it to people. We suspect the post helped draw the big crowds that weekend!
The Seattle Times' Suburban Dream Doesn't Match Urban Realities by Scott Bonjukian
In what has become a regular feature at The Urbanist, we take an alarmist and fact-light article from our hometown newspaper and explain how they get it wrong. In this case, a technology columnist attempts to derive hidden meaning from a vague transportation policy that seems to further the "war on cars". Of course, nothing of the sort is at hand, and we patiently explain the geographical realities of urban transport.
First Hill Streetcar: Service Starts Saturday, First Trains from Pioneer Square by Gordon Werner
We briefly announced the festivities and schedule for the opening of Seattle's long-awaited First Hill Streetcar. Since the kickoff, the streetcar has beat ridership expectations.
Sound Transit Submits Suburb-Heavy Expansion Plan by Doug Trumm
We were a bit disappointed with the first release of the ST3 proposal, which focused heavily on suburban expansion, park-and-rides, and highway BRT. Seattle urbanists rejoiced at the grade separations proposed for Link light rail, but are worried about the drawbacks of a Salmon Bay bridge and the lack of east-west connections. We end with a call for the plan to speed up its timeline, especially for the rapidly growing Seattle neighborhoods of Ballard and West Seattle.
What's Better Than a Lid? Remove I-5 Entirely from Central Seattle by Doug Trumm
Taking a cue from many other highway removal projects around the country, we suggest a radical alternative for Interstate 5: tear it out between I-90 and SR-520. In its place, the city could see a restored street grid, new development, and new public space. Seattle and the state may need to address I-5 soon as it ages beyond 50 years.
A New Transit Hub: Montlake Triangle by Stephen Fesler
In this post we took an early and detailed look at how the new bus-rail interface will work around University of Washington Station. We explained the new and revised bus stop locations in the area, along with passenger amenities and signage. But as always, there is room for changes and we made several suggestions for improving the transit rider's experience in this odd corner of the city. We look forward to more efficient and comfortable transfers when U District Station opens in 2021.
Waterfront Design Predictably Disappoints Seattle by Ryan Packer
We covered the release of the Final Environmental Impact Statement for Waterfront Seattle, and the subsequent lawsuit against it by local interest groups. Though the waterfront design has progressed over many years, the transportation advocacy community, along with local residents and businesses, regret the width of Alaskan Way near the ferry terminal. We question the Seattle Department of Transportation's focus on vehicle capacity and ferry loading, and it remains to be seen how the relations between walking, biking, transit, and freight might be refined.
Don't Believe the Hype: Sound Transit Didn't Spend All That Money on a "Party" by Alex Broner
In another instance of editorialized sensationalism, The Seattle Times stokes anti-transit hate by implying the opening of University Link wasted thousands of taxpayer dollars. The reality is that the opening day celebrations for Capitol Hill and UW Stations last March required a lot of planning, crowd control, and police overtime. It was the first light rail opening since 2009, and deserved a proper welcoming. The citizens of Seattle have affirmed their love for rail, as Link ridership has doubled since just these two stations opened.
BRT Is Not Cheaper Than Light Rail by Anton Babadjanov
In a well researched article, we explored the real costs between light rail and BRT. The verdict: BRT cannot hope to meet the capacity of light rail systems, and if it did, with the right-of-way costs required for lanes, tunnels, and bridges cities may as well build rail. We take a detailed look at the costs of Sound Transit's light rail construction, and conclude that growing urban areas cannot afford to take shortcuts on transit capacity.

Thanks for joining us in 2016, and have a happy New Year! For the latest updates from The Urbanist, follow us on Facebook, Twitter, and by email. You can also help with our reporting and educational programming by making a donation.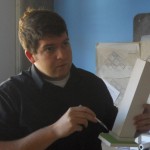 Scott Bonjukian is a car-free urban designer with a passion for sustainable and efficient cities. With degrees in architecture and urban planning, his many interests include neighborhood design, public space and street design, transit systems, pedestrian and bicycle planning, local politics, and natural resource protection. He primarily cross-posts from his blog at The Northwest Urbanist and advocates for a variety of progressive land use and transportation solutions.