The University District rezone and urban design framework may finally become reality–in part. Legislation to rezone and update development regulations throughout much of the University District could be passed at full Council tomorrow. Earlier this month at a planning committee meeting, seven of the city's nine councilmembers were present to discuss and vote on legislation covering the topic. More than a dozen different amendments were also considered, including amendments to remove rezones on The Ave, add areas to the rezone, and increase set-aside and payment requirements for affordable housing.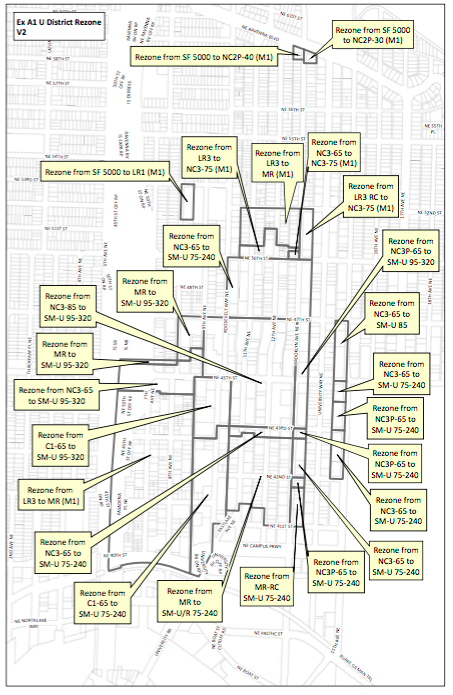 What's In The Legislation
We've covered the rezone process at length over the past few years, including many of the finer details on proposed zoning and development regulations packaged into the University District legislation. Some of the details have changed over time as the proposal was refined through the public outreach and Council review processes, but the key elements of the legislation cover:
Development capacity increases (i.e., rezones);
Urban design standards (e.g., building height, bulk, scale, transparency, modulation, setbacks, stepbacks, and width);
Other incentives for green building, childcare, transportation demand management, and human services; and
Mandatory Housing Affordability (MHA) set-aside and payment requirements.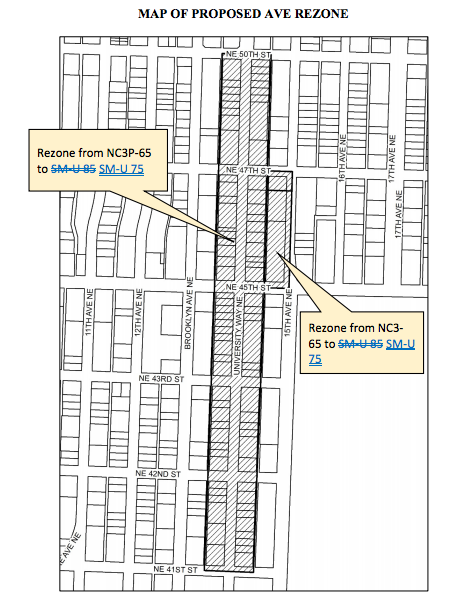 The City Council's planning committee met in early February to make a few more adjustments. The main changes encompassed:
Eliminating rezones on The Ave until a full impact analysis on small businesses is completed (legislation could come back for a rezone in the autumn);
Eliminating a rezone on University Way near Cowan Park (which could come back as part of the city-wide MHA rezones);
Rezoning certain properties zoned LR3 between NE 50th St and NE 52nd St to NC3-75 (M1) and MR (M1);
Rezoning the Cowan Park Grocery from SF5000 to NC2P-40 (M1);
Adopting certain MHA requirements by location and quality for rezone type; and
A handful of other minor amendments (e.g., changes to MHA reporting requirements, bonus floor area for family-sized units, expansion of TDR program to MR zones, and transparency requirement exemptions for the light rail station site).
Possible Refinements To The Legislation
Because there were substantial changes made to the legislation during the committee review process, a new bill will be presented to the full Council. Likely amendments to the bill could include:
A "clawback" amendment to the rezones if the MHA requirements are abrogated through the courts;
Slightly higher MHA requirements in the high-rise zones; and
Removal of an area proposed to be rezoned from LR2 to MR.
Councilmember Mike O'Brien wants 10% set-aside requirements for affordable housing in high-rise zones. In an e-mail blast to constituents last week, Councilmember O'Brien explained his rationale for the amendment:
We have the opportunity to require that the tallest buildings, receiving the largest height increase, set aside 10% of new units for people making no more than 60% AMI.

…

The legislation is currently written to set aside 9% in the high-rise zones, and my proposal would make that a 10% set aside. It is not a huge jump, but we believe it could create an additional 44-64 additional units over the next 10 years in the University District. It also sets the precedent for future rezones that we require significant housing contributions for significant height increases.

Thus far, the main arguments I have heard in opposition is that my proposed increase would make it infeasible to build in the U-District. I don't agree. The estimated costs per square foot for building high-rise construction in the U-District is $284-303/SF.  My amendment would raise that cost by $2.25/SF to $286-305/SF. I don't believe this difference will make or break a project.
The 10% set-aside would essentially consider the high-rise rezones as an M2 rezone–the highest development capacity increases and affordability housing requirements–under the MHA framework. Some have suggested the 1% difference could lead to a delay in high-rise construction, especially for residential uses. But if true, it's worth putting that in context of the University District planning work which takes a long-term perspective over 20 years.
Councilmember Lisa Herbold is sponsoring a rezone clawback amendment. There has been concern among many city residents that the the MHA requirements could be invalidated in court. The clawback amendment that Councilmember Herbold is sponsoring would undo the rezones if the MHA requirements are tossed out. The clawback provision would act as a hammer against developers who might otherwise be eager to sue the City over the MHA requirements attached to the rezone in hopes of keeping the rezone and skipping out on developing or paying for affordable housing. However, it's very unlikely that the Washington State Supreme Court would find the City's MHA requirements unconstitutional, as our analysis of legal paths to repeal showed. Nevertheless, this amendment would give additional assurance that the rezone won't be effective without participation in the MHA program.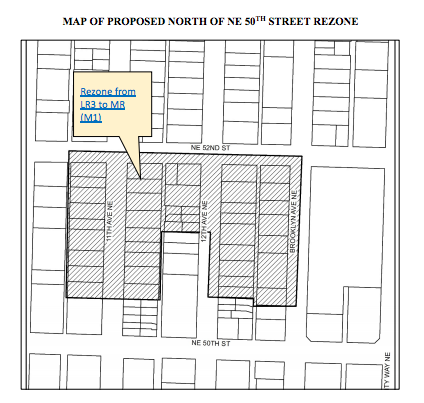 An area between NE 50th St and NE 52nd St would be rezoned under the proposed legislation, having been adopted as an amendment during the committee review process. The properties at issue would go from LR3 to MR (M1). Councilmembers Herbold and O'Brien both discussed the merits of the proposed rezone at length during the last committee meeting. Councilmember O'Brien described the area as dense single-family detached and low-rise multi-family housing, even having ridden through the district on bike ahead of the meeting to get a feel for the area. Both councilmembers say that the area has ample affordable housing for renters and believe that an increase in development capacity could entice redevelopment of existing multi-family properties. According to Councilmember Herbold, some 175 units of existing rental housing could be impacted and result in low-income renters being driven out by redevelopment. Councilmember Herbold may propose an amendment to remove the properties from the rezone to retain them as LR3.
Additional amendments may be proposed at the full Council meeting, which will be held at 2pm tomorrow (February 20th) in the Council Chambers. If you wish to comment on the University District rezone and urban design legislation–and any amendments–you can contact Councilmember Rob Johnson or provide public testimony at the meeting. You can also contact Councilmembers O'Brien and Herbold directly about their amendments.
In addition to the University District rezone and urban design bill, the City Council will also consider two resolutions. One would require a displacement risk analysis to be completed for future development capacity increases (i.e., rezones). The other would establish an implementation plan to support local businesses (e.g., financial assistance and economic development strategies) in the University District and develop new infrastructure (e.g., festival street and park space), and exploration of a childcare voucher program and a feasibility assessment for potential school impact fees.
Related Articles
University District Rezone Could Move Out Of Committee With These Amendments
U District Rezone Amendments Target Capacity, Storefronts, Affordable Housing, And More

Stephen is a professional urban planner in Puget Sound with a passion for sustainable, livable, and diverse cities. He is especially interested in how policies, regulations, and programs can promote positive outcomes for communities. With stints in great cities like Bellingham and Cork, Stephen currently lives in Seattle. He primarily covers land use and transportation issues and has been with The Urbanist since 2014.