A bill working its way through the Washington State Legislature could make it easier to build cross-laminated timber (CLT) buildings in Washington state. State Senator Marko Liias authored Senate Bill 5450 which is cosponsored by State Senators Judy Warnick, Kevin Ranker, Joe Fain, Mark Miloscia, Hans Zeiger, Lynda Wilson, John McCoy, Maralyn Chase, Mark Mullet, and David Frockt.
State Senator Liias, who lives in Everett and represents the 21st Legislative District, discussed the bill's prospects and its intent in a phone interview.
"The International Building Code that we use includes CLT as a material that is allowed to be used in buildings but it doesn't really talk about the tall buildings, and it's not fully integrated into the code," State Senator Liias said. "The International Code Council is working through this now, but I really thought because we've got a lot of timber, we're a timber producing state, because of our commitment to sustainability, because improving construction technology is part of our climate strategy, it felt like there's some win-win-wins here."
"So this would have our state building code council develop some rules around CLT to enable folks out in the communities to consider it as they're building projects and create the framework to do it safely and responsibly," Liias said. "Seattle is going through some of this work at the local level. A lot of smaller communities don't have the resources to do some of this technical work on their own, and, so, having the state building code deal with it helps all of our communities across the state have a building code process that they can use for this purpose."
Updating The Fire Code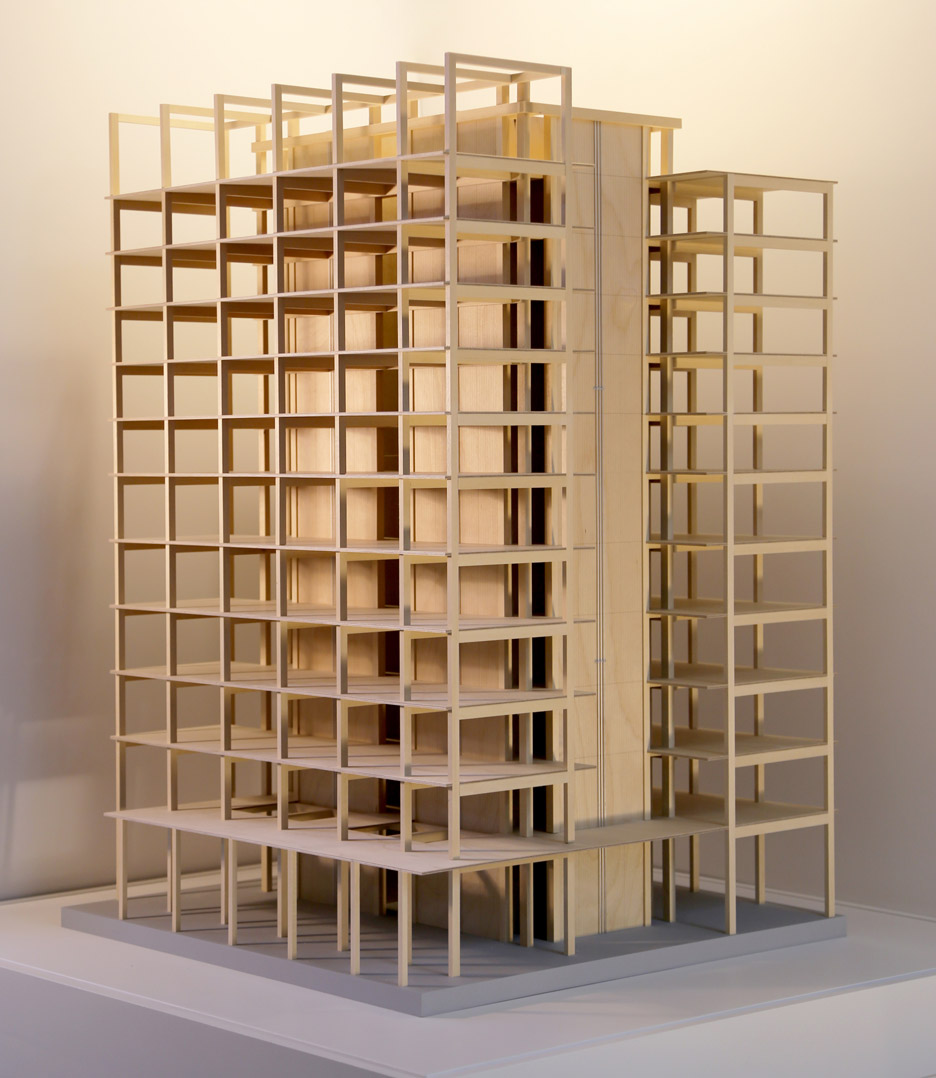 One hurdle tall timber buildings must clear is squaring with the fire code.
"Existing code talked about the fire code pieces–there's already protections built in–but as we talk about using it in taller buildings, we do need to think through the fire code impacts," State Senator Liias said. "Other countries have sorted it out. I'm not worried that there isn't an answer. We just need to do that work, and come up with the specific details of when you use it in this sized building exactly how do you ensure that it is fire safe."
Liias cited the fact that heavy wood products chars, which slows the time it take for fires to catch significantly.
"There's places in the U.K. where they've built fire stations out of CLT," Liias added. "So obviously this is a material when you do it right it's safe. Just in general really heavy wood construction, the really heavy wood pieces don't burn very quickly, because they're so massive."
When asked about Portland's 12-story CLT tower under construction in the Pearl District, State Senator Liias looked beyond pilot projects.
"I don't want just a demonstration project; I want a way that this is integrated into the code, and we can do it more frequently that just demonstration projects," he said. "In Scandinavia they've been doing this a long, long time and they've got it fully integrated into their building code so that as a project designer is designing a building, they've got a menu of choices. … So how do we integrate it into the building code so that it is readily accepted, and we know how to use, and building designers can use it alongside all the other options?"
For State Senator Liias, it's not just about show-off projects but making cross-laminated timber practical for everyday use.
"Right now you can build [CLT] but you have to go through all these extra steps. The Bullitt Center may go through all that work but someone who's building an office building or an apartment building is not going to go through all the work. So, how do we make it easier to look at this alongside the other materials out there?"
Boosting Lumber Towns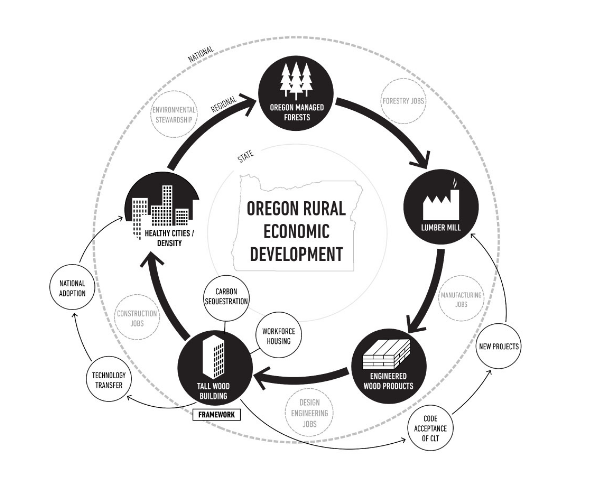 "The other piece that is really important in this discussion is we've got pretty significant unemployment in some of rural counties, and so finding a way to source more of this building material from in-state sources I think could help find us a pathway to create opportunities–whether it's locating the manufacture because it takes a special kind of lumber mill to create these CLT products. So could we get some of that manufacturing in our state?"
Liias said cross-laminated timber is a "carbon sink" and has a better greenhouse gas profile than alternatives, adding appeal for environmentalists.
"As I talk to people around the state, everyone is really excited Seattle has got this building boom but there's also a little bit of wistfulness that I wish we had some way to benefit from all this growth," State Senator Liias said. "This could be a win-win where every time they're building one of those new high rises in Seattle is there a way we could really bring value back to those rural economies? And try to tie our state's economies together a little more closely so there's not just areas of opportunity surrounded by areas that are feeling left out a bit."
What The Bill Could Do
The bill is short and not prescriptive, leaving the ball in the State Building Code Council's court to come up with the precise solutions and decide how tall cross-laminated timber buildings could go.
"I wanted to leave that open," Liias said. "International Code Council is working on taller building and a building code for them: Are there ways to advance some of that work here and allow for some of that sooner? … I just wanted to give them a prod and encouragement to look at this specifically and trust that they will listen to the experts and stakeholders in the field."
The bill has 11 state senators from both parties sponsoring it. "There's been pretty strong bipartisan support to look at this, because it is a win-win around sustainability and rural economic development," Liias said. "So if you're a Republican you're interested in how do we support the timber industry, and if you're a Democrat you're interested in sustainability. And then there's some of us who are both camps. So I think that win-win will hopefully help it advance this session. Although, I've learned after ten sessions to never predict anything. But I do think there is a unique confluence of bipartisan support for exploring this concept further."
A Broader Carbon Strategy
A carbon tax or carbon trading could make CLT more enticing. I asked if the state senate is looking at anything involving carbon trading and cross-laminated timber, and Liias said he would like to, but it's unrelated to this bill.
"It's not just CLT, but just in general ways to make our buildings less carbon intensive–and are there other technologies," Liias said. "The piece of CLT that I like is the pre-fab element, which reduces waste pretty significantly at the job site. So, to the extent we can construct stuff pre-fab, to the extent we can reduce the waste stream, using elements that are less carbon intensive, that are sourced closer. We are still going to need masonry. I don't want to minimize the need to have masonry products or steel in our construction. But could we source that steel from New Core in Seattle as opposed to bringing it from China? Or can we source our concrete from Washington quarries rather than bringing it from Mexico or from oversea? Are there ways we could reduce the carbon intensity of our buildings across the board? That's something I'm interested in, and it could, again, create again a virtuous cycle where we're supporting our local economy and reducing our footprint globally."
Past Coverage of Cross-Laminated Timber
Architect Susan Jones did an overview of cross-laminated timber technology.
We suggested cities offer a density bonus for CLT projects to fill out mid-rise zones.
Then, we showed how the CLT with a density bonus could offer Seattle's urban hubs a widely-acceptable path to grow.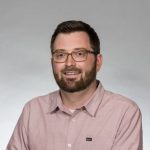 Doug Trumm is publisher of The Urbanist. An Urbanist writer since 2015, he dreams of pedestrianizing streets, blanketing the city in bus lanes, and unleashing a mass timber building spree to end the affordable housing shortage and avert our coming climate catastrophe. He graduated from the Evans School of Public Policy and Governance at the University of Washington in 2019. He lives in East Fremont and loves to explore the city on his bike.