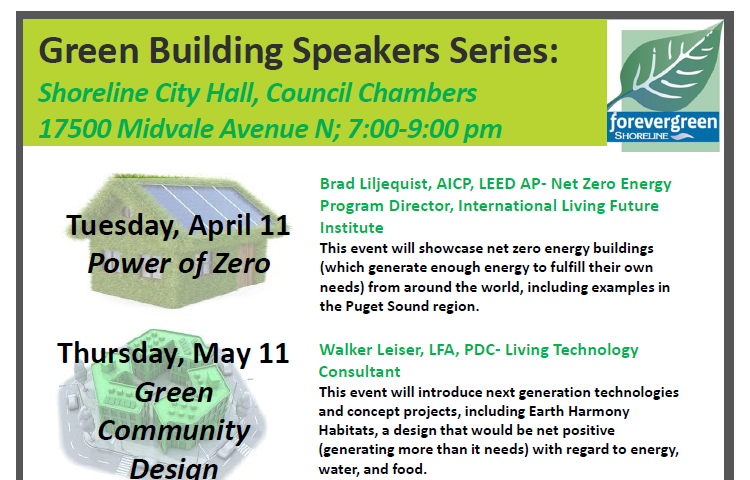 The City of Shoreline is kicking off a speaker series next month that will focus on green building. Topics that speakers will hit on include net zero energy buildings, district energy systems, and future environmental design technologies. The four-part series runs from April 11th through July 25th in Council Chambers at Shoreline City Hall. The speaker presentations will each be two hours from 7pm to 9pm.
Thursday, April 11
Power of Zero
Brad Liljequist will speak about net zero buildings (which are buildings that produce enough energy to support their needs) and point to case studies locally and abroad. He is the Program Director for International Living Future Institute and is certified as AICP and LEED AP-Net Zero Energy.
Thursday, May 11
Green Community Design
Walker Leiser will present on the future of environmental design technologies and concept projects that could realize them. She will highlight Earth Harmony Habitats, which is one such concept, that could be a net positive approach–that is, it would generate more energy, water, and food than it needs to operate. Leiser is a Living Technology Consultant and certified as a LFA and PDC.
Thursday, June 8
Salmon Safe
Ellen Southard will discuss the intersection of site design and environmental stormwater solutions to enhance water quality and protect the Puget Sound. Her discussion will highlight examples through urban and suburban development, and transportation projects. She is an Honorary Member of the American Institute of Architects and Principal of Salmon Safe.
Tuesday, July 25
District Energy
Thomas Puttman will present on district energy systems, which can provide shared heating, cooling, and energy systems for individual buildings or at larger scales such as blocks, neighborhoods, and districts. His conversation will provide a background on the types of technologies that exist and how cities are using them. Puttman will also bring attention how local communities could implement district energy in light rail station areas and other targeted locales. He is certified as a PE, AICP, and LEED AP designer and is President of Puttman Infrastructure.
If you have questions about the speaker series, you should contact city planner Miranda Redinger at mredinger@shorelinewa.gov or 206.801.2513.
UPDATE 3/31/17: The first event has been moved up by two days to April 11th due to a scheduling conflict.

Stephen is a professional urban planner in Puget Sound with a passion for sustainable, livable, and diverse cities. He is especially interested in how policies, regulations, and programs can promote positive outcomes for communities. With stints in great cities like Bellingham and Cork, Stephen currently lives in Seattle. He primarily covers land use and transportation issues and has been with The Urbanist since 2014.