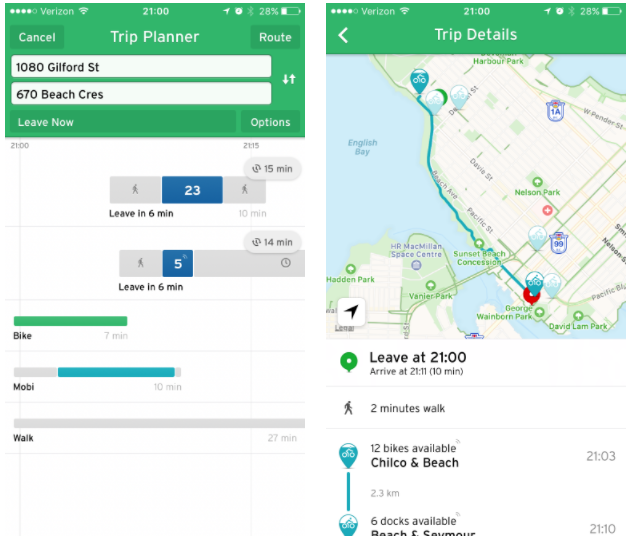 Navigating the world by bike and foot just got easier through Transit, the super-intelligent mobile app built for smartphones and tablets. Transit also bundled additional functionality improvements that consolidate trunk-line transit services with differing branches into one card and stop patterns for certain train lines for its Version 4.2 release. Transit made the release public on Tuesday, its first major update of 2017.
Comparing trip options on Transit has gotten a big improvement with walking and biking as standard alternatives in the Trip Planner mode. App users can simply choose their destination and route a trip to that point. The biking and walking options will appear as standard choices that may be better than transit, a taxi ride (still limited to Uber), or renting a free-floating car (e.g., car2go).
Consider this trip from Swedish Medical Center on First Hill to Downtown Seattle. The almost-nine-o'clock-in-the-evening trip would have been fairly non-competitive waiting for transit versus simply walking or biking. Transit estimated that biking would have taken a short nine minutes while walking would have been about twice that–both getting to the destination sooner than Routes 12 and 2. Biking would have even beaten a ride on Uber.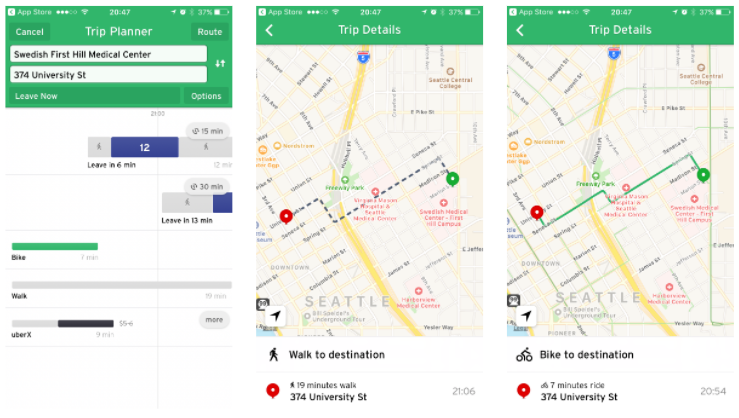 For cities that have bikeshare programs, Transit also will highlight bikeshare trips as an option in Trip Planner. Bikeshare is specifically distinguished from biking in the Trip Planner, taking in account the table to walk to and from a bikeshare station as part of the trip. Trip Planner is also smart enough to know whether or not a bike is available at a station and if a docking station has space for bike drop-off.
Consider a bike trip in Vancouver from the West End to George Wainborn Park in Yaletown. Transit shows the time it would take to bike between the two areas. A regular bike ride would take seven minutes compared to 10 minutes with a Mobi bike (Vancouver's local bikeshare system). As the image below shows, the Mobi bike trip specifically includes the amount of time it would take to walk to pick up the bike in generating the overall trip time. App users can also manipulate the station pairs in the Trip Details mode by tapping on individual bikeshare pins on the map. Estimated time in the Trip Detail mode will automatically update for the trip pair.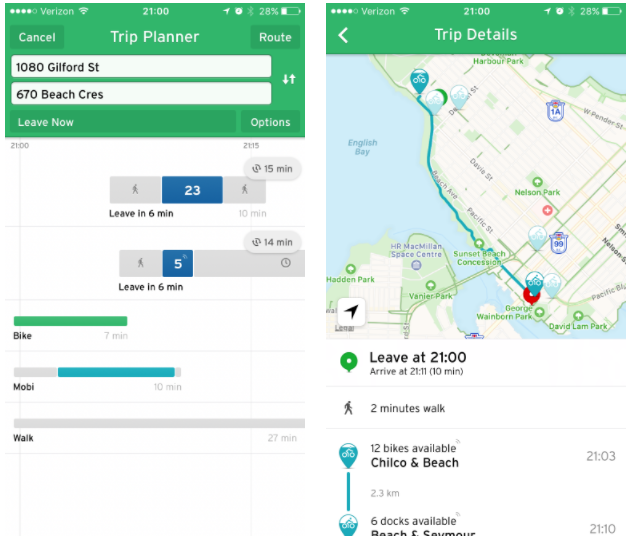 The bikeshare option in Trip Planner is available anywhere that Transit has bikeshare data integrated into the app. In select cities like Toronto and Montreal, Transit app users can even request access to docked bikes through the app.
Many transit services like the London Underground, Bay Area Caltrain, Paris RER, and Boston's T have trunk lines that branch off. These are services that largely share common corridors but split toward the ends of the lines. As a result, the lines often have the same name and branding with the only difference being that of the destination. Transit is making it easier to identify these lines when they share common stops. Cards in the Nearby mode will be consolidated to one showing their next arrival by branch (destination). Users can tap on individual branches to get more specific information or reverse the intended destination of the branches lines like any other Nearby mode card.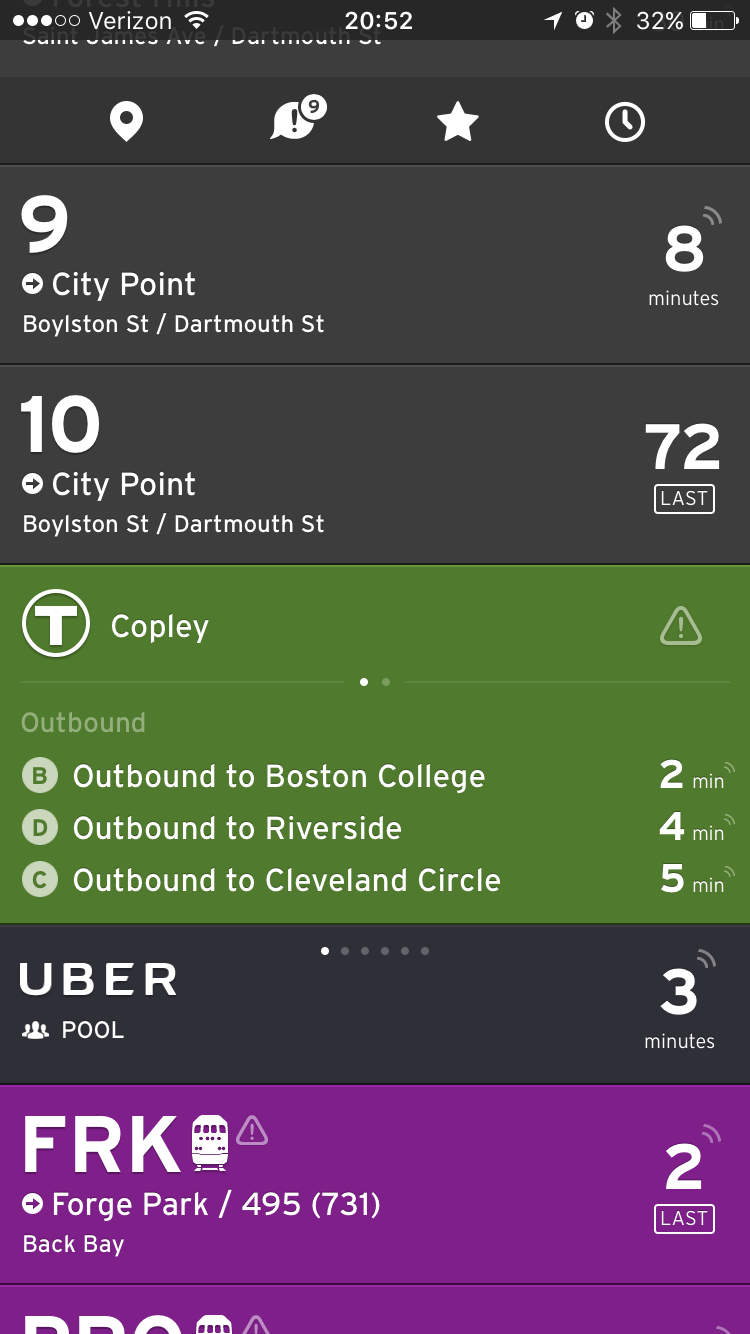 The branch line card consolidation is so far a limited feature. Only a few regions will appear with the simplified cards for now, but Transit plans to expand it more widely in the future.
Finally, the update included a new feature stop pattern feature was added for train lines that multiple stop patterns that may skip a stop. One example is the Long Beach line that is operated by Long Island Railroad in New York City. App users can find out next departures and type in their destination to confirm that the train will indeed stop there. The option filters out other next departures that would not make the intended stop. To navigate to the feature, app user must select a train service from the Nearby mode and tap the clock icon. Doing so will provide a list of next departures and an interactive "to" field will appear above the list of next departures. App users can tap the field next to the "to" activate a list of next stations to select the intended destination. Upon selecting a destination, the list of next departures will automatically filter the available options.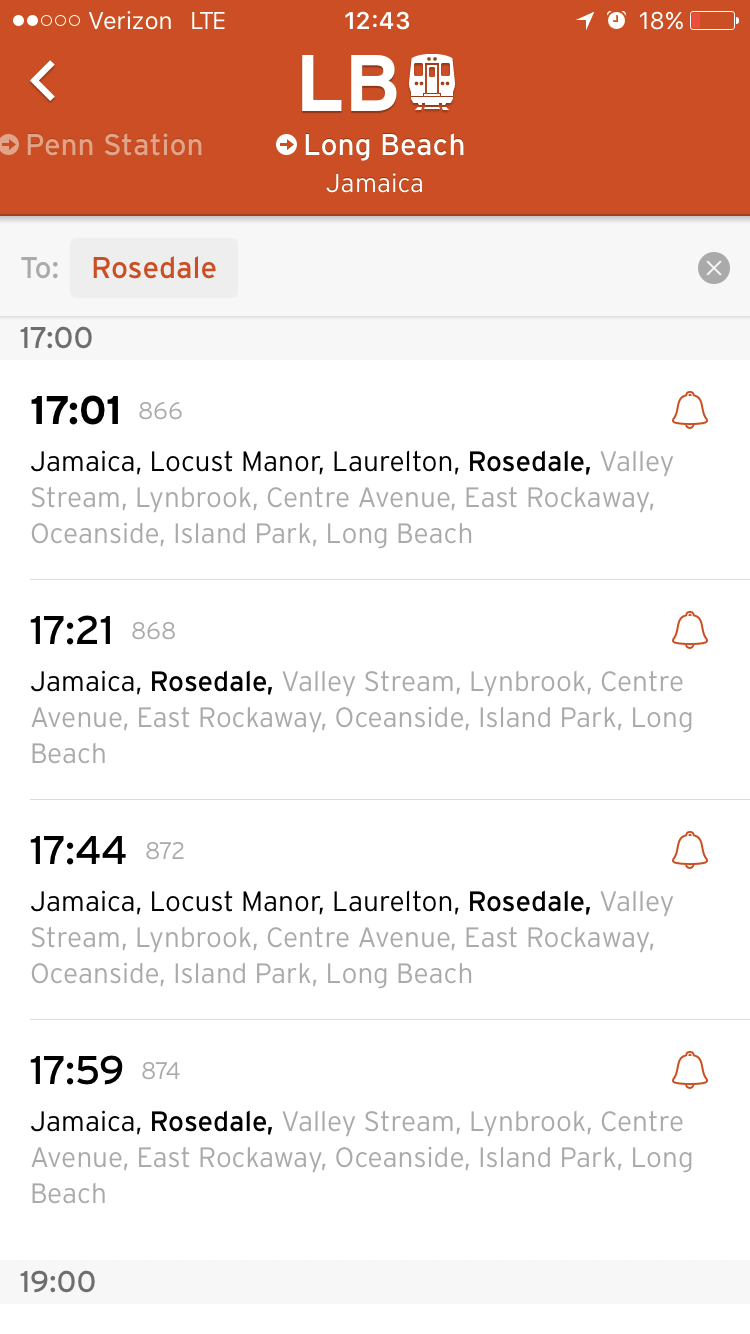 The feature, however, is limited to some but not all regions. Like the branch line card feature, Transit will expand the feature more widely in future updates.
Transit App's Crowdsourced Real-Time Arrival Data May Soon Come To Seattle

Stephen is a professional urban planner in Puget Sound with a passion for sustainable, livable, and diverse cities. He is especially interested in how policies, regulations, and programs can promote positive outcomes for communities. With stints in great cities like Bellingham and Cork, Stephen currently lives in Seattle. He primarily covers land use and transportation issues and has been with The Urbanist since 2014.