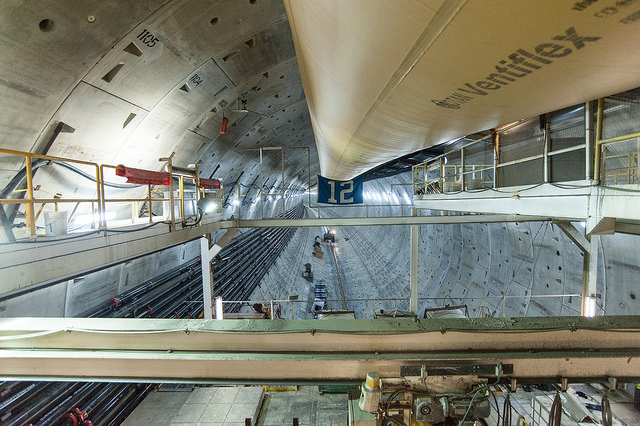 Let's talk about Bertha.
I didn't live here when we debated how to replace the viaduct (SR-99). I didn't even live here when Bertha first broke down. So perhaps I don't have the appropriate nightmares when I hear "deep-bore tunnel."
So when I read articles talking about how the tunnel is such a terrible investment, I wonder why people are so eager to declare the project dead on arrival. I read comments on publications like The Urbanist and Seattle Transit Blog and see people rooting for the tunnel to fail, just to prove that it was a bad idea.
But I'm looking forward to the tunnel opening because I see the tunnel as our best hope for fixing the other, bigger urban freeway in Seattle: I-5.
Simply removing I-5 with no replacement is a political nonstarter. I agree that with a fully built out rail and bus network, Seattle doesn't need a freeway to move people in and out of Downtown. But I-5 is much more than just a way to get Downtown. It is too important, regionally and statewide, to remove the freeway for Seattle's benefit and leave the rest of the region to just figure it out. One often cited solution is that high-speed rail (HSR) could help, but a good HSR line simply isn't relevant for most trips on I-5 within King County, particularly for commercial and freight traffic.
Removing I-5 means we can use the broad freeway footprint for many uses, such as public buildings, green space, and rail generally, or simply developable land for a booming city that desperately needs more space for dense residential and commercial development. We can't put all that high-value real estate to more productive use by just capping the freeway. If we are going to remove I-5 and rebuild Seattle's urban core, something will need to replace I-5 and provide that critical connection for regional and statewide travel. That's right–another tunnel, this time to replace I-5. Call me crazy. (I'm definitely crazy.)
I'm thinking a three-mile tunnel, between I-90 and SR-520. Maybe even tunnel under the Ship Canal if the I-5 bridge is at the end of its life and needs to be replace anyways. Will this be crazy expensive? Yes. Replacing I-5 as-is is also crazy expensive, and we can built this new tunnel while the state transportation deparment holds the current freeway together with duct tape and rubber bands.
The SR-99 tunnel can work if it has enough traffic to prove it's useful infrastructure but not too much traffic that it's just another part of the problem. If it can be proven as an effective bypass for people trying to get somewhere other than Downtown, then maybe we can point to the tunnel as way to convince key stakeholders–the Port of Seattle, a Legislature filled with representatives who neither live or work in Seattle but use I-5 everyday–that yes, we can remove I-5 and do without all those Downtown exits.
Get ready Seattle. I'm rooting for Bertha to make a comeback, and so should you.
Title image courtesy of Washington State Department of Transportation via Flickr.
AJ McGauley was a temporary transplant in the Seattle area, living in East King with his lovely wife for five years before returning to the great Midwest. Having lived in nine very different cities in the six years prior to moving to Washington, he discovered the wonky side of urbanism after reading The Urbanist and is interested in why cities grow (or don't grow) in different ways. He worked for Sound Transit and can still be found riding transit for fun.