The Urbanist does not use the word NIMBY. Except I just did in that headline. Oops! Sorry, I was just so frustrated that "livability" activists are using transit on-time performance to stall much needed housing. Specifically, a project called Phinney Flats aiming to build 57 homes in Phinney Ridge got blocked by a motivated and deep-pocketed group called Livable Phinney that paid the big bucks to hired seasoned environmental land use attorney Jeff Eustis (who also happens to be a board member at Futurewise) to sue the developer.
The Hearing Examiner ruled in favor of Livable Phinney that using printed bus schedules to determine "Frequent Transit Service"–a necessary step in waiving parking requirements within a quarter mile of a transit stop–wasn't sufficient since the buses were so frequently off schedule in an analysis by a credentialed statistician. In doing so, Livable Phinney exposed new projects across Seattle to opportunistic challenges that could delay new homes when we need them badly.
The Hearing Examiner's ruling underscored that the Seattle City Council must act to clarify the definition of Frequent Transit Service to "an average of 15-minute frequency." This would reduce legal challenges to housing based on the technicality that an otherwise frequent local bus route is too often delayed, thus not meeting the narrowly crafted definition of frequent transit that the City Council wrote into law. Councilmember Rob Johnson indicated that the Planning, Land Use, and Zoning Committee, which he chairs, would take up the issue as part of a larger package of reforms.
FTS is part of a larger package of reforms-SEPA will be published in Aug. I look forward to taking up the leg. as soon as it is transmitted

— Rob Johnson (@CMRobJohnson) August 7, 2017
The bus in question is the Route 5, which passes right by the proposed building on Greenwood Avenue. "Earlier this year, a PhD statistician analyzed bus data over the course of several months and determined that more than 15 minutes passed between buses about 38 percent of the time; 10 percent of the time there was a 20 minute gap, and 2 percent of the time a 25 minute gap," Daniel Person reported in Seattle Weekly.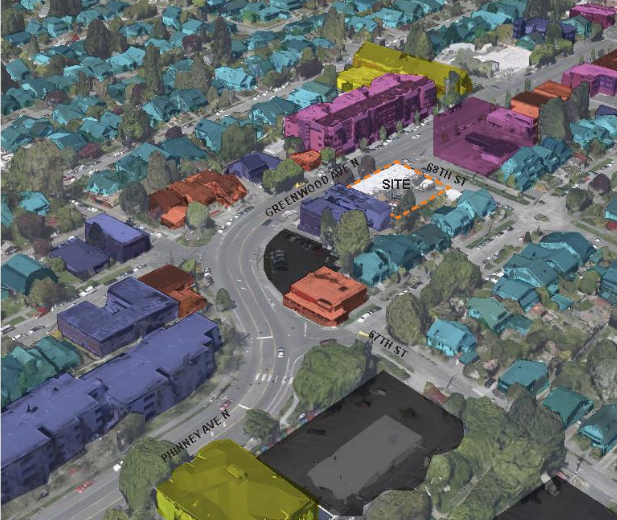 The transit schedule issue wasn't the only issue that Livable Phinney raised. "The Examiner agreed with Livable Phinney that: 1) the building was too close to the rear property line and violated the required setbacks, and; 2) the building had an illegal rooftop structure that did not meet the definition of a clerestory, and that this structure was placed improperly on the rooftop," Livable Phinney boasted in its press release.
That means the developer may need to revise the Phinney Flats design to be less close to the rear property line, properly setback, and with a code-compliant clerestory. Meanwhile, the solution to the bus schedule issue should come from the City relatively soon and it could be relatively simple. So simple we've even provided the code language. Please get on it, Seattle City Council.

Draft Code Language
The crux of the problem lies with the definition in SMC 23.84A.038. To head off future problems, something like the following could eliminate future appeals:
"Transit service, frequent" means transit service headways in at least one direction that average ((of)) 15 minutes or less for at least 12 hours per day, ((6)) six days per week, and transit service headways in at least one direction that average ((of)) 30 minutes or less for at least 18 hours every day according to a printed timetable by a public transit agency. Actual reliability and performance of a frequent transit service shall not be considered in analysis of this definition. Further, weeks with reduced service (e.g., holiday or reduced weekly service, or when the University of Washington is not in session) shall be excluded from analysis for the purposes of this definition. 
Speeding Up The 5
One can simultaneously attack the problem of not quite technically "Frequent Transit Service" from the operations side. I'm a frequent rider of the Route 5 since I live about five blocks east of a stop. I can certainly attest that the bus rarely hits the printed schedule, but the fact remains it's still one of the more reliable buses around–one that many neighborhoods would envy. Nonetheless, the PhD's analysis highlighted that the 5 could use some upgrades to improve its reliability. Some improvements like off-board payment require significant investment since it means payment kiosks at every stop, but perhaps King County Metro Transit could scrounge up the money down the road. Queue jumps with transit signal priority is another somewhat pricey fix but it could save money in the long-run for operations.
Perhaps the most immediate and far-reaching fix would be to make the Third Avenue transit mall work better. Many service disruptions originate Downtown and ripple throughout the system. Photo enforcement of bus only lanes could drive motorist compliance–which is woefully low right now–to high levels that would permit more reliable service. The anticipated Democratic takeover of the state senate has to mean something for Seattle, which reliably sends exclusively Democrats to Olympia, and the suburbs who aren't far behind on that count. What Seattle should demand is legislation to allow buses to use photo enforcement of dedicated lanes.
This change should be paired with simpler rules for the Third Avenue transit mall. I'd propose no cars ever, but I'd settle for extending bus-only enforcement to 8pm seven days a week. The simpler the rules the better to avoid motorists challenging rules on the grounds they were too complicated to read off a sign–like this guy.
If Livable Phinney is really concerned about the 5's on-time performance, we could also take out even more street parking than queue jumps would to create dedicated transit lanes. I'd love to see big changes to speed up the 5 and make it more efficient. Does Livable Phinney actually care about that? Perhaps Seattle Department of Transportation will give us a chance to find out soon.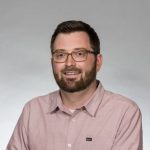 Doug Trumm is publisher of The Urbanist. An Urbanist writer since 2015, he dreams of pedestrianizing streets, blanketing the city in bus lanes, and unleashing a mass timber building spree to end the affordable housing shortage and avert our coming climate catastrophe. He graduated from the Evans School of Public Policy and Governance at the University of Washington in 2019. He lives in East Fremont and loves to explore the city on his bike.