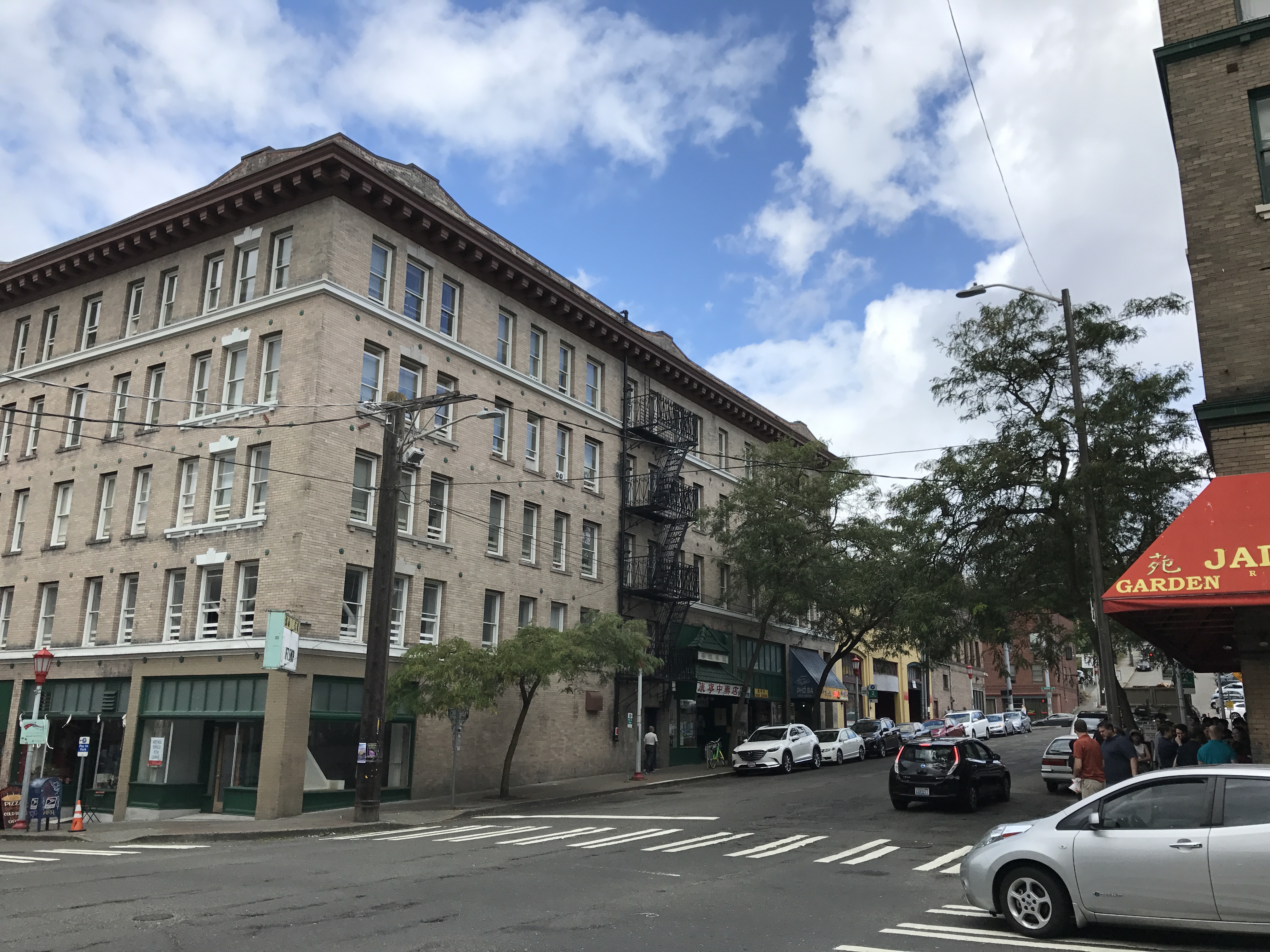 On Friday, the Seattle City Council considered a slate of possible amendments to the City's comprehensive plan during a meeting of the Planning, Land Use, and Zoning Committee. Minor amendments are typically made to the City's Comprehensive Plan through the annual docketing process. Last year, the City Council adopted a variety of topics for consideration during the 2017 amendment process. These included:
Three amendments to the Future Land Use Map (FLUM), which would accommodate more multi-family residential development on select properties in the North Rainier and Beacon Hill areas as well as expanding the boundaries of the South Lake Union Urban Center to include a property currently located in the Eastlake Residential Urban Village (that proposal has since been voluntarily withdrawn by the applicant);
Amendments to revise the Chinatown-International District Neighborhood Plan, which would modestly alter local policies;
Amendments to modify policies ensuring continued viability of Manufacturing/Industrial Centers (MIC) and possible corresponding FLUM amendments; and
An amendment to establish a new policy that connects air quality with land use.
At this time, proposals to address the MIC to topic have not yet been fully developed since the City is still working through a study of industrial lands. The North Rainier FLUM amendment was also not included in the proposed ordinance.
Environmental Policy
The PLUZ Committee affirmed an environmental justice policy that Councilmember Mike O'Brien proposed last year. At the time, he noted that socially and economically disadvantage communities are often disproportionately impacted by land use decisions, particularly as they relate air quality impacts. The proposed policy would address this by considering mitigation measures to reduce air pollution impacts on these communities:
LU 1.6 Consider and seek to reduce the potential health impacts of air pollution on residential populations and other sensitive uses near corridors with high volumes of vehicle traffic, the King County Airport, major rail yards, freight routes, and point sources of pollution.
Chinatown-International District Policies
The Neighborhood Plan for the Chinatown-International District is relatively succinct focusing on four core policy areas: cultural and economic vitality, housing diversity and affordability, safe and dynamic spaces, and accessibility. It's the the first of these four policy areas that is the primary issue under review as part of the annual Comprehensive Plan amendment process. The Mayor's proposal included the addition of three new policies and modest changes to ID-P5, which were designed to support business and cultural institutions, engender better access to community facilities, guard against displacement, and support the cultural identity of Little Saigon:
CULTURAL & ECONOMIC VITALITY POLICIES

ID-P1 Work with the Chinatown/International District community to strategically coordinate plans, programs and projects to better support thriving businesses, organizations, and cultural institutions in Chinatown, Japantown, and Little Saigon areas.

ID-((P1)) P2 Support marketing activities that promote neighborhood businesses, events, and cultural opportunities.

ID-((P2)) P3 Work with the Chinatown/International District community to develop business improvement strategies to encourage greater customer patronage of individual businesses.

ID-((P3)) P4 Encourage new business development and location within the neighborhood.

ID-((P4)) P5 Emphasize nighttime activity to tap into a new market for businesses.

ID-((P5)) P6 ((Support development of a)) Enable greater access for the neighborhood's residents and employees to the neighborhood's multipurpose community recreation center, library ((with space for community programs and associations)) and other public amenities.

ID-((P6)) P7 Improve utility infrastructure, when appropriate, to support community needs.

ID-P8 Work with the Chinatown/International District to develop antidisplacement strategies to maintain, or, if possible, increase availability of affordable commercial space in Chinatown, Japantown, and Little Saigon areas.

ID-P9 Work with the Little Saigon community on strategies to strengthen its culturally-based neighborhood identity.
The PLUZ Committee affirmed these proposed changes.
Adopted Amendments
In addition to the Mayor's proposed changes to the Chinatown-International Neighborhood Plan policies, the PLUZ Committee also incorporated changes to the cultural and economic goal, which precedes the policies. The purpose the goal change is to formally recognize the breadth of cultures and immigrant communities that have called Chinatown-International District home and their contributions to it:
CULTURAL & ECONOMIC VITALITY GOAL

ID-G1 Support the ((T))thriving businesses, organizations, and cultural institutions of the Chinatown/International District and recognize the neighborhood's rich and vital history as home to and center of many of the city's immigrant communities including the Chinese, Filipino, Japanese, and Vietnamese communities and as a historic center of the Native American and African-American communities in the city.
Separately, a technical amendment was adopted by the PLUZ Committee to change the name of the "Parks Development Plan" to the "Parks and Open Space" which was recently completed and adopted by the City Council. The change is a matter of consistency to ensure the correct parks plan is identified in the Comprehensive Plan.
FLUM Change on Beacon Hill
Lastly, the PLUZ Committee decided not to take action on FLUM change proposed for a large parcel on S Columbian Way in Beacon Hill. It is possible that the proposal could be brought forward for action at the full City Council meeting on the proposed ordinance.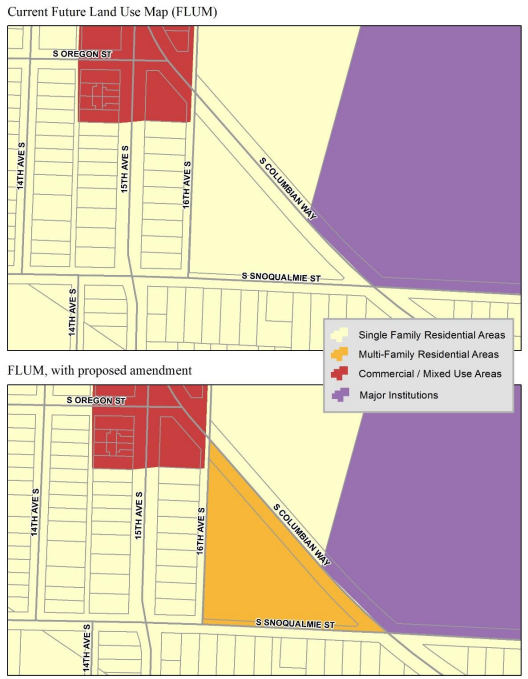 If the amendment is adopted, the property would be redesignated from Single Family Residential to Multi-Family Residential allowing the property to be rezoned from SF5000 to a range of zoning types that allow higher density residential uses, such as the Lowrise or Midrise zones. The 2.6-acre site is currently developed with a religious institution.
City Council Looks Toward 2017 Comprehensive Plan Amendments

Stephen is a professional urban planner in Puget Sound with a passion for sustainable, livable, and diverse cities. He is especially interested in how policies, regulations, and programs can promote positive outcomes for communities. With stints in great cities like Bellingham and Cork, Stephen currently lives in Seattle. He primarily covers land use and transportation issues and has been with The Urbanist since 2014.